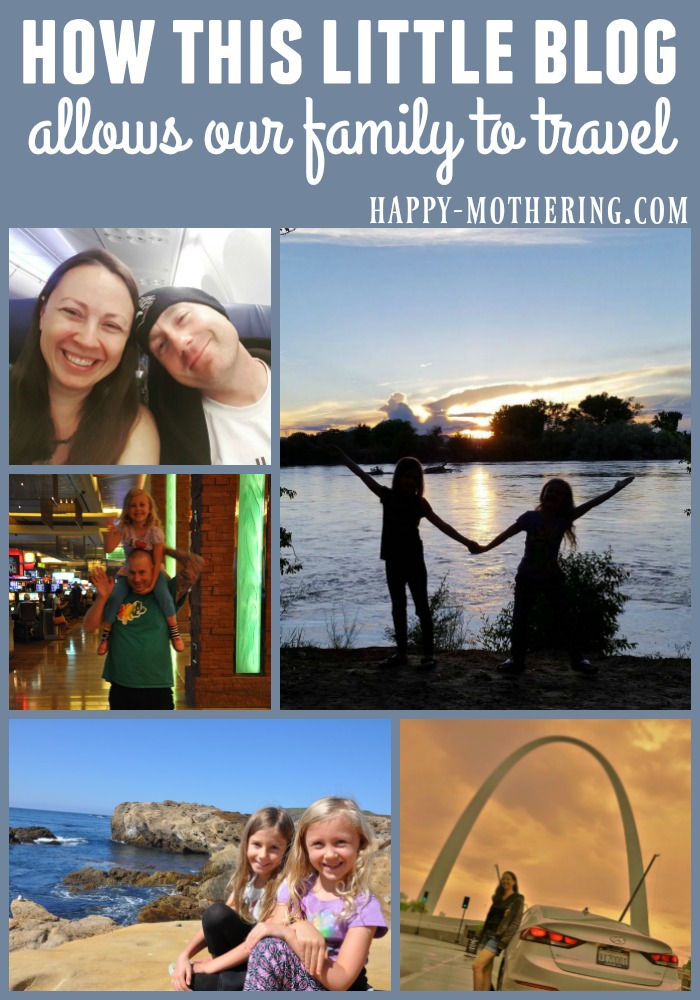 When Chrystal started this blog almost 7 1/2 years ago, we had no idea what was in store for us or the amazing adventures and opportunities that would arise from it.
I didn't know she had started Happy Mothering until 6 months after the fact.
When I first found Chrystal's blog, we were living in Uruguay in South America. It was super-hot in the middle of summer in December 2009. The very first post I found was this one, "Did You Really Just Teach Our Daughter That?" If you quickly check out that 100-word blog post, you will come back thinking the same thing as my wife did at that time, "A$$HOLE." I thought it was funny!!!
I remember the moment I found her blog and the infamous blog post. We were living on the 9th floor of an apartment in the area of Pocitos in the capital city of Montevideo. We had two love seats in our front room. I was sitting on one and Chrystal was just walking in from the kitchen. I started laughing hysterically, pointing at her and laughing so hard I lost my breath with tears streaming down from my eyes. And Chrystal asked, "What's so funny?"
I told her I just found her blog and I had just read the, "Did You Really Just Teach Our Daughter That?" post. Then it happened. Chrystal had tears started streaming down from her eyes, but not because she was laughing. So I immediately got up and hugged her, told her she was absolutely glowing beautiful. She was – all pregnant chicks have this amazing glow to them that causes them to radiate love.
Chrystal explained that she was just blogging for an outlet. Someplace to express her feelings and to use almost as a journal, documenting experiences and whatever else she felt like writing.
At that time, I thought and said, "How cute, you have a little blog, have fun with it." Boy, I have never ate so many words in my life. Chrystal's blog has turned into a full-fledged, highly profitable business. I now write blog posts and reviews on it and so do our girls.
Happy Mothering has grown so much over the years. It's crazy to think that literally millions of people have come to this blog. When Chrystal gets recognized when we're in public, some people act really weird around her. Like they'll act giddy and nervous like she's some famous celebrity or something LOL.
There are so many cool experiences we as a family get to do because of our blog. One of the best experiences we get to do is to take sponsored family vacations. "What's that?" some may ask. Well, let me tell you. It's when companies sponsor \ pay for us to go on family trips, do tons of cool stuff, then we write about the trips. Say what? Right? Pure awesomeness!!!
We get constantly get to review the latest and greatest hybrids, cars, SUVs, mini-vans and so on. We get a lot of cool products to write about. One of the best, in my opinion, was the Phillips Norelco Electric Razor. I hated electric razors until I got this thing a year or so ago. I now even use it to buzz my head.
But we've received vacuums (yes, several), a BOB Double Jogging Stroller (didn't know a stroller with a name so close to "blob" would be so rad (it's truly a rad stroller) or so expensive. Yeah, like wowsers expensive, but the quality is pretty much unmatched.
We've been flown to car factories and driven across the country for Hyundai. We've eaten at celebrity owned restaurants and have been given the royal treatment. We've stayed at 5 star resorts in Las Vegas and more. Chrystal got hooked up in Pebble Peach by Ford and got to experience New Orleans in style thanks to Hilton.
We've been invited to Knott's Berry Farm and Disneyland. Chrystal and the girls regularly take sponsored trips to San Diego and Orange County. They get to visit tons of museums and aquariums and I'm looking forward to joining them more frequently now that I'm not touring anymore.
Most recently we did a family vacation sponsored by Kia, Santa Barbara Visitors Bureau, Best Western Peppertree Inn, Monterey Visitor's Bureau, Hofsas House Carmel, Monterey Bay Aquarium and The Whaling Station Monterey.
This family vacation was a really short weekday getaway. We left our home in Big Bear on Monday morning and came home on Friday night. Kia hooked us up with a Sedona minivan and we drove from Big Bear to Santa Barbara, then from Santa Barbara to Monterey. We had a family friendly wine tasting, amazing food and an amazingly great time visiting family-friendly attractions.
We hope you enjoy reading about our experiences as much as we enjoy sharing our vacations.