Red Rock Casino, Resort and Spa is an absolutely wonderful destination for the entire family if you're planning a Las Vegas family vacation. This beautiful resort is located about 15 minutes to the west of the Las Vegas strip at the base of Red Rock Canyon National Park. Red Rock Casino, Resort and Spa is a 5-star resort that caters to adults traveling with children.
We were invited to stay two nights at Red Rock Casino, Resort and Spa on our Las Vegas family vacation, and we absolutely loved the experience. We had such a great time and took so many photos that we'll be breaking our stay into a 3-part series. Today, we're going to share with you how our experience was checking in and getting settled into our suite.
When you arrive at Red Rock Casino, Resort and Spa, go ahead and pull right into valet. It's a free service for all guests – just be sure to tip your valet driver. If you have a lot of luggage with you like we did, ask for a bellman to help you. They are super friendly and helpful!
After leaving your car with valet, you'll enter the hotel to check in. You'll notice a lot of unique decor and art. There was always something neat to look at.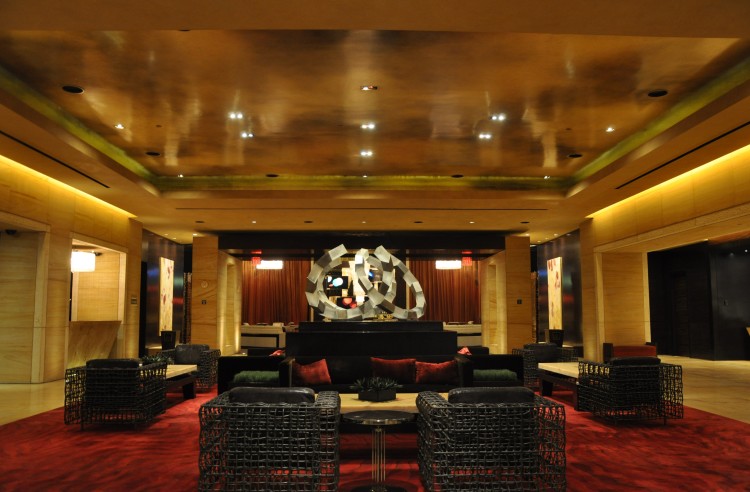 We were given VIP cards upon check-in, which gave us access to private elevators as well as free coffee and tea in the morning and water throughout the day. The girls loved going into the VIP lounge because the water served was flavored with citrus and cucumbers. Yum! They also had small bottles of water that were perfect for taking out to the pool with us (more on that in another post!).
Even as you walked the hallways of the Red Rock Casino, Resort and Spa, there were plenty of unique accents. The design is well thought out.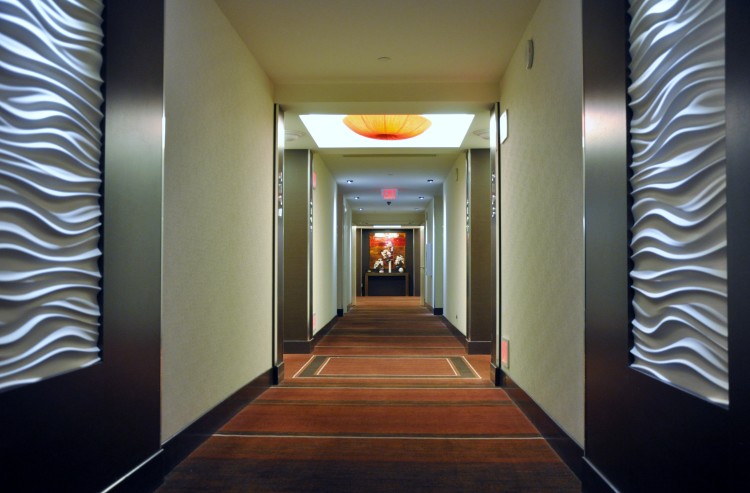 When we entered our room, our bellman was waiting for us with our luggage. He was immensely helpful and answered all of our questions about the resort. He even brought us extra bedding so the girls could camp out in the living room and we could have the bedroom to ourselves. It must be a frequent request because he suggested it to us.
The living room had a large couch, coffee table, flat screen TV, dining table, mini fridge, wet bar and a powder room. The girls got a kick out of using the powder room since we only have one bathroom at our house and we have been watching a lot of home renovation shows lately that tell you how important it is to have a powder room if you're renovating your house to sell it 🙂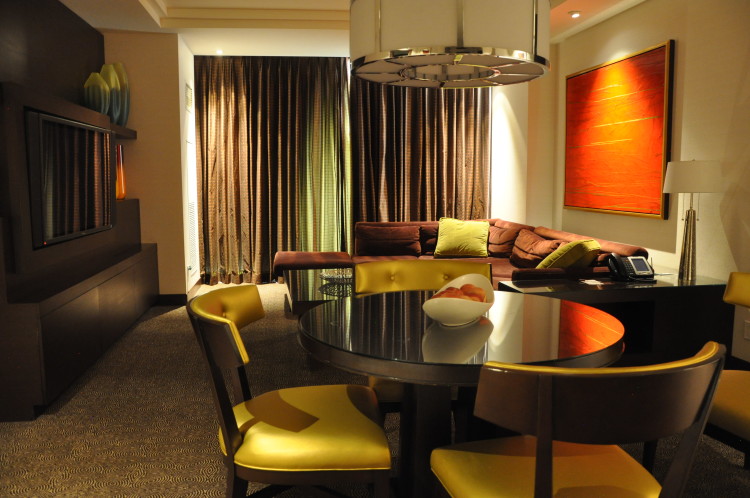 Even the decor of the suite was unique and gorgeous. I had to take some pictures of this bowl because of the way the light reflected off of it.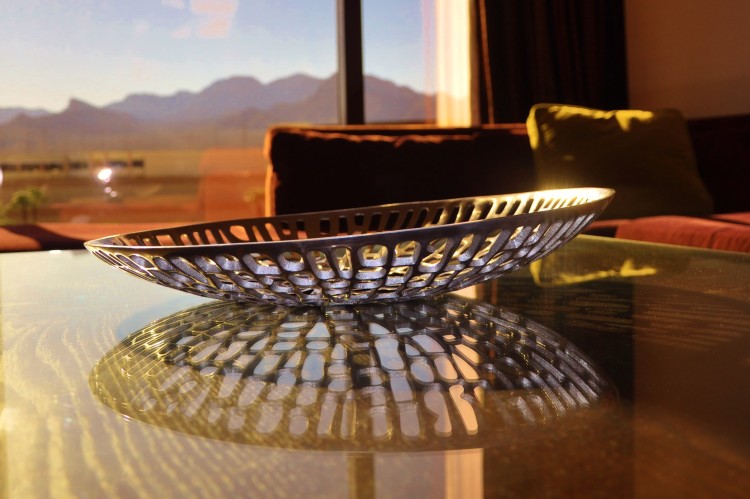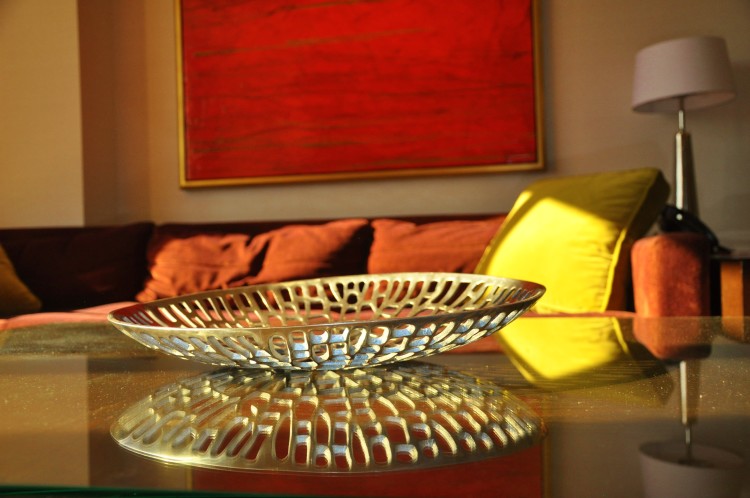 Our suite overlooked the pool, which was one of our favorite things about the Red Rock Casino, Resort and Spa. We could also see the mountains in the background. When we got up in the morning, the girls would be sitting at the window enjoying the view from the living room.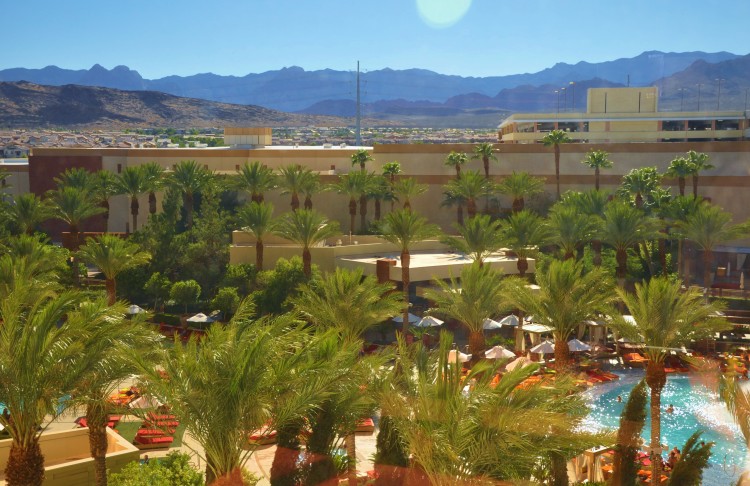 The bedroom was also gorgeous. The beds were very comfortable too.
There was a second TV in the bedroom as well as a desk, two closets and a well stocked mini bar.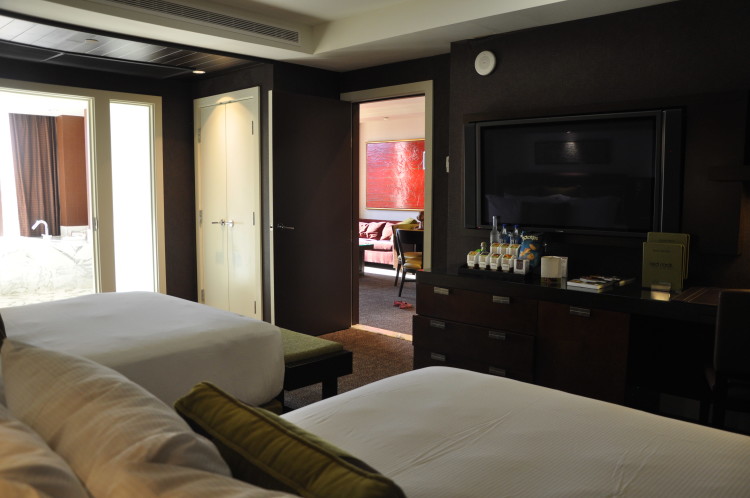 The bathroom was nothing short of amazing for a hotel. The centerpiece was a giant hot tub. The adults and the kids fought over who got to use this one! We all got our turn. Now we need one of these in our house!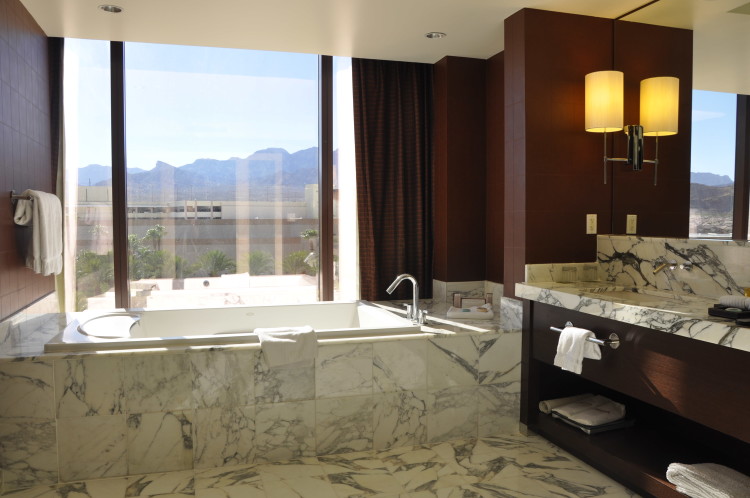 We couldn't have been happier with the suite we stayed in at Red Rock Casino, Resort and Spa. Stay tuned – next week we'll show you how much fun Red Rock Casino, Resort and Spa is for the Kids and for Mom & Dad!