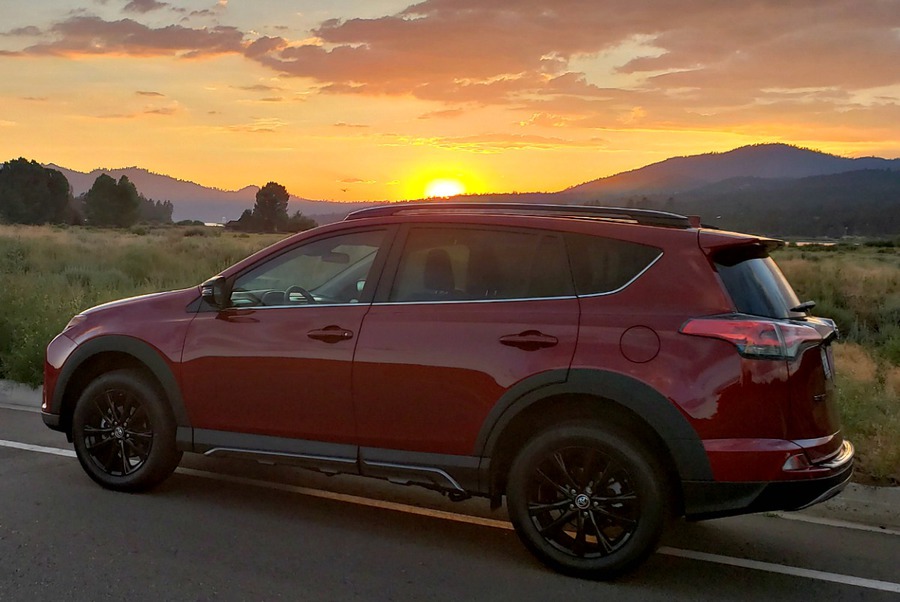 We reviewed the brand new 2018 Toyota RAV4 Adventure All Wheel Drive and what a rad little SUV it is.
The RAV4 Adventure Looks
The first thing that stuck out to me about the Toyota RAV4 Adventure was how awesome it looks. The exterior is sleek and stylish. The color of ours was Ruby Flare Pearl, super fancy name, and a pretty rad color. It also has a black racing stripe over the hood.
The wheels were the upgraded 18" Black Alloys and they really brought the look of the SUV together.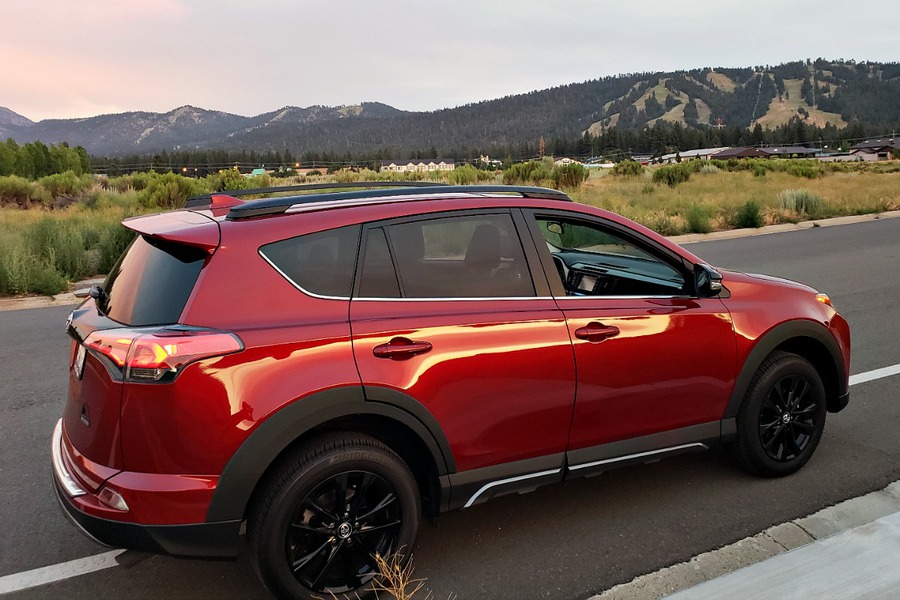 Bells and Whistles
Our Toyota RAV4 Adventure we reviewed had the optional "Power Premium" Extra Value Package. If you decide to buy this vehicle, you are absolutely going to want this option.
Sitting down in the driver's seat, the cockpit is super practical and intuitive, bells and whistles are easy to find.
My favorite bell combo whistle is the super high tech 7" backup camera/ radio/ hands-free phone/ if you asked it might make you coffee too. Like seriously I geeked out over the premium audio system.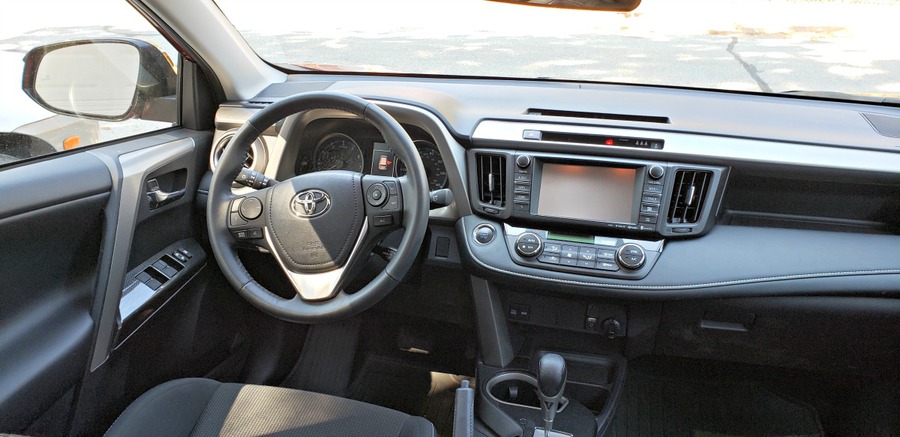 Road Trip
We had a trip planned to go see some friends in Orange County when we got to review the Toyota RAV4 Adventure. Perfect timing for a road trip, right?
The seats were cloth and dude… that's what's up. Super comfortable. After living in mountains and dealing with super dry air and cracking leather… this reaffirmed our decision to get cloth seats in our next vehicle.
The girls had plenty of room in the back seat for a comfortable and quiet road trip… and had absolutely no reason they should have been touching each other. And of course "she touched me first" was said by both of them.
Maybe in a future model, Toyota will install the optional Kid Quiet Pod… my brand new idea that is yet to be invented technology that isolates the sound from our children by the push of a button.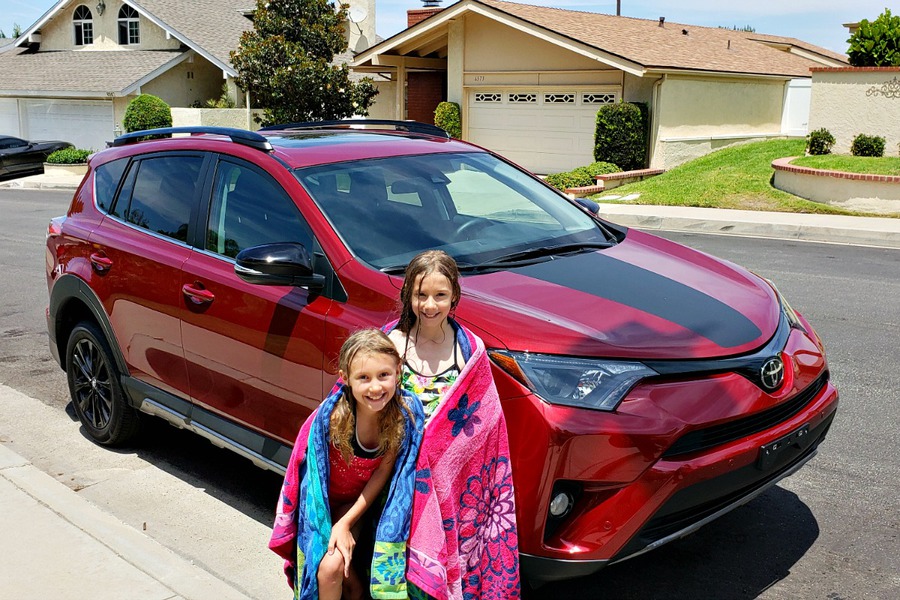 RAV4 Adventure Handling
The RAV4 drove like a dream going down the mountain from Big Bear Lake. It handled the mountain turns in a truly rad manor. Some of the turns are pretty sharp which causes "roll" in many vehicles, especially SUVs. (Roll is basically the feeling you have when the vehicle feels like it's going to roll over when you're going around a corner.)
There was no "roll" with the Toyota RAV4 Adventure. I was shocked at how well it took the corners going down and eventually coming back up the mountain.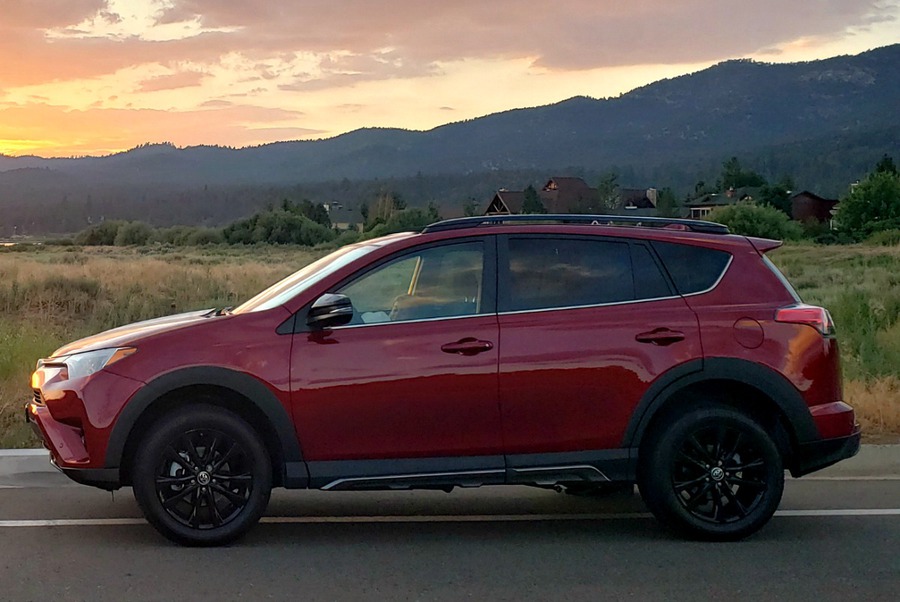 As far as the All Wheel Drive goes… The Toyota RAV4 didn't feel like your typical All Wheel Drive SUV, it's hard to put into words because it's a feeling you get when you're feeling the vehicle accelerate through turns.
With many SUVs I've driven I feel the AWD feature turns on and off. The RAV4 handled more like a car. It was fun to drive, had power when I needed it and it got great gas mileage. On our trip down the mountain, we averaged about 32 MPG, and 28 when we had to drive up the mountain.
As far as the engine performance goes, the 4-cylinder engine performed as solid as a 6-cylinder. In fact, I had no idea it was a 4-cylinder engine until after I drove it and asked for the technical specs of the Toyota RAV4 Adventure. I was shocked when I saw it was a 4 over a 6.
Sometimes in SoCal you drive at 80mph and you're still getting passed, and sometimes you're traveling at a whopping 2mph. Regardless of the speed and noise environment around, we didn't have any issues with road noise.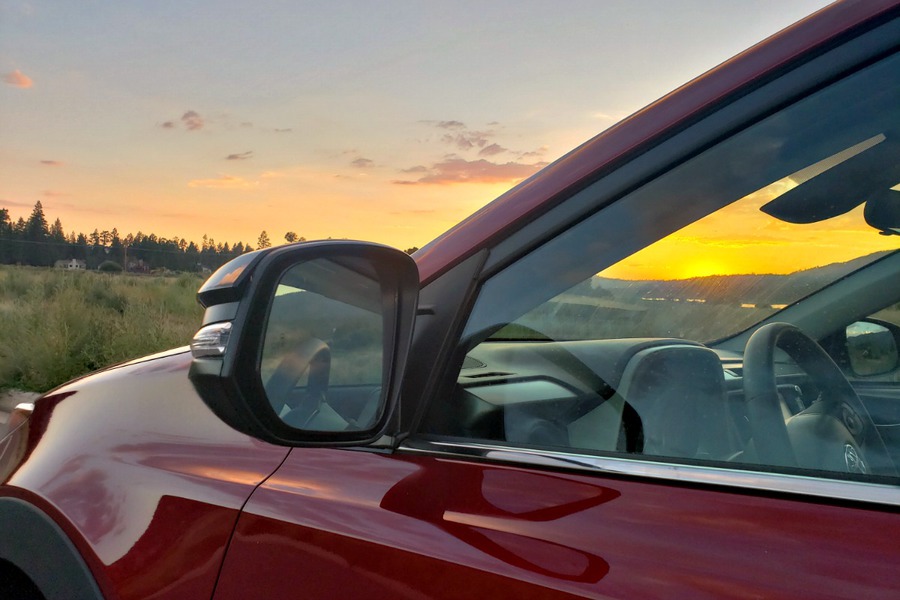 Safety
I could see all around the vehicle out of the windows quite well. The Toyota RAV4 Adventure is crammed full of all sorts of safety sensors. It will beep at you if you accidentally come out of your lane because you're telling the children for the 10,145th time "stop touching each other."
Storage capacity in the RAV4 Adventure was a lot more than I thought it was going to be, I was super pleasantly surprised. There was plenty of room for luggage, skateboards, a guitar, pillows and a bunch of other stuff. For a small SUV, the Toyota RAV4 Adventure really surprised me.
Parking was super easy with it as well. The backup camera, window visibility, sensors and ease of driving made parallel parking a snap.
If you're in the market to purchase a new SUV, I recommend checking out a Toyota RAV4 Adventure All Wheel Drive. It's a great SUV for a small family. It's safe, stylish, drives great… the kids loved the big moonroof. We enjoyed driving it.