It seems like over the last several weeks, preparing for winter has consumed our lives. It's actually pretty exciting for me. It will be my first winter in the mountains, and my first winter living in the snow.
Growing up in San Diego, I never got to experience real seasons. So it is going to be an exciting new experience for me, and I'm having a lot of fun preparing for it.
Last year, they got over 6 feet of snow in 2 days on the mountain, so we're preparing for the same. It hasn't started snowing yet, but they've already started making snow on the mountain for snowboarding season. So the real stuff can't be too far off.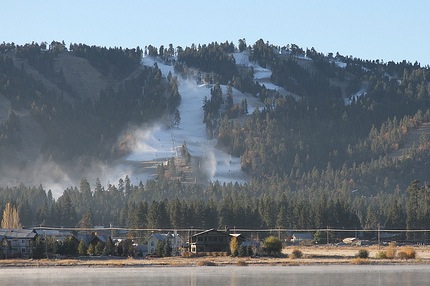 There are two areas that I feel like we really have to be prepared for this winter: having enough food on hand and having the ability to keep ourselves warm even if the electricity goes out. I think we've got it pretty well covered.
Food Preparation
We've been canning food like crazy and stocking up the freezer with meat so we won't have to go out in the snow as much. Especially if we get snowed in for a couple days like they did last winter.
We've become canning junkies. So far, we've canned vegetable soup, tomato sauce, hot sauce, applesauce, apple butter, strawberry jam and grape jam, with more to come. It's a huge process—since we're at 7,000 feet, everything has to be pressure canned. But it has been a fun learning process.
I've also been doing a lot of vegetable fermenting, which doesn't require traditional canning methods. I have lots of sauerkraut, sour pickles, spicy carrots/jalapenos/onions, pickled ginger, ginger carrots, mixed fermented veggies and cauliflower put up. And this is in addition to everything I put up for the Nourished Kitchen challenge.
We have a great shelving area in the garage to store all of our canned goods. I don't think I could fit everything in the kitchen!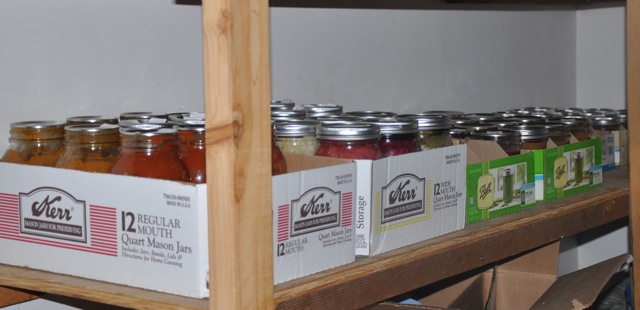 Last night I even prepared my first batch of sourdough starter (I'm loving the book Wild Fermentation right now). I'm hoping it comes out well so we can have homemade sourdough bread for Thanksgiving.
Warmth Preparation
While we have a heater that works great, we also have a wood burning stove in our living room. So, we had our first cord of wood delivered over the weekend. I had no idea how much wood a cord is. Good thing we have a huge front porch—Brian did a great job of stacking the wood!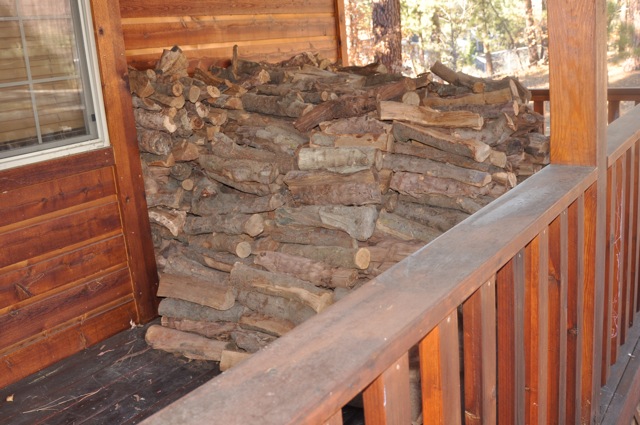 I am amazed at how much heat that wood burning stove puts out! There have been a couple nights where we burned too much wood and it was over 80° in our house even though it was in the 30s or 40s outside. I don't think we'll be using our heater this winter.
It's going to be so nice to have a warm fire burning all winter. There's just something about curling up on the couch in front of a fire with a cup of homemade hot cocoa or tea and watching a movie or reading a book.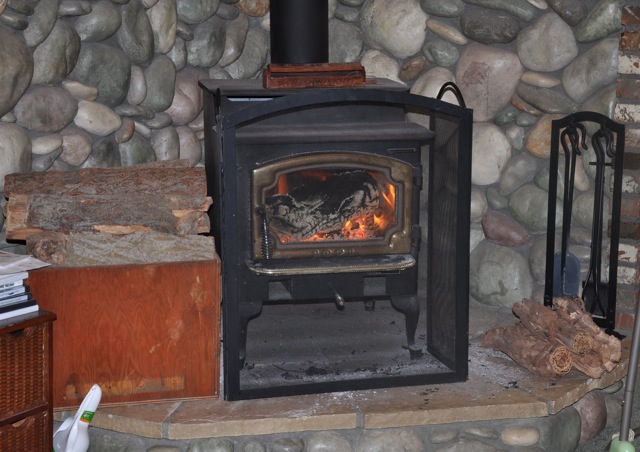 Can you tell I'm excited for winter?
I'm just grateful we work from home and won't have to brave the weather every day like so many other people.