Snowboarding this last week has been one for the books. Broken bones, Bruised Ribs, and a USASA Rail Jam… snowboarding is such an amazingly awesome sport. It's pretty funny too because my last blog post on snowboarding spoke about Safety, Fun, Learning & Communication.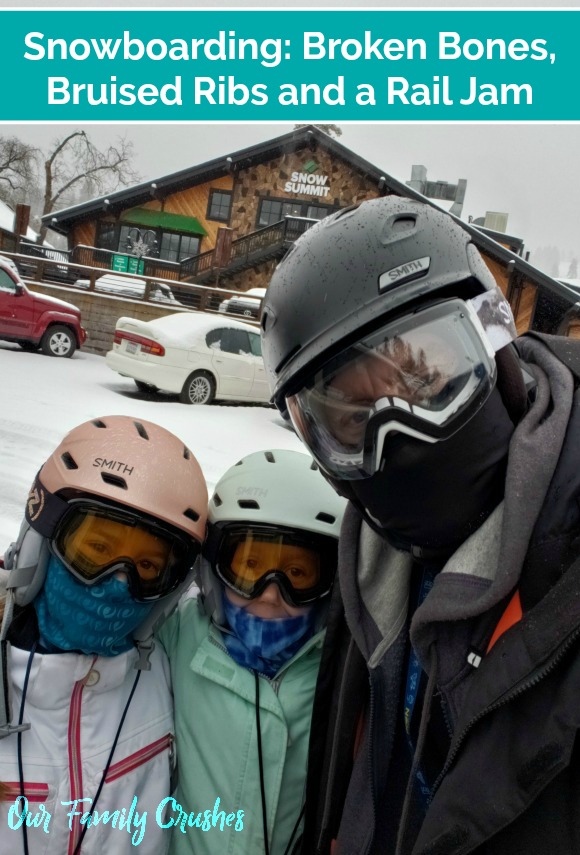 Broken Bones
Well… saying "Bones" is a little dramatic as it was just 1 bone… the Radius.
Last Wednesday (12/12) Kaylee broke her arm. Thankfully the doctor said it was a "Buckle Break" and that she would be back on the mountain in 3-4 weeks.
So what's a Buckle Break?
A Buckle Break… aka Buckle Fracture… aka Torus Fracture… aka Incomplete Fracture… aka Compression Fracture, is supposedly a super common injury in children that I never heard of.
Basically, it's when one side of the bone compresses/ buckles in reaction to the bone wanting to break yet the other side is good to go. It then creates a tiny buckle. Kaylee did perfectly when it came to crashing. She made a fist so when her arm slammed the ground, it was like her doing a "hammer fist."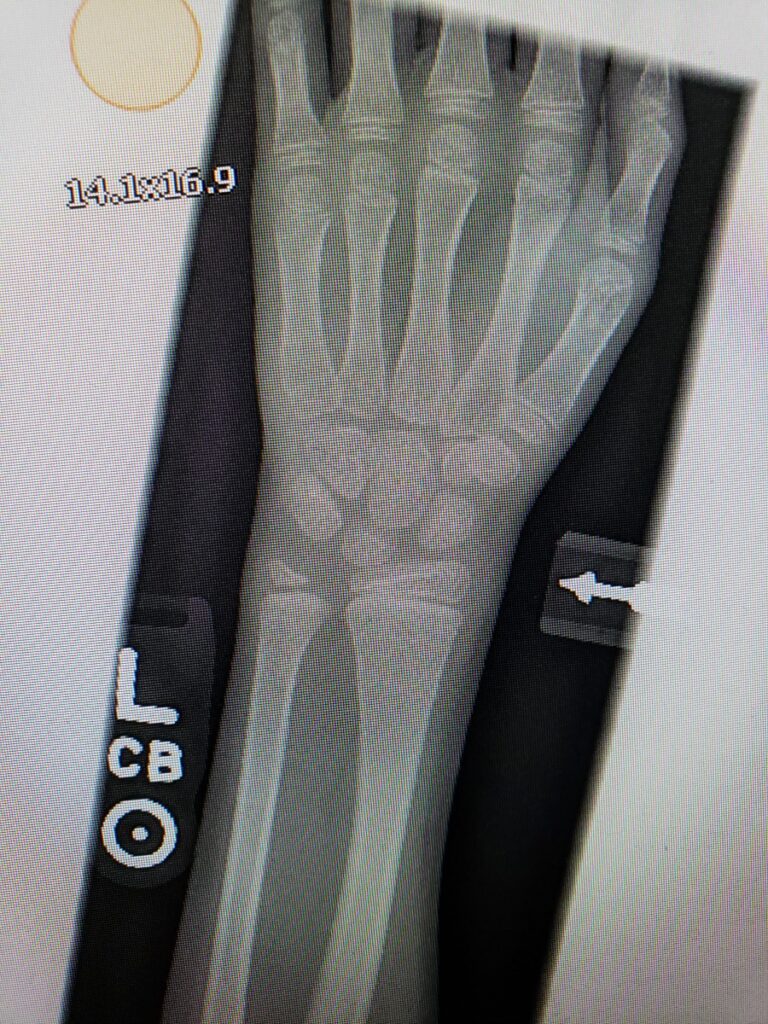 Our doctor said Kaylee would need to wear a splint for 2-3 weeks then have 1 week without the splint before getting back on the mountain to snowboard. We are going to err on the side of caution and have her stay in the splint for 3 weeks with a 1-week rest after.
Kaylee is bummed for sure, that said it's no worries. The snow at Bear Mountain and Snow Summit is definitely the opposite of awesome right now. It's straight spring conditions here. That means it's super warm during the day, the snow melts and turns to slush; it freezes at night and makes it very icy in the mornings. It's not the best conditions to ride on, especially in late December.
Bruised Ribs
It seems like I should get an award or something as I have a solid track record of bruising or breaking my ribs every other season for the past 9 seasons.
This past Sunday before the USASA Rail Jam I was laying out a revert carve and slammed on my chest and yes, I was showing off and it didn't go as planned.
What's a revert carve? Well, that's when you're carving (making a single line from tip to tail turn utilizing your sidecut) on your toeside, then you get really low and kick your back leg straight out and you then immediately change directions and you ride that edge backward until you pop and revert back into the original direction you were going.
Here'a photo of me doing just that up in Mammoth last season…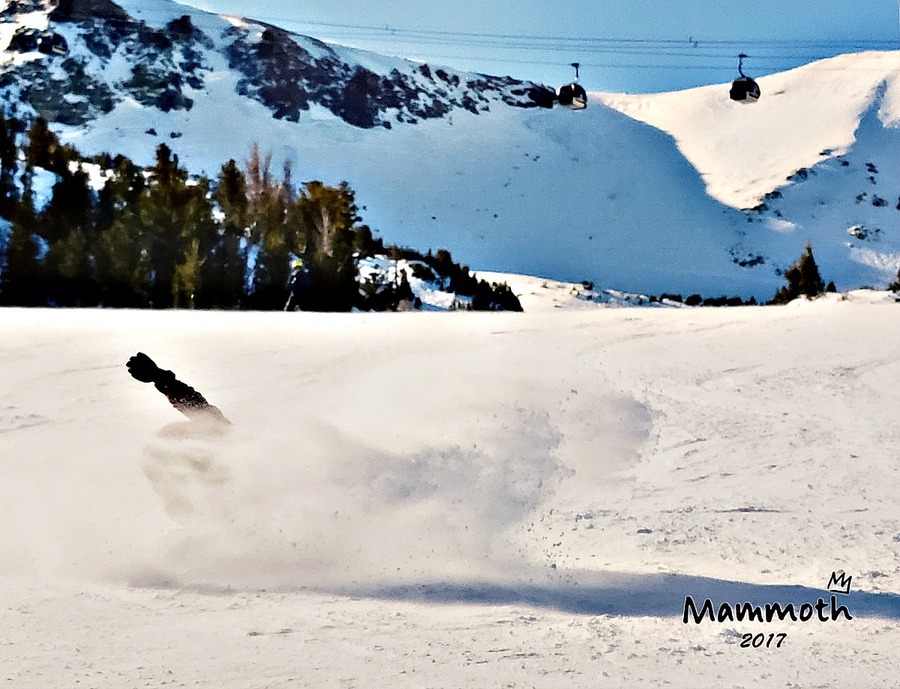 What happened was when I was carving backward across an ice patch I lost my edge and came down on my chest and stomach. I have sharp edges too, so that ice at Bear was solid.
This usually wouldn't be a big deal nor would it usually cause any damage to the body at all… that said, I slammed on that patch of ice that my board lost traction on. So yeah, it was the opposite of awesome.
When I slammed I popped back up and did a solid revert carve again which was super clean. As the day went on my ribs were a bit sore and I didn't think much about them.
I went out riding on Monday and had an amazingly awesome day, that said when I was riding with my buddy's son I was showing him how to properly pop and how to properly suck your knees up and dude; when I landed a couple of jumps and especially when I popped off of a box it felt like someone was stabbing me in the chest.
Fast forward to 3 days later and dude, my ribs hurt so bad. I feel exactly where they're bruised at… and no, they're not broken. I've had broken ribs and they hurt 10x worse than this. So I'm super lucky it's just bruised.
USASA 2018 Rail Jam at Bear Mountain
So this past Sunday (12/16) was the USASA SoCal Rail Jam 1. At first, Zoë and Kaylee were adamant they didn't want to compete in it. Well, Kaylee got her wish LOLOLOL…
After her friends begged her, Zoë decided that Sunday (day of) to compete. She ended up competing in the Rail Jam and took Bronze.
I'm a USASA Certified Snowboard Coach and I coached 5 girls in the competition across 3 age groups. What an amazing day and an awesome experience.
All of these girls are friends, we all ride together as much as we can. They all play together off of the mountain too and have so much fun together. All of the kids' parents are super great people, it's like we're one big happy snowboarding family together.
I truly don't care if any child I coach ever podiums. Don't get me wrong, winning is awesome and it feels great to win. That said, the most important thing to me (besides safety) is that the kids all have fun. I push the kids to challenge themselves and they push each other. And regardless of the competition, I coach each girl to win.
All of that said… all 5 girls I coached took medals home.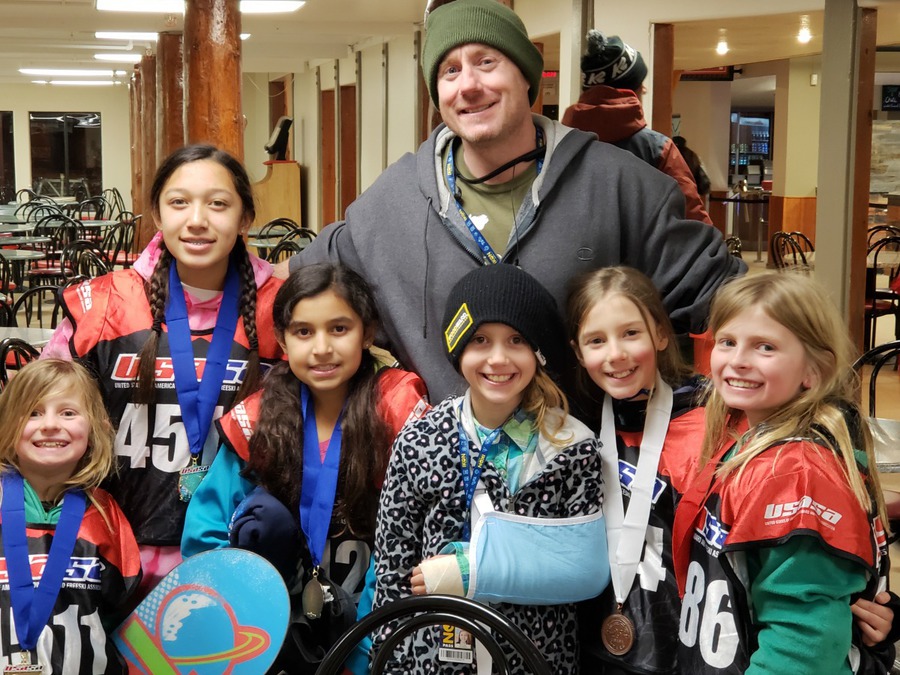 BTW… if you want to see more of these amazing kids, you need to make sure you go follow some IG accounts…
Sunday had an awesome finish and I couldn't have been more proud of the girls. They're all amazing humans.
This week in Snowboarding
Zoë and I are taking this week off of snowboarding to rest and recoup. Her and Kaylee are both focusing on schoolwork and I'm focusing on working on Happy Mothering and building out other websites.
We're hoping to get some good snow and some steady cold weather sooner rather than later.
Zoë's next competition is Slopestyle in mid-January. Kaylee was going to do it as well and now she's not. Kaylee will be just back on the slopes for like a couple days after this injury when the competition happens so we're going to play it safe and have her chill until the next competition which will be Halfpipe in early February, they both love halfpipe and so do I.
Until the next snowboarding post… peace out!!!