In the 3 weeks after the USASA Boardercross Competition, Zoë, Kaylee and I had a whole lot of fun on the mountain preparing for Supergirl Snow Pro.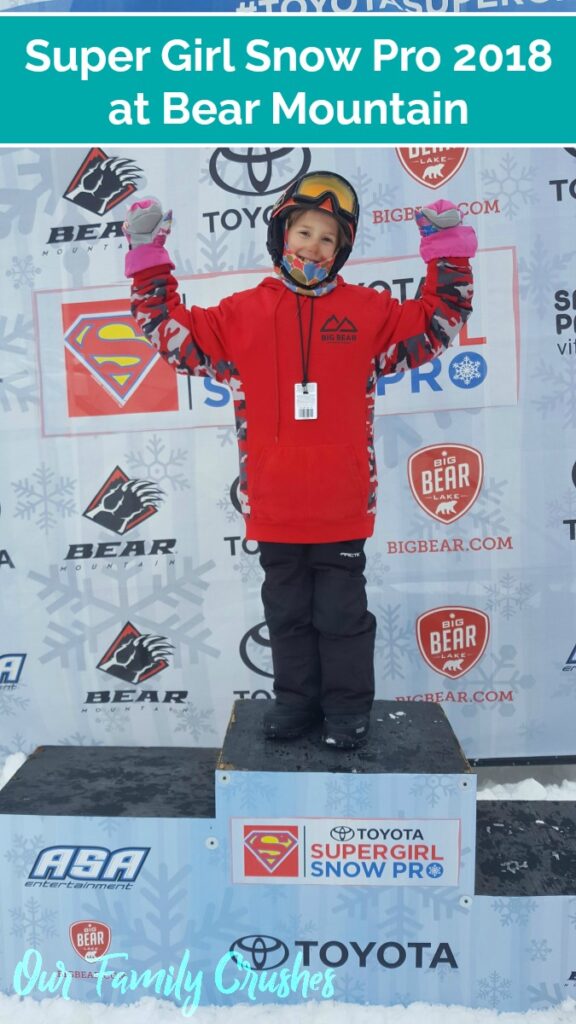 We worked on boardercross skills, played in the little tiny non-vert halfpipe at Bear Mountain, had fun jumping, learning grabs, rotations and so on. We had so much fun stoking each other on.
Supergirl Snow Pro
After the USASA Regional Competitions, next up on the competitions was Supergirl Snow Pro… The girls were super excited about it and so was I.

Supergirl Pro is a series of events put on by Olympian Lindsey Jacobellis and athletes to help support girls in primarily male-dominated sports like surfing and skating. The concept is super awesome. No boys allowed and that's so rad.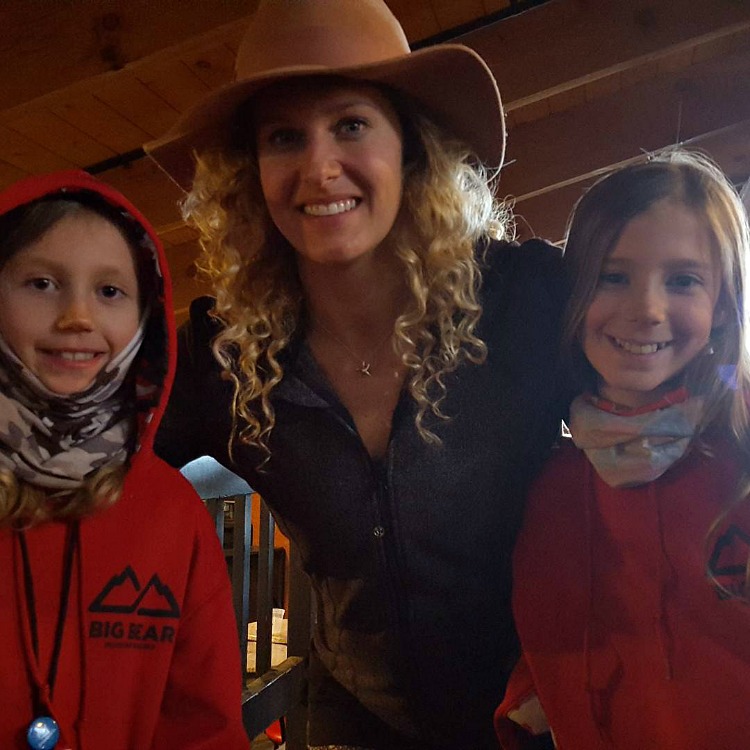 The Supergirl Pro competitions aren't necessarily about winning … they're about building up little girls' confidence, encouraging them, team building and giving them mentors to look up to. Regardless, if someone comes in 1st, last or anywhere in between, every girl is celebrated. It's such an amazing event.
First off, I want to say… this event was awesome and the girls both had an amazingly fun time. Accidents happen… and it's not the fault of the organizers, course builders, coaches or anyone else. It was my decision to let Kaylee participate so at the end of the day the fault lies with me.
There are inherent dangers that come with snowboarding. We accept those risk and take every precaution we can to mitigate injuries including the girls wearing this full body armor.
The girls have a partial sponsorship with Demon Body Armor and we recommend Demon too. I'll do another post in the very near future that goes over all of the gear we use and why we use it. Demon United is a great company not only for snowboarding but for motocross, mountain biking, skating and pretty much any other sport where one might need impact protection, you can visit Demon United here.
We're very grateful Kaylee is okay. At first, she was diagnosed with a mild to a moderate concussion which was upgraded to a moderate to a severe concussion, bruised shoulder, arm, collarbone, and her face was pretty bruised up. The 1st couple of weeks after the injury were rough, she had no screen time at all, no reading, chilling super quite in the dark and she slept a ton.
She is all good now… she had to chill for 6 months and there's no sign of any long-term damage. We are so super grateful.
The Events
There were 2 events scheduled, Supergirl Snow Pro Boardercross and Supergirl Snow Pro Halfpipe spread over a Saturday and Sunday with practice happening on Friday.
For the Boardercross, Kaylee was the youngest competitor at just turning 8 years old and there were several girls who were 9-12 years old. I'm pretty sure all of the kids crashed at least once on the course… None of the kids crashed as bad as Kaylee.
No Fear
Kaylee (8) is pretty much fearless. She has so much confidence in everything she does and it's awesome.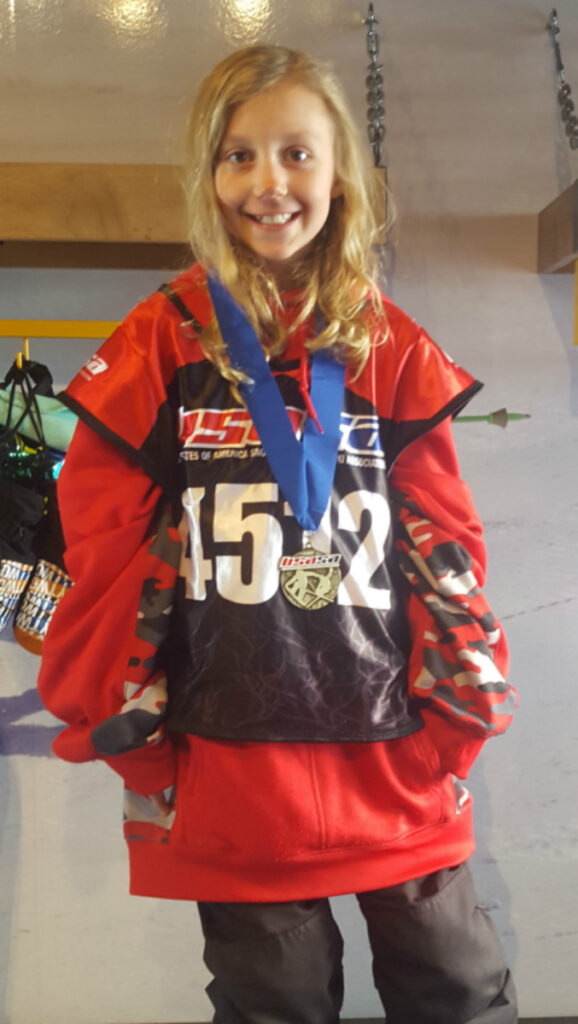 Because she had practiced the course she was feeling it. There was a very large shark-fin jump which she was told to not hit. Pros were hitting it and crashing. Kaylee's 52-pound body didn't have the weight to get her to clear the 20ish foot gap.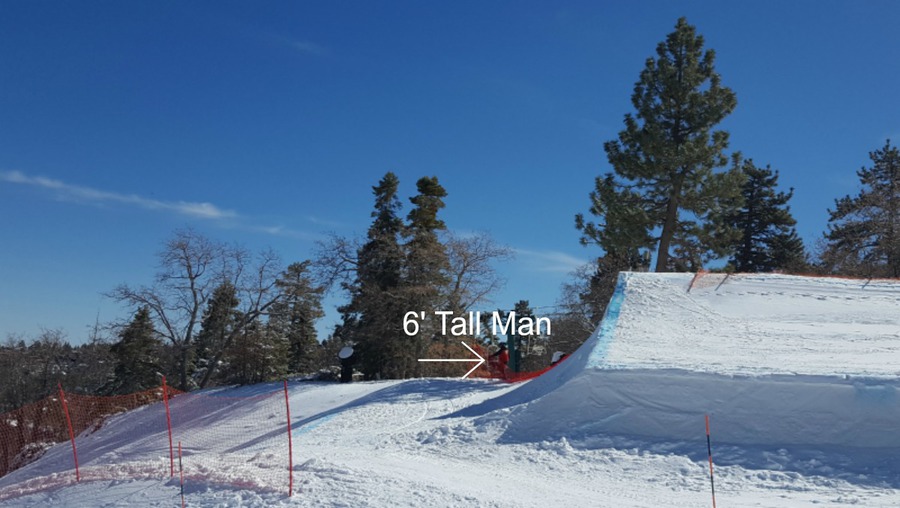 Kaylee was told and as well as was reminded to not hit the jump and to instead, slow down and slide it instead.
Speaking to Kaylee at home she was like…
"I know I was told not to hit it… but when I came around the corner… I was like… I got this!!!"
Yeah, so she crashed and got a severe concussion and banged up pretty bad. She had to go to the hospital by ambulance. This was after again being told not to hit the sharkfin jump right before she ran the course… and she did it anyway.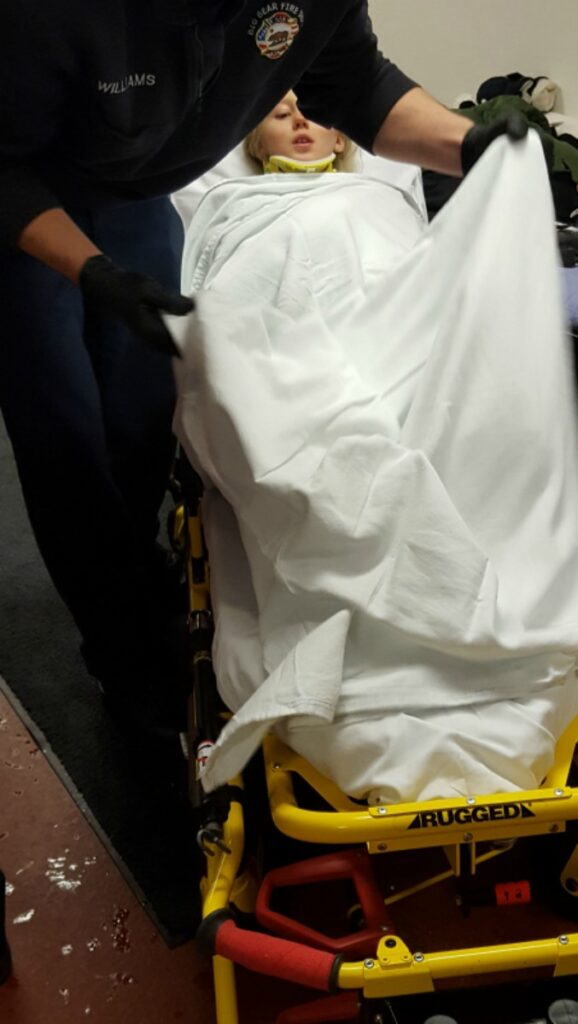 I can't express the gratitude I had that she was wearing body armor and protective gear. If she wasn't, the injuries she sustained would have been much worse than what they were.
Zoë loved Supergirl Snow Pro
Zoë had a blast at the Supergirl Snow Pro. She got to hang out with her friends and made some new friends too.
She met some pros who she looks up to… a couple of them follow the girls on Instagram @johnsonsnowboardsisters and they both get so super stoked when their "pro girlfriends" like and comment on their photos.
Zoë thought it was so cool there were women who made a living by just doing what they loved to do (snowboarding) and making it look fun. She said all of the pros were super nice and she was inspired by them. I'm so grateful.
I'm always on the lookout for strong women who are also strong riders to go out and do a few laps with my girls. In such a male-dominated sport I feel it really boosts their confidence. And they have so much fun.
That's what Supergirl Pro is about right there… inspiration. Zoë is inspired to be a pro snowboarder.
Zoë took 3rd place in the Supergirl Boardercross with a packed field of super talented young ladies. She was super stoked!!!
The girls can't wait to ride!!!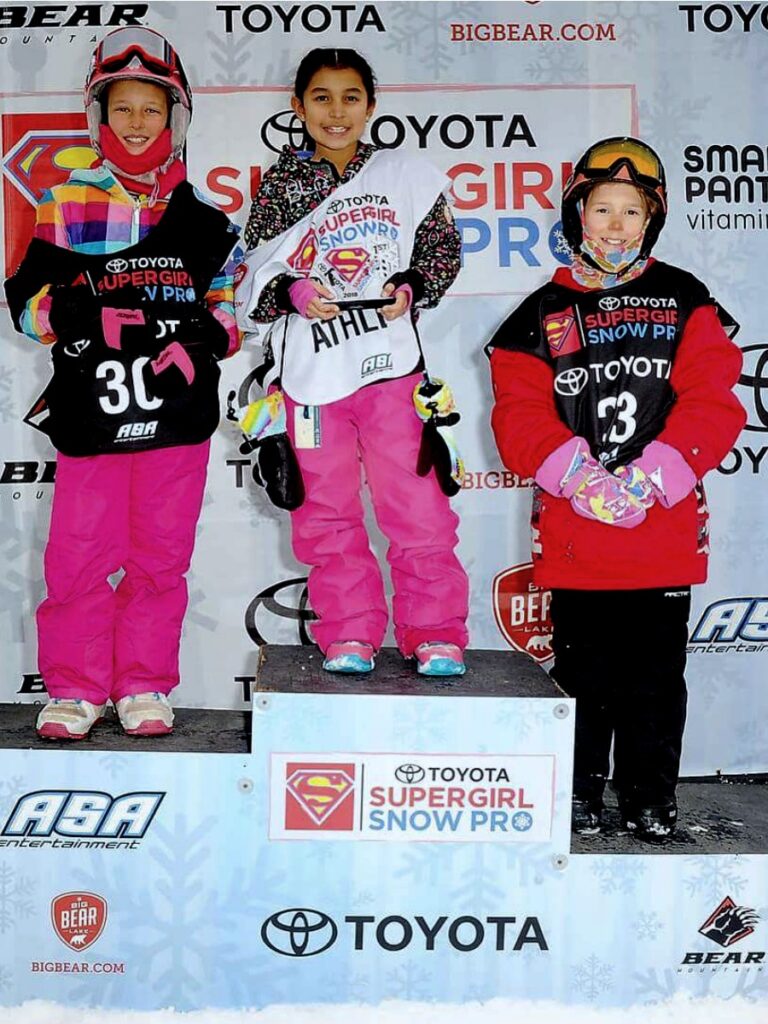 Saying the girls are stoked to go snowboarding is a huge understatement. Zoë is focused on getting better so she can go pro… Kaylee said she has no desire to be a pro and is focused on "beating Zoë at everything."
Kaylee just wants to be better than Zoë. The sibling rivalry is endearing and all in good fun… most of the time LOL.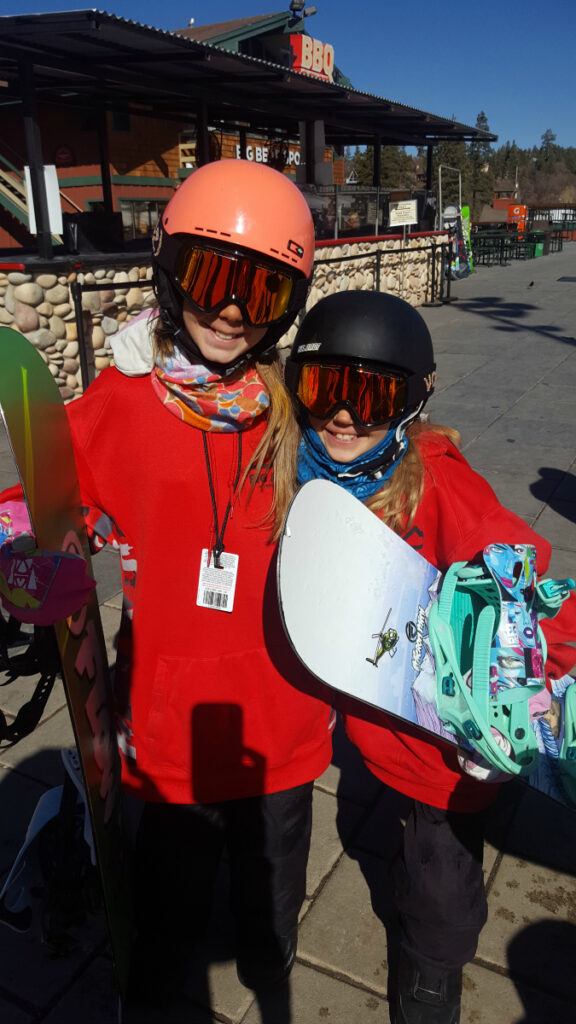 We hope Supergirl Snow Pro comes back to Bear Mountain this season… both girls are super stoked to do it again. And Kaylee… oh my little Kaylee said:
"I'm going to wait until the end of the season to REALLY send some big jumps… so if I get hurt I won't have to miss out on riding as much as I did last season."
Yeah… my youngest has no fear… the scary type of no fear. It's all good though, she takes after her daddy and if anything, it just makes for more interesting times on the slopes.
This next season is going to be so much fun… we can't wait.