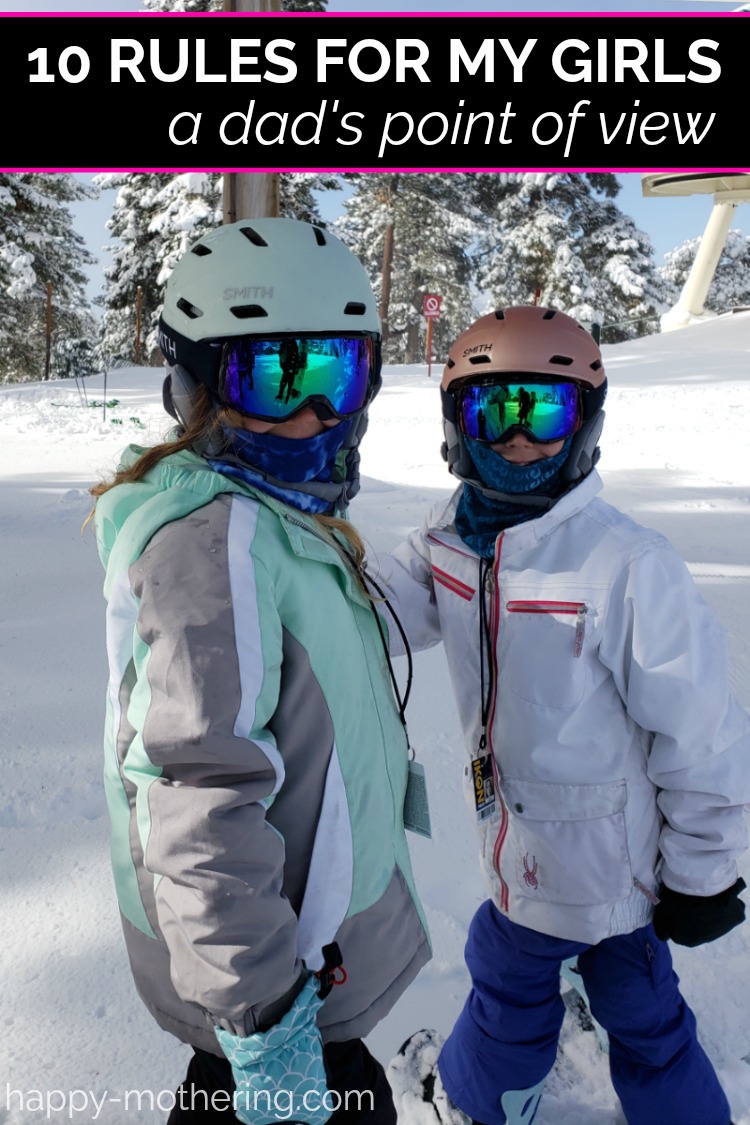 There's nothing better in the world than being "Daddy" to my 2 little girls. It's hands down the best thing I've ever done with my life. I've said that a million times before and I'll say it a million times over.
Every day is a new experience… a new realization… a new epiphany. And what a rollercoaster ride of emotions being a dad is. For the most part, it's super highs where you feel like you truly are the superhero your little ones see you as sprinkled with moments of thinking, "Damn… I'm fucking my kids up." 
I'm going to be a dad?
I wasn't prepared to be a dad, nor was I ready to be a dad when Chrystal got pregnant with Zoë. I'm not sure there's ever a "moment" when you're ready… that said, I definitely wasn't there mentally.
Until I met Chrystal, I never thought I would be a dad… sure other peoples' kids are cool but I was positive I was "noping" out of kids. I was super cool with being a bachelor forever. Back then I lived by the beach in San Diego, rode a motorcycle, had a dog and a good crew of friends. I was a workaholic (management in cubicle-land by day and a bouncer by night, playing solo acoustic gigs at coffee shops in La Jolla on Sundays) who partied every night I wasn't working and was crushing life on my own.
When I met Chrystal that all changed. Being a dad was something that didn't seem like it would be a horrible experience because I knew she would make a great mom. Still, it wasn't something that I thought would be in the future.
The first time I seriously thought of having a child was when Chrystal came in the bedroom one morning and said: "You're going to be a daddy."
Dude, that shit scared me. Like to the core. The thought that I was going to be responsible for raising another human being and responsible for how they turn out was a scary thought, and it still is. If I mess up, it can negatively affect my children for the rest of their lives. So I try really hard to not fuck up.
Household Rules
There are so many philosophies when it comes to parenting and a lot of them suck. There is a lot of bad parenting and not all parenting philosophies are good or correct. There are many parents who mess their kids up and there are many parents who shouldn't be parents. That said, I'd like to believe for every shitty parent out there… there's 10 more who are doing it with the best of intentions.
We have nothing but "the best intentions" too… that said, there's that old saying "The road to Hell is paved with the best intentions."
Our goal is to raise our girls to be good well-rounded women who are happy, confident, strong, independent, empathetic and who live their lives for themselves. The way we feel we can do that is for all of us to always have open and honest communication no matter what the circumstances are. No matter what happens in life we want our girls to feel comfortable in speaking to us about anything.
So one of the many discussions Chrystal and I had about raising our children was, "What are our household rules going to be?"
For as simple of a question as it is… wow, it's such an important question. It started off with a few ideas and has grown into a pretty solid set of standards we live by in our household.
1. Be Honest
Honesty is the best policy. The most important thing in our family is that we all always tell the truth and are honest with each other. Not in just telling the truth to each other, but in telling the truth to everyone.
Telling the truth is just so much easier to do. It lets people know where you stand so there's never any confusion. We share our feelings with each other. We have super open communication. There are no questions or topics that are off-limits for our girls to ask us about. We don't judge them when they share their feelings. Their feelings and no one's feelings are wrong. Everyone owns their own feelings.
Being honest encompasses so much. If you have to sneak something, that's not being honest. Cheating and stealing are also forms of lying. If you ever have to explain something with "technically" coming out of your mouth, you're probably in the wrong.
Now here's the kicker. I truly believe in leading by example and that kids emulate their parents. And I'm extraordinarily brutally honest, I have very little tact and I tend to speak without a filter. So trying to teach the girls tact is a truly "do as I say and not as I do" situation for me. Chrystal influences the girls on this side much more than I do.
If you ask my girls their opinion or a question, they may give a brutal answer. I'm okay with it. They'll ultimately define what kind of tact they will use during their lives.
2. Love Yourself
I can't stress teaching self-love enough. My goal is for our girls is to love themselves, have confidence in everything they do and to have amazing self-esteem. I feel their confidence starts with love and empathy from us. We all dish out copious amounts of hugs and "I love yous" around our house all day every day.
If one of our girls wants a hug, no matter what I give them one. When they fall down, I pick them up and hug them (we snowboard so slams happen). I try to reassure them.
I read & listen to tons of books. One of the best parenting books I've ever read is a very short, extraordinarily impactful business management books called "The One Minute Manager". One of the most important and best things I've ever learned was taught to me by this book. Basically, if you catch someone doing right, praise them and their behavior. If you catch someone doing wrong, educate them and help them to where they do right in that situation again.
When I catch my girls doing right, I acknowledge them and their behavior. I praise them and make it a big deal. This builds up their confidence so much. Like these 2 things that just happened… and they're interchangeable as well because they both do these types of things all of the time. So I would say:
"Zoë, instead of hitting the jump… you slowed down and went off to the side over to the person who was laying on the ground to ask if they were okay. That is so amazingly kind of you. I love how kind, caring and considerate you are of others and I really appreciate how you have such a big heart. You make me so proud. I love being your daddy, you're such an amazingly awesome daughter and such a great big sister." 
"Kaylee, you just loaded and unloaded the dishwasher without being asked… oh my goodness, you are such an amazingly awesome helper. Thank you so much for being such an awesome daughter. I really appreciate all of the help you give around the house and it makes me proud you are such a wonderful daughter and such an amazingly awesome little sister." 
I constantly let my girls know I love them and I'm there for them. And guess what? They open up and talk about their emotions and feelings to me. They open up and talk about things they don't understand, general life questions and what their thoughts and beliefs are. I listen to them and show them I value their thoughts and opinions.
Having great conversations together gives me the opportunity to know my girls on a personal level. To learn from them, teach them something new, laugh with them and it gives us the opportunity to bond with each other. They know I value them as a person.
The way I treat my wife and the way I treat my little girls is the example they are going to have of how a man should treat them. This is huge on how their self-esteem develops. They know they deserve to be treated amazingly well and to be treated with love and no less than the best.
Life is too short and too precious to let negativity rule. I teach them that happiness is a choice. Finding the positive in everything is a conscious decision you have to make. Knowing this gives them the confidence to take control of situations instead of letting situations take control of them.
I teach them to win in life and it's so much different than the "winning in life" I see many other parents teach. So many people think that if you are winning in life someone else has to be losing. That's just not true. Everyone can win in life… we all should help to bring each other up… it's just a mindset.
3. Ask for Help
If you need help, ask. There's no shame in asking for help or receiving help when you need it.
I feel society in general looks down on people for asking for help. It seems like everyone is expected to be the expert in everything while in reality that's the farthest thing from the truth.
If you don't know, ask. If you have a question, ask. If you are unsure about something, ask.
No matter what it is, our girls know we will never belittle any question they have. They know we will answer the question openly and honestly. They know if we don't have an answer to a question we will say, "I don't know." They know we will try our best to find the answers to questions we don't know the answers to.
4. Be Grateful
Be grateful for and appreciate everything in our lives and most importantly, be grateful for our actual lives. Always have an attitude of gratitude.
Being grateful isn't just something you say… it's a mindset. It's a way one looks at life.
Straight up, you have a better chance of hitting the lottery 100x in a row while being bit by a shark and getting hit by lightning at the same time than actually being born. Then what are the odds that you were born who you were and where you are? Dude, we are so lucky.
If you're looking at this webpage, you are in the top 55% of the people in this world who have Internet access. If you're reading this page, you are in the top 20% of the world who speak and read English. If you're a native English speaker you're in the top 5% of the people in the world. What are odds? See how lucky each one of us is?
This means at a bare minimum you have an electronic device, electricity and the Internet. With those 3 things, you have the capability of creating wealth for yourself. There are literally billions of people who can only dream of the opportunity you have.
We are all so lucky, what are the odds? I'm so grateful to be alive and grateful to be able to spend the quality time with my family that I do. I'm grateful for the life we live, where we were born, where we live and for the life decisions I've made that have all lead me to this moment in time. There's literally so much to be grateful for it would be impossible for me to list.
One of the most important parts of being grateful is that we don't squander the blessings in our lives. We teach the Law of Attraction. We give thanks to all of the energy in the universe and really focus on what we want to manifest in our lives. And for the most part, it works.
Something my girls have heard me say tons is, "Lead with love and follow with empathy and kindness."
5. Follow Through
When my girls take on a project I expect them to complete it. When I ask my girls to do something, I expect them to do it. When you start something, finish it.
I think the reason most people don't finish things they start is that they don't know how to finish. Finishing things scares them. I'm teaching my girls how to relish in the satisfaction of completing things.
If my girls don't understand how to finish something because of lack of understanding, that's my fault, not theirs.
I teach them to question me if they don't understand what I'm asking or why I'm asking them to do something. No, I don't like it all of the time… I do respect it. And there's a fine line between questioning authority and talking back, which often gets crossed. And I'm okay with that as I'm letting them know when they are crossing the line and I'm trying to teach them the difference.
All of that said, I'm teaching they don't have to finish everything. There is a time to quit. There is a time to walk away from things that don't make sense. Teaching them the difference between following through and knowing when to quit is the hardest part.
6. Show Common Courtesy and Respect
Show common courtesy and respect to everyone/ do unto others as you would have them do unto you. In general, just be nice. I feel many people need to have a refresher course in this.
Being nice doesn't mean to be a pushover. It doesn't mean that you're weak. It means you show empathy and kindness when you don't have to. It means picking up after yourself not only because it's clean, but also because it helps to show respect to the other people you live with. When someone asks you a question you say, "yes please, thank you, no thank you."
Show people who provide you with services kindness (waitresses, waiters, lifties, attendants… whatever)… it's protocol, not an option.
At the exact same time, I'm teaching them to command respect. If you give it out, you'll get it back. And if you don't get it back, if someone does mistreat you… don't allow it. Have a backbone and stand your ground.
Teaching them to lead by example is a huge way they are able to build their confidence by commanding respect in pretty much everything they do. Think about it, the most powerful & most respected word in every language is "Teacher."
7. Control Your Temper
Don't hit, kick, punch, push or touch each other in anger. "Stop touching each other." LOL… if I had a dime for every time I've said that. I'm being dramatic, they're not that bad.
It's really about teaching the girls their personal boundaries. Their bodies are theirs and no-one else's. Equally, other peoples' bodies are theirs and no-one else's. I feel every little girl and little boy needs to have this message drilled into their heads.
If they can avoid a physical altercation, I always say to avoid it. Don't get me wrong, if they ever feel physically threatened, they have my full support in striking first and striking hard.
Controlling your temper is more than not being physical. It's also about letting stuff roll off your shoulders. I feel teaching them to not care about other peoples' opinions of them is one of the most valuable things I can give them.
Life is just too short to let other people get under your skin. If someone is not cool, just walk away and move on with your life. Being mad, holding grudges and dwelling on those people simply brings negativity into your life, so just don't participate.
We highly monitor all online activity of our girls. And we teach if someone online is mean or rude online, simply block them and move on with your life and don't think twice about it.
The only way one can lose their temper is if they care about the other person's opinions or actions.
8. Have Patience
"It will happen, the time will come, don't rush it, wait for it to feel right, don't do it before you're ready."
Our girls are so good at being patient. Better than I ever was. We don't believe in unearned instant gratification and it's reflected in our girls' attitudes. Of course, they get impatient every once in a while – they're 8 and 10 years old, so that's going to happen. The thing is, they're not brats about it.
So many people have a crazy sense of entitlement. I always say "Noone is entitled to anything, ever."
They understand delayed gratification… maybe not in those words, but the concept for sure.
9. Pay Attention to Everyone and Everything
I'm hyper-aware of everyone and everything around me. When I walk in a room, restaurant, office or wherever… I scan for exits, count all of the people, note their locations, mannerisms, try to position myself so I can have the best field of vision to see who is coming and going… and I make an exit plan.
I teach them to always observe their surroundings, who is around, what they are up to, what they are doing, what they are saying, where they are looking and what their body language says. Read people like a book and always be aware of their surroundings. Always observe objects around them and be aware of their body as in where they step or how they move (especially while snowboarding), where landmarks are (small like inside of a home or business and big like stores, rocks, trees and the like).
When they go into a new place to always find the exit, scan the tables and people and their behaviors. We snowboard a lot. While in the lift line we pay attention to how people are conducting themselves from the way they are standing/ pushing on their board, to how they look on their skis. At the top of the chair, we pay attention to groups of people and individuals and pay attention to how much those people are paying attention to their surroundings. We play a few different games at the mountain that make them hyper-aware of other people and their actions.
Frankly, I may be a little over the top with it and I really don't care because it makes me feel good to know they are aware. I feel this will serve them great in life.
10. Don't Hurt Other People, Animals or the Planet.
This is something I feel every person on the planet needs to have tattooed on the back of their eyelids. It shouldn't need much explaining, though I feel it does.
Don't hurt people emotionally or physically (unless for defense). Don't hurt animals; if you hunt… do it for food, not for sport. And Earth is home to all people and animals… don't hurt it.
The number 1 thing we do to harm other people, animals, and the planet is global pollution.
Our planet is facing a global pollution crisis that most people are completely unaware of. This global pollution crisis is currently causing the mass extinction of thousands of plants and animals each year. Our oceans are dying. When the oceans die, we all die.
The Great Pacific Garbage Patch is now larger than twice the size of Texas or 3 times as large as the country of France. And that's not the only garbage patch. In fact, there are 5 known giant garbage patches spread throughout the oceans of our world.
The Fukushima Diatchi Plant is still spewing countless gallons of highly radioactive water into the Pacific Ocean daily… and it has for going on 8 years now.
Mississippi Canyon 20 is still spewing oil off the floor of the Gulf of Mexico and has since 2004. Literally millions upon millions of gallons of oil are polluting the Gulf of Mexico and the Atlantic Ocean.
Mass amounts of animal life on the planet are dying off because of global pollution.
Our world is going to face both clean water and food shortages causing mass starvation within the next 50 years. This is going to happen unless our world makes some drastic changes.
My girls are 100% aware of all of this and we talk about it.
If we can all show love, empathy, compassion, and kindness to each other, animals and our planet… our world would be a much better place.
I'm not perfect by any means!
I'm not a perfect dad. I don't always do the right thing. I'm sure I've damaged my kids, not as bad as some and worse than others. I mess up as a dad all of the time.
I try to recognize when I do mess up, I own it, apologize for whatever it was and try my best to make it better. I try my best to correct my mistakes and try my best to not repeat them. I feel as long as I'm trying to do my best, that's all I can do.
At the end of the day, what I want the most for my girls is they are happy.
Hit me up with any questions below and I'll be more than happy to hit you back.
Thank you for reading this!