The past month since our last snowboarding post has been a whirlwind of fun, excitement and snowboarding. Zoë and Kaylee have hung out with pros, had USASA events cancelled, rescheduled and they have been to Mammoth Mountain twice and competed in several USASA Events.
On January 13th the girls got to meet and hang out with Olympian Lindsey Jacobellis… they were beyond stoked. Kaylee was star struck and hid behind her camouflage facemask for the first 5 minutes of talking to her before coming out of her shell. Lindsay was super nice and had great conversation with the girls who were ear to ear with giant smiles for the next couple days.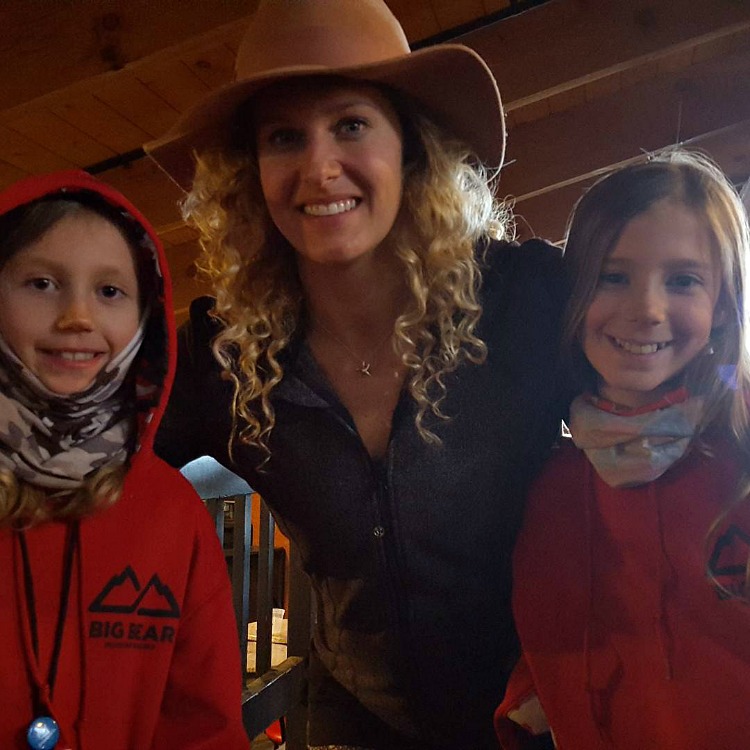 Jan 16th, the snow at Bear was the opposite of rad and a storm was set to be moving into Mammoth. I packed the girls up and away we went on a surprise trip to Mammoth. The girls had a blast riding together.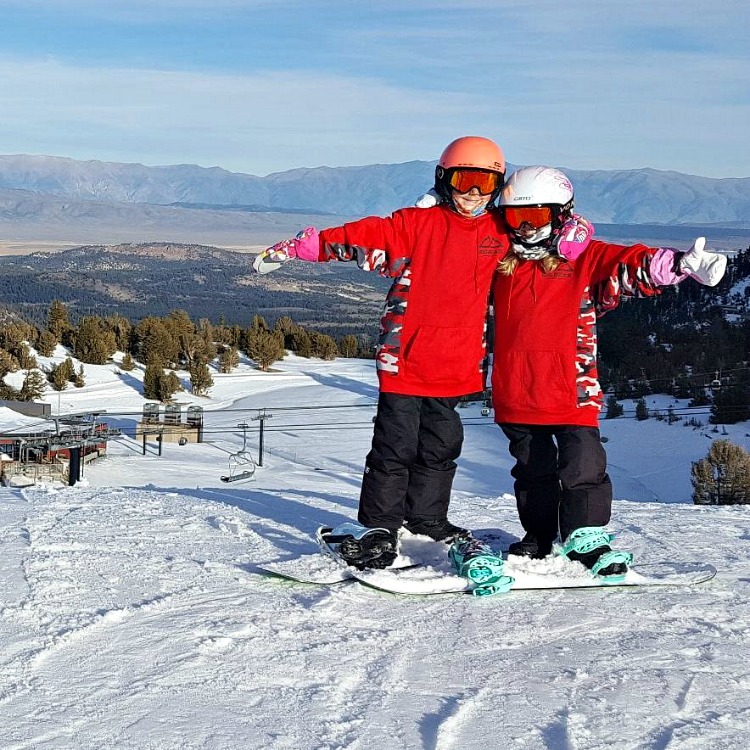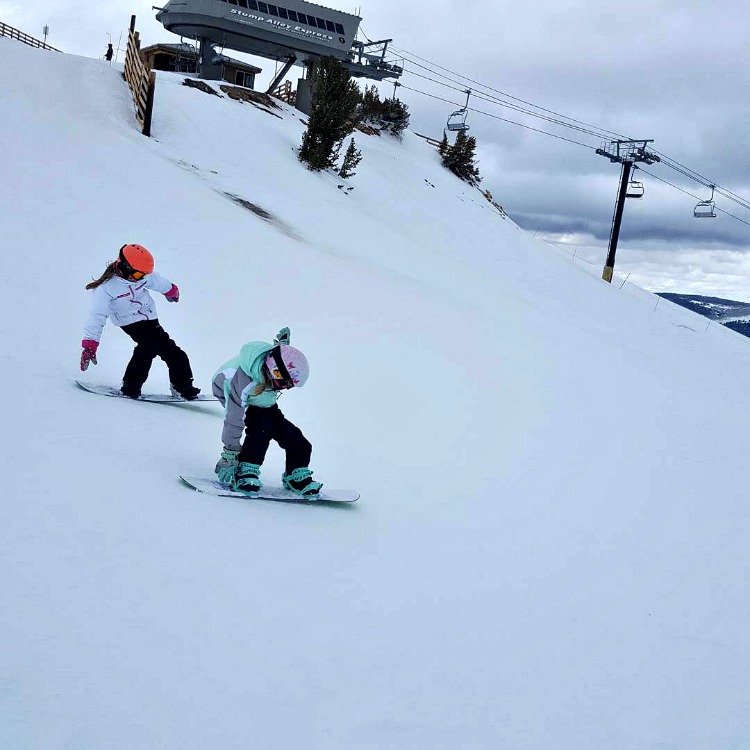 Here's a short 5 minute clip of the girls riding down Spook (Black Diamond Face at Mammoth) down towards Canyon Lodge.
We got back from Mammoth expecting a USASA Event and it had unfortunately been cancelled so we went back to shredding Bear Mountain.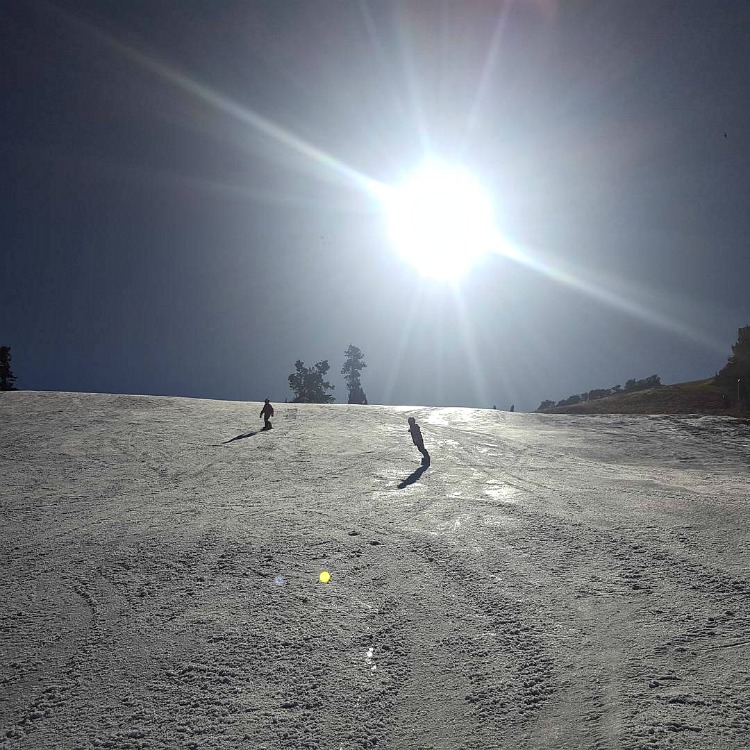 It may be in the 60s during the day and freeze at night… but there is always a good hour mid-day when the snow is awesome for shredding.
There's a giant Rainbow Box at the top of Chair 9 (that's the Main Park run at Bear) which the girls were slaying.
Zoë really likes that giant rainbow box!!!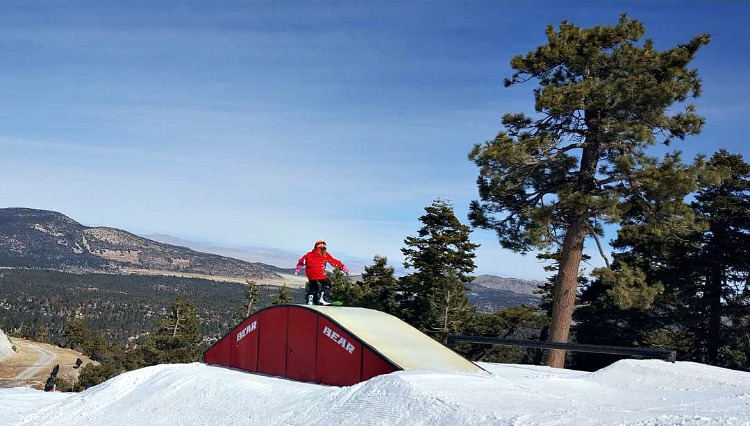 We then were notified that our 2 Halfpipe Competitions were reschedualed in Mammoth in their 22′ Super Duper Halfpipe. So back to Mammoth we went. The girls had so much fun together competing. This was Kaylee's 1st time in the Super Pipe and Zoë's 2nd time in the Super Pipe at Mammoth.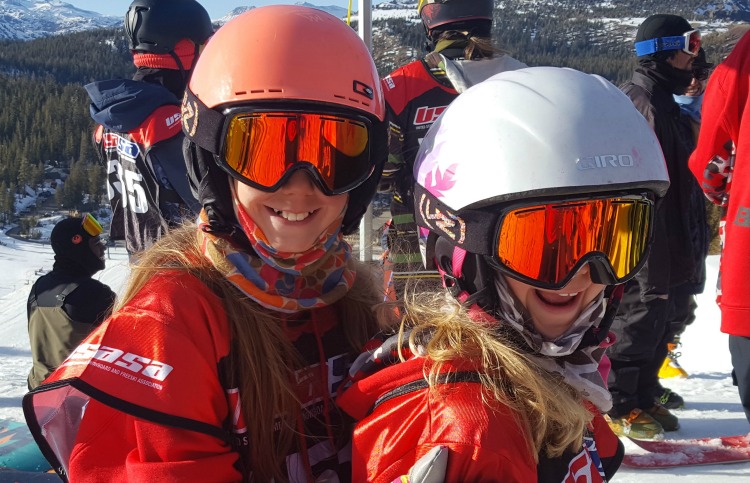 This is Zoë coming down from her 3rd hit… she said she was scared because she didn't expect to go that high and she said "I felt like I was floating" so she speed checked hard at the bottom before her next wall, though she still had great amplitude. I took this photo then went straight over to video for the rest of the run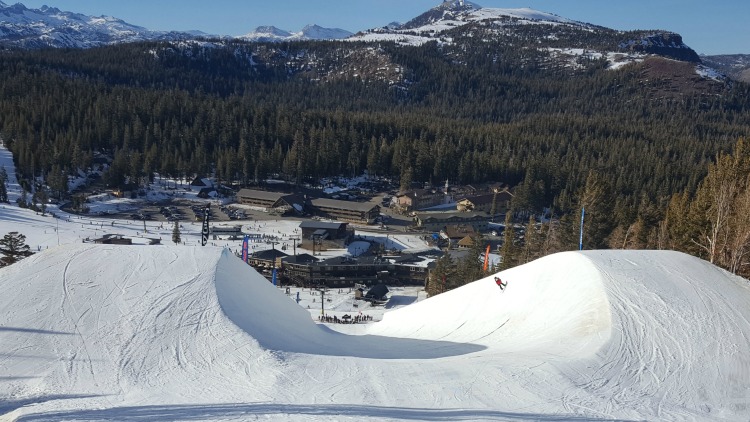 Here's the rest of Zoë's Silver winning run after her 3rd hit…
Zoë took 2 Silvers in the Mammoth Halfpipe Competition and Kaylee took 2 Golds. They're both in different age groups so they're not competing against each other.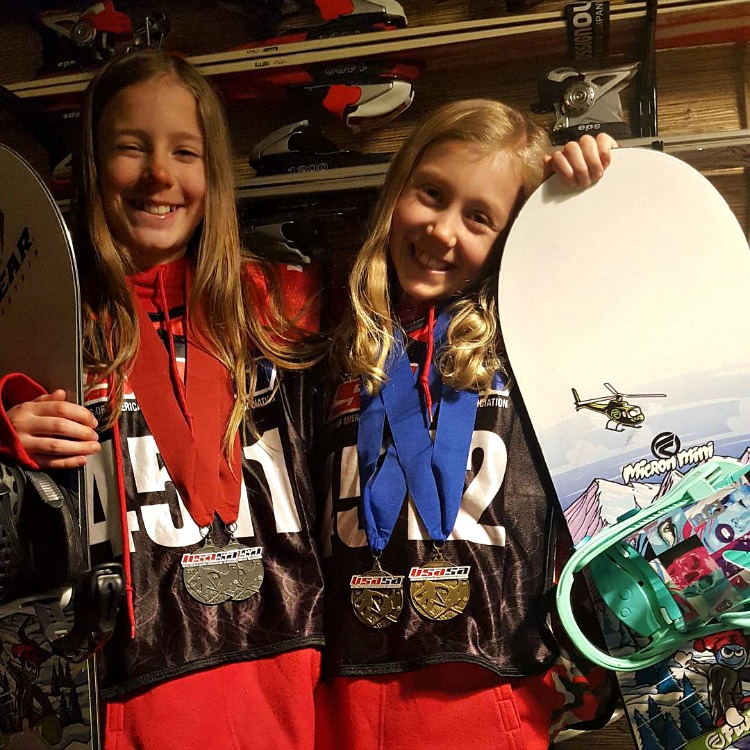 The following Friday night we had Slolom and Giant Slolom on a sheet of ice over at Snow Summit. Zoë earned 1 Bronze and Kaylee earned 4 Golds.
The event ran late and lift operations wouldn't let the final 15 athletes on the lift to do their final run. The competitors were allowed to either have their previous run's score used for their final run… or… to hike up that giant steep hill to complete their last run.
The girls and I hiked. They were super exhausted by the time we hiked back up to the top. They would have for sure had better scores if we kept their previous run's score, regardless we are so happy we climbed to the top and they earned their final score.
My cell does not take good night photos and this one below was the best one I got. The girls both had a blast.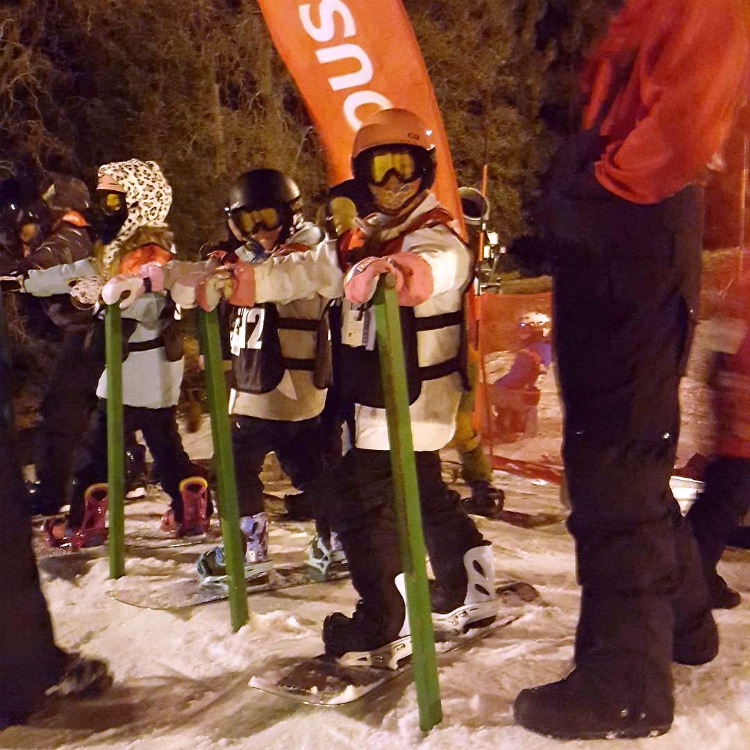 Then this past weekend happened. Slopestyle at Bear Mountain. Both girls warmed up on the course for a couple of days.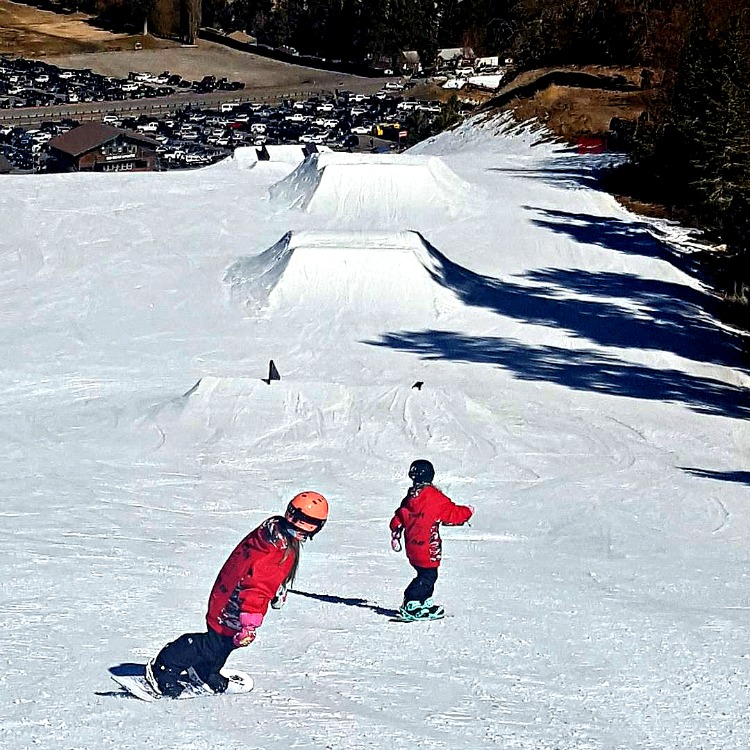 After chatting with Kaylee, her and I decided she would sit the Slopestyle out… Zoë competed while Kaylee rooted her and their besties Reese and Riley on. If you haven't checked out the Rivera Snowboard Girls… go to their Instagram here and enjoy. They're awesome kids.
This was the best photo I got of Zoë pulling a Tony Hawk style pop over the 1st jump. She sent it and I couldn't be prouder. That's Kaylee's head watching her sister take flight!!!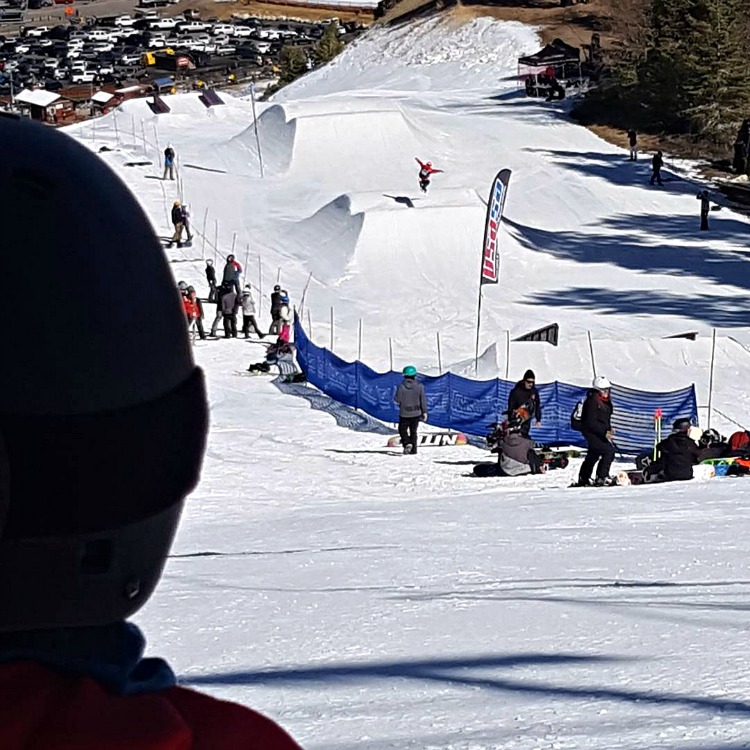 And here's a photo one of the parents took at the exact same time but from below!!!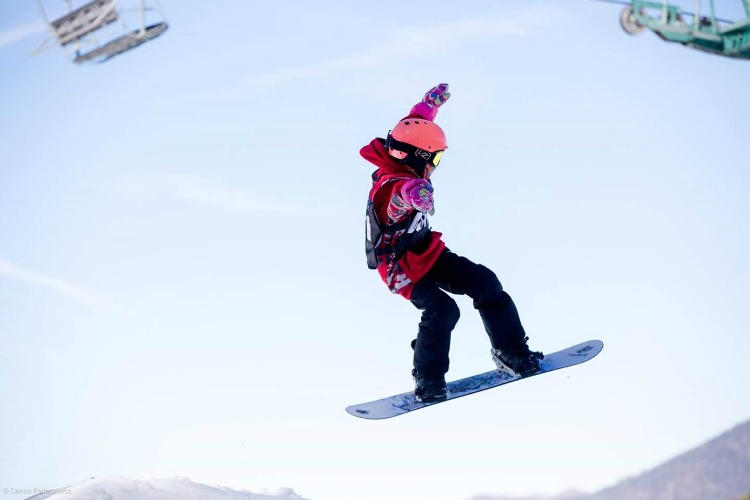 Here is one of Zoë's runs on the Slopestyle Competition. This is the best quality video Chrystal took of her that day!
This upcoming weekend we have a Rail Jam at Bear Mountain and we'll be hitting rails all week preparing for it. Wish the girls luck and we'll have a Rail Jam update next week.