The American Wine & Food Festival was held on September 25, 2010 at the Universal Studios Backlot in Los Angeles, and Brian and I were lucky enough to attend thanks to 100% Cork.
I won a pair of tickets to the event for leaving a comment on their facebook page. I was so excited because it had been over a year since Brian and I had even had a date night, and it had been about a year and a half since we'd spent an entire night away from the girls. That's a long time!
So it was a great excuse for us to get away for a night (my mother-in-law and husband's grandmother were in town, so we even had babysitters lined up). We got a great deal on a hotel from Hotwire.
The American Wine & Food Festival is an annual event that has been running since 1982, and to date has raised more than $15 million for the Meals on Wheels Program in Los Angeles.
Since it was held on the Universal Studios Backlot, it was an outdoor event. It was a very warm night—we aren't used to the heat living up in the mountains. Regardless, it was a really fun event.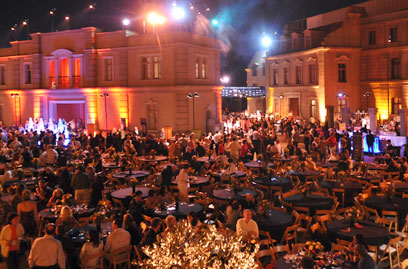 We got there around 6 pm. It was a huge event—there were a few hundred people waiting in line to go through security and take the tram out to the event when we arrived. When the tram arrived at the event, there was a table with wine glasses set out for sampling wine. We grabbed a couple glasses and started checking out all of the wineries and restaurants that were there.
There were so many wineries there that we didn't get to try them all, but we definitely consumed a ton of different wines. One of our favorites was the Groth Reserve Cabernet Sauvignon, but we also got to stop by the Rosenthal table (we used to be part of their wine club before we moved to Uruguay) and taste their latest releases.
We also got to sample a ton of delicious food from world-renowned chefs. We were so full from the sheer amount of food we ate.
Our favorite dish at the whole event was actually the sliders from Holsteins Las Vegas (which will be in the new Cosmopolitan Hotel opening next month). They were topped with aged goat cheddar and hickory smoked bacon, and were seriously some of the best burgers I've ever eaten. We actually went back to that booth later in the night (the only restaurant we got seconds from).
There were great beef dishes at a few booths and a really great scallop dish at another one. Pork belly seemed to be very popular—several restaurants were serving it. I wouldn't try it, but Brian said it was gross and he couldn't believe that it was so popular at the event.
There was also a restaurant serving a thin slice of special pork that only ate acorns in France and had been salt cured for 2 years, which was topped with caviar. It was supposed to be a culinary delight, but all I can say about it was that it was extremely salty. I had to dash to the wine table next door and grab a glass to wash it down.
Towards the end of the evening, they opened up a dessert and champagne/port lounge. I sampled a few desserts and had a glass of champagne, but we were too full too sample too much at that point.
And of course, we stopped by the 100% Cork table to thank them in person for the tickets.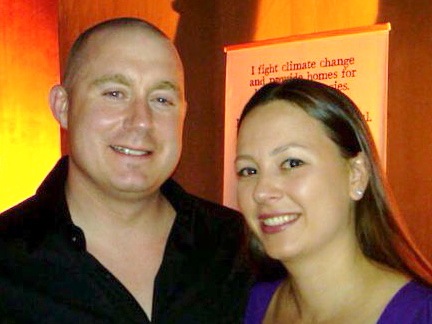 It was a really fun, much-needed date night for us. We definitely need to make more time for date nights.