When looking for a good restaurant that's family friendly in Las Vegas, it's hard to know what's what when it comes to non-chain restaurants. And if you've dined in Las Vegas, you know some of the best chefs in the world are on the Las Vegas Strip. One of those chefs is Executive Chef Bryan Forgione at Buddy V's Ristorante. He is warm and personable, and epitomizes the family values that Buddy V's stands for.

Are you a fan of The Cake Boss?
Buddy V's is The Cake Boss' signature restaurant located in the Shoppes at the Venetian/ Palazzo Hotel and Casino. The food served is Italian food at its finest, and the kids loved the place just as much as mom and dad. Buddy V's is definitely one of the better restaurants we've experienced in Las Vegas, and one not to miss out on.
We were seated at a booth upon arrival and our waiter Caleb greeted us promptly, setting us up for a wonderful dining experience. Caleb has been serving at Buddy V's since the restaurant opened. The service we received at Buddy V's was beyond 5 stars. Caleb was hands down one of the best and most attentive waiters either of us has experienced.
He started us off with some beverages while we discussed the menu. All of us left with souvenir glasses to commemorate the experience.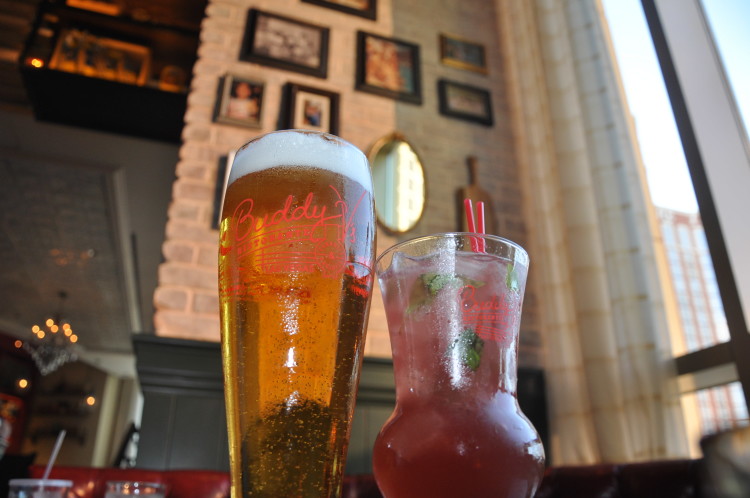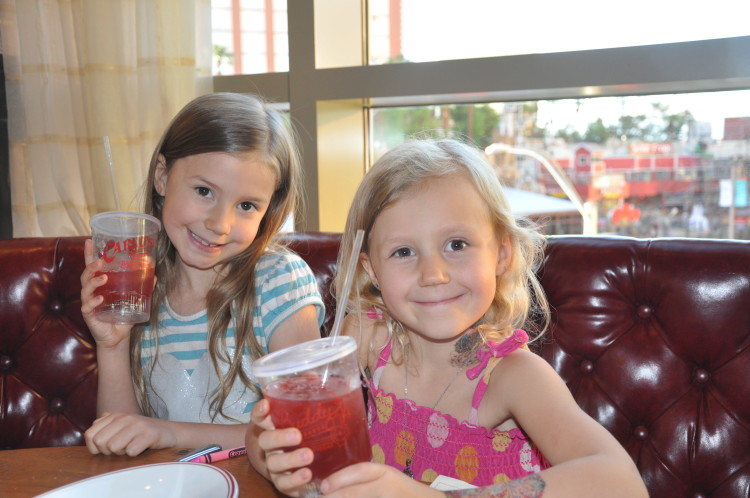 The Atmosphere
When you walk into Buddy V's Ristorante, you can smell that it's an Italian Family Restaurant through and through. The smell is phenomenal. From family photos on the wall to the family friendly menus and unique decor, such as the rolling pin wall that separates the restaurant from the bar, Buddy V's is all around awesome.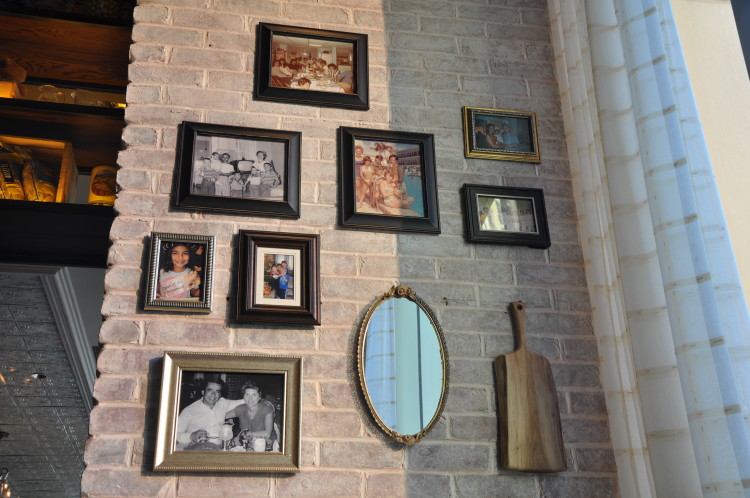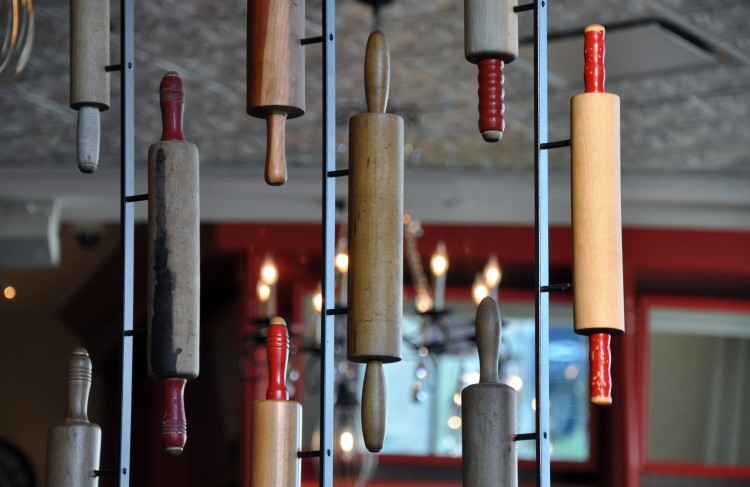 The Bar area (not so much for kids) featured a duo playing live music and the bar itself is striking in appearance. The music subtly filled the restaurant and provided a very good ambiance.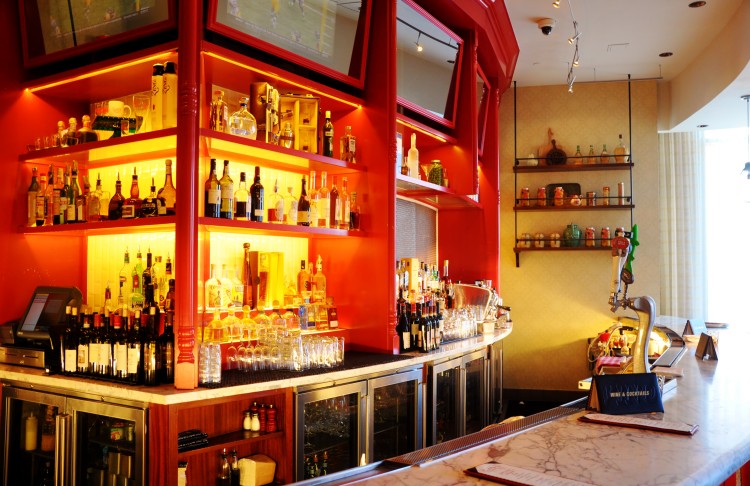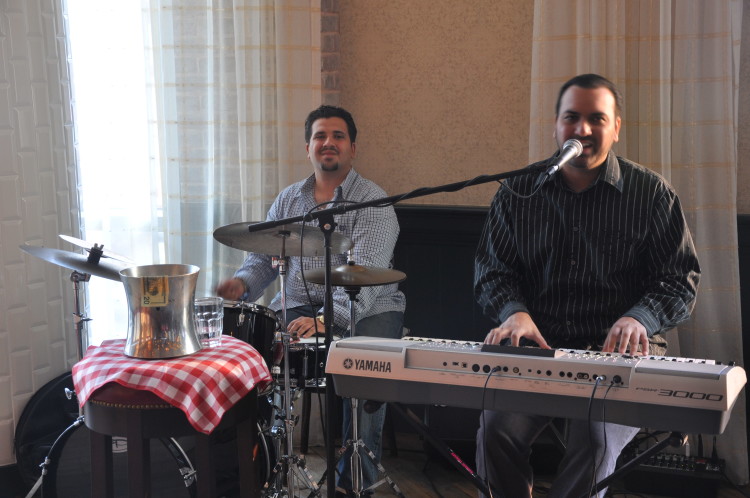 One of my favorite features of Buddy V's is the open concept kitchen. You can see the staff in the kitchen busy and bustling to get the food out. The shelves surrounding the kitchen give even more visual interest.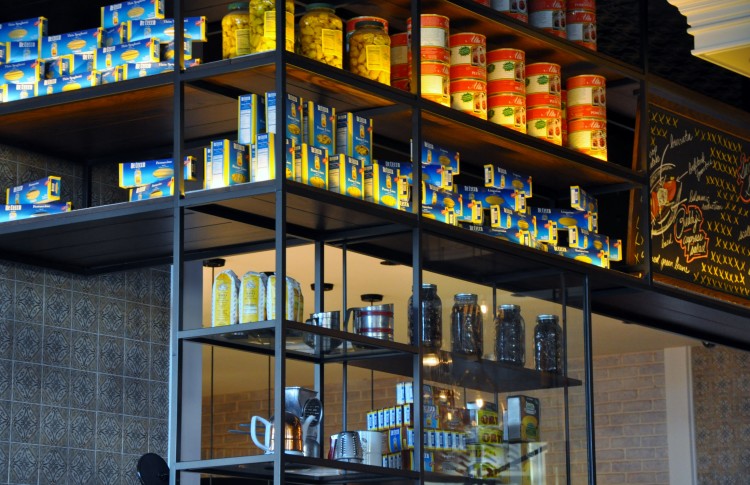 You Won't Be Disappointed with the Food
The decor isn't where the greatness stops. The food at Buddy V's is no less than amazing. We told our server what we liked, didn't like and any food restrictions we had (Chrystal is gluten free) and let Caleb and Chef Bryan choose our menu. That was a great decision. He brought out several things we never would have ordered, making this dinner a real treat. You can see Buddy V's full menu here.
All of the dishes were served family style, which really re-enforced the Italian culture of the restaurant. It's so nice to sit down for a family meal and interact with each other that way. It's like having a gourmet chef making a dinner at your home, but no dishes to wash 🙂
We Had an Amazing Spread of Appetizers
Grilled Octopus. If you haven't had octopus before, Buddy V's is the place to try it. Even the girls asked for seconds. Truly an amazing appetizer.
Macaroni & Cheese Carbonara. The tiny bits of pancetta and peas in this Mac & Cheese truly set it apart. It's a meal in itself!
Aunt Nina's Mozzarella en Carozza. These are somewhat like grilled cheese. A great app for the kids.
Panzanella Salad. This was our other favorite appetizer. It was one of the tastiest salads we've had. I could eat one every day.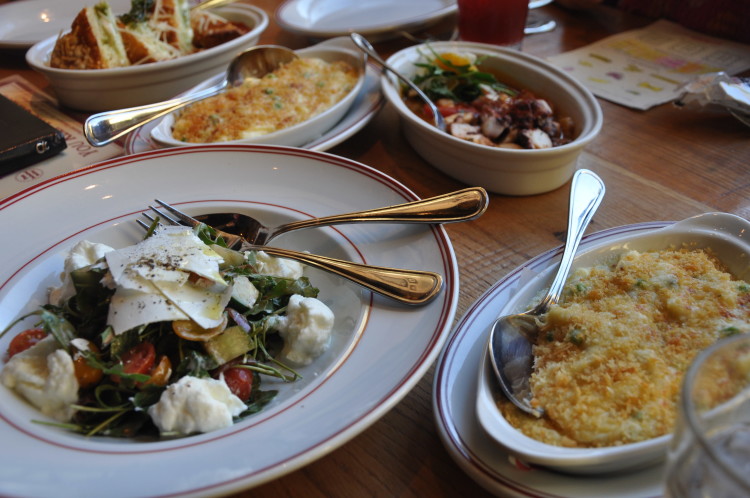 By the time we were finished enjoying the appetizers, the main dishes were about ready to come out. We weren't sure if Chef Bryan could top the appetizers, but he did! Each meal he brought out was something we wouldn't have ordered, which was wonderful because it allowed us to step outside our comfort zone and experience new things. That's a great lesson to teach kids from a young age.

We Had the Pleasure of Enjoying 3 Amazing Entrees
The Spaghetti Bolognese was a huge hit with everyone at the table. They even made it with gluten free pasta so Chrystal could enjoy it. It was delicious!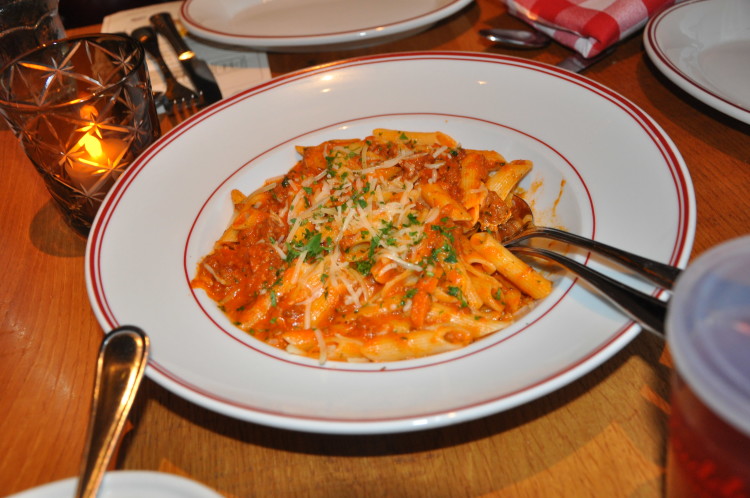 The Veal Marsala is one of the dishes we wouldn't have thought to order. However, it was one of our favorites. The veal was incredibly tender and flavorful. Even the girls gobbled it down!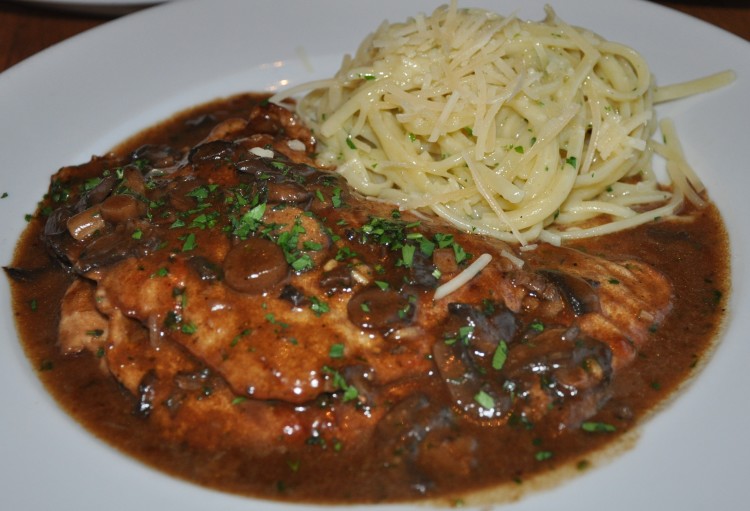 The Roasted Chicken was delicious as well. It's a great choice if you have picky eaters with you because everyone loves a good roasted chicken.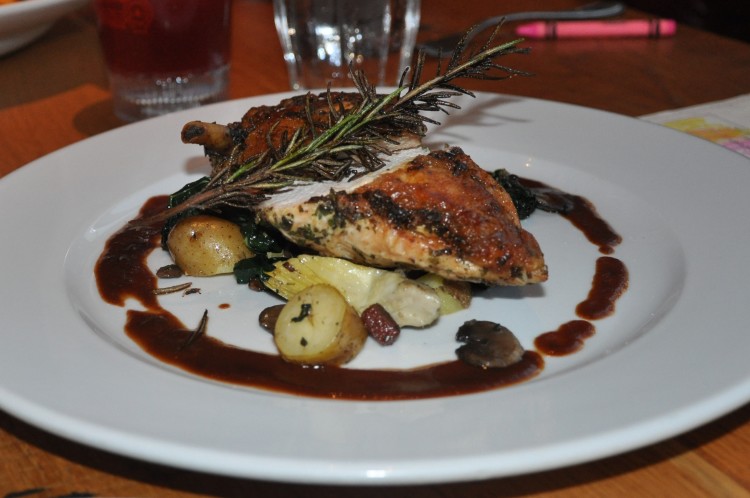 We Made it to the Final Round: Dessert!
Right when we thought we couldn't possibly eat another bite, Chef Bryan came to sit down with us and see how our meal was and talk about dessert. We said no way! We can't eat another bite! However, he convinced us to try a few desserts. We didn't regret it 😉
Of course, we had to try the Cannoli. It is the house special after all. Yum!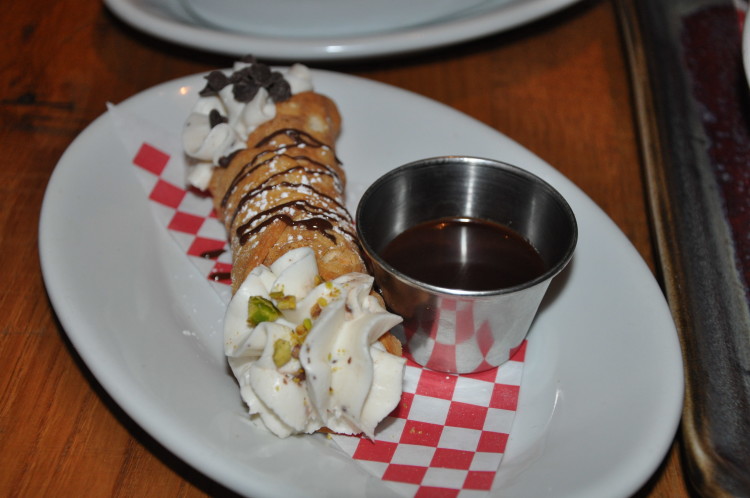 Chrystal ordered the Butterscotch Creme Brulee on Chef Bryan's recommedation. All I have to say is we both thought it was the best Creme Brulee we've ever tasted. And we've both tasted a lot of Creme Brulee. Order it when you visit Buddy V's. Just do it!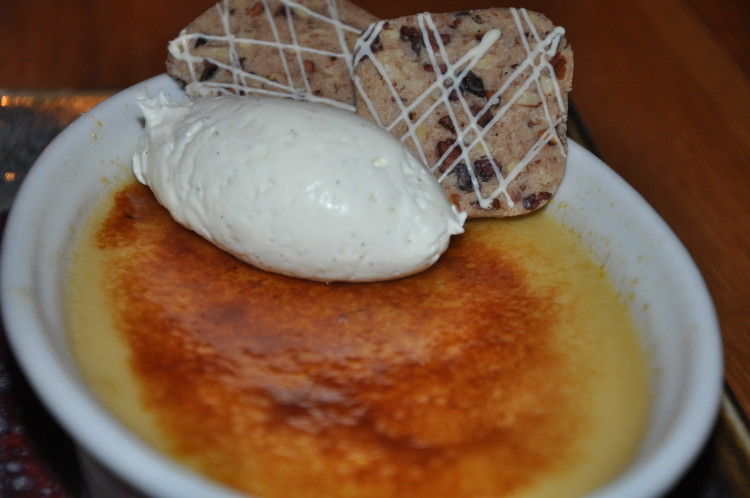 If you want to get up and stretch your legs before having dessert, you can have dessert right across the hall at Carlo's Bakery, which is another location started by The Cake Boss. The dessert menu is a bit different than Buddy V's, but we have heard it's amazing too. We were just too full to go sample their pastries. Next time we're in Las Vegas for sure.
An Experience You Won't Forget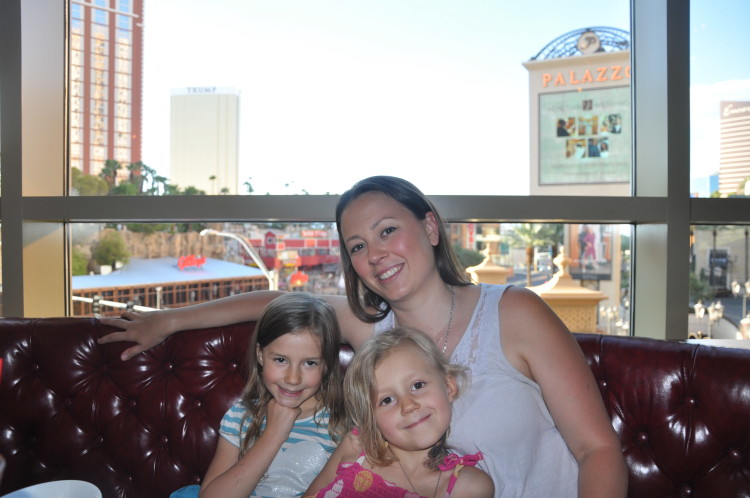 Dining at Buddy V's is truly an experience – one the whole family can enjoy. If you're planning a Las Vegas family vacation, be sure to visit Buddy V's. It's located inside the Venetian Grand Canal Shoppes at 3327 S. Las Vegas Blvd. You can make reservations on their website or by calling 702.607.2355.