Looking for an eco-friendly car that can comfortably take you on an 11-state tour through the US? Check out how the Hyundai Elantra Eco stacks up.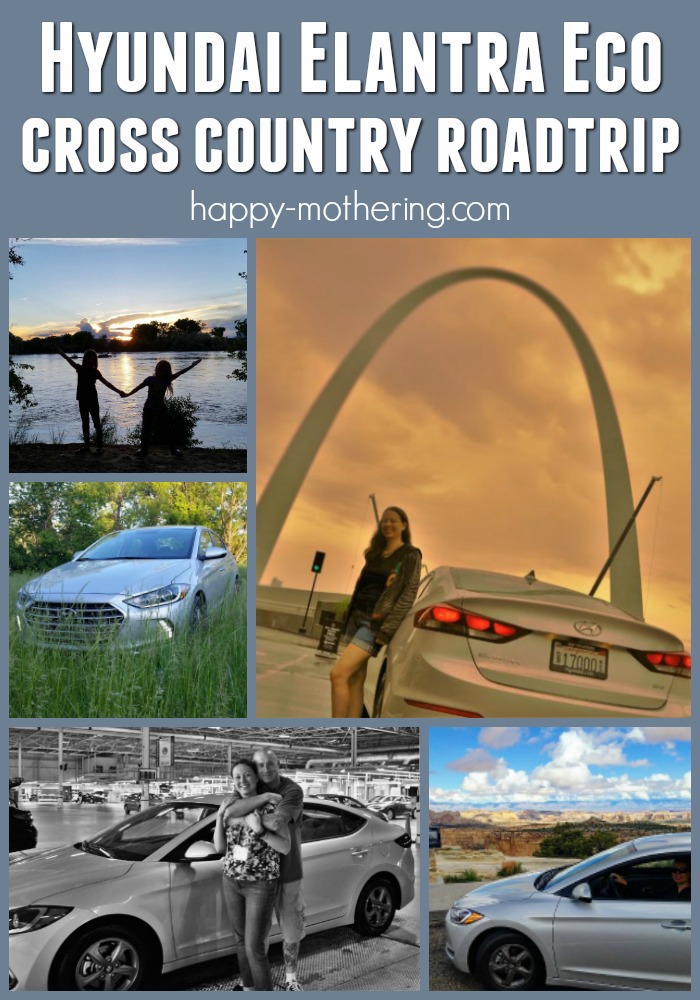 One really awesome thing about this blog is the opportunities that it presents for us. Back in early May, we were invited by Hyundai US to test drive and review their all new 2017 Hyundai Elantra Eco. While we review cars on Happy Mothering quite often, this opportunity was different.
Hyundai flew us from LAX to Montgomery, AL to tour their state of the art factory and drive a 2017 Hyundai Elantra Eco out of the factory and back home to Big Bear, CA. From thunder and lightning storms, to pouring rain to sandstorms… over the next 9 days we had an amazing adventure stretching across 11 states.
The 2017 Hyundai Elantra Eco is starting to hit Hyundai dealerships across the county, and you need to go check it out… because frankly, it's pretty awesome.
Our trip to Montgomery – without kids!
The first questions was, "What do we do with our kids?" I would like to believe that's a pretty standard question parents have when they have the opportunity to travel alone.
We couldn't bring the girls to the auto factory (not a safe environment for active 6 and 8 year old little girls), so we decided to fly them to their Mimi's house in Richmond, MO and pick them up on our road trip back home with us in the Elantra Eco. That was a great decision.
We arrived at LAX at 6 am to drop Zoë and Kaylee off at Southwest to Kansas City – their flight left at 7:30 am and our flight was set to leave Delta at 9:30 am.
After the hustle and bustle of getting the kids on their flight and returning our car rental, Chrystal and I were stoked to finally sit down on the plane and get ready for our day-long journey to Montgomery, AL.
I've never been to Alabama before, let alone Montgomery. The city is full of history and you can feel it.
The birthplace of the Confederate States of America, right down on the Riverfront is where slave traders would bring slaves in from the Alabama River. It's crazy to think our country used to be involved in slave trade.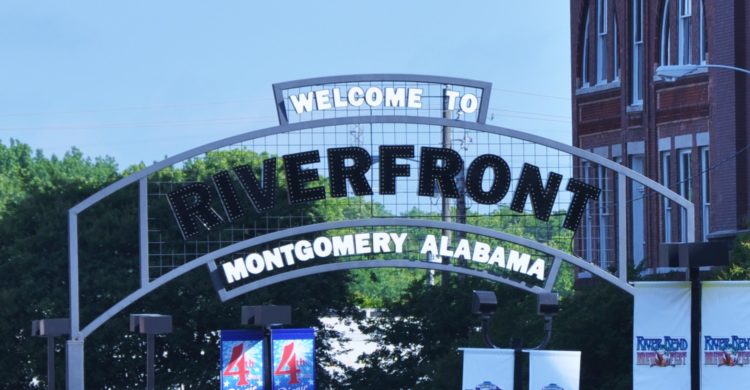 We arrived at The Renaissance Hotel right at 5:45pm, went to our room, changed and went to a meet and greet reception where we met the other test drivers. We met some wonderful people and had a great time.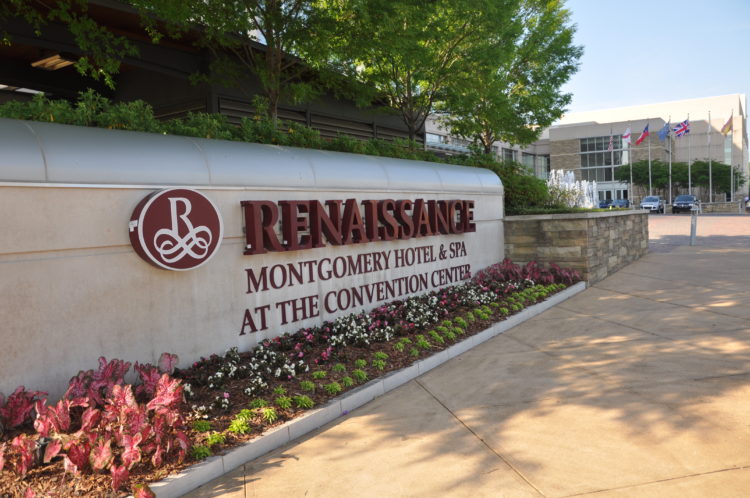 Then we headed out for Montgomery BBQ at Dreamland BBQ. Sweet, spicy, saucy deliciousness… If you want some fantastic southern BBQ, Dreamland is the place to get it.
After dinner, we went and had drinks and enjoyed live entertainment. Of course, where there's a guitar and mic, I shall sing. Thanks to Jason Givens (check him out, he's insanely good) for letting me play his cutaway.
The Renaissance Hotel offered a very clean room, super comfortable bed and a super relaxing night of sleep. The next morning, we had breakfast catered for us, but I couldn't get enough of the fresh pineapple and melon.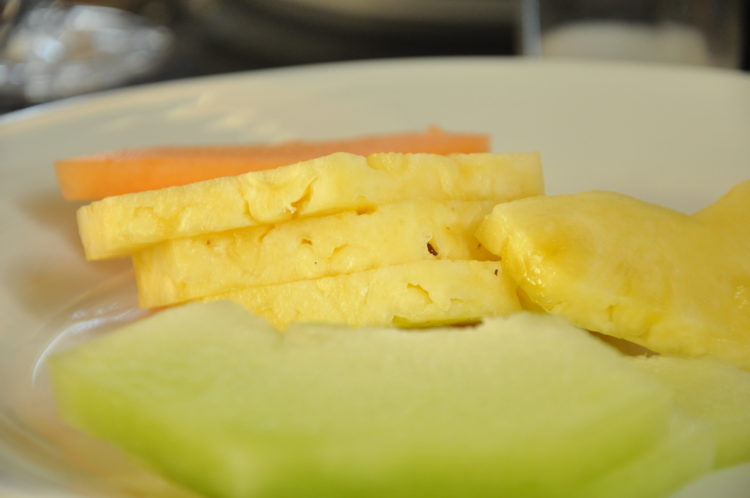 After breakfast, we all loaded onto a shuttle and took a ride out to the Hyundai plant. Once we entered the plant, we walked into a large showroom to check out Hyundai's newest vehicles.
One really cool thing the showroom had was miniature scale models of the factory – down to models of the entire production line. What's cooler than that? Getting to actually, physically go and tour the production line, of course.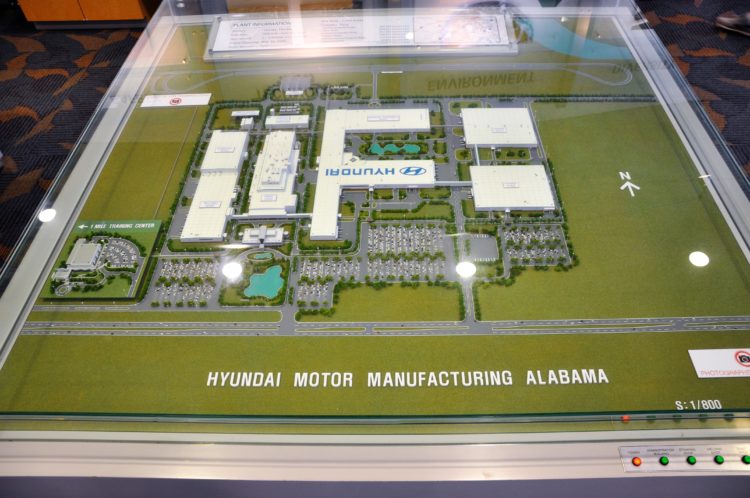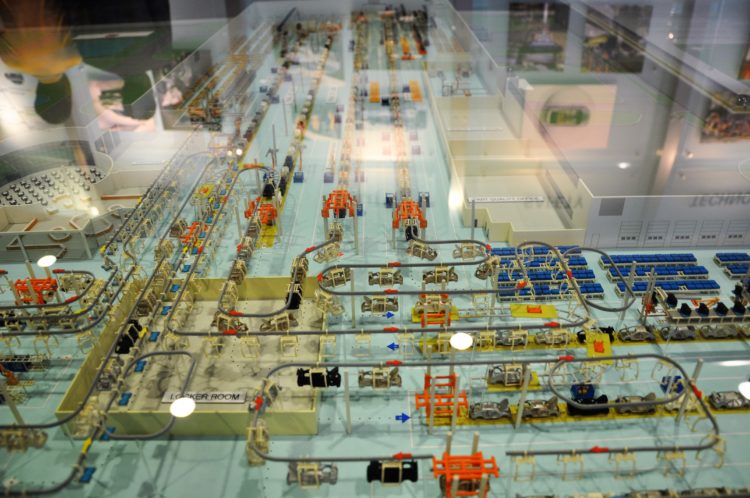 We moved on to a tour of the Hyundai factory and watched new Hyundai Elantra Eco (as well as the Hyundai Sonata) being built by a combination of robots and humans.
Robots are not only stationary – doing task like welding, moving the vehicles and parts from one side of the facility to the other –  they actually assemble the vehicles.
Some of the robots even drive around on their own. Be sure to click play on the video.
Dangerous jobs that were once done by people are now done with precision by robots who don't have to worry about sparks popping down a shirt while welding (that's happened to me and "OH GOD" it hurts).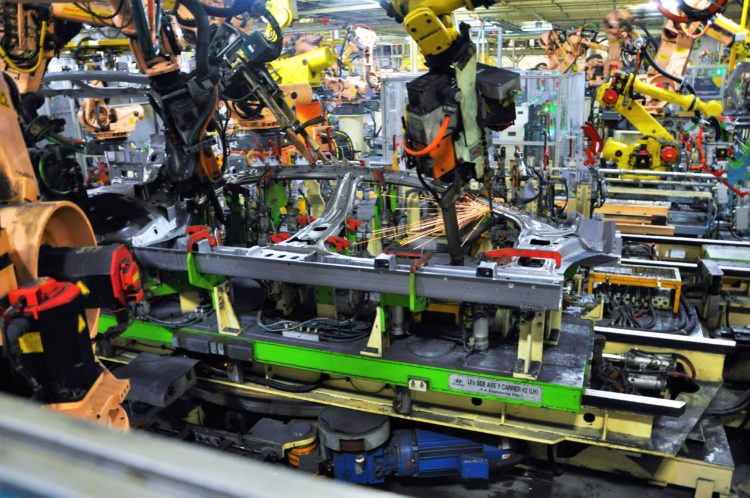 The fine tuning is done by humans. Hyundai employs several thousand employees and touring the facility, they all appear to be happy and smiling while getting it done.
They should be – the average production line worker makes $70,000 per year and the average maintenance worker makes $100,000 after working at the factory for 2 years.
One thing that really stuck out to me was the amount of quality checks and quality assurance testing that was done at the factory.
One of the coolest facts is that they check every car, not 1 out of 10 or some other random arbitrary number. Every car is inspected multiple times over at different stages of the production process.
Hyundai even does a water leak test on every car to make sure they don't leak.
Then after that, every car gets taken out on a test track for a rigorous test drive (more rigorous than anyone does when they test drive cars at dealerships). The quality control aspect of the Hyundai Elantra Eco is on point.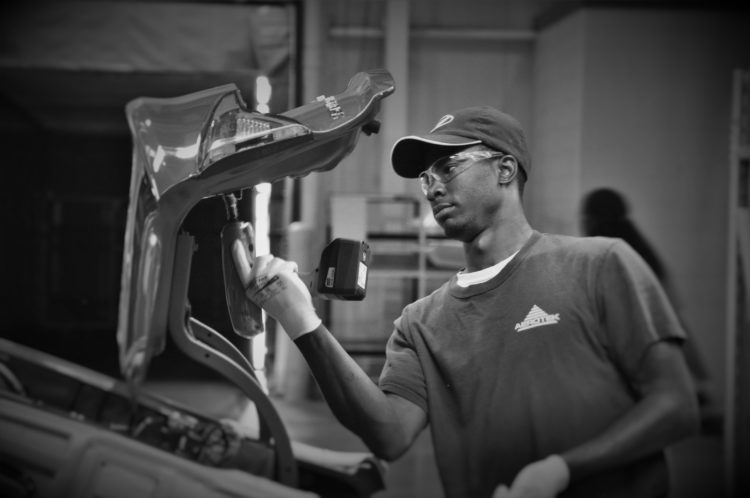 We were excited when we were getting ready to drive out of the factory. It's not often the average person gets to drive a car out of the factory it was built in.
Onto St. Louis – through heavy rain, lightening, thunder and hail!!!
We left the factory and drove from Montgomery, AL to St. Louis, MO. Driving through Alabama, Tennesse and Kentucky is gorgeous. The countryside is lush green with gentle rolling hills and beautiful scenery.
As we headed into Illinois prior to arriving in St. Louis, we hit a huge storm. Thunder boomed and lightening lit up the sky. The rain began light before it started dumping, then the hail came.
Very few things sound as awesome as hail pounding down on a brand new car… as in truly awe inspiring… because all you can say is "awe" the whole time it's happening.
The same storm we drove through hit my buddy's car in Missouri several hours earlier. His car looked like someone took a ball peen hammer and went to town.
On the other hand, the 2017 Hyundai Elantra Eco didn't have a ding anywhere.
St. Louis welcomed us with cloudy skies and a light drizzle. It was no worries as the Hyundai Elantra Eco handled like a champ through the heavy mid-west thunder and lightening storms.
One thing the cloudy weather did was make for a pretty cool shot of Chrystal posing with the Elantra Eco at the St. Louis Arch.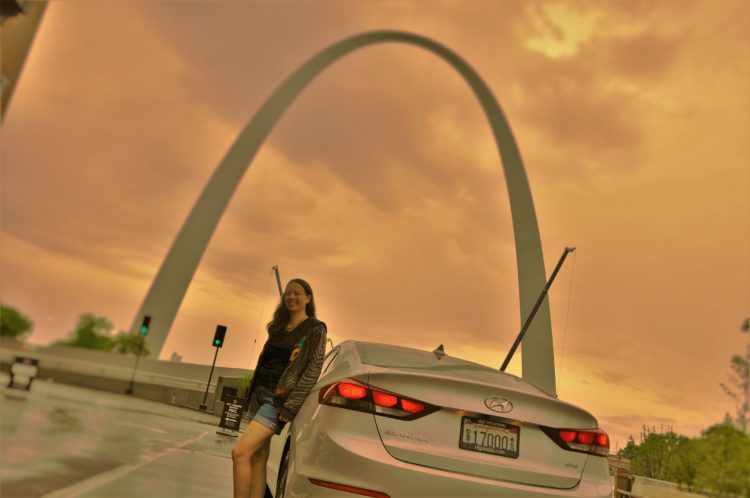 One thing I was excited to see and show Chrystal was the great Union Station Shopping Mall. For anyone who has ever spent time in St. Louis in the past 30 years, there's one place you would absolutely find yourself… Union Station.
It was a weird feeling walking into Union Station as it was extremely dead and a mere shadow of what it used to be. It's interesting to observe a place that was always full of people hustling and bustling around  25 years ago become a virtual ghost town.
The economic downturn in the country can not only be felt throughout the US, but it can be seen.
Slowing down in Richmond, MO – the Morel Mushroom Capital of the World
We left St. Louis the next morning and headed towards Richmond, MO (about 35 miles Northeast of Kansas City). Richmond is the town where I grew up and my mom lives now, so I was excited to see childhood friends that still live there.
It's a sleepy small farm town know as the Mushroom Capital of the World for Morel mushrooms. During mushroom season you can literally find 5 gallon bucket fulls of morels in the woods.
Unfortunately, we arrived to Richmond just after mushroom season. That was no worries because we found a fireworks store on the way to Richmond.
If you can't go mushroom hunting, might as well do the 2nd best thing and light up the skies with some booms and pops.
We sure did have fun setting the fireworks off. This is the "Bling Bling" making booms!!!! (Click for the video)
One thing the execs at Hyundai said was, "Go have fun with the car, really test its limits." Well, I know for a fact the Hyundai Elantra Eco will go through a grass field like a champ.
I wouldn't recommend doing it unless you have a tractor standing by to tow it out, you know "just in case." Fortunately I didn't have to get the tractor for the Elantra Eco.
While in Missouri it just made sense to shoot guns. It's a very Richmond thing to do. Kaylee tore up the targets!!! (Be sure to click for the video!)
Do the kids fit in the Hyundai Elantra Eco?
In Richmond, we picked our girls so they could join us for the rest of the roadtrip. One thing we were worried about was, "Is there enough room in the Elantra Eco for the kids?" There was.
Although it wasn't as roomy as a big SUV, the kids had plenty of room in the back seat (granted they are 6 and 8). We had room for 2 suitcases, a guitar, a ukulele, 4 backpacks, 3 pillows and a small cooler.
After we left Richmond, we decided to do a long drive straight through to Denver. We left around 4 am with the kids still in their jammies. Chrystal and the kids went back to sleep.
We were half way across Kansas when I finally had to stop for gas and that's when the girls finally started waking up, around 9 am. We stopped for food at a Steak N' Shake for breakfast then made our way to Denver. It's mighty decent food at a very affordable price.
Have you tasted the Mexican food in Denver?
We have amazing Mexican food in Southern California. But Mexican food in Southern California is different than Mexican food in other areas of the country.
Mexican food in Colorado is fantastic. You can definitely taste more chili in the Colorado Mexican food, because everything is smothered in it. That's not a bad thing because it's pretty delicious.
We even had burritos on our way out of Denver at the world famous Chubby's… it's a walk up, but wow… it was delicious.
Enjoying a break in Green River, Utah
If you're driving from Denver to Las Vegas, about the midway point is Green River, UT. We stayed at the River Terrace Hotel. It was a nice hotel with beautiful landscaping.
What is really awesome is the hotel sits on the Green River so we could walk out onto our patio and the river was right there. They have an amazing free to order breakfast.
And right next door to the hotel is a restaurant within walking distance, but you'll want to get in your car and drive somewhere else. The restaurant had okay food but terrible service.
The girls had a blast at the hotel. They ran around and burned off energy, then we watched the sun set.
I snapped one of my most favorite photos of my girls. It's truly awesome having 2 little girls that are only 21 months apart, they're best friends.
On our drive to Las Vegas, we stopped a few times to stretch our legs. The beauty of Utah is completely unique.
After our drive through Utah, we decided we need to take a family trip to Zion National Park in the near future. It's almost unbelievable there is a place on our planet that looks like Zion.
Las Vegas is fun for families too!
We finally made it to Las Vegas. I love Las Vegas – heck, we as a family love Las Vegas. I know you're thinking, "Las Vegas isn't really all that family friendly."
Well, you're wrong. It's a super fantastic place to bring the family if you go to the right places.
We did an awesome family trip to Las Vegas last summer and did a series of blog posts on our amazing family friendly adventures in Vegas. You can read the first blog post of the Family Friendly Vegas Series here.
One great place we had pizza and pasta at was Pizza Rock LV. We're not usually one to review an establishment without getting paid for it. But I'm making an exception for Pizza Rock LV.
The food was outstanding and the service was wonderful. Meat pizza so good it'll make a vegan turn into a carnivore. Mac & Cheese so good it'll make you slap yo mama. Lasagna so good it'll… well you get the idea – it was amazing. Just try it!!!
Finally back home in Big Bear
From Las Vegas to Big Bear is about a 3-hour drive. That is unless you drive through a Sandstorm.
I've only been in sandstorm once while I was on tour a few years ago in Arizona… that is until this drive home from Las Vegas.
A wicked sandstorm was raging just east of Lucerne Valley in the desert. It slowed us down a scoatch, but we were stoked to get back to Big Bear.
We finally arrived home in Big Bear after our 9-day cross country trek.
It's pretty awesome to live in a place where people vacation. We have 2 awesome snowboard resorts Bear Mountain and Snow Summit.
Yes, they will allow people to strap sticks on their feet and ski at the resorts too. Bear Mountain is typically rated either the #1 or #2 park in the world. And it's the only resort where you can ride next to pro boarders every single day of the season.
Overall impressions of the Hyundai Elantra Eco
This was a super fun trip with the family. The Elantra Eco isn't as roomy as some of the other vehicles we've reviewed. But at the end of the day, we averaged around 47-52 miles per gallon on our cross country trip.
With the gas prices where they're at, the Hyundai Elantra Eco made the trip very affordable as far as gas goes.
Hyundai put together 3 contests for all of the Elantra Eco road trippers.
Best photo of the Hyundai Elantra Eco shared on social media – we didn't win that.
Coolest feature shared on social media – we didn't win that.
Best gas millage – of course we won that… barely. The best gas millage we got on our cross country trip was 52.8 miles per gallon and we won the best gas millage competition by .1 miles per gallon!
Here's a little video where I talk about how get great gas millage with the Hyundai Elantra Eco.
The Elantra Eco is loaded with buttons… as you know from my former reviews, I love buttons.
One of the coolest features is Android Auto. Don't worry iPhone peeps, they have something for iPhones too. But Android Auto is rad.
It allows you to hook your phone up to the car and use every feature you would use on your phone through your car audio system. I get to use my phone's navigation, my Pandora, my Google Play and my Amazon Music.
Android Auto even reads my text messages to me while I'm driving and allows voice to text for my outgoing messages. Of course it allows for phone calls too.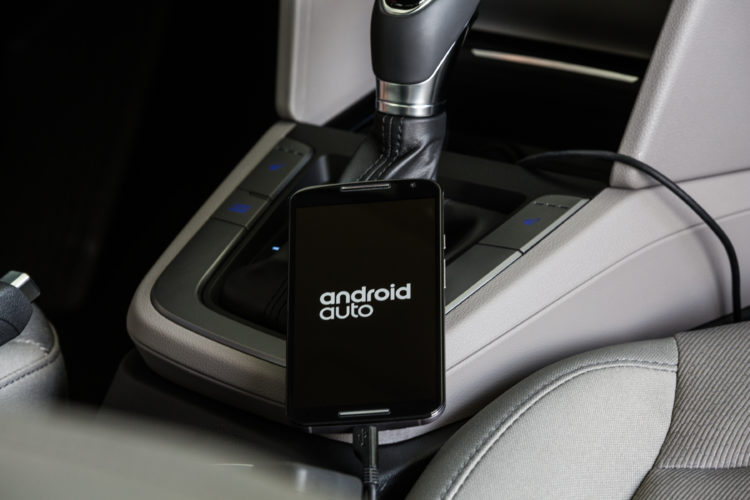 The brand new 2017 Hyundai Elantra Eco has started to hit dealerships across the United States.
If you're looking for an outstanding mid-sized car priced under $21K… yes you read that correctly… go out and test drive a Hyundai Elantra Eco today.