Are you looking for hotels near Knott's Berry Farm? The Marriott Courtyard Buena Park is just down the street. It's clean, comfortable & has great service.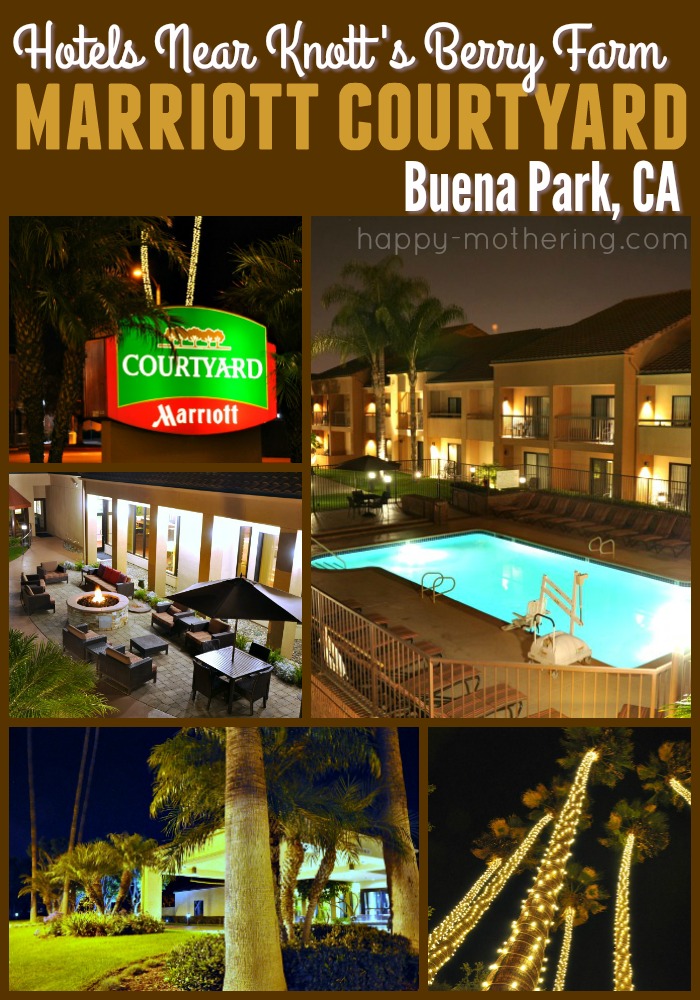 When we visited Knott's Berry Farm a few weeks ago, I decided to visit the Buena Park area for a few days rather than just making one quick trip there and back.
Visit Buena Park was kind enough to coordinate a suite for us at the Marriott Courtyard hotel, which is just down the street from Knott's Berry Farm.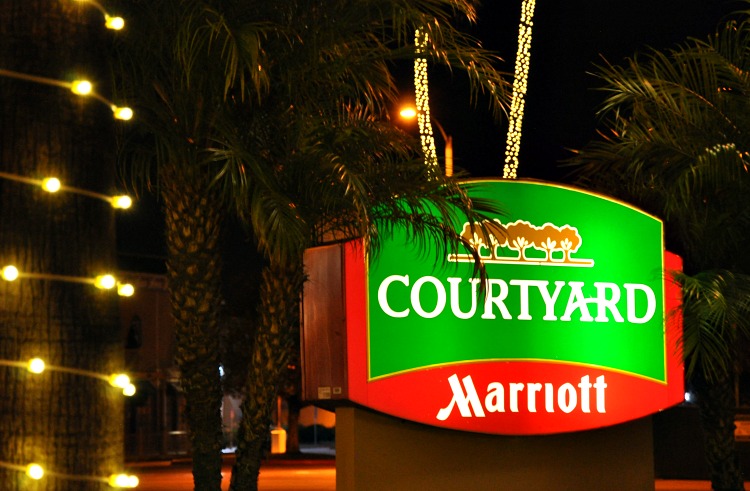 I knew from last year's trip to Knott's Berry Farm that we wanted a hotel within walking distance. The Knott's parking lot is a nice walk from the entrance, so it's easier just to walk there from any of the hotels near Knott's Berry Farm.
When we checked in at the Marriott Couryard Buena Park, I was very pleased with the front desk staff. She made sure I knew exactly where to park so we'd be near an elevator. She let me know the hours of the on-site cafe (which I promptly forgot) and all of the other relevant information I needed.
After checking in, we drove around to the side of the hotel we were staying on, and parked our car. We grabbed all of our stuff and headed upstairs to get settled into our room.
As we drove around, I noticed how nice and lit up the property was. It was well very groomed and taken care of.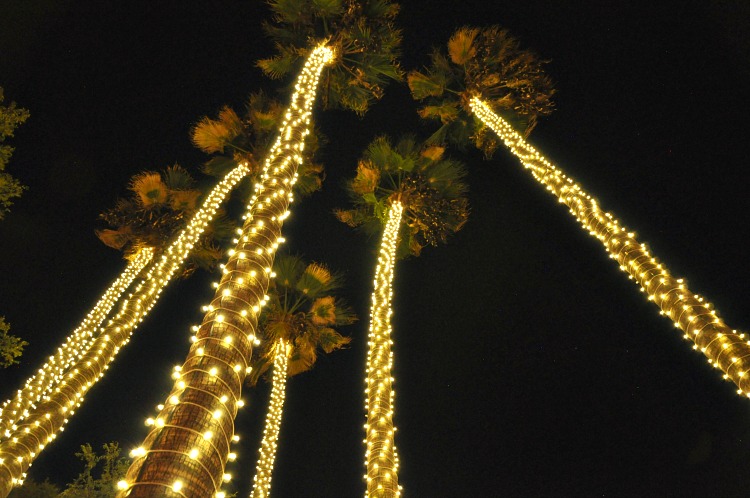 There's nothing worse than driving up to a rundown property that looks nothing like the website. I was super happy to see that the Marriott Couryard property was well cared for.
When we got up to the suite, I noted that the room was very clean, which is another one of the first things I look for at a hotel. I loved that it had a little bar area with a fridge and microwave so we could keep our drinks and snacks cold.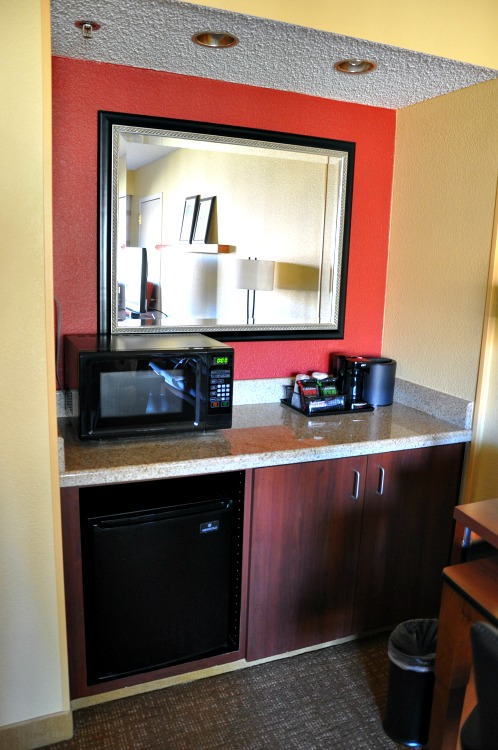 The suite included two double beds in a bedroom (full size, not queen) as well as a sofa bed in the living room. Kaylee said, "Well, I guess you and Daddy get the bedroom and Zoë and I get the front room!"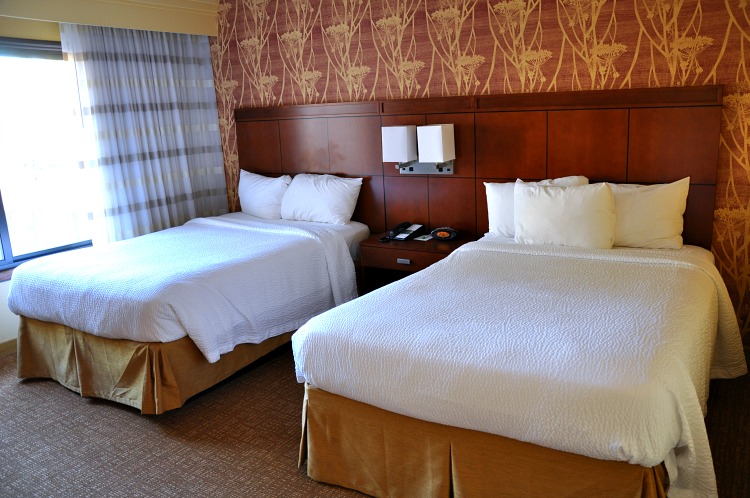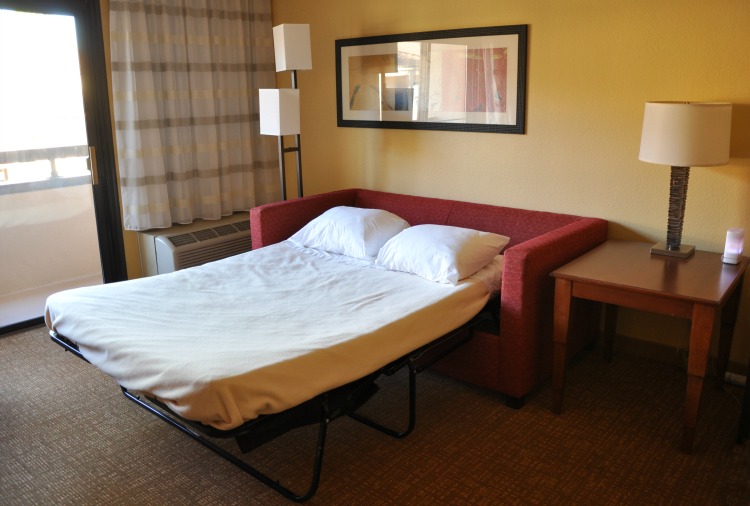 They love suites because it means they get their own little space. Plus I think now that they have bunk beds, they miss sleeping together. Brian caught this cute picture our last night there 🙂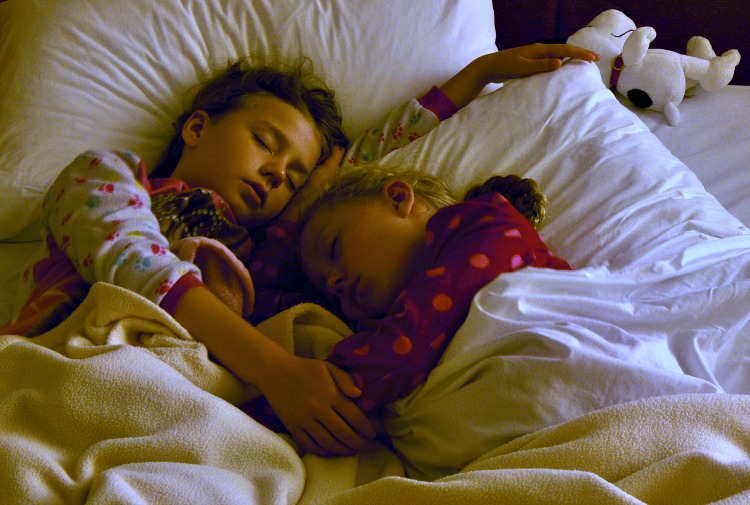 The living room was set up well. There was a long table along the wall that held the TV and a desk space. It's nice to have a good working area when we travel since I usually still have to do some work.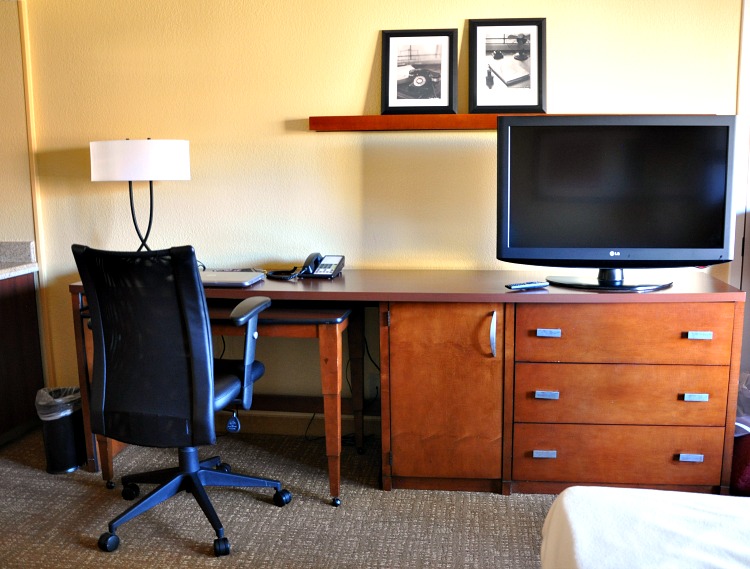 We were pleasantly surprised that we had a balcony as well. It overlooked the pool and a seating area with a firepit.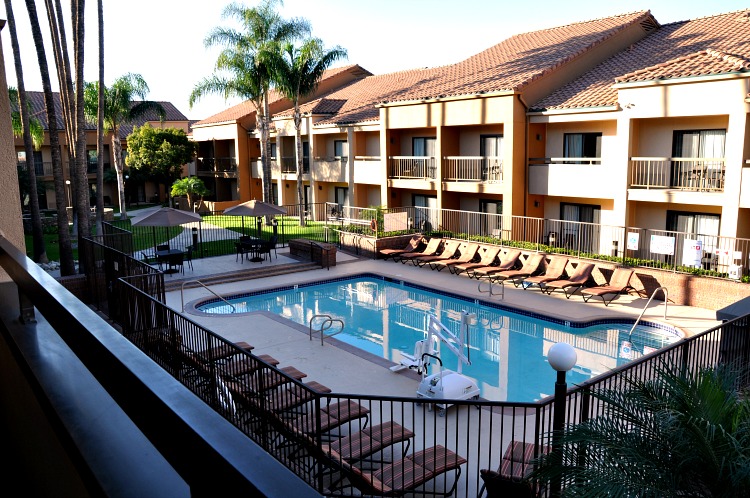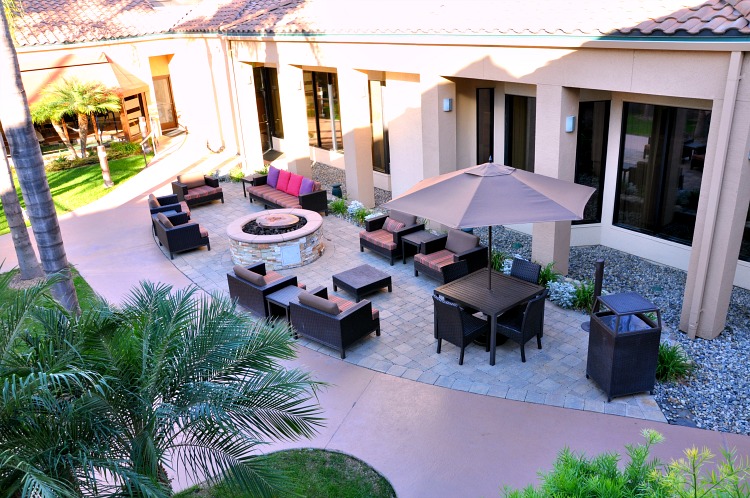 And yes, the firepit works great too. It's a nice little area to relax after a long day walking around Knott's Berry Farm!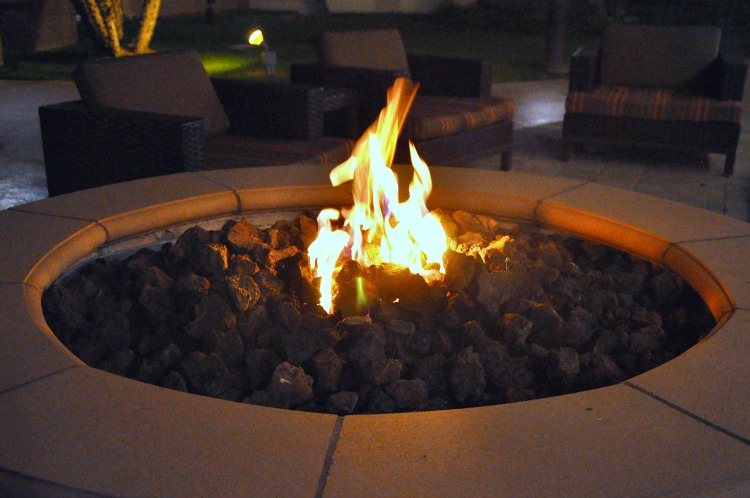 Brian and the girls took advantage of the pool a couple of times while I was working. Every time we stay at a hotel, the first thing they want to do is jump in the pool since there are very few pools where we live.
I did get to experience the indoor hot tub though. It was a nice size and very relaxing. I loved that the windows were vented so it didn't get stuffy in there. I find that a lot of indoor hot tubs are in an overly warm stuffy room, but that wasn't the case at the Marriott Courtyard Buena Park.
We didn't get the chance to use it, but there's an onsite cafe that is open for limited hours. If you happen to miss their hours, there is a Starbucks right down the street so you can still get your caffeine fix. There isn't an onsite restaurant, but there are plenty of places to eat nearby.
In addition to being close enough to walk to Knott's Berry Farm, the Marriott Courtyard Buena Park is also walking distance to other attractions. It's literally right across the street from Pirate's Dinner Adventure and very close to Medieval Times.
Overall, I really enjoyed our stay at the Marriott Courtyard Buena Park. It was clean, comfortable, close to all of the attractions we planned to visit and the service was really great too.
Next time you're planning a trip and looking for hotels near Knott's Berry Farm, be sure to check out the Marriott Courtyard Buena Park.