Are you looking for a fun way to create family memories in Southern California? Knott's Merry Farm is full of fun activities, thrills and holiday cheer!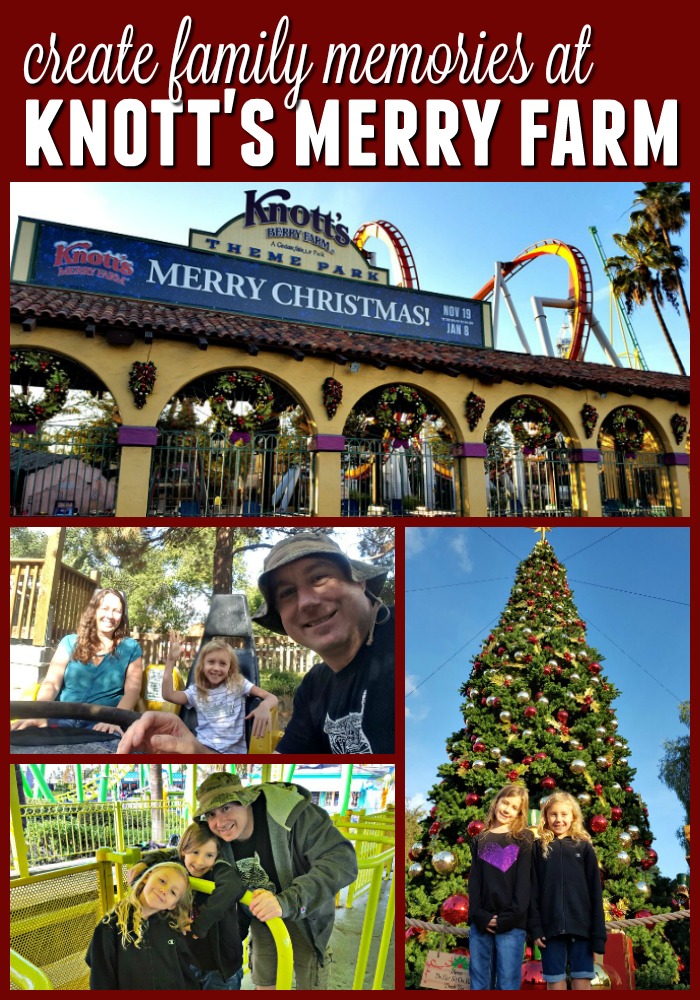 Last year was the first year my girls were big enough to visit Knott's Merry Farm. Our girls trip was a lot of fun, but it was even more fun this year because my husband got to come when we were invited back too! It makes it more fun to have the whole family there.
I grew up going to Knott's Berry Farm with my Grandpa because he lives nearby. I love sharing those traditions with my kids!
Of course, my kids are a lot more adventurous than I was as a child. There was no way, no how, that I would have gotten on the roller coasters at Knott's Berry Farm at their age!
Last year when we attended the Knott's Merry Farm media day, the girls' favorite ride was the Timber Mountain Log Ride. While they still loved the log ride, this year their enjoyment of the thrill factor went up significantly!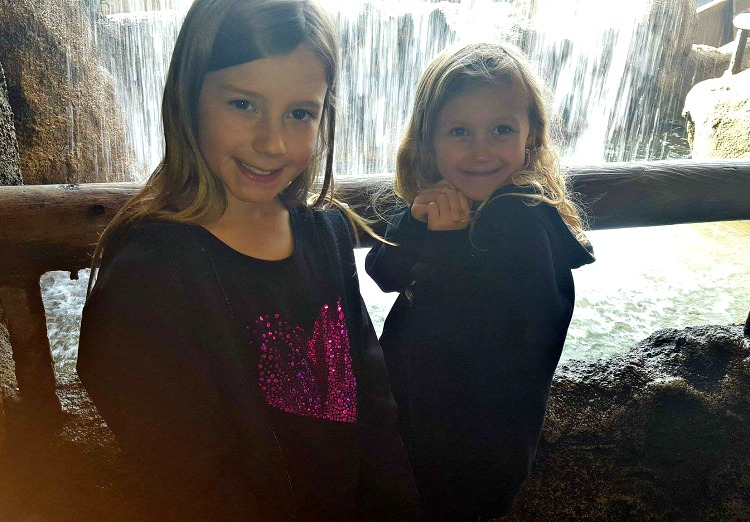 While they weren't tall enough to ride a few of the roller coasters, they were both tall enough to ride all of the coasters with a 48″ height limit this year. We started off on Ghostrider, which is a large, wooden roller coaster.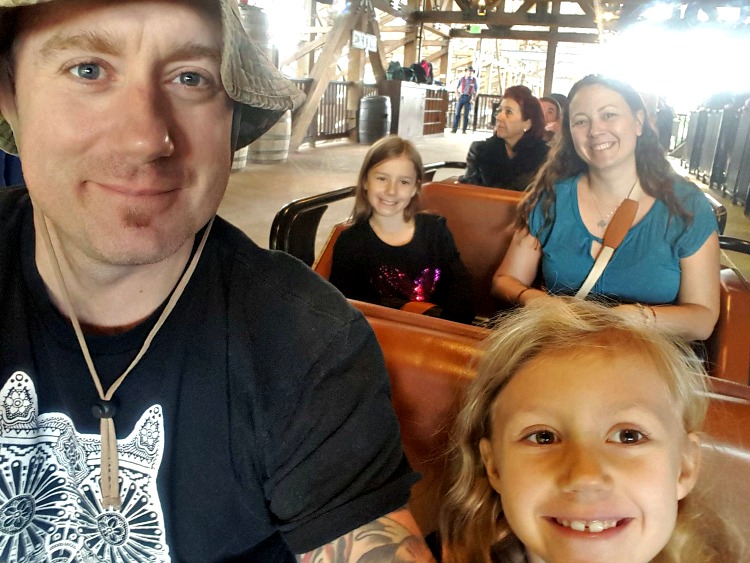 It moves quicker than I remember, but it was really fun! Kaylee, especially, wasn't sure what to think of that one. She couldn't decide whether to laugh, cry or scream – she felt all the feels on that ride!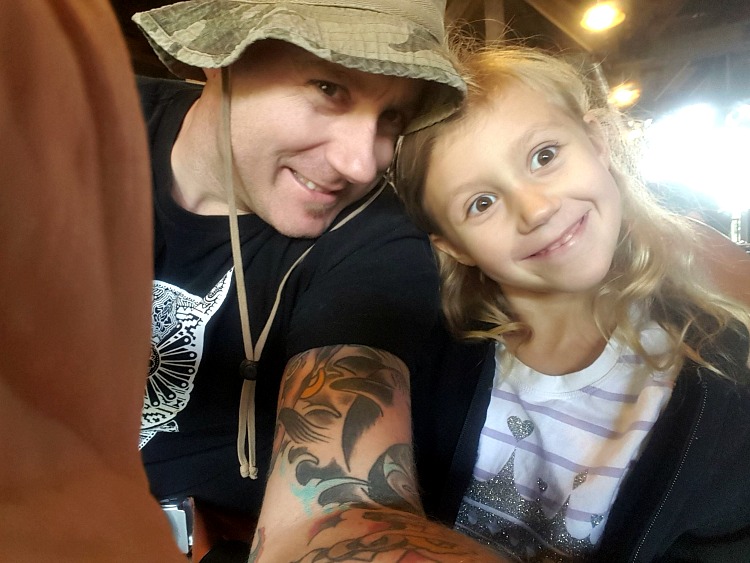 Since she was a little shaken up, we let her pick the Bigfoot Rapids Rafting Ride next. She got a kick out of it. But, when the sign says, "You will get wet. You may get drenched." You better prepare to get drenched because all of us were pretty wet when we got off!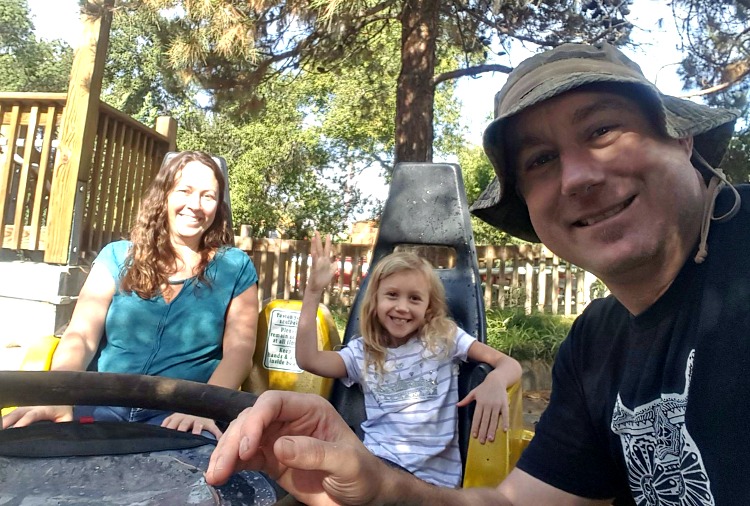 As the day went on, the girls got more and more comfortable, so we decided to get in line to ride Boomerang. Neither of the girls had been on a roller coaster that goes upside down, so I was nervous about how they'd do.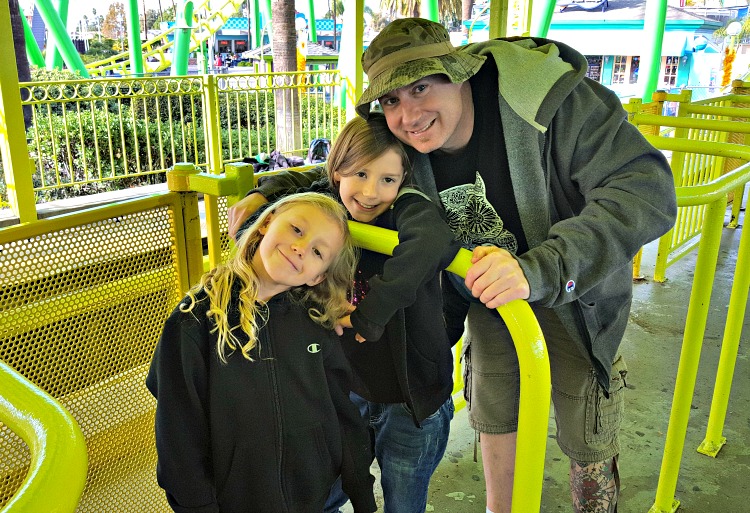 When we got off, Kaylee couldn't stop begging to go on it again. She went on it three times that day, but I'm pretty sure she would have gone on it over and over and over again if we'd let her!
If you haven't been to Knott's Berry Farm, here's a short clip of what Boomerang is like. After it finishes its forward trajectory, it goes through the whole track again backwards!
After going on, and falling in love with, Boomerang, Kaylee decided pretty much every other ride at the park was boring (this ride is Jaguar). I think that was her way of trying to get us to go back on Boomerang again. It worked because we did end up going back!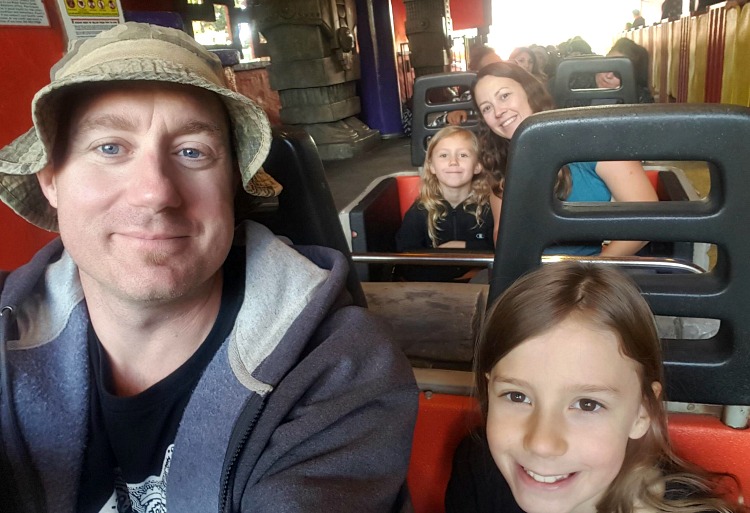 Even if your kids are small and not quite ready for roller coasters yet, there is plenty to do at Knott's Berry Farm, especially during the holiday season when the park transforms into Knott's Merry Farm.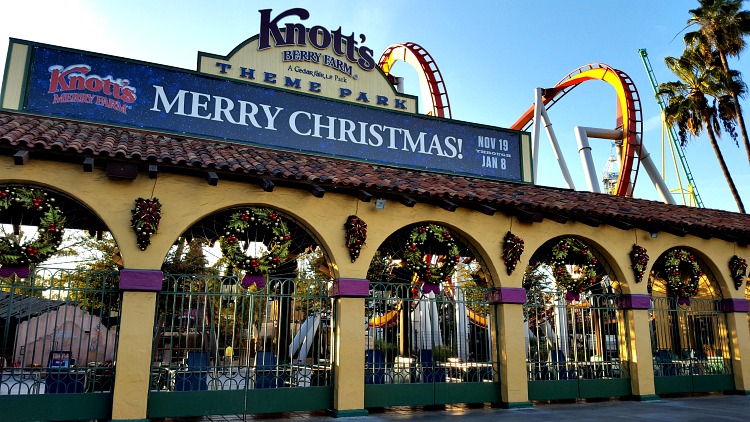 Every year, Knott's Berry Farm transforms into a winter wonderland with tons of twinkling lights and festive holiday décor. There's so much to see and do! It's really a fun experience.
There is an ice skating spectacular, Snoopy on Ice. You can sing-along with the Calico Carolers, meet Santa Claus in his Christmas Village and experience the all new production, 'It's The Merriest Christmas Show Ever, Charlie Brown'.
Keep in mind that the ice show only runs on weekends. We went on a weekday this year and missed out! Fortunately the weather was cool this year and we weren't looking for an escape from the heat. But the show was fun last year.
On slow days, it's a trade off. The lines are short, which is amazing. But there is no fast pass option and some attractions may be closed. The only one that was closed (that I know of) when we went was a coaster the girls couldn't have gone on anyways.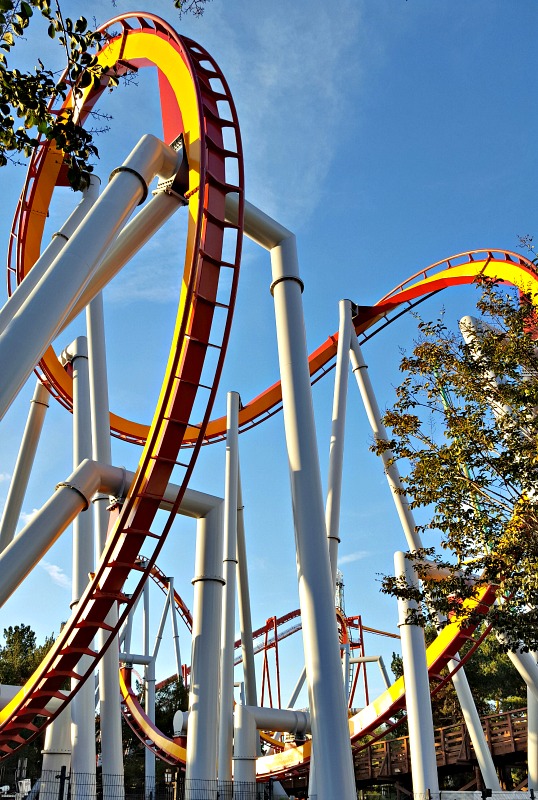 Besides experiencing the thrills of the roller coasters, I love just walking around and looking at all of the decorations. It's nice to help you really get into the holiday spirit!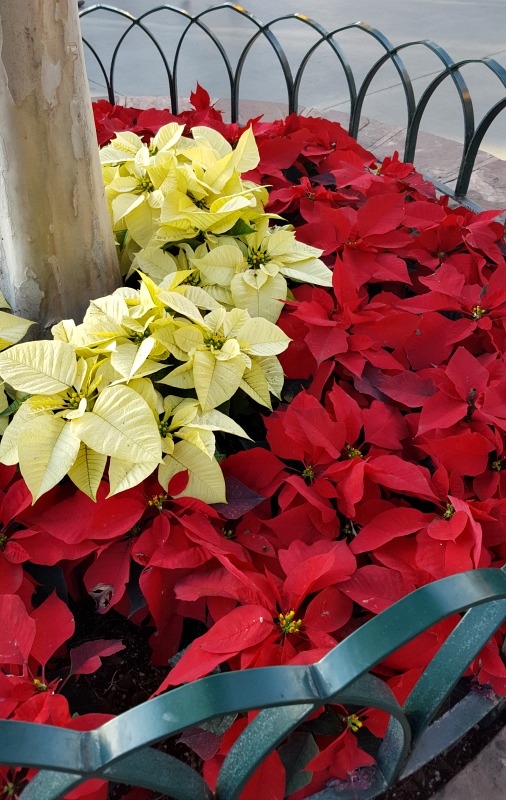 At night, Ghost Town comes alive with Snow and Glow, a holiday celebration of music, lights and a blanket of snow that falls from the sky. We left the park before it got dark this year because the girls were exhausted from all of the fun. But it's something you don't want to miss if you haven't been before!
One of my favorite things to do is take a picture of the girls in front of the Christmas tree at Knott's Merry Farm. I'm hoping it becomes an annual tradition.
Here's their adorable picture from this year. Next year I'll take it at the beginning of the day rather than the end of day!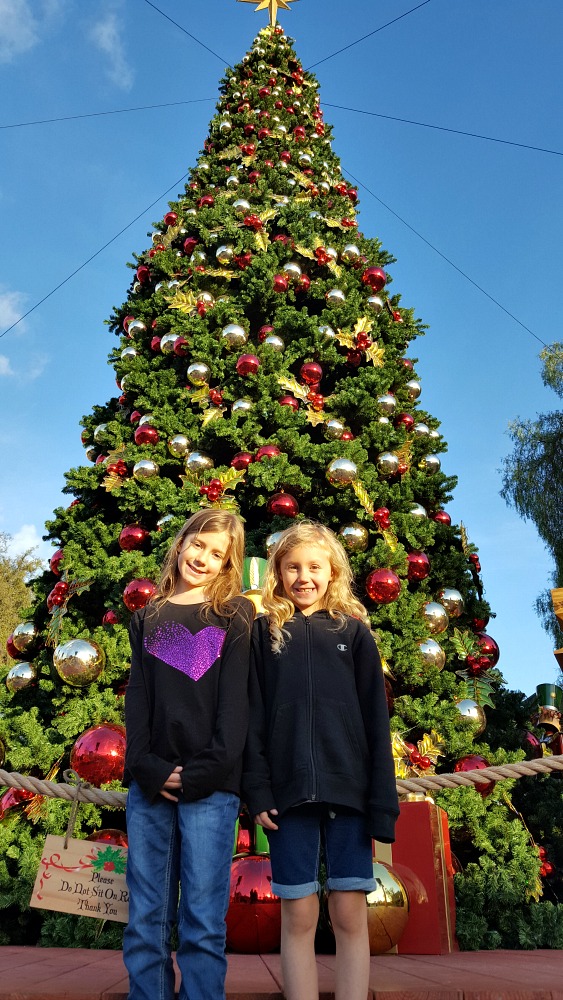 Look how much they've grown since last year!