Are you looking for family fun in Buena Park, CA? The Pirate's Dinner Adventure Show is where it's at! You get a meal and an interactive show for one price.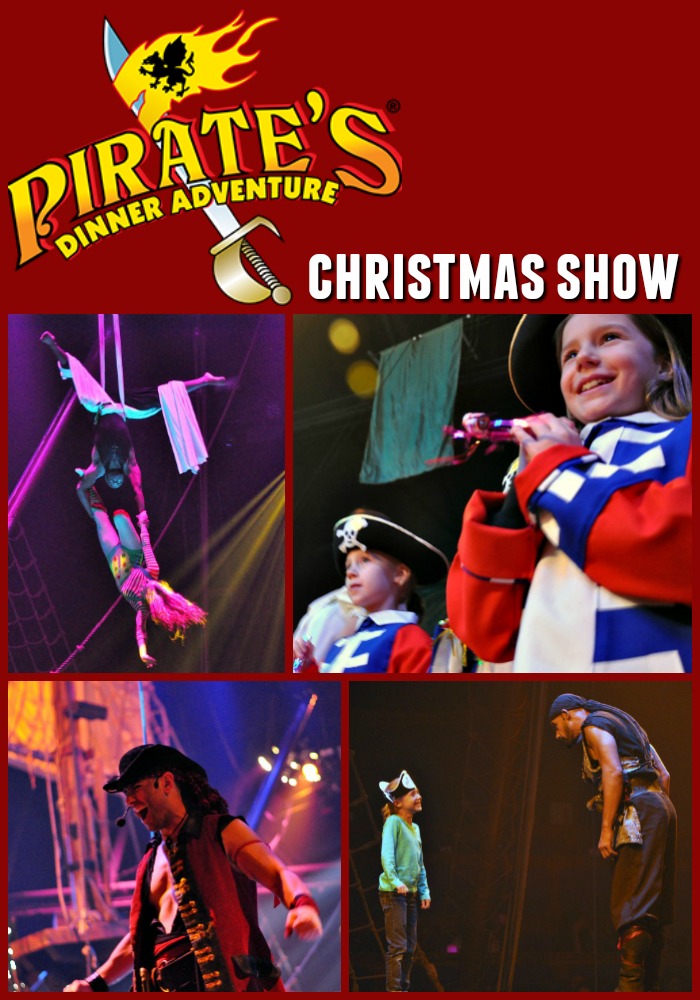 On our recent family vacation to Knott's Berry Farm and Buena Park, one of the fun activities that Visit Buena Park coordinated for us was to see the Pirate's Dinner Adventure Christmas Show.
We weren't really sure what to expect with the Pirate's Dinner Adventure Christmas Show, but we were all excited because we had never been to something similar.
As recommended by the website, we arrived an hour early for check in. Then we got some drinks and enjoyed the tray passed appetizers. I definitely recommend getting there early or you'll miss out on the appetizers, which are included with your ticket price.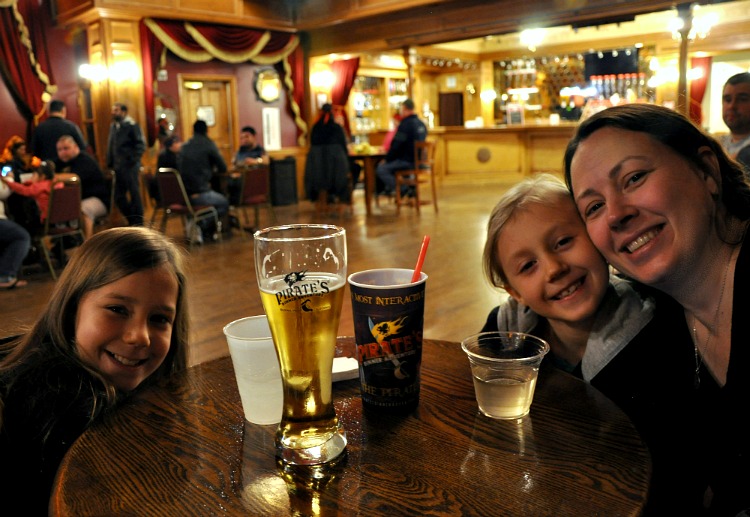 Most of the drinks come with souvenir cups. I recommend ordering one of those because refills are less expensive than ordering a glass of wine. I had a Yellow Pirate and it was quite tasty.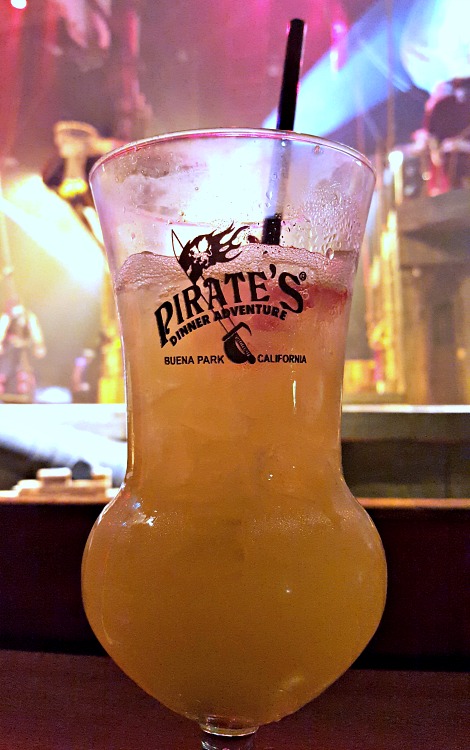 The show started promptly on time in the main room. I won't give away the story line (no spoilers here!), but in the main room, you'll be given an introductory performance and assigned to your very own pirate.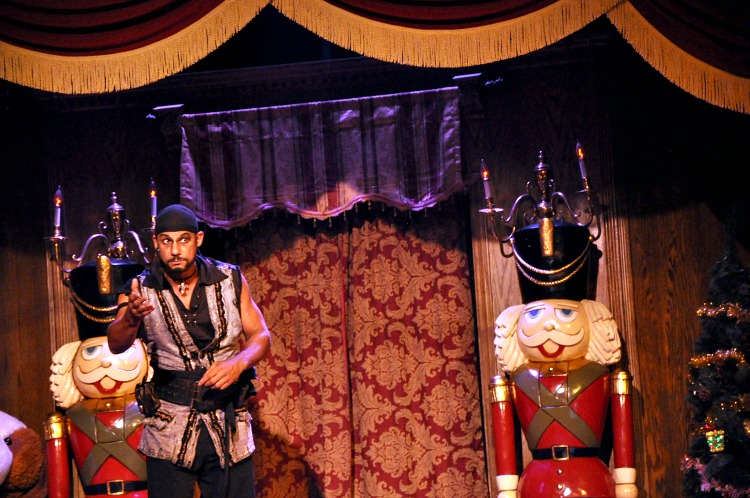 We were on the Red Pirate's team!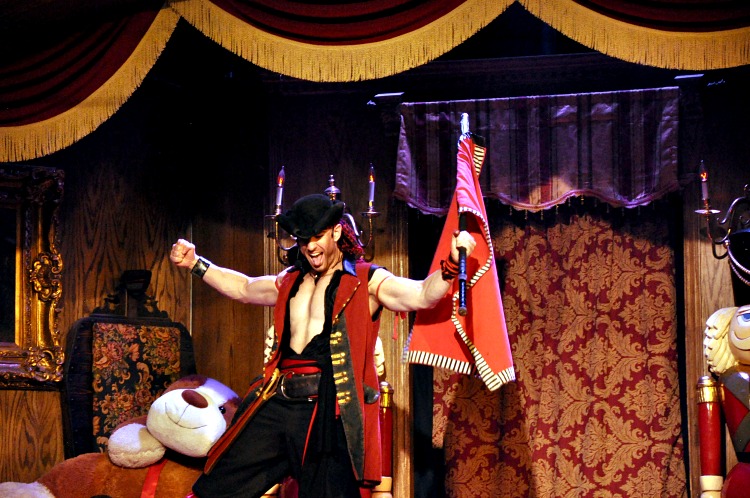 Once you are assigned to your pirate, they'll escort you into the show room, where you'll feast while you enjoy the show.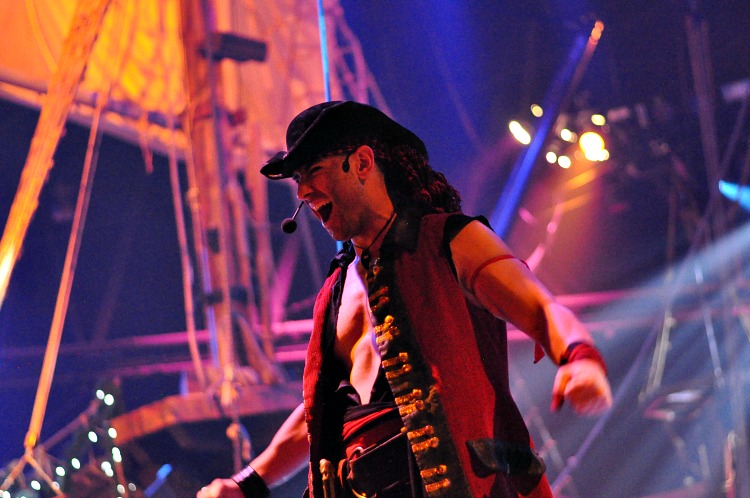 As everyone is getting seated, your waitress will come around and see if you want soup or salad. If you want drinks, the bartender will come take those orders for you.
Let the Show Begin
After everyone is seated, the Pirate's Dinner Adventure show will begin. One of our favorite things during the show was all of the acrobatics.
This video will give you a little taste of the show:
It was absolutely mesmerizing!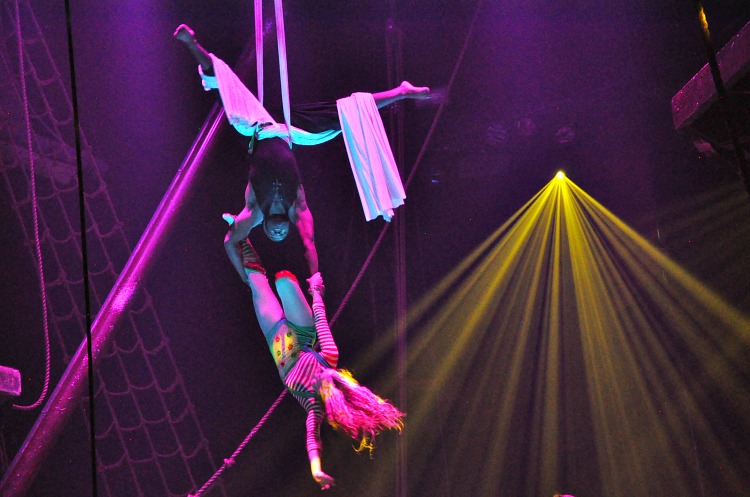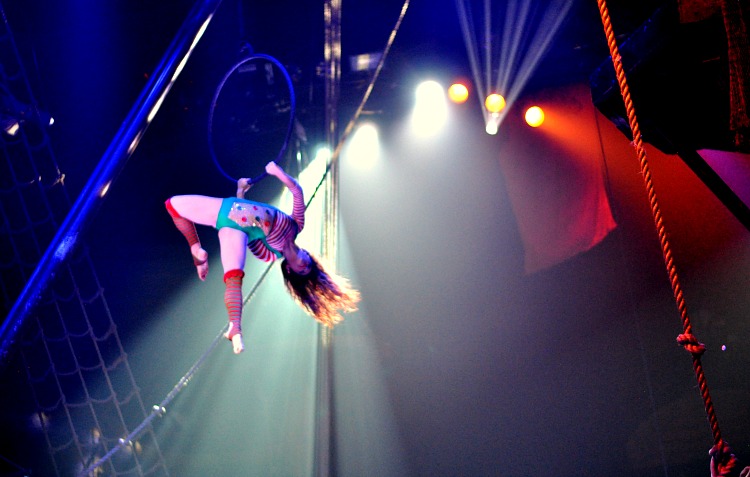 There was a scene with a trampoline too that was really fun. The girls enjoyed getting ideas for what they could do on our trampoline!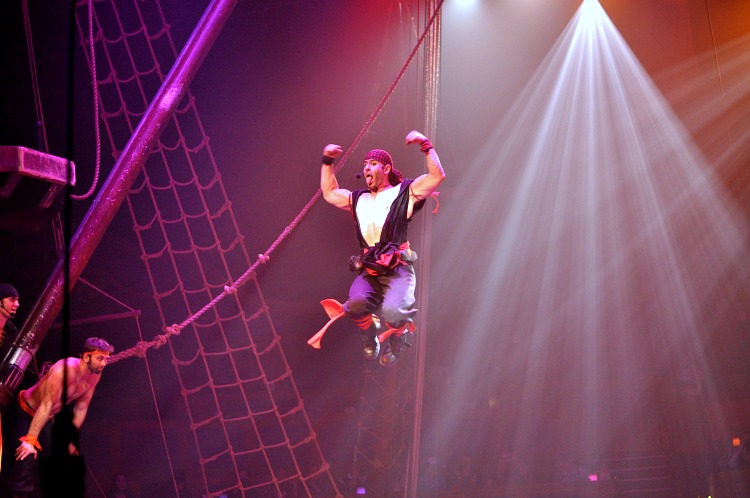 There was lots of ooing and awing from our girls (and us), and the word, "Unbelievable!!!" even came out of Kaylee's mouth at one point! You can hear towards the end of this video.
The other thing we really enjoyed was how interactive the show was. At one point, they brought all of the children up on stage. Our girls could not stop giggling the entire time.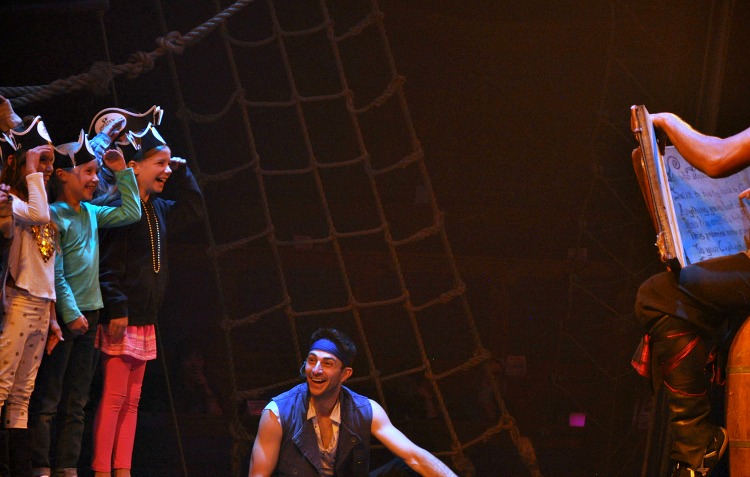 Then Kaylee got singled out and was giggling so much that she couldn't even tell them her name. So they named her 'Giggles' and gave her a couple of gold coins.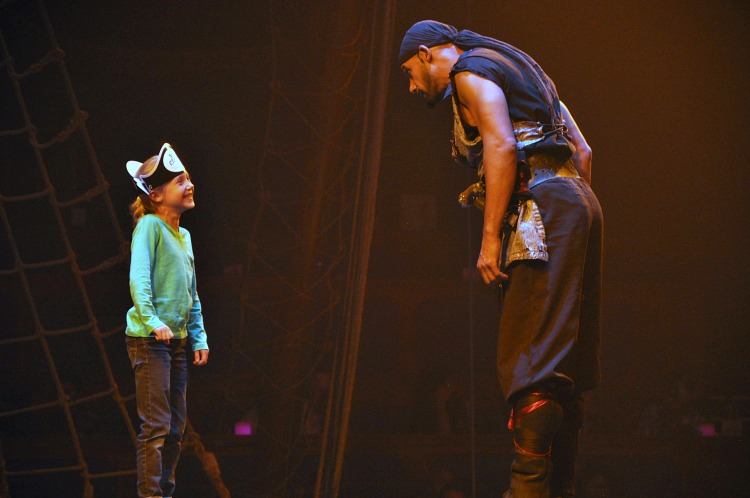 The girls got to dress up like pirates during another part of the show too. They really got a kick out of that!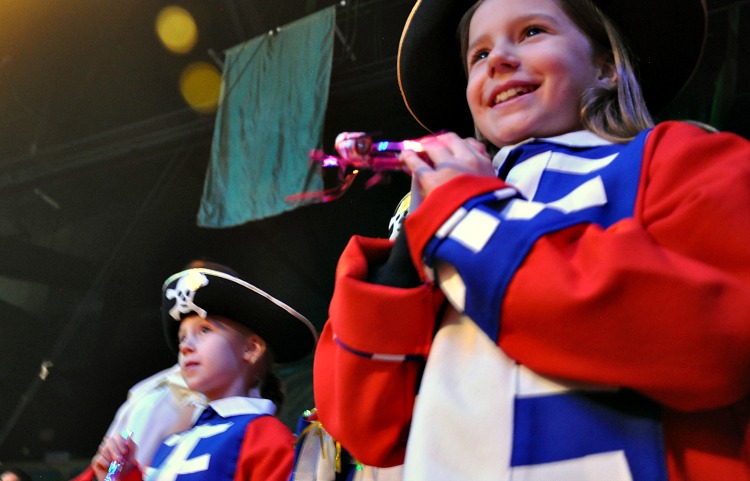 The men of the audience even got roped into participating. Isn't Brian cute with his pirate hat on?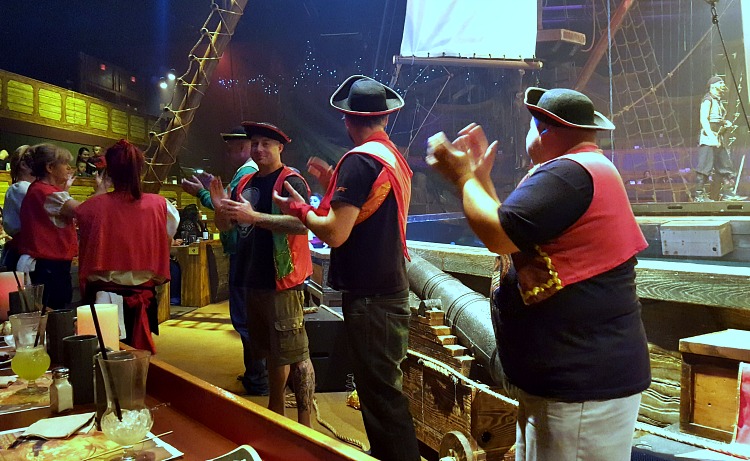 Getting the audience involved was a huge part of the show, and what made the experience so special. All of the pirates made sure to keep their sections engaged in the show. Our pirate was really entertaining, and Brian got a lot of great shots of him during the show!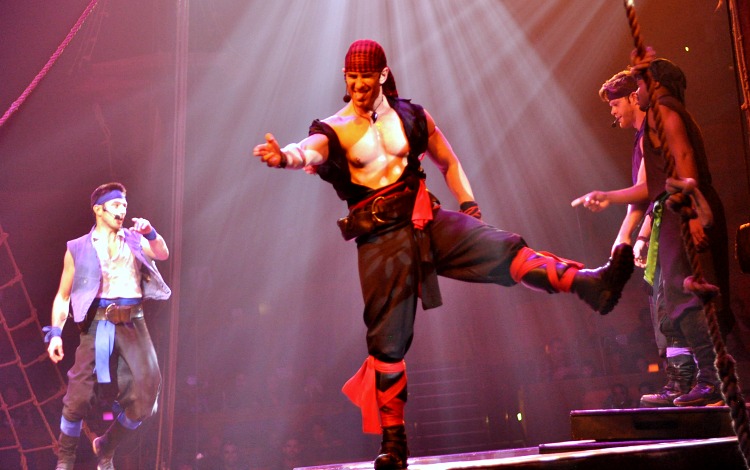 The storyline itself was fun too (I don't want to spoil that for you), but I really loved how interactive it was. Our whole family thoroughly enjoyed the show.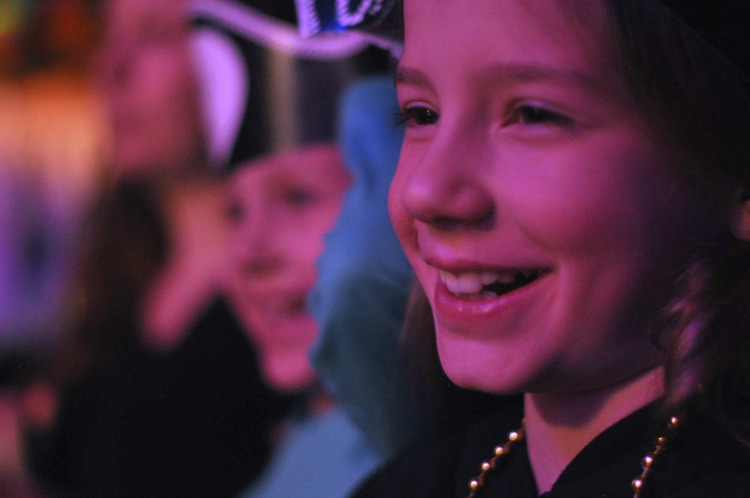 The Food at Pirate's Dinner Adventure
Don't go expecting a 5-star meal, but the food was decent. You get to start with a soup or salad. Then they bring out the main course, which is a shrimp skewer, chicken, mashed potatoes and vegetables. The kids get a kids meal (basics like chicken nuggets, mac 'n cheese and mashed potatoes).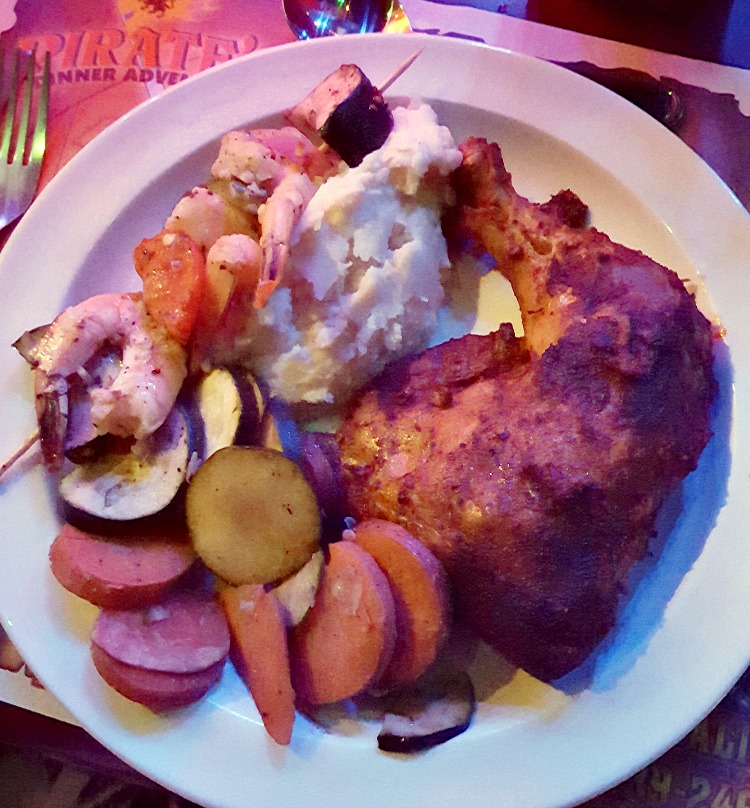 At the end of the meal, you get dessert too. A big brownie with ice cream. We were very full at the end of the meal.