Looking for a magical holiday experience for your family to enjoy? The Winter Wonderland Package at the Four Seasons Westlake Village is so much fun!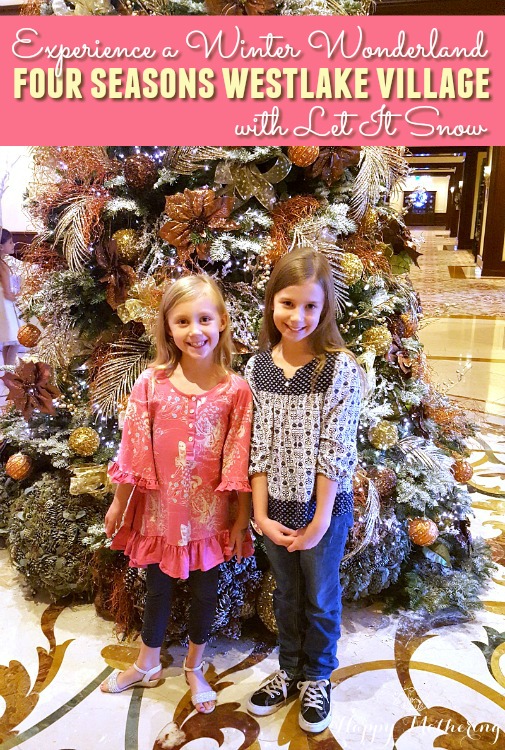 The holidays were always such a magical time in my childhood, that I have made it one of my missions to ensure it's magical for my children as well. I have always emphasized experiences over possessions in my life, and I'm blessed to be able to share that perspective with my children.
Over the weekend, we were invited to the Four Seasons Westlake Village for their annual 'Let It Snow' event. Brian was able to get the weekend off work (yay!), and so we piled the girls into the car and headed for another fun family roadtrip to Westlake Village, CA.
The 'Let It Snow' event is part of the Four Seasons' Winter Wonderland Package, a really cool, all-inclusive package for families.
When we arrived at the Four Seasons Hotel Westlake Village, we were greeted by the wonderful front desk staff with champagne and truffle pops. Right away, we were impressed with the service and hospitality.
Then we headed up to our room to freshen up before we headed down the the Let It Snow event. VIP admission starts at 4 pm, so we wanted to make sure to get there on time!
Of course, when we got to the room, the girls discovered that a kid-sized robe and a small Sven stuffed animal was left for them. That was our first clue at how kid-friendly the Four Seasons is!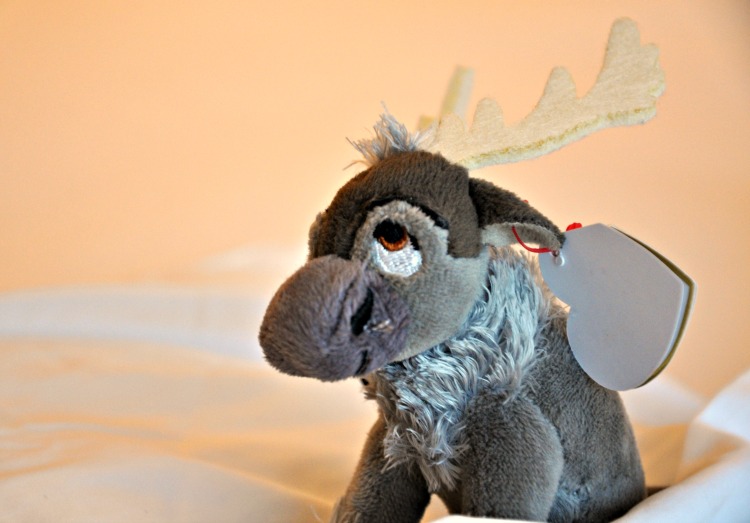 After freshening up, we headed down to the Let It Snow event. The very first thing the girls noticed was the S'mores station, so we stopped there first.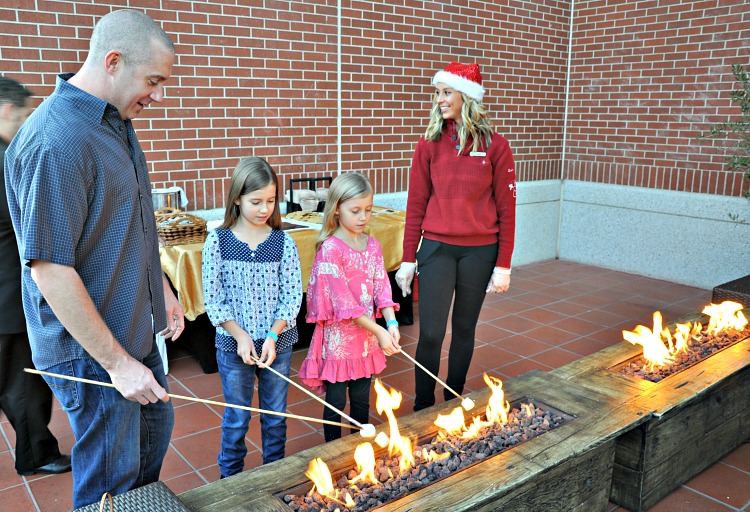 Brian, Zoë and Kaylee roasted their marshmallows and enjoyed their tasty S'mores.
Then we headed down to the Hybrid Ice Rink. The girls noticed it from our room and were really excited about it! They had never been ice skating before, so it was a real treat to ice skate with Daddy.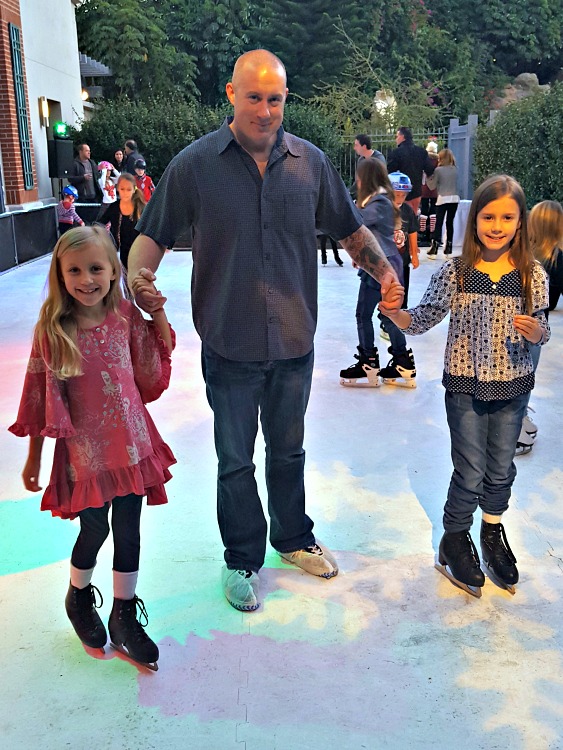 They enjoyed it so much, they went a second time at the end of the night!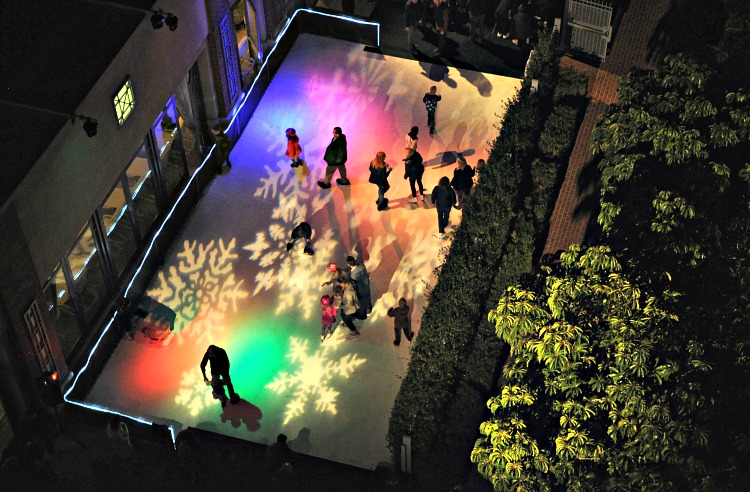 After we ice skated, we enjoyed the beautiful landscaping at the Four Seasons Westlake Village. They have a huge waterfall structure filled with koi that is quite scenic.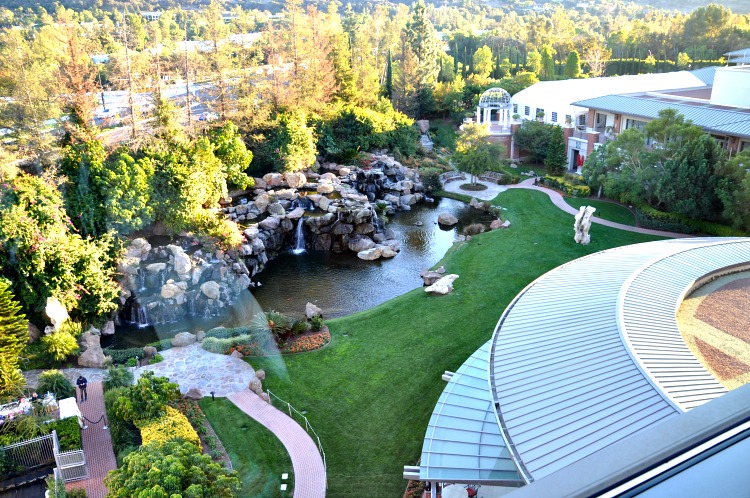 It's a great spot for taking pictures! A group of people lined up to use the spot we were taking pictures at after us.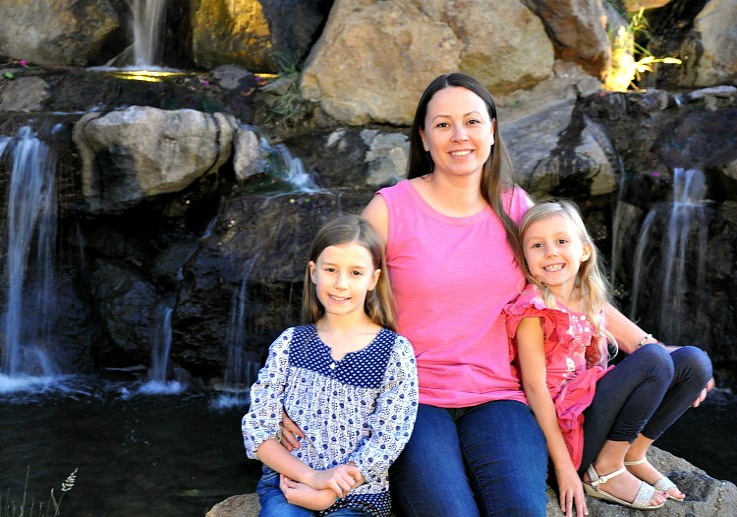 There is also plenty of space for the kids to run around on the large lawn. And the girls loved the decorative structures as well.
It gave Brian and I plenty of time to talk, smile and have fun together as well.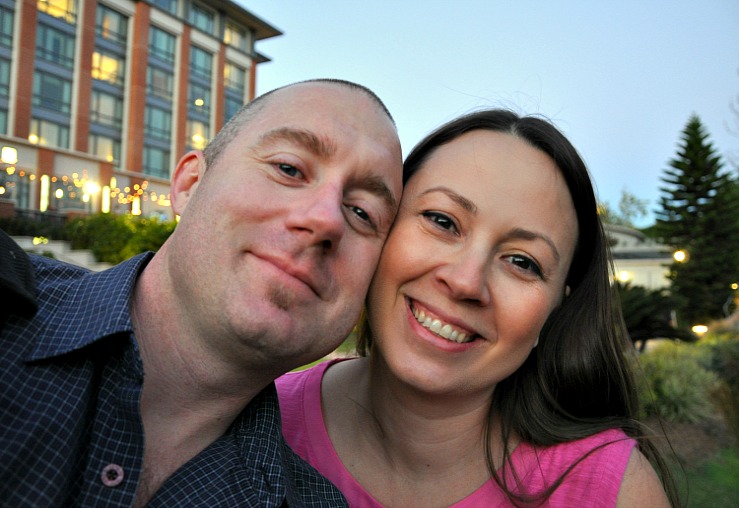 Before heading to dinner, we stopped in to decorate cookies with Mrs. Claus. My little artists had quite a bit of fun with that!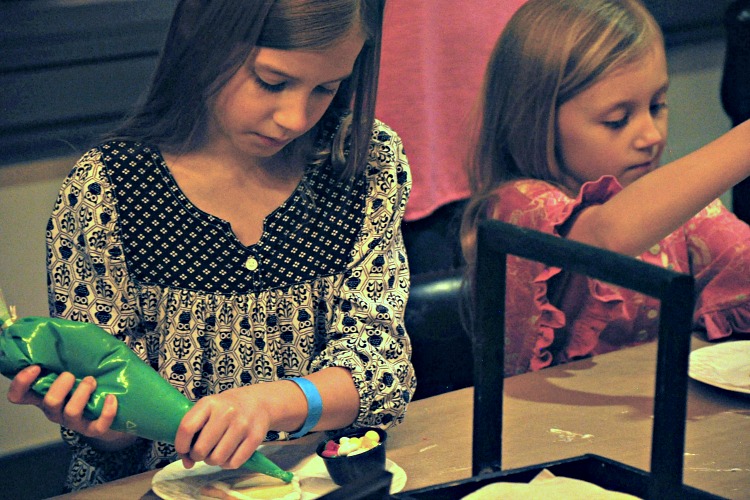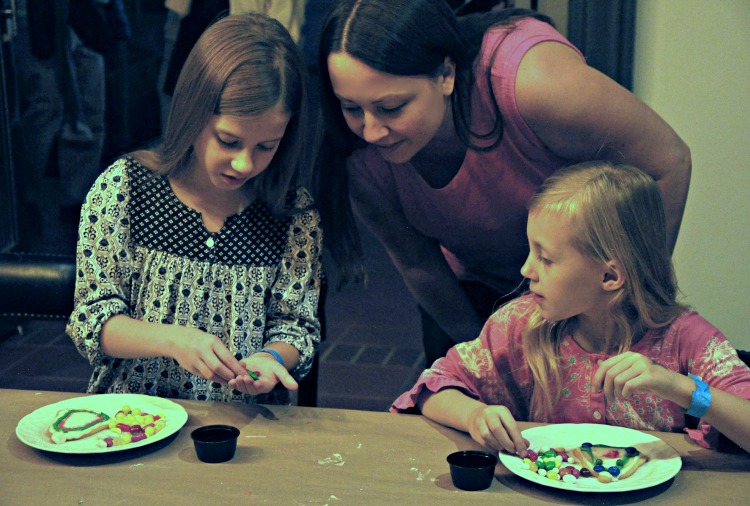 Zoë, of course, saved her cookie for later. You can't ruin that beautiful creation!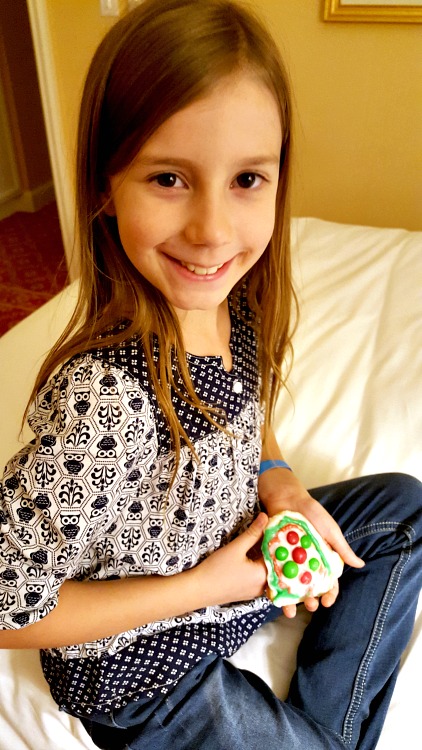 Mercato Italiano: Italian Buffet in the Lobby Lounge
For a break in the fun, we headed to Mercato Italiano, which is a fun Italian dinner experience in the Lobby Lounge. It's a buffet, which the girls always love.
Mercato Italiano had such a delicious selection of food. All of us loved the lobster ravioli, available at the made to order pasta bar.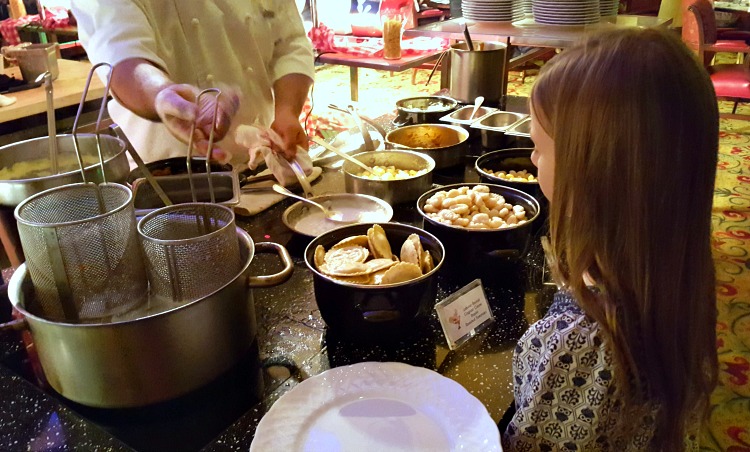 Other favorites were the Osso Bucco Lamb and the Pesto Mashed Potatoes. Everything was great though! After we enjoyed the delicious buffet, we decided to head back out to enjoy the rest of the Let It Snow event.
More Let It Snow Fun
There was a brisk chill in the air, so we were grateful for the hot chocolate and coffee station. We sipped on our hot chocolate and enjoyed the "snow" that was being blown out into the crowd.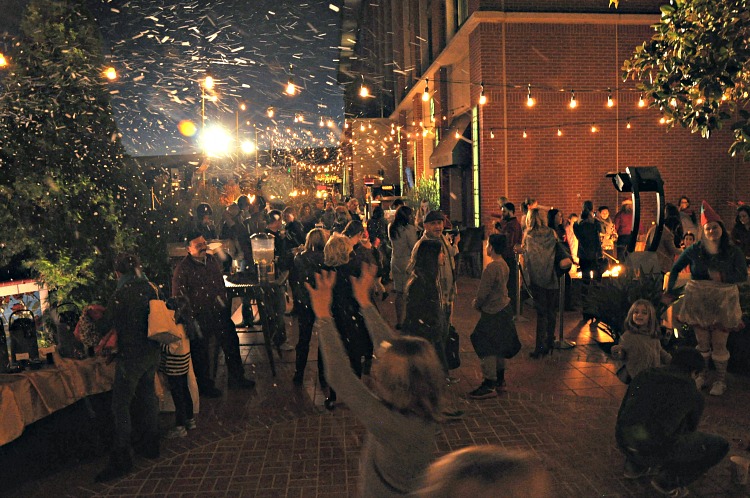 After that, we headed over for the train ride. It's just a quick jaunt up and down a sectioned off area of the Four Seasons.
However, halfway through, the girls were greeted by the Grinch, who gifted them with a candy cane. They were pretty thrilled about that.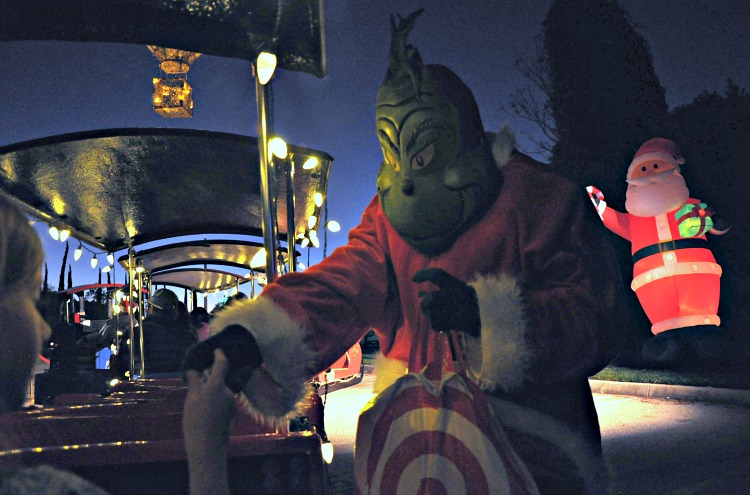 Visiting with Santa
By the time we were done with the train ride, the line to visit with Santa was finally short enough. The girls sat on Santa's lap and let him know that they both want GoPro cameras for Christmas this year. Gotta get some great shots snowboarding!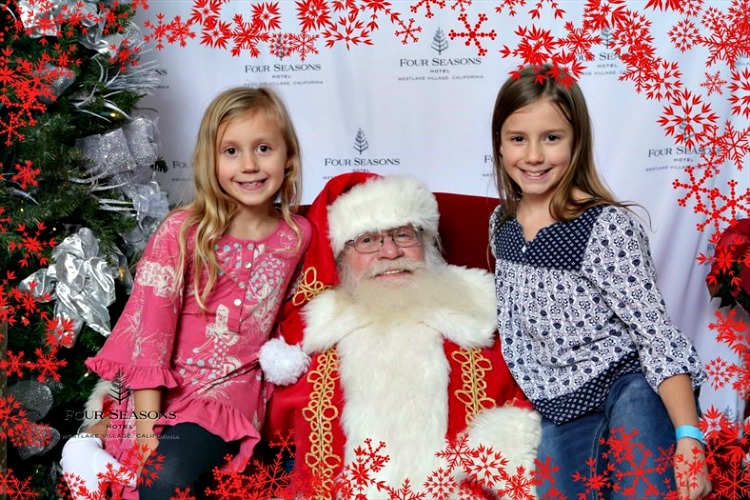 Then Brian and I got to take our picture with Santa too. It has been a long time since I've done that!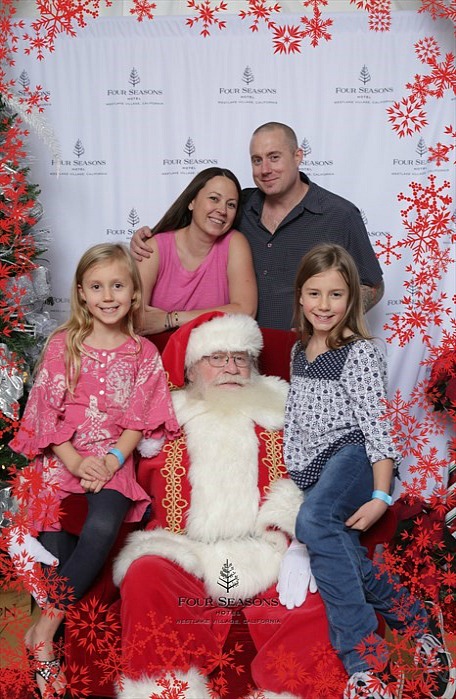 All of the pictures with Santa were sent to us electronically, at no additional charge.
Exploring the Four Seasons Westlake Village
Once we'd done everything there was to do at the Let It Snow event, we decided to take a walk around the Four Seasons Westlake Village. The decorations are beautiful and there is art everywhere.
The girls discovered and fell in love with this aquarium wall.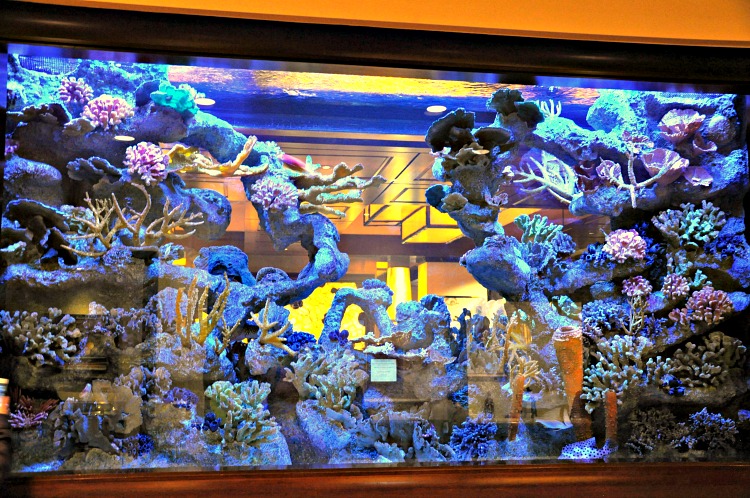 We noticed that the girls were really starting to get tired when Kaylee started making goofy faces in pictures, so we headed back up to the room after this one.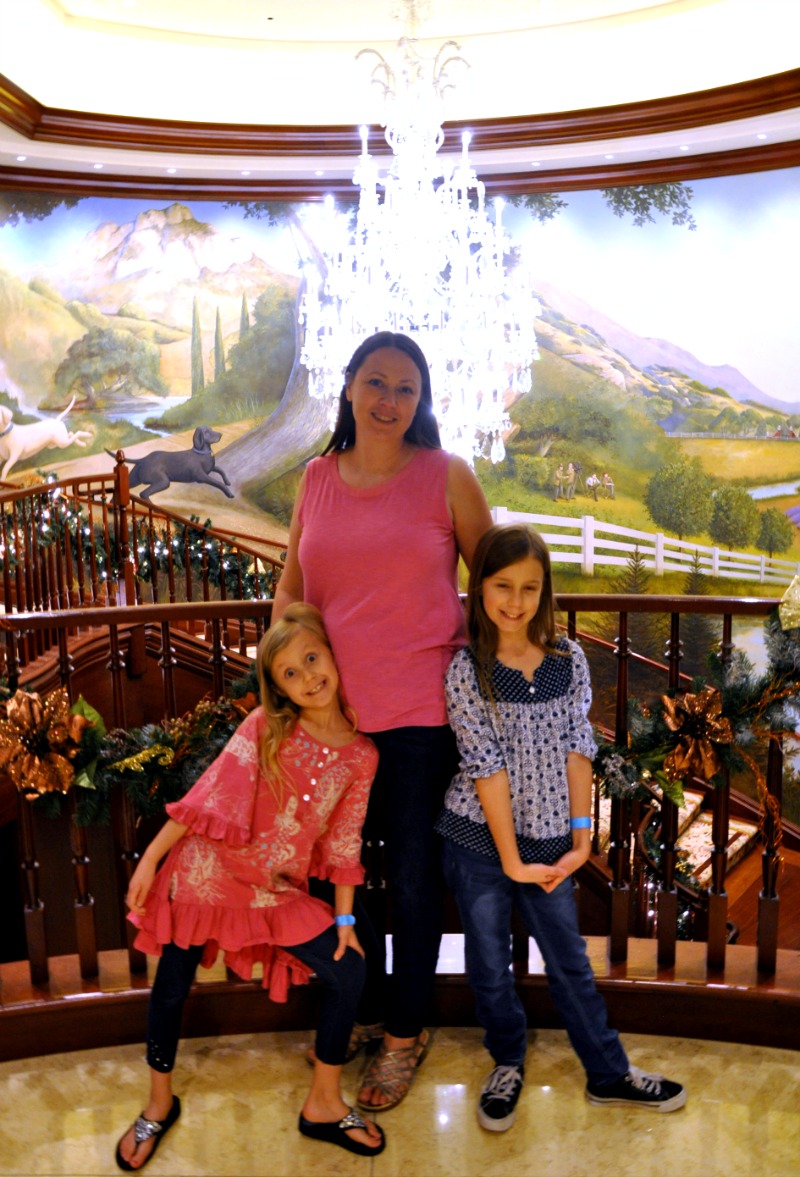 The beds were super comfy, although they were quite small. I was expecting two queen sized beds, but we ended up in a room with two double beds.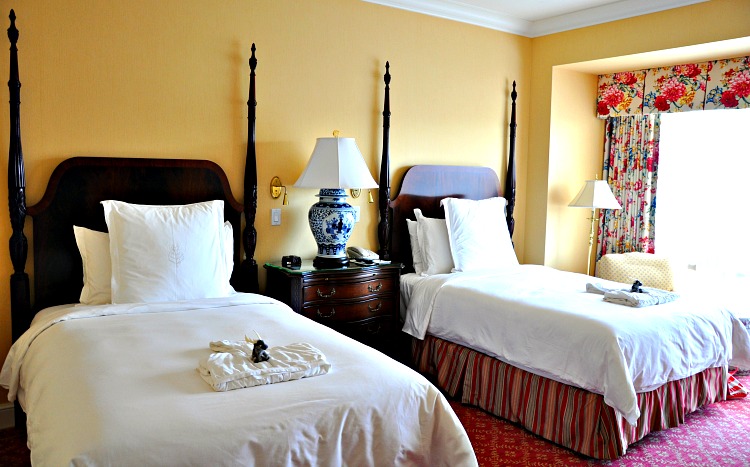 Next time, I'd opt for a King bed with an additional roll-away bed. I think that would be more comfy for us. The girls didn't seem to mind much though.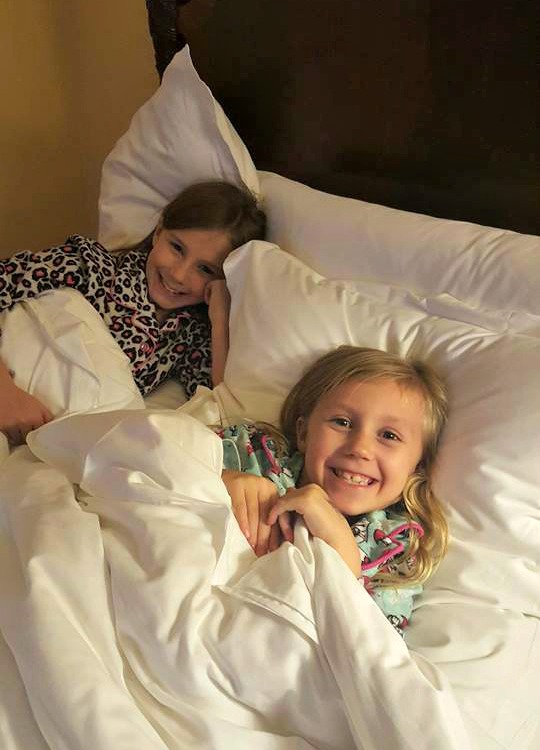 Other than the bed size, the rooms were very nice at the Four Seasons Westlake Village.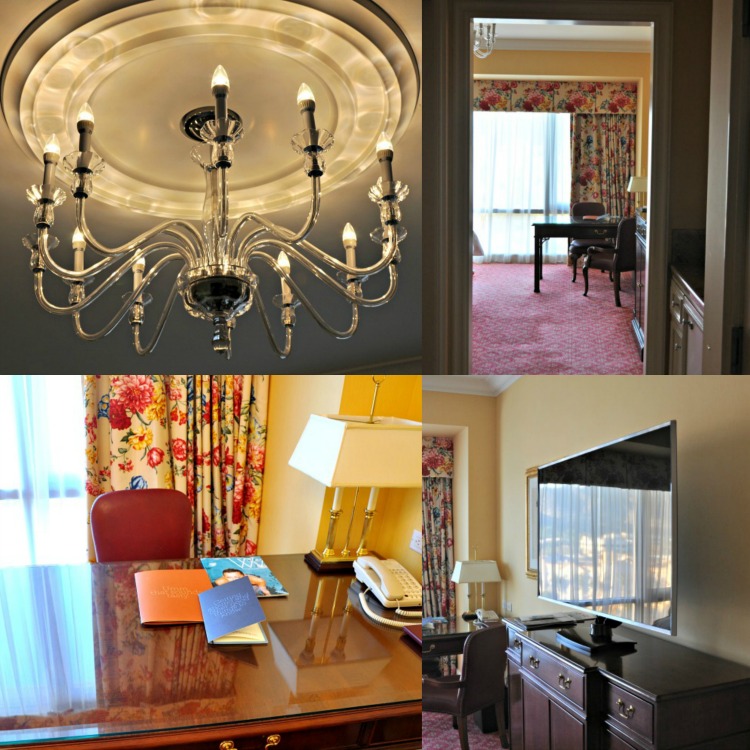 The bathroom was quite large as well, with a separate tub and shower, as well at a separate toilet area.
Holiday Character Breakfast
The next morning, we had to wake up early for the Holiday Character Breakfast. Our seating time was at 7:30 am. Fortunately, being so kid-friendly, most kids attend the Holiday Character Breakfast in their PJs!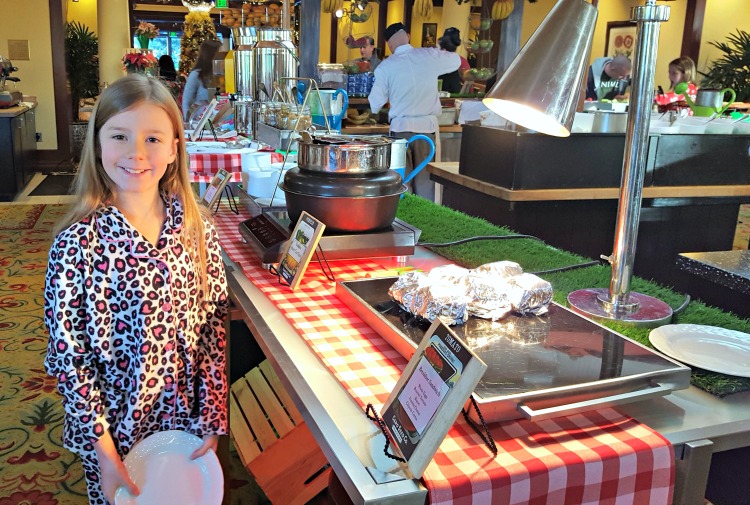 The girls really got a kick out of being able to go to breakfast in their pajamas. They weren't so pleased, though, that I made them brush their hair first.
Almost immediately after being seated, Snoopy and Charlie Brown stopped by our table to say hello. The girls gave them high fives.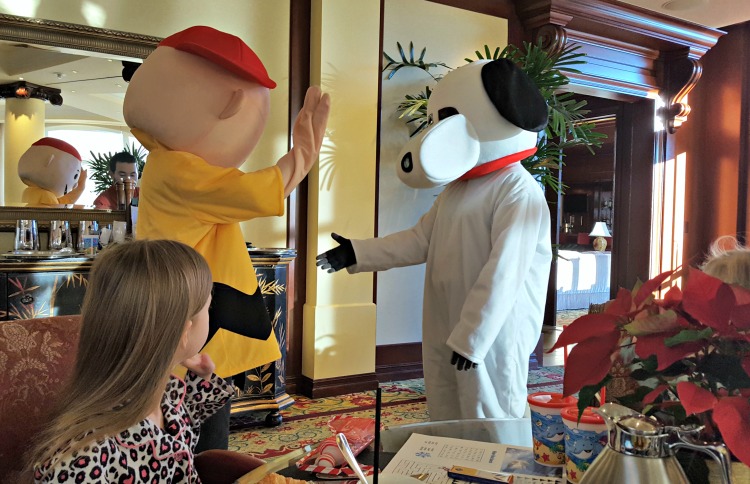 Then we went and loaded up with delicious farm fresh food at the buffet. There are all of the normal foods you find at a great breakfast buffet. One of my favorites was the breakfast enchiladas. And of course the coffee!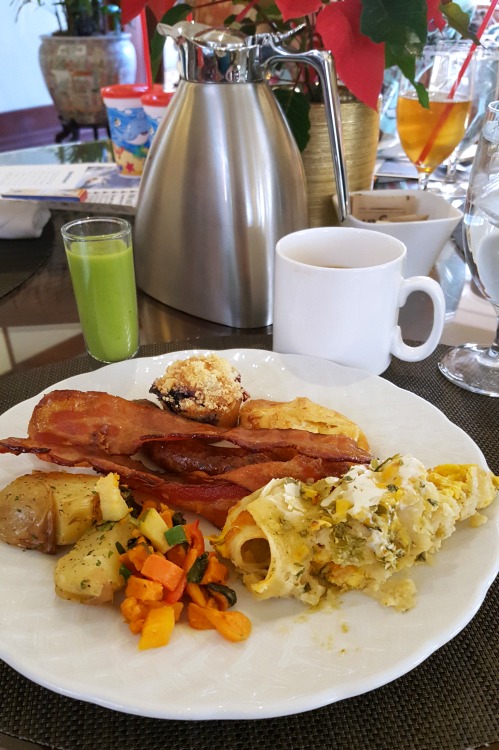 They even had some gluten free selections.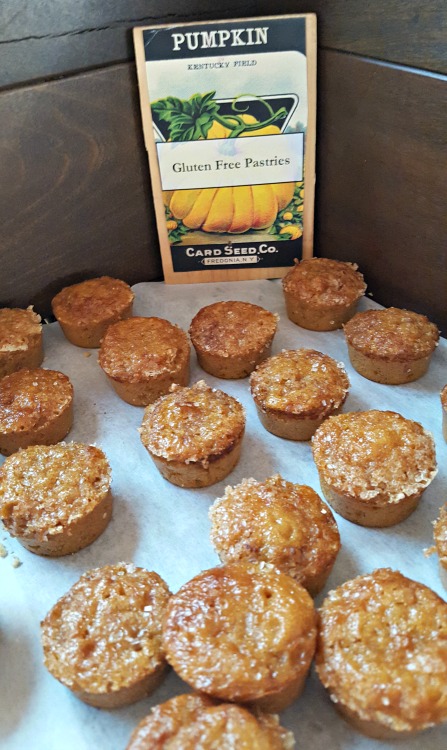 Zoë was the only one of us who took advantage of the omelet station. I took at a taste and it was delicious.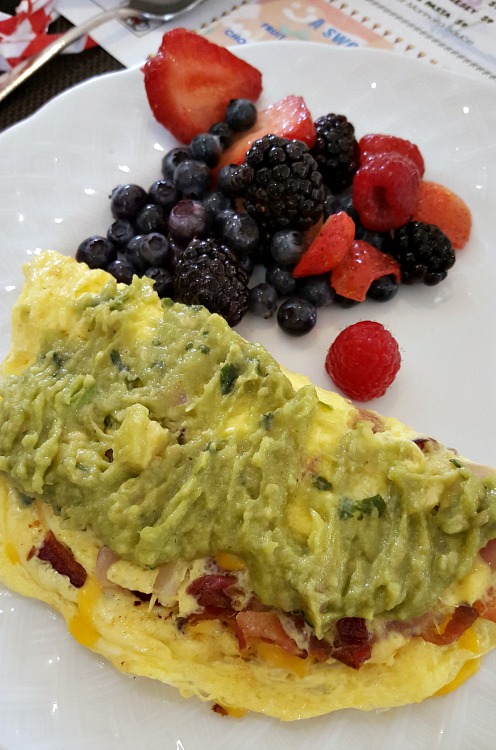 While we were eating, Anna and Elsa from Frozen also stopped by and posed for a picture with the girls. Olaf came through a little while afterwards.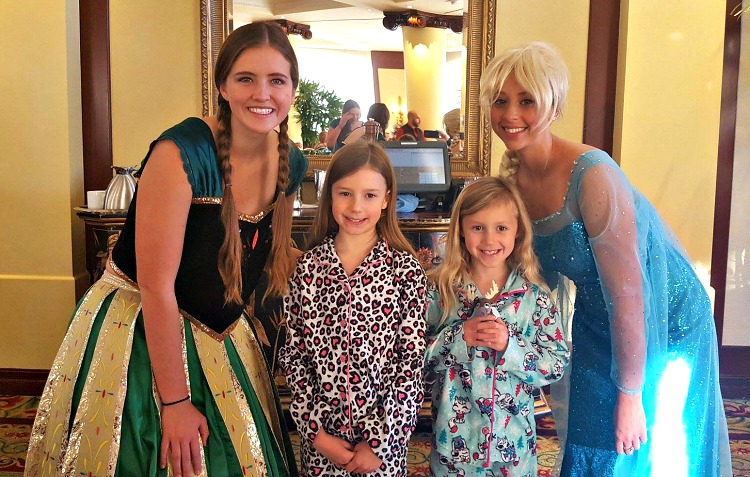 While we didn't use it, the Holiday Character Breakfast also featured a kid-sized buffet. I thought that was really neat and thoughtful for the little ones!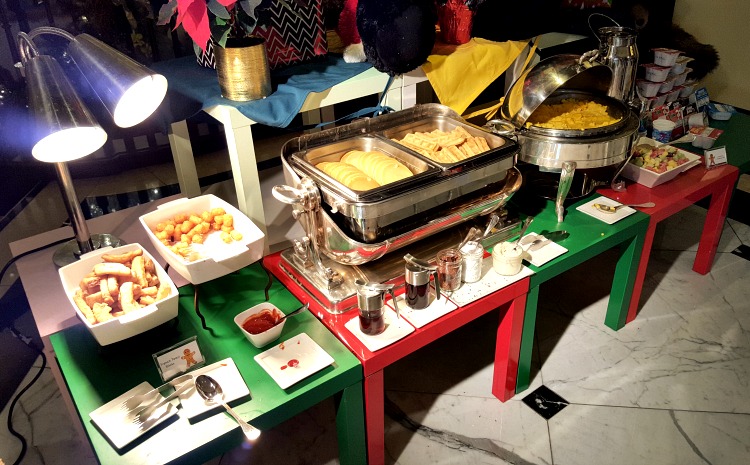 Just Keep Swimming
After breakfast, we promised that we'd take the girls swimming before heading back home. Those girls are like little fish when it comes to water!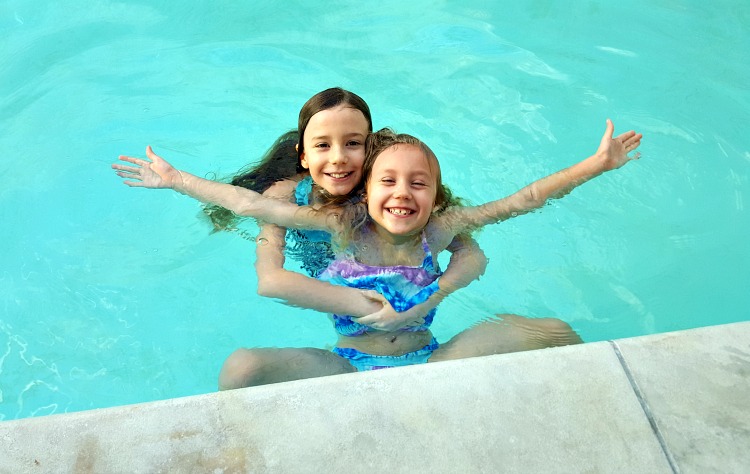 The pool is indoors and it's quite warm in there. The girls did not want to leave – they had such a blast!
On the way back up to the room, we explored a bit more. The fitness center is huge. The bathrooms by the pool have everything you could possibly need to freshen up.
There are even special rooms for kids and teens. It seems like there is so much to do at the Four Seasons Westlake Village that you never have to leave when you're on vacation.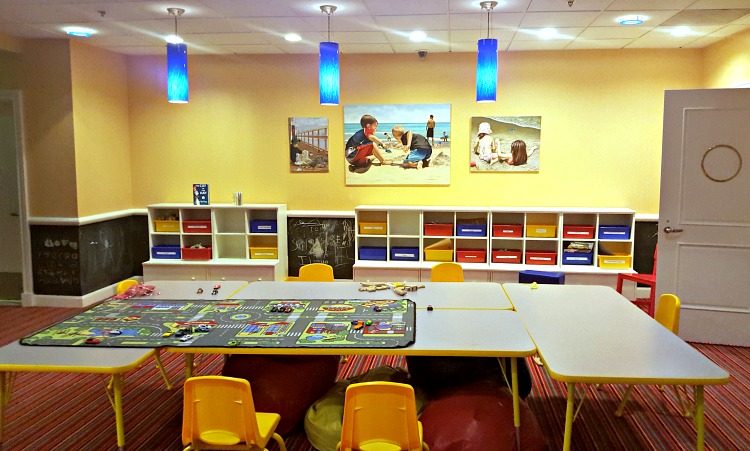 Next time, we'll have to spend a few days at the Four Seasons Westlake Village so we can experience everything they have to offer. There's just not enough time in only one night!