Back when we did a lot of family travel on Happy Mothering, we had the opportunity to visit the Hollywood Wax Museum as part of a sponsored post we did for them. It was really cool, and we'd totally go back again to check out new exhibits.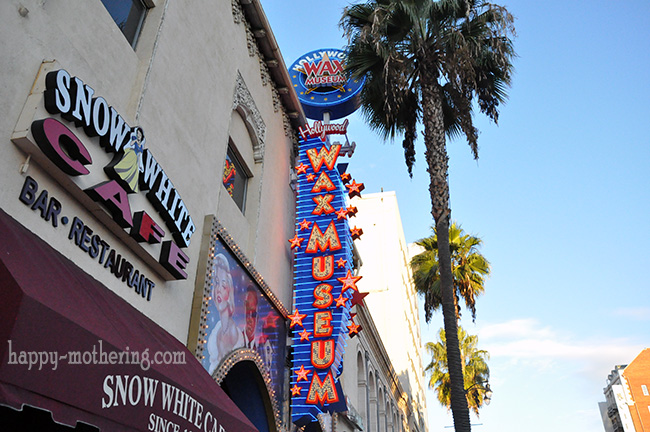 Did you know the Hollywood Wax Museum is the longest-running wax museum in the United States? It has been the most visited indoor attraction in Hollywood since 1965. I was excited to check it out!
We didn't get to follow all our best road trip tips for the drive because it snowed the night before and we had to wait for the roads to be cleared before we could drive down the mountain. Overall the drive went well, other than this question being repeated over and over, "Are we there yet?"
We arrived in Hollywood and right away found a parking spot – score! Then we headed across the street to the Hollywood Wax Museum. Our tickets were waiting for us (tip: you can order them online ahead of time to get a discount).
We headed inside to explore. I was pretty excited because I'd never been to a wax museum before! The Hollywood Wax Museum layout made it very easy to follow a path through so you didn't miss anything.
Towards the front of the museum, there is a section that features characters for scary movies. I wouldn't recommend going in there with small children. We didn't realize what we were walking into until we were in it, and Kaylee was pretty scared. Zoë did fine and actually enjoyed it.
Then we walked out into a section of the museum that was styled like a movie theater. As you can see, Kaylee wanted to be held for a while after going through the scary movie section.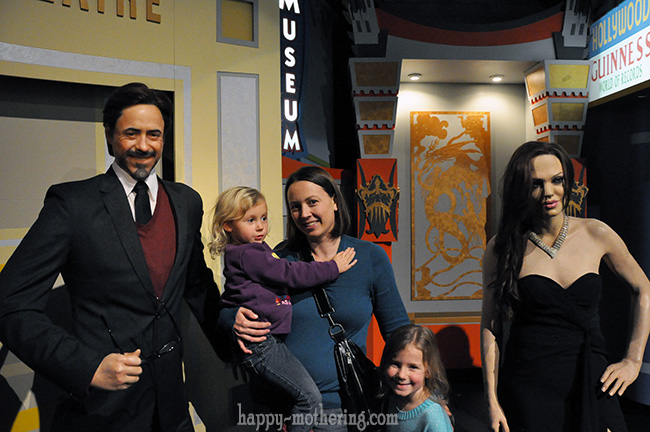 We continued to walk around. I was very impressed with the quality of some of the wax figures, but there were others that weren't as well done. It was interesting to note the differences. You could definitely tell that different sculptors worked on different figures.
I thought it was very cool that the Hollywood Wax Museum continuously surveys guests about their favorite figures and the ones they'd like to see in the Museum. The least favorites are replaced regularly to give you the funnest experience possible.
This is one of my absolute favorite pictures from our trip. Isn't Zoë an awesome sport? She fits right in with Charlie's Angels!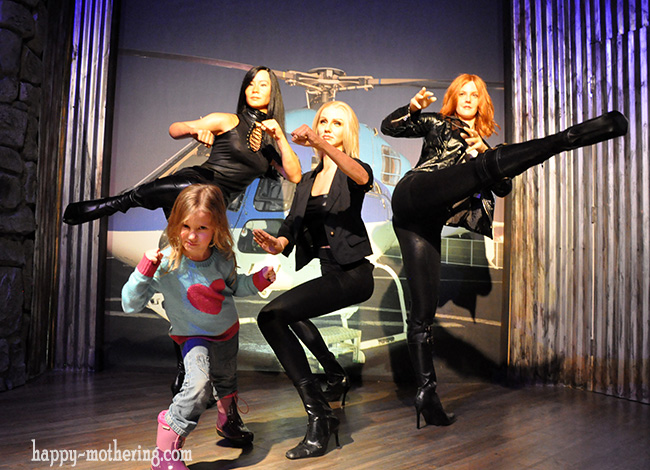 Then we stumbled upon Hugh Hefner, so I had to get a picture with him.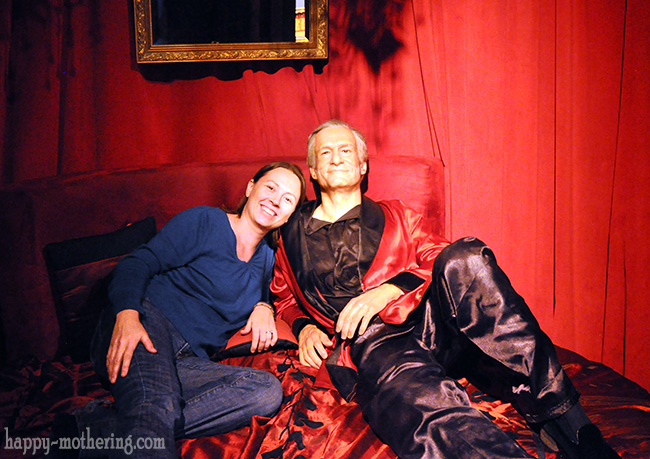 We continued walking around and checking out all of the wax figures. I like how they have it set up to where you can interact with the figures, touch them and take pictures with them. Much more family friendly than your average museum!
The last figure in the museum when we went was Denzel Washington. Here's Brian hanging out with him 🙂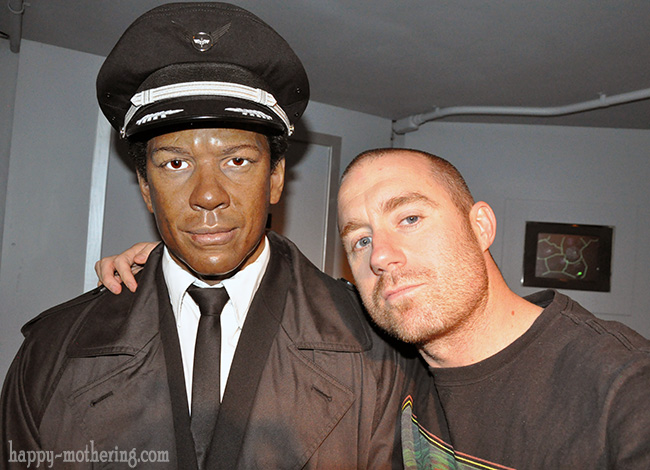 We were in and out of the museum in about an hour. It was definitely a lot of fun. If you're planning a trip to the Los Angeles area and looking for things to do in Hollywood, pop into the Hollywood Wax Museum, but make sure you plan some other activities in the area too. And be sure to check out the Hollywood Wax Museum on Facebook too!
We booked a hotel through Hotwire and ended up getting a great deal on a room at The Grafton on Sunset. Brian had a show he had to go to at the Troubador that night, so the girls and I ordered room service and watched movies. It was a great ending to a great day of family fun!