Are you looking for fun family activities in California for summer? Check out our list of the best water parks in California and share your favorites.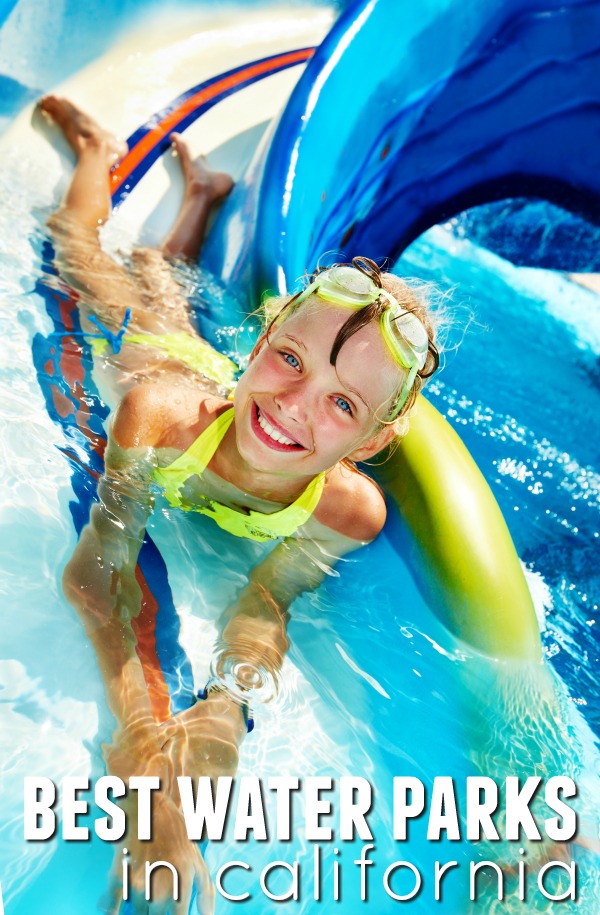 Are you planning on visiting California anytime soon? If you are and are looking for a way to escape the heat, consider going to one of these top water parks in California!
Water parks feature play areas for kids, water slides, wave pools, lazy rivers and more. It is a way to spend the day in the water, staying cool and having the time of your life!
I put together a list of some of the best water parks in California for you and your family to visit this year! You will see a variety of water parks so you can choose which one fits you and your family best.
Soak up some sunshine while your kids play with interactive water activities, or swirling down slides!
9 Best Water Parks in California
1. Wild Water Adventure Park in Clovis, CA
This is one of the most popular water parks in California. From speed slides to Slideboarding (a cross between water slides and video games), this is one awesome place to spend the day.
They have a slide, Ghost Slider, which is a slide that sends guests down a vortex into a large super bowl, before you drop through the center into a pool below! It is a thrill seeking adventure for sure.
2. Six Flags Hurricane Harbor in Los Angeles, CA
This park has it all! From activities for the family, to heart pounding rides, to plenty of lounging space. You can hop on the Bamboo racers and slide into a bumpy race that holds up to six riders. It is fun to see who will win.
Their top ride for thrill seekers is the Bonzai Pipelines. You drop 50 feet through a trap door, and then into a 200 foot slide course! It is sure to be an adventure. Plus they have an amazing amusement park, Magic Mountain, right next door!
3. Knott's Soak City
The largest water park in Orange County, Knott's Soak City is located right across the street from the iconic Knott's Berry Farm.
They have lots of big water slides, a tidal wave pool, a lazy river and more. With their 2-acre expansion, there's something for everyone of all ages!
4. Waterworld California in Concord, CA
Looking for a Cabana to kick back and relax for the day? Well Waterworld has it! They also have tons of slides to choose from for those who like to have some fun.
In the Wild Water Kingdom area, you can take advantage of three sets of family slides that dump into Diablo Lagoon! This area is approved for all ages. This water park has one awesome wave pool for an extra dose of fun.
5. Raging Waters in Sacramento, CA
Tube Slides, water slides, activities for kids, an 800-foot long lazy river and more. They have a shark pool and little slides for kids, so they can have fun playing around!
Their top attraction is the Dragon's Den, which is an ultimate ride for sure. You catapult through almost 5 stories of pure dark, and then drop down into a mist-filled dragon lair, only to have it disappear from your sight. Not for the faint of heart!
6. Raging Waters in San Jose, CA
One of their really cool attractions is the Bombs Away, an enclosed capsule that is pretty high up. The door is sealed and has a trap floor that drops out under your feet, and you free fall into an enclosed inverted looping water-chute for more than 200 feet. This thrill is sure to get your heart pumping.
Raging Waters also has a endless river, where you can float along through calm water  for the best relaxation. It features some waterfalls and streams to cool you down too. Also, there is a really nice kiddie area for the little ones to play.
7. Aquatica San Diego in Chula Vista, CA
Seaworld's water park is sure to not disappoint. Looking to have a fun race? Hop onto the Taumata Racer, where you can race down a 375-foot racing slide! This ride is great for kids or even adults wanting to see who can slide down the fastest!
Aquatica is known for super heart pumping slides, fun kid area for the little tikes, and of course tasty food. You can truly spend the day here, and never get bored.
Plus they are coming out with a line skip with the Quick Queue, coming soon. It will allow you to skip lines at 4 slides, unlimited!
8. LEGOLAND California Resort in Carlsbad, CA
This is a very unique water park, as it is within the LEGOLAND California theme park! It has lots of fun attractions, for kids to be entertained and plenty of fun rides!
The Pirate Reef is a high-octane water-chute ride that is very popular. You can even build your own boat out of LEGOs and send it downstream!
9. Raging Waters in San Dimas, CA
The Aqua Rocket is the main attraction at this water park in California. It's a hydromagnetic slide, which propels four people on an exciting roller coaster like ride! It has hills and drops that reach the speed of 30 mph – talk about a thrill ride!
Raging Waters has some awesome wave pools, areas for little ones to play and enjoy activities and you can even lounge as well.