Are you searching for the best hotels in South Lake Tahoe for your vacation? Read about my experience staying at the Basecamp Hotel South Tahoe.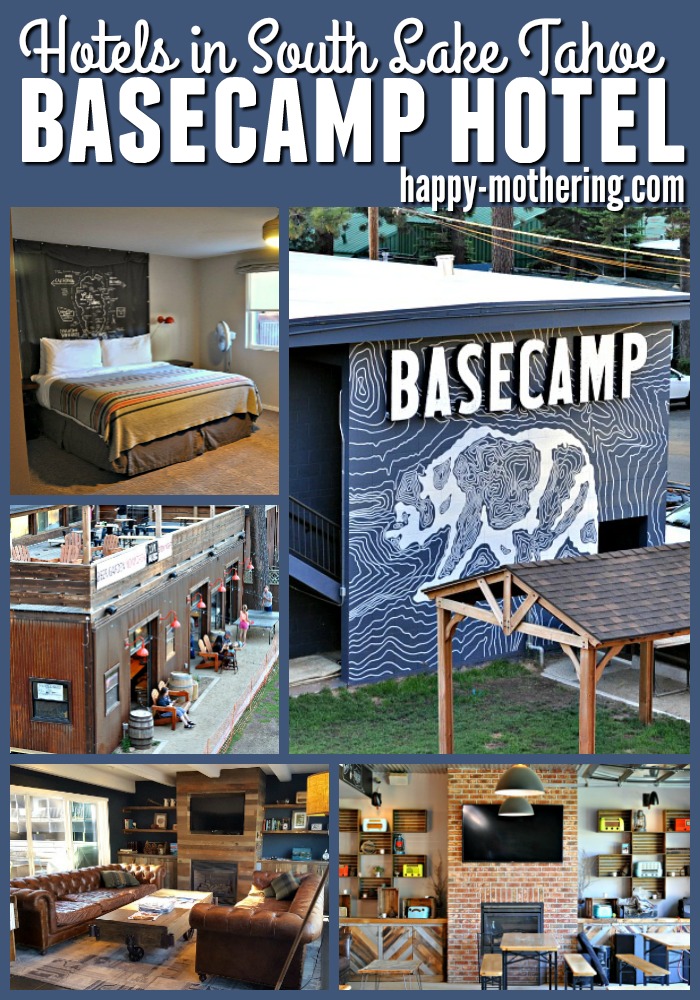 Thank you to Tahoe South for sponsoring this fun-filled trip and sharing all of their knowledge about why Tahoe South is a great family travel destination.
When you're planning a family vacation to Lake Tahoe, one of the first things you'll want to look at is the hotels in South Lake Tahoe. On my recent visit to Lake Tahoe South, I had the pleasure of staying at the Basecamp Hotel.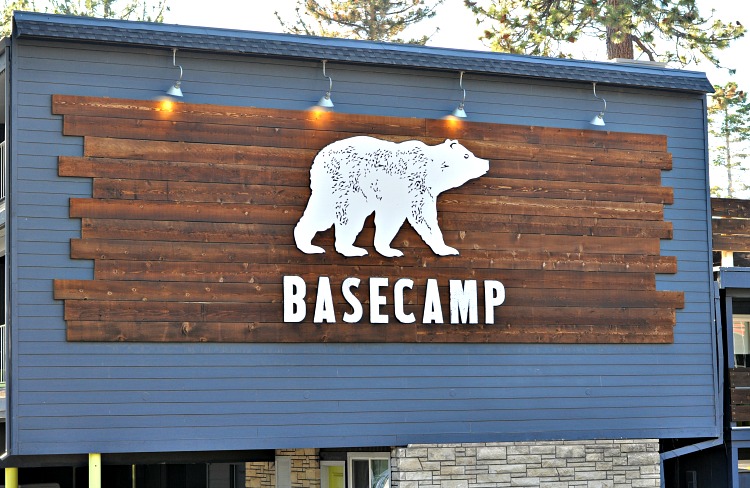 As I trudged my belongings up to the lobby after walking across the street from where I was dropped off by the South Tahoe Airporter, I was graciously welcomed by the young man working at the front desk.
While he checked me in, I noticed how much attention to detail there was in the lobby. I could just picture my family sitting in front of the fireplace during the winter months. It's also a great place to meet friends before heading out to dinner or for a nice hike.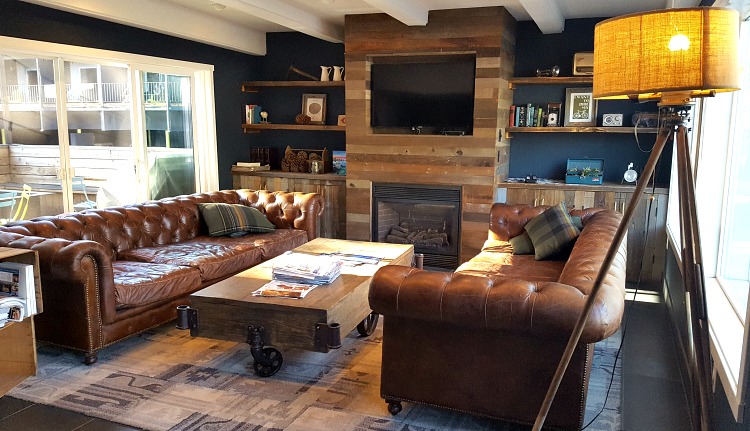 After he finished checking me in, I headed up to my room. On my way, I noticed there was ample parking if you have a car with you (you don't really need a car in Tahoe).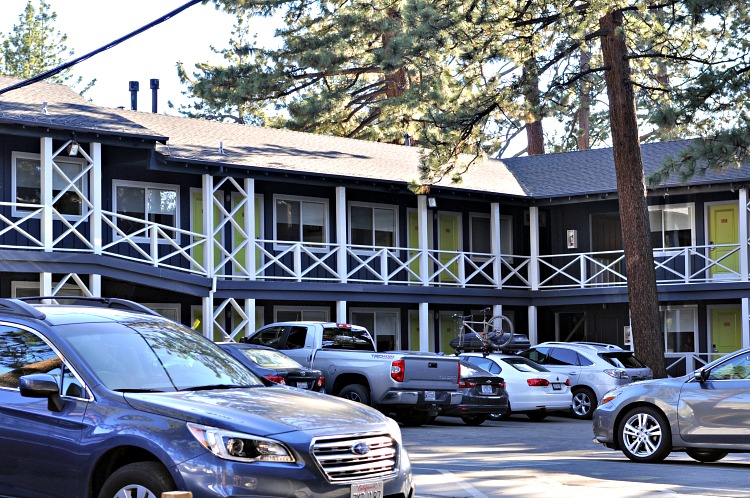 When I got to my room, I was astounded by how large the room was. There was a King bed in the room (which was super comfy by the way), and there was still more than enough space for an air mattress if you need one – and then some!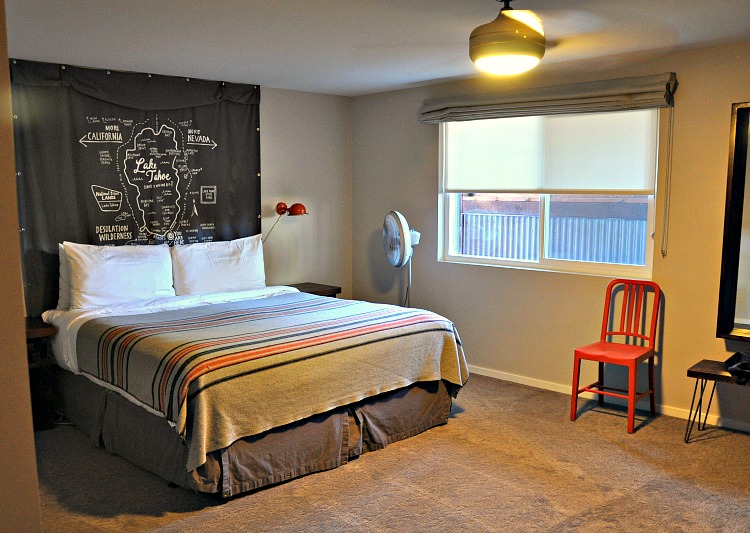 There was a nice desk area right next to the TV (which I didn't even turn on once during this trip!). Everything was nicely laid out.
And there was some fun themed artwork around the room too, including a nice big map of Tahoe above the bed. Nice touches!
I love that they have bulk toiletries in the shower. There is nothing that makes me cringe more than the tiny bottles of shampoo and conditioner most hotels have! Bonus points for not offering those.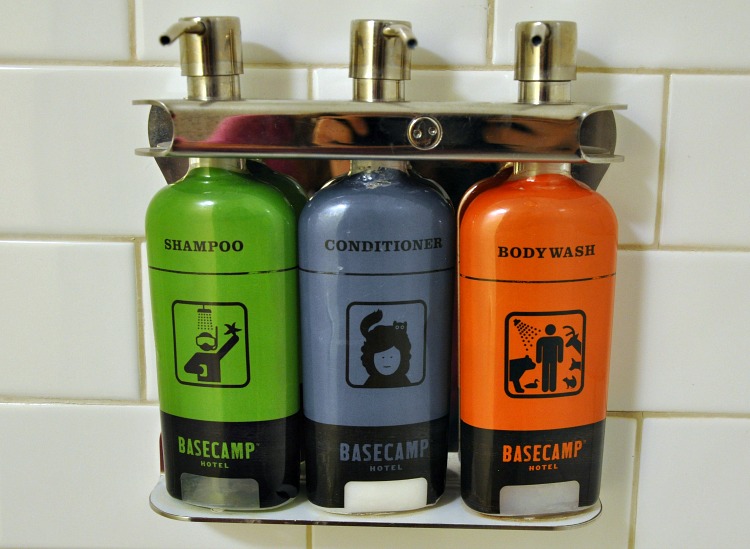 The room also had all of the amenities you might need for an active vacation. A mini fridge and a microwave were included as were an electric tea kettle and a small portable cooler for use during your stay. More nice touches!
The Beer Garden was right outside of my room. They have all sorts of fun things going on there, including live music, open mic night and I even heard there were fire dancers there one night during my stay. I don't know how I missed that!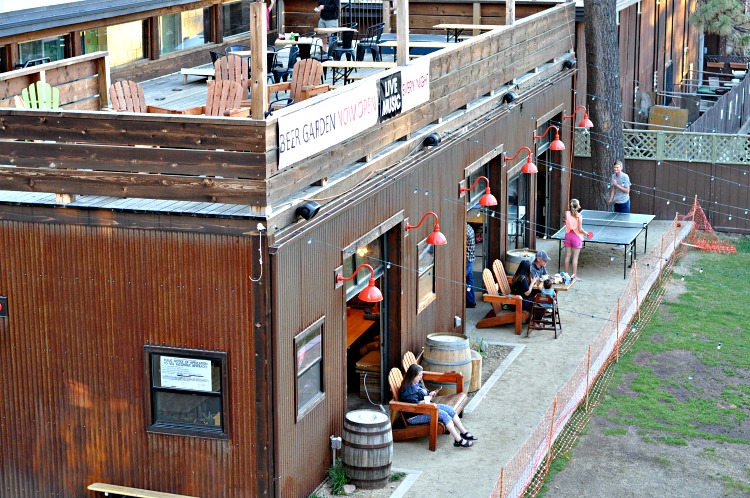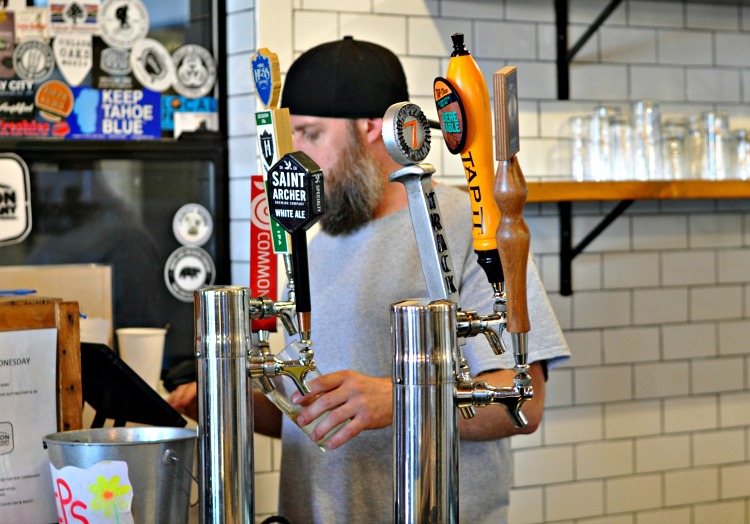 Local tip. You can watch and/or listen to many of the concerts that happen at Harvey's casino across the street from the Basecamp rooftop deck!
A simple breakfast is offered as a complimentary perk each morning in the beer garden as well. They had waffles, fruit, oatmeal, granola, juice and coffee. You could pay a little extra and get a smoothie or a breakfast sandwich as well.
There is plenty of seating in the Beer Garden, and it wasn't too busy in there any time I was there. The decor is super fun and interesting as well.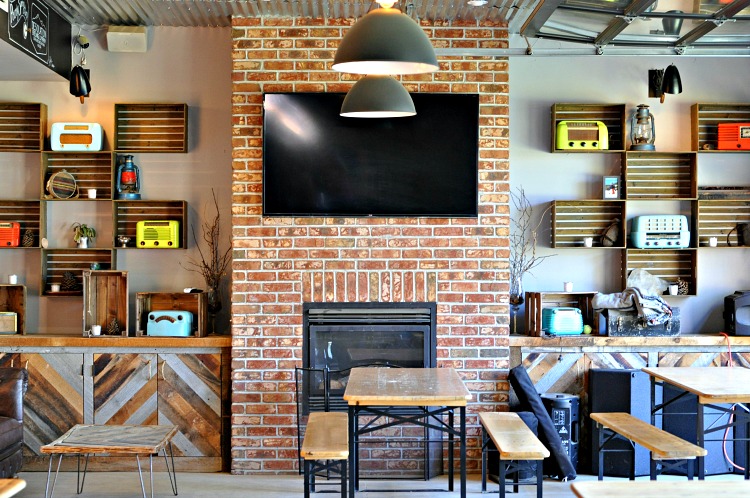 If you're more in the mood to sit outside, you'll find plenty of fun seating outside around the hotel as well.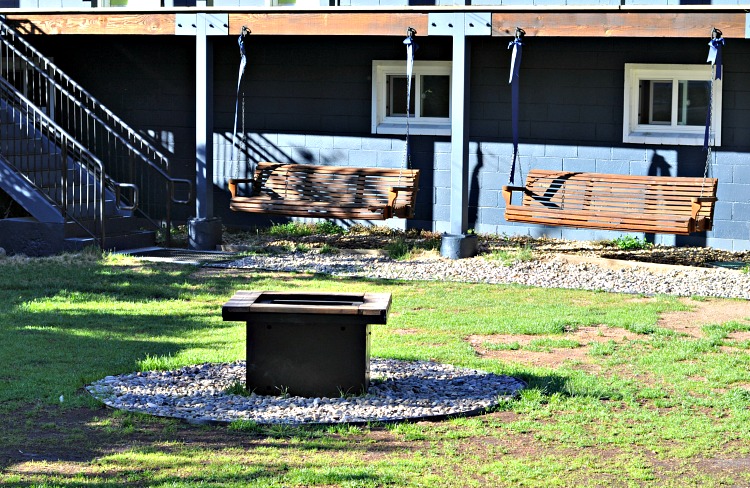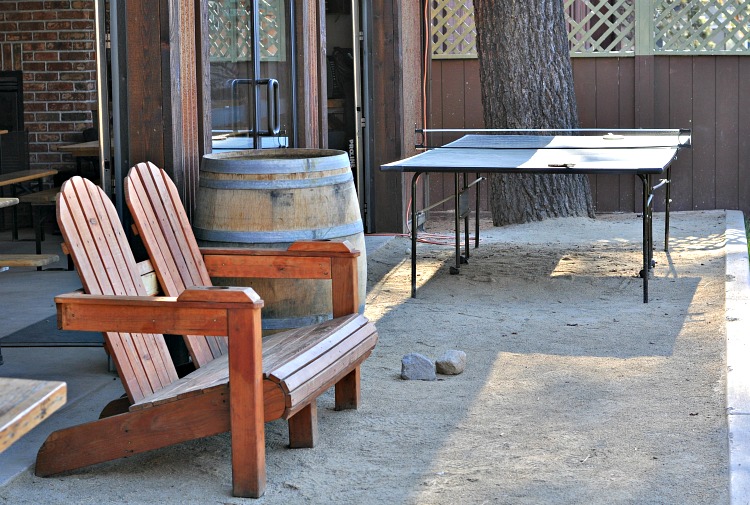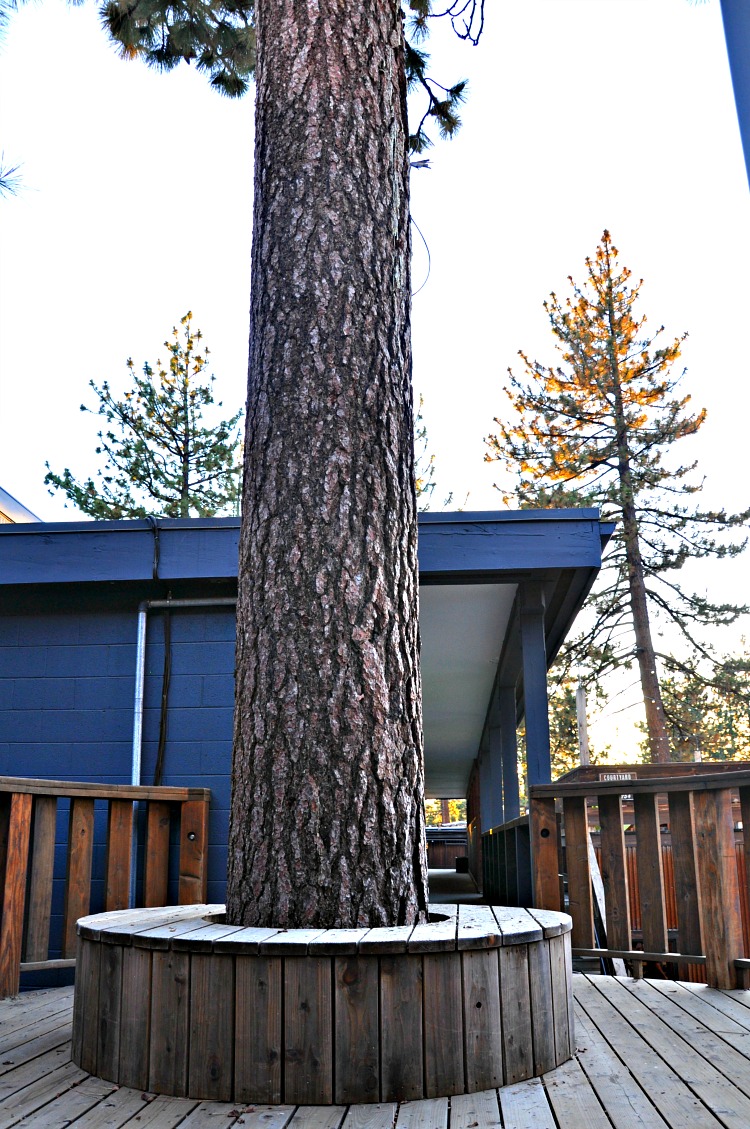 You can also choose to hang out on one of the rooftop decks.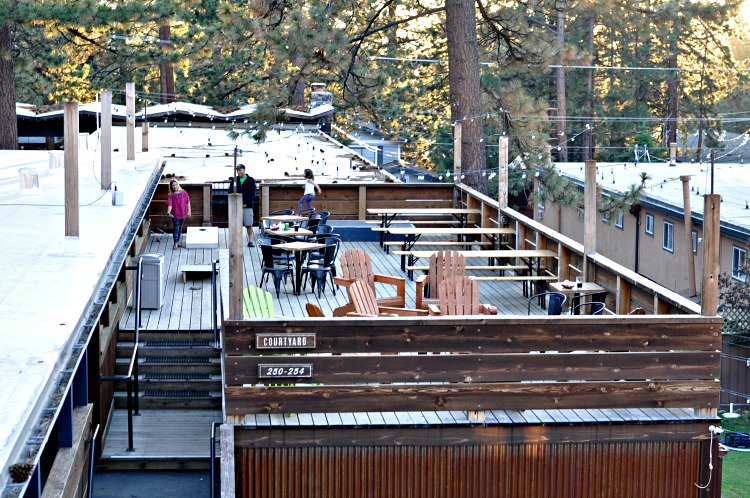 If for some reason the Beer Garden does get really busy, there is a secondary bar in the hotel lobby that is only for guests.
You will find a small pool at the Basecamp Hotel. I didn't get a chance to dip my toes in this time, but I'm sure next time my kids will be begging to go for a swim. I heard there was a hot tub too, but I didn't get time to take a soak.
If you're looking for a unique place to hold a company retreat or planning meeting, then check out Basecamp. They offer this trailer as a meeting space!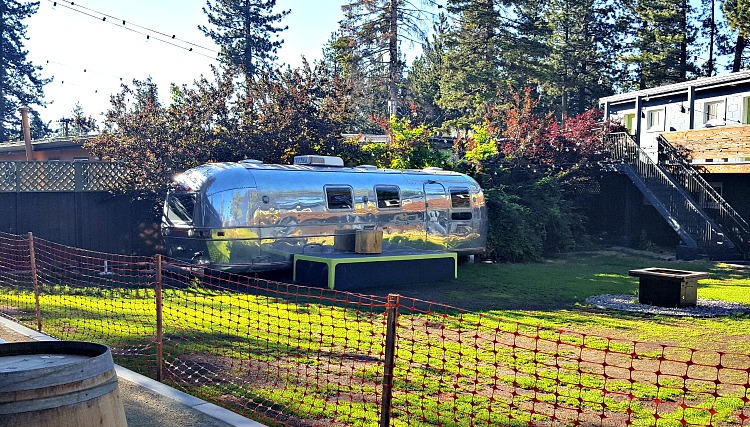 Overall, I thought the Basecamp Hotel was a great choice of hotels in South Lake Tahoe. It had a great vibe for summer, and I hear the vibe is also great in Winter. So we might just be checking it out again in a few months!