Are you looking for a fun summertime activity for the whole family that's a bit out of the norm? Read about our sponsored adventure at Sky Zone trampoline park!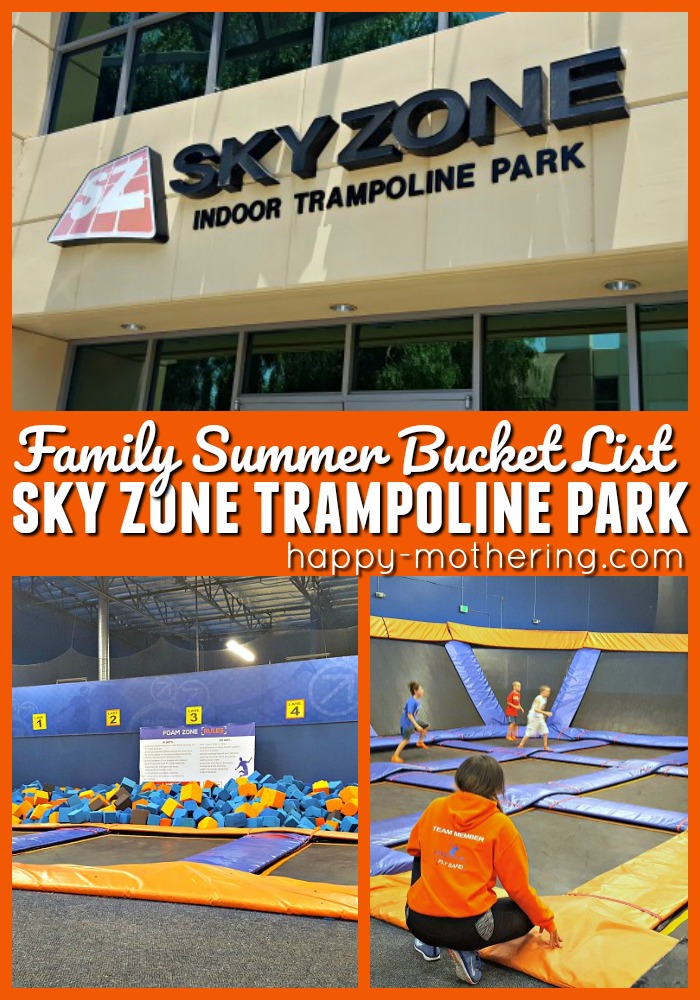 Does your family make a summer bucket list? As soon as the school year was over, I sat down with the girls and had them help me write out a list of everything they want to learn and do this summer.
You'll find things like jewelry making, playing keyword, learning guitar, reading and improving math skills on the list. But you'll also find activities outside of the home like going for local hikes we haven't completed yet and visiting a trampoline park.
Some of the things on the list require us going places outside of the home. Other items on the list are great for those moments when you heard the dreaded, "I'm bored," statement come out of your kids' mouths. When that happens, just ask them to go look at the list and pick something to do (or you can choose a chore for them instead!).
It's a lot of fun to write a family bucket list, but it's even more fun to check items off the list. We've slowly been checking things off our list this summer since we've been traveling so much.
We recently got to check one thing off of our family bucket list – visiting a trampoline park. We have a trampoline, but we haven't set it up this year since we're planning to move soon. So the girls had really been wanting to jump – especially with their trampoline board (great summer snowboarding practice).
They got their wish when we surprised them with a day of fun – starting with visiting Sky Zone, the original and premier indoor trampoline park. The girls were both surprised and excited.
You can make reservations ahead of time on the Sky Zone website, but they are made in 15 minute increments, and if you don't make your scheduled reservation on time, you cannot change the time of your session. So we decided to buy tickets when we got there, which was easy and fast.
In addition to your tickets, you'll need to purchase a pair of Sky Socks. These bright orange socks are both comfortable and super grippy. We loved how they worked on the trampoline. Fortunately you can buy socks once and bring them to use again on your next visit.
They do offer lockers so you can securely store your belongings while you jump. I paid $3 for 2 hours to use a locker. They did have a free rack where you could leave your shoes, but I feel better about having my purse in a locker, so I was happy to find the lockers.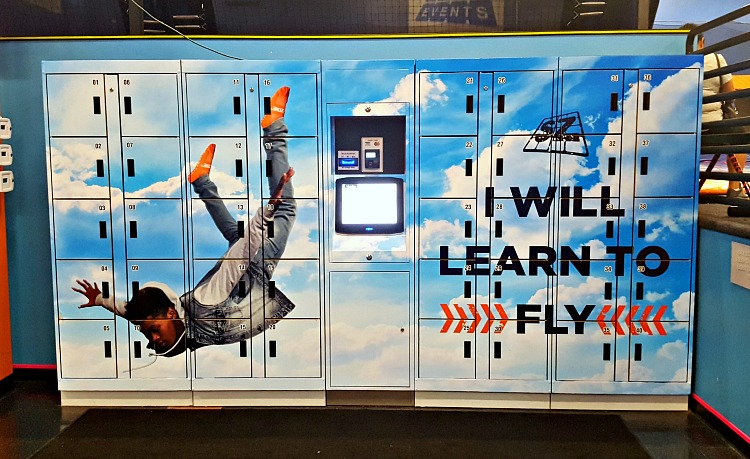 We got to Sky Zone about an hour after they opened, and they only had a couple of features open at that point, so we started out in the Freestyle Jump area.
It's a good place to start because it will get you comfortable jumping on the trampolines. They are much more bouncy than our trampoline, so we had a really fun time jumping and experimenting with the trampoline walls too!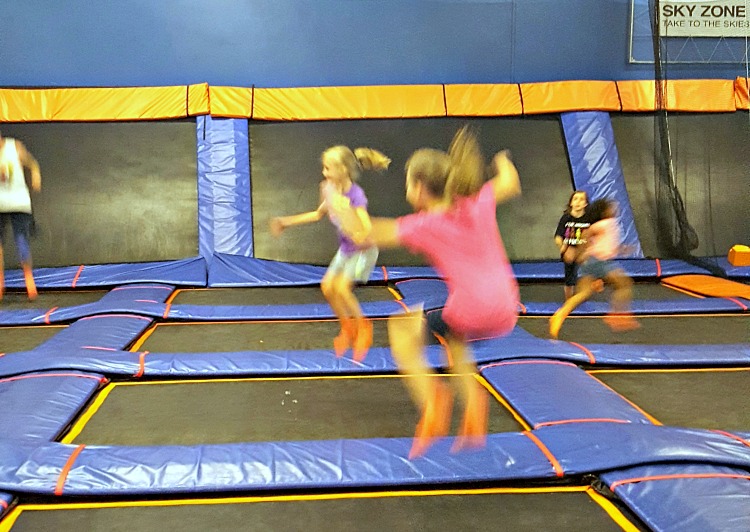 As soon as the Foam Zone opened, we headed over there because the girls had been eyeing it!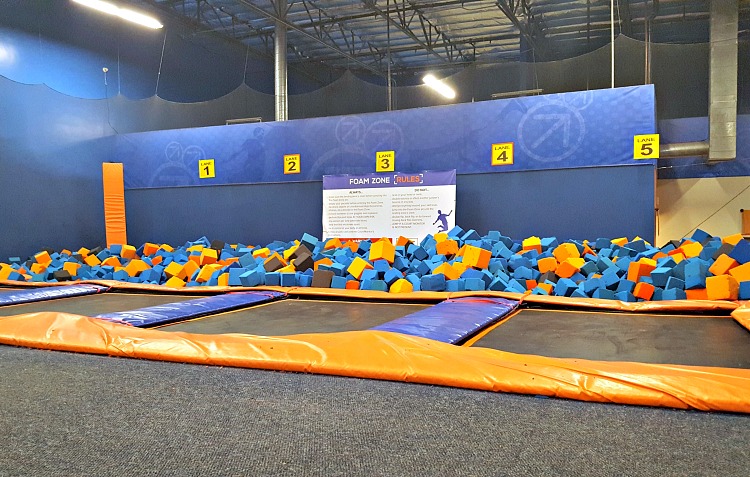 I jumped in once myself, but Brian and the girls jumped in over and over. They loved being able to practice their flips safely!
Kaylee thought about jumping in on a game of dodgeball. But when she realized it was all boys playing, she decided to give it a pass. But it looked like they were having a great time.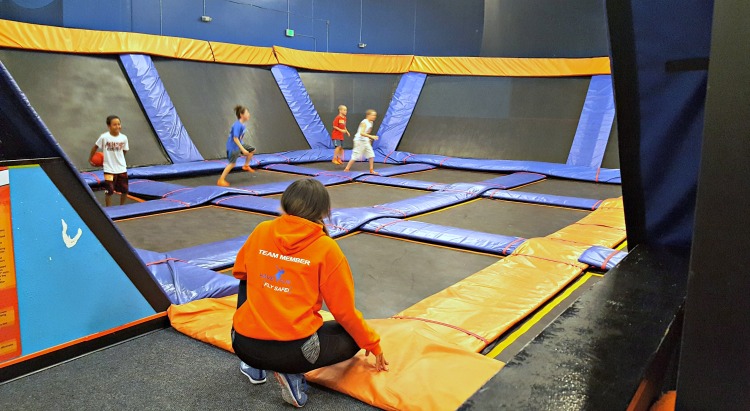 None of us were brave enough to try running up the wall. We watched lots of people successfully run it though. It must be those grippy Sky Socks!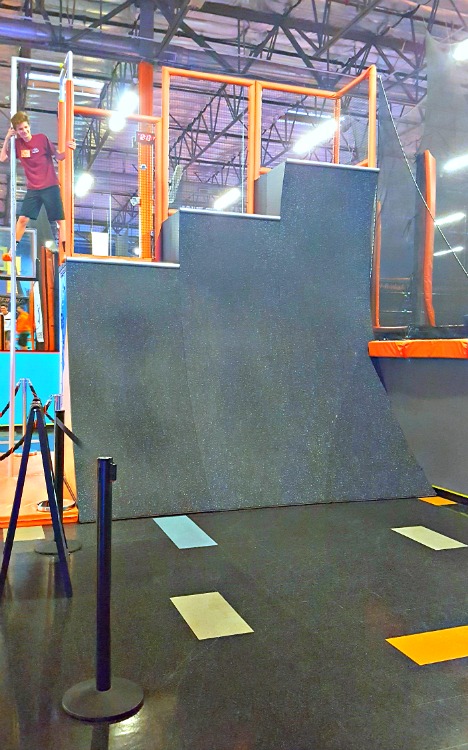 You'll also find activities like SkySlam (basketball dunk hoops) and Ultimate Dodgeball. Some locations have a warrior course and other features as well, so you'll have to check with your local Sky Zone to see what is offered there.
We got tickets for 60 minutes at Sky Zone, which was perfect for us. However, you can also buy tickets for 30 minutes, 90 minutes or 120 minutes depending upon how long you want to spend there. You can even book birthday parties at Sky Zone.
If you're planning to stay and play for a while, they do have a snack bar and vending machines.
Our little snowboarders were really hoping to use their trampoline board at Sky Zone to get some summer practice in. Unfortunately, we discovered that they aren't allowed. In the future, we hope to see them allow trampoline boards inside the park.
Overall, it was a fun break from the heat and I love seeing the smiles on my girls' faces when they get to check something off of our summertime family bucket list.
There are Sky Zone trampoline parks located around the United States and several other countries.