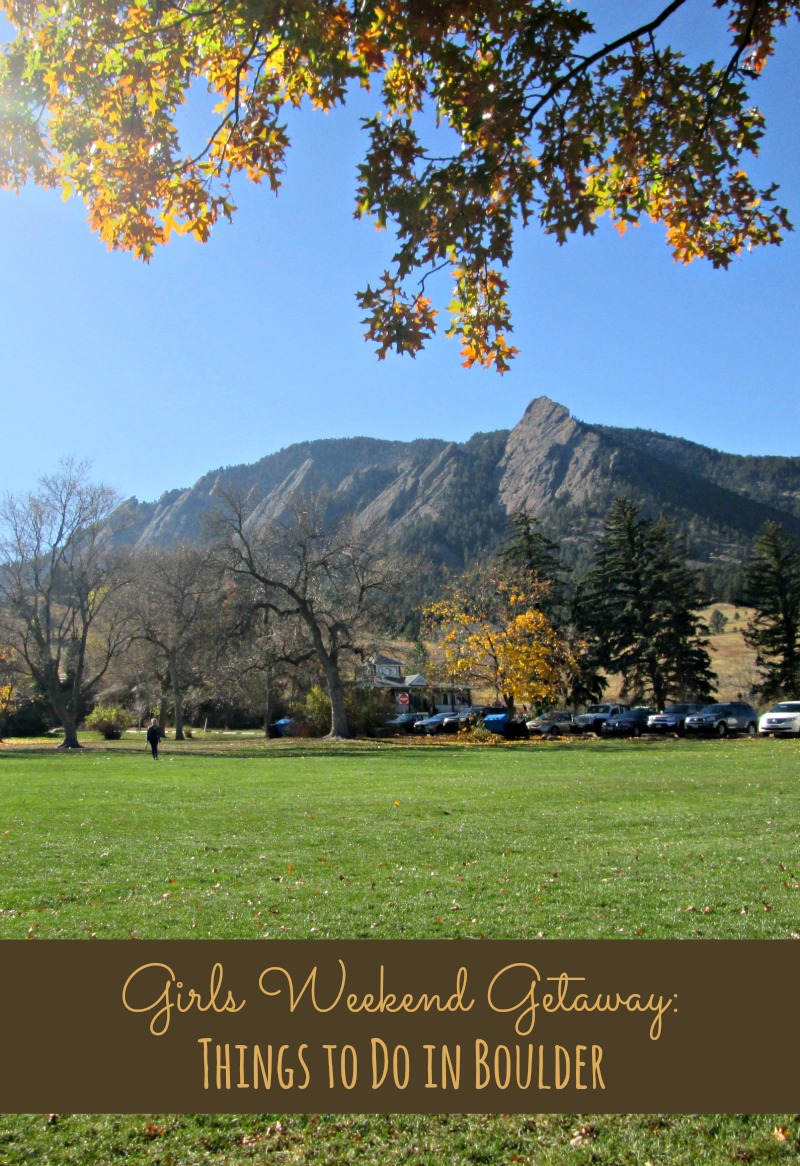 In college, I had two very best friends. The 3 of us were inseparable. If it happened that only 2 of us were out and about on campus, people asked where the 3rd one was and wanted to make sure everything was okay. We rarely went anywhere without the others.
Fast forward and a few years after college, we were all living in different states. For a while, we visited with one another as often as we could, but once we started having kids, our communication slowed down as we were absorbed in our new lives. It's amazing how becoming a mom completely changes how we live our lives.
Now all of our kids are in school and we have a bit of time back for ourselves. We decided it was time for a reunion, so we planned a healthy girls weekend getaway to Boulder, CO. It was a central location for all of us to meet up, and it had everything we were looking for in a girls weekend getaway.
There are so many things to do in Boulder, CO for a girls weekend getaway. Here are some of our favorites:
Practice Yoga
One of the things that topped our list of things to do in Boulder on our girls weekend getaway was to practice yoga. When we first got to Boulder, we started looking up yoga studios and we found was that had a class to live music. None of us had ever taken a yoga class with live music so we headed to The Little Yoga Studio. It was a lot of fun and the live music really added to the class. There are plenty of yoga studios in Boulder, but we were pleased with our experience at The Little Yoga Studio.
Go for a Hike
Boulder is also known for all of the beautiful hiking trails. We made it to Boulder for our girls weekend getaway before there was much snow on the ground, so we had a really nice hike. We found an area that had several different trail options with beautiful views.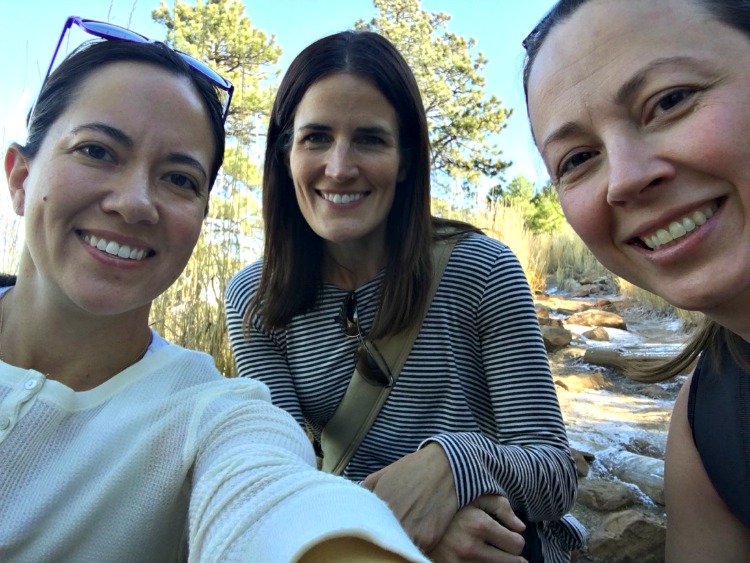 There was also a large grassy area where you could spread out a blanket and have lunch after your hike. Boulder is such a beautiful place to enjoy the outdoors!

Eat a Farm to Table Meal
Another one of the many things to do in Boulder that I enjoyed was all of the farm to table restaurants. Our first night there, we discovered a restaurant called Shine that was recommended by the yoga instructor. The entire restaurant is gluten free and non-GMO, and 85% of the food served is organic.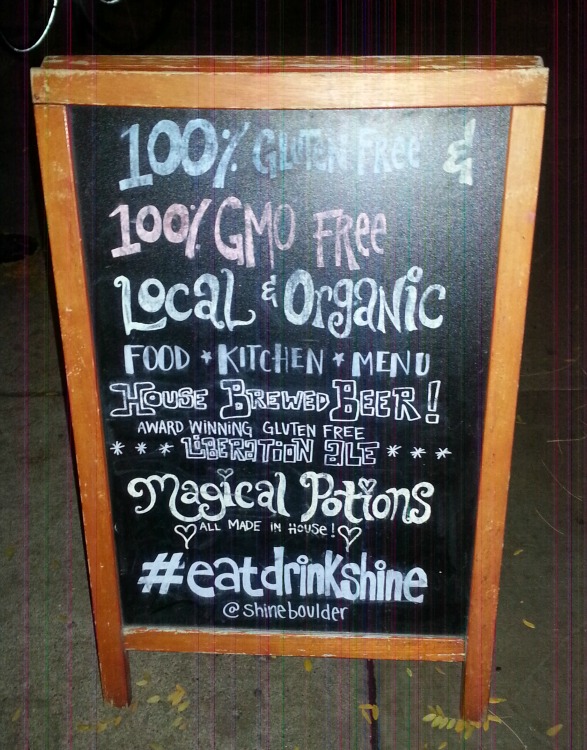 The atmosphere is a lot of fun and the food was amazing as well. I had the chicken confit with cauliflower mash and collard greens. Yum!

Enjoy the Potions
I stopped drinking over a month ago to try and help with some of my health challenges. One of the fabulous things about Shine is that they had a "Potions" menu. All of these non-alcoholic beverages (you could add alcohol if you choose) were made with beautiful ingredients. They were all infused with different crystals and sound infusions as well. Very hippie and fun.
We went to a different restaurant, Riff, the next night. One of my friends asked our waitress if they had any Potions and the waitress knew instantly what we were talking about. She brought me a ginger soda made with fresh-pressed ginger juice. I love how easy it was to make healthy choices in Boulder.
Visit the Farmer's Market
When I visit a new town, I love to check out the Farmer's Market. It's a great way to get a feel for the culture of a new city. The Boulder Farmer's Market was bustling and there were so many amazing vendors. The produce was beautiful and there were so many fun options. I wish our Farmer's Market was that cool!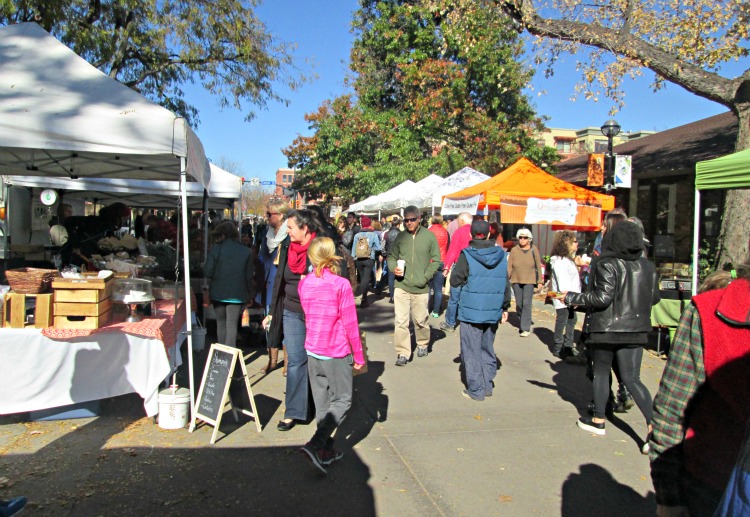 There was also an area to have lunch too. I picked up a bowl of glass noodles from Heart + Seoul. It was absolutely amazing and I loved that their menu was gluten free. I would highly recommend eating at Heart + Seoul if you are looking for things to do in Boulder.
Take a Stroll Down Pearl Street
Pearl Street is the iconic shopping area in Boulder. While there are lots of chain stores, there are also local vendors as well. We did lots of window shopping on Pearl Street. If you can stick to window shopping, it's a fun, expensive way to spend an afternoon in Boulder.
There were also people doing a variety of different types of street art like this leaf artist.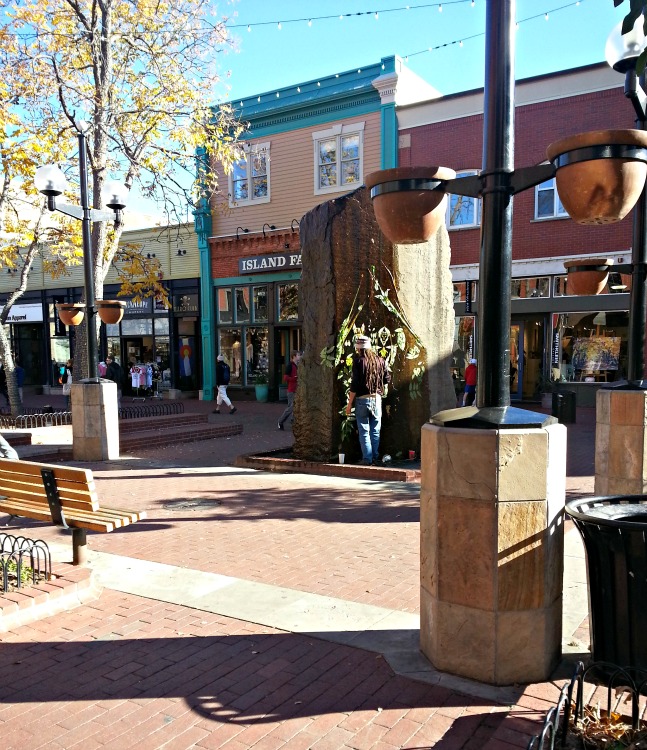 These are just a few of the fun things to do in Boulder on a girls weekend getaway. If we had more time, we would have explored a lot more. We'll have to save that for our next trip!