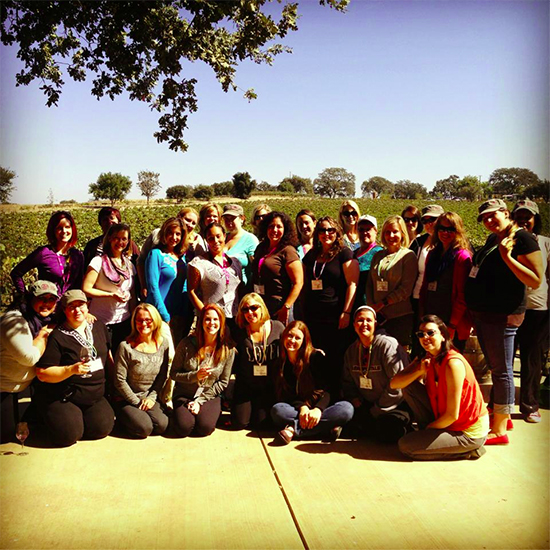 Disclosure: The costs of the events and activities for Fitcation were defrayed by sponsors, and the attendees were contractually obligated to write a summary of the experience and also received free swag items. However, the thoughts and opinions I'm sharing in this post are honest and my own.
I have always wanted to go to Paso Robles, so I was really excited to be able to attend Fitcation this year. I think all moms can use a weekend away with girlfriends every once in a while!
Day One
I drove to Paso Robles from my house, which was about a 5-hour drive. Not too bad and much better than flying.
As soon as I arrived I checked in and it was time to start having fun! We started our evening by heading to downtown Paso Robles to do some wine tasting and shopping.
We tasted wine at Pithy Little Wine Co., cookies at the Brown Butter Cookie Company and salt and other treats at the General Store.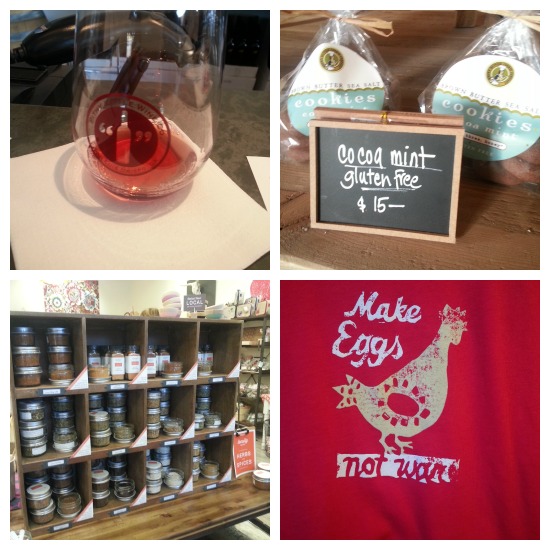 After browsing around the stores downtown, we headed to Studios on the Park for dinner and more wine tasting with a few SIP Certified wines.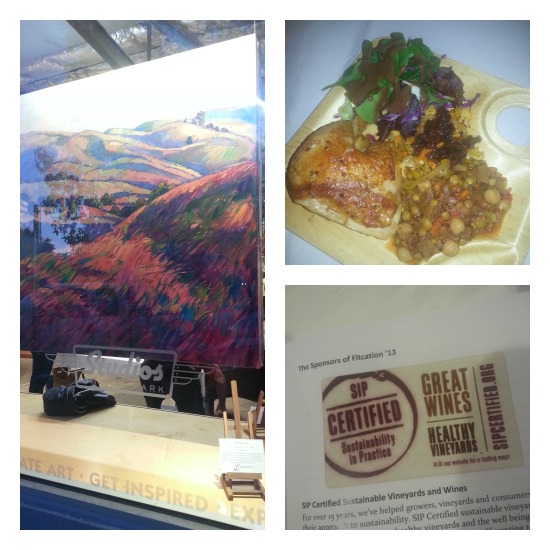 We learned a bit about SIP Certified during the dinner. If you're not familiar with this certification, they are looking at sustainable agriculture in a new way. They work to ensure:
The soils are fertile so hearty grapes can be produced year after year.
Both vineyards and workers are dedicated to sustainable practices.
Green wine and eco-savvy consumers have yet another choice they can make – one that supports both the land and the people that create their favorite wines.
I will definitely be looking for the SIP Certified label at my local store.
I loved the Studios on the Park location we dined at! During the day, you can go in and watch the artists while they create, and they host events like ours in the evenings.
The meal we had was catered by Fig Good Food, and was delicious! I learned something very interesting about cooking chicken from their chef. I always thought pink was bad. So, when I bit into my chicken and it was still pink I was worried.
I talked with the chef and she let me know that as long as it's cooked to temperature (165° F), then it is perfectly safe to eat. And since it was local, pastured chicken, I took her word for it. Now I know not to cook our pastured chickens past temperature to make sure they're as tender and flavorful as possible.
Day Two
We woke up bright and early and piled into the vans to head to the park for a Bootcamp workout with Erin Kreitz Shirey at Barney Schwartz Park. She was the peppiest pregnant woman (in her 3rd trimester) I have ever met. What an inspiration!
I was very pleased that I made it through the entire workout without stopping. We had planned to do yoga after the bootcamp workout, but ran out of time and had to head back to the hotel to shower for our next adventure.
Our first stop was Castoro Cellars. We got to learn about the history of Castoro Cellars. It's a family-run winery that offers organic wines and of course has the SIP Certification.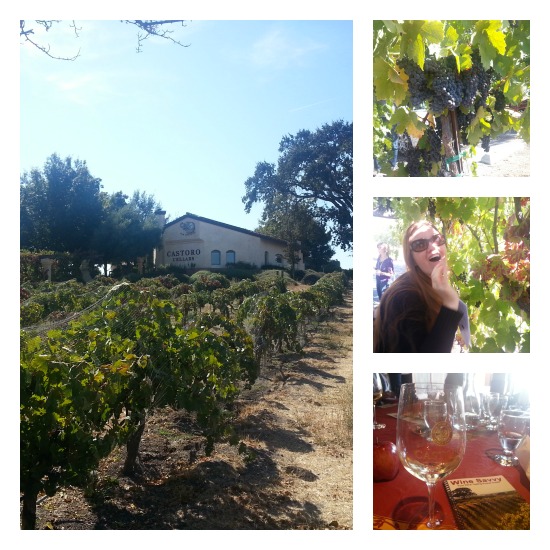 During our delicious lunch, we got to taste a few wines from Castoro Cellars while we got an education on wine tasting from Stasi Seay of Unlock Wine.
Our next stop was Pasolivo. We started with a hike of the olive orchard and learned about their organic, sustainable practices. I never realized how intensive olive farming is!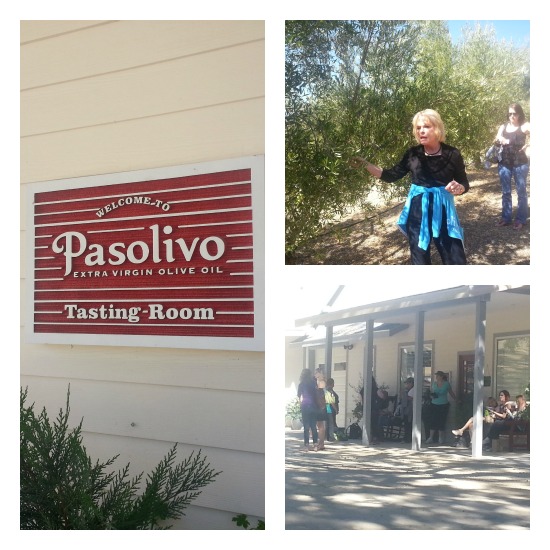 Then we got to have an olive oil tasting. If you haven't done one before, I highly recommend it – it was a lot of fun! It was neat to taste the different flavors in the olive oil. I took home a bottle of the rosemary oil – it is delicious on chicken!
After we finished up at Pasolivo, we headed over to Halter Ranch for another hike. The Halter Ranch vineyard and winery is a beautiful 2,000 acre property. It's home to one of the two oldest Live Oak trees in the world.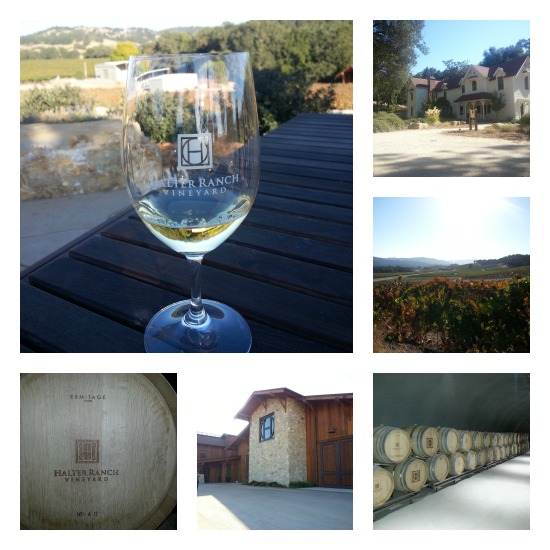 We got a tour of the winery as well, so we got to see how the wine is made and aged. It was really neat to see that process and then to taste the wine after seeing how it was made.
We then headed over to the barn on the Halter Ranch property for a dinner courtesy of Earth Brand shoes. We got a sneak preview of Earth's spring line and I got a new pair of Earth shoes. I chose the Daytrippers because they look super cute with jeans!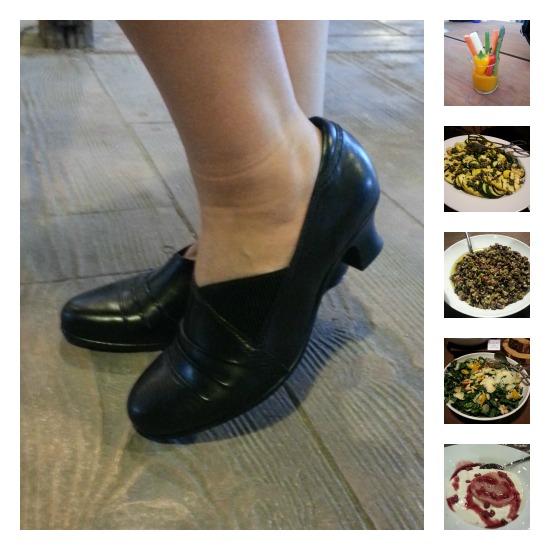 I knew that Earth shoes were comfortable (I have a few pairs), but I didn't realize how grounded in health, wellness and earth consciousness they really are. They really take a holistic approach to shoe design so that they are healthy, comfortable and cute.
I was exhausted after a fun-filled day, so headed to sleep shortly after getting back to the hotel.
Day Three
We started our day at Hearst Castle. I haven't been there in many years and there have been a lot of changes. In addition to touring the castle, we watched a movie about the history of Hearst Castle. Learning the history behind Hearst made the tour and experience much more interesting.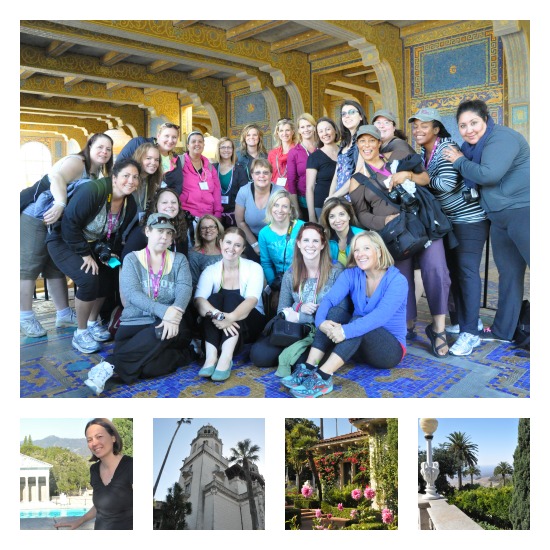 After that, we drove down to Cambria for a light lunch provided by Robin's Restaurant courtesy of Visit Cambria. Then Kia Ruiz led yoga on the beach. I was pretty tired from the day before, but powered through the yoga and felt so much better afterwards. I always forget how awesome yoga makes me feel.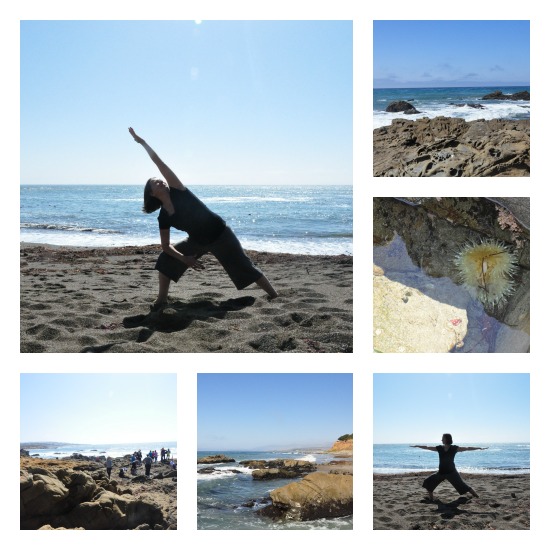 Cambria is a cute little beach town, and I look forward to exploring it more someday in the future. They have all sorts of fun events during the year to check out.
Our next stop was Morro Bay for kayaking with Kayak Horizons. It was only my second time kayaking and it was so much fun! My Fitcation roomie Jasmine and I did pretty well and got quickly across the bay. We all got out of our kayaks for a bit on the beach and then paddled back so we could head to our next stop.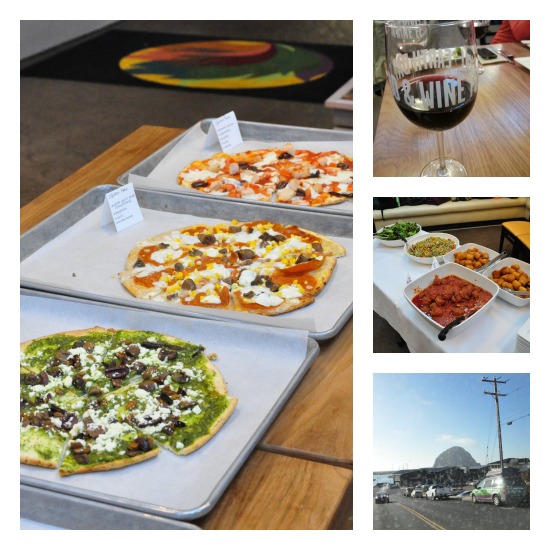 I was starved after having such an active day, so was happy that our next stop was for dinner and wine at Eatz in San Luis Obispo. I wish we had something similar to Eatz near us. It's fast food made with wholesome, local ingredients. They had even gluten free pizza.
Tolosa Winery, another sustainable, SIP certified winery, was pouring wine to go with our dinner. I really liked both their Pinot Noir and the Shiraz.
After dinner, we walked around San Luis Obispo for a bit. We found a really neat place called Art Bar, where you can take a painting class while wine tasting! Next time we're in SLO, I'd love to do that.
While the weekend in Paso Robles was fun-filled and action-packed, I was really excited to drive home on Sunday to see my family. Thank you to all of the wonderful ladies I met at Fitcation and a special thank you to Leah Segedie for organizing the trip! I hope we can all stay in touch and remain friends.