I have always been curious about driving a hybrid car, but never had the chance until recently when I had the opportunity to review a Kia Optima Hybrid.
Besides how great the car looks, the first thing I noticed about it is how amazingly quiet it is. It's seriously so quiet that I didn't believe the engine had actually started the first time and I turned it off, thinking I was turning it on when it was already on! That did take a couple days for me to get used to.
The most memorable thing for me about the Kia Optima Hybrid, though, is that the Eco feature teaches you how to drive efficiently. If you look at the dash, it tells you not only how many more miles you can drive before you need more gas, but it also tells you how efficiently you're using your fuel, when you're operating on the battery and what the battery level is.
I found that if you let off the gas, you automatically go into Electric Vehicle (EV) mode. So, by letting off the gas anytime you're on even a slight downward decline, you can save gas. It's also great for when you're sitting in traffic since it's in EV mode when you're just sitting still.
I drove up to Santa Barbara for the Omron Event with Bob Greene in this car and was amazed that I never needed to fill up the gas tank! I kind of had the picture in my head of that Seinfeld episode where Kramer test drives a car for Jerry and keeps driving it until it runs out of gas, just to see how far it would go. I guess I'm a little more cautious than Kramer because I decided to put some gas in the tank when the gauge said that I had 33 miles left.
I think I got about 600 miles on one tank. The original estimate on the gauge when I got it was that I would get less than 400 miles on that tank of gas! I believe I got such great gas mileage because I was constantly able to evaluate how efficiently I was driving.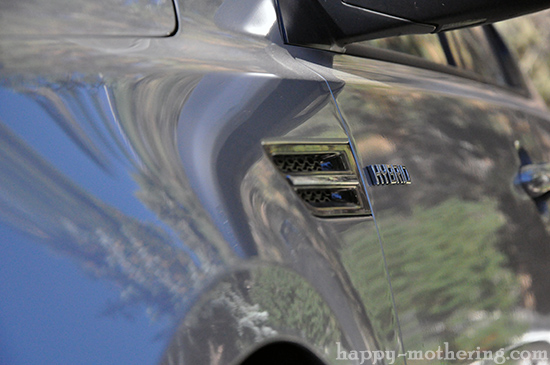 The Kia Optima Hybrid is also very roomy. Even with her legs fully extended, Kaylee didn't touch the front seat with her feets!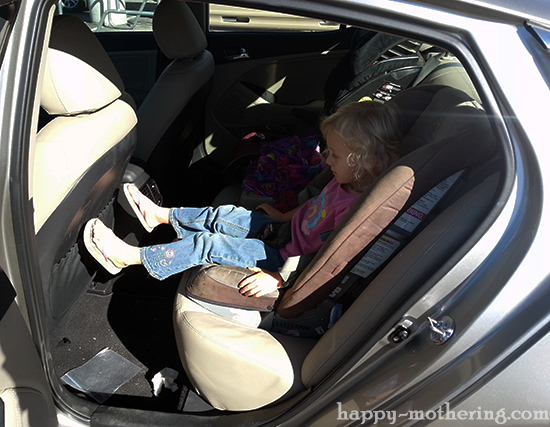 The driver's seat was also very comfortable, and it was very easy to reach most of the functions I needed. I did find that the seat heater buttons were a little out of reach since they were hidden behind the gear shifter, but that's no big deal.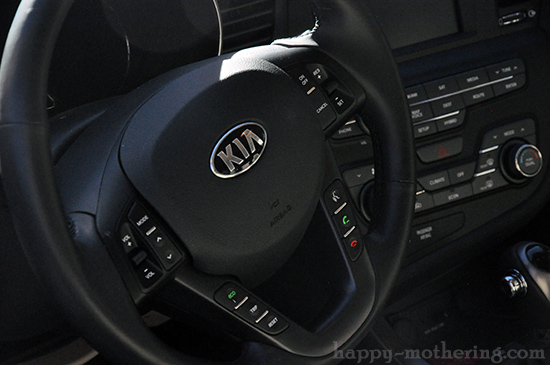 It also had a decent sized trunk for a car. My BOB Duallie double jogger just barely fit in the trunk with all 3 wheels taken off. I would love it if the trunk was just a bit larger, but it works.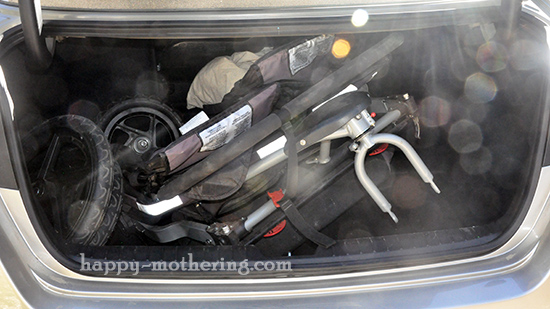 Now if only we could combine the spaciousness of the Kia Sorento with the efficiency of the Kia Optima Hybrid, I think I'd have my dream car!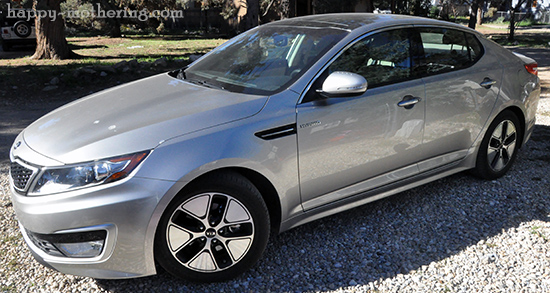 If you're looking for an awesome, fuel efficient car that would be great for commuting to the office or toting the family around town, go test drive a Kia Optima Hybrid!