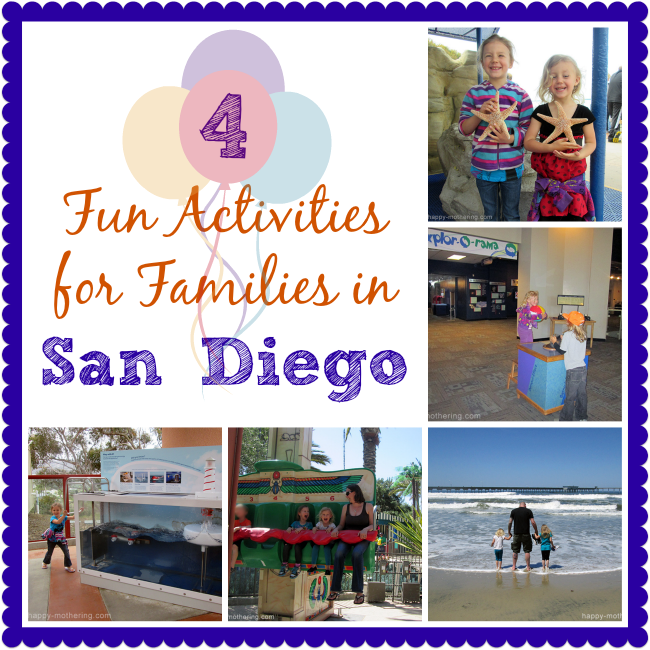 Sometimes you just need to get away for a long weekend. Even though we live in a mountain resort town, it's nice to change it up every once in a while. Since I grew up in San Diego and most of my family is still there, we try to go visit regularly.
It's about a 3-hour drive depending upon traffic and how many potty stops we have to make for the girls, so the drive isn't too bad. I love San Diego as a destination for families because there are so many different things to do there!
One of my cousins got married in San Diego last month, so we decided to make a long weekend getaway out of it. Now that the girls are older, our options for activities has really opened up.
If you're planning a weekend getaway to San Diego with your families, here are 4 fun activities you'll want to check out!
Birch Aquarium at Scripps Institute of Oceanography
Even though I grew up in San Diego, I don't remember ever going to the Birch Aquarium. When the girls and I planned our weekend, we knew we wanted to check out the aquarium. It's not a huge aquarium, but I found it was the perfect size for the girls' attention span. There are 60 habitats with over 3,000 fish.
They enjoyed checking out the fish, jellyfish and seahorses. They also got to feel a live starfish and sea cucumber for the first time. Zoë was kind of creeped out by how the sea cucumber felt.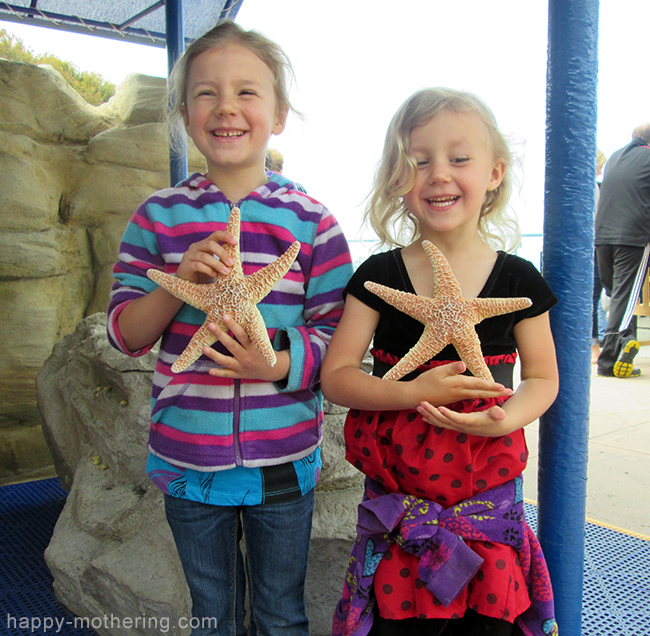 They also have an area of the aquarium where they have alternative energy demonstrations. The girls got to learn a little bit about solar, wind, water and human power options. Zoë had a blast getting the Lighthouse light to turn on by making waves.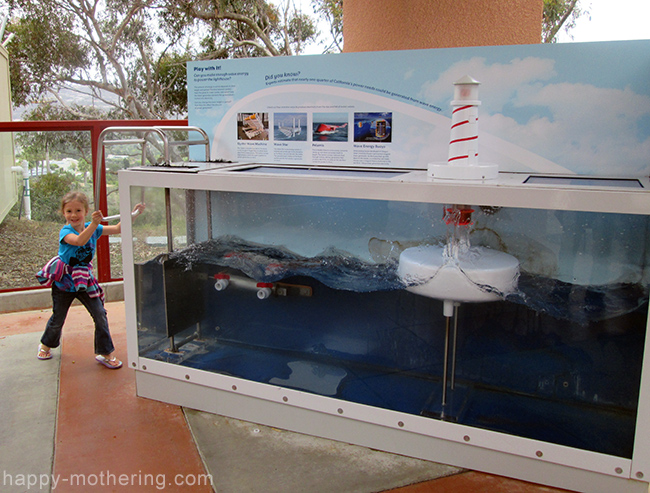 Tickets to the Birch Aquarium are $17 for adults, $14 for teens and $12.50 for children (2 and under are free). They're open daily from 9-5.
The Beaches
One of the things I love about San Diego is the beaches. Each beach has it's own unique charm. After the Birch Aquarium, we drove over to the La Jolla Children's pool to see the baby seals. The girls loved watching them play. Then we walked over to shell beach and the girls had a blast checking out all of the shells that had washed up on shore.
On this trip, we also went to Ocean Beach for breakfast one day and for a walk along the beach. I grew up going to Ocean Beach every summer, and Brian lived in Ocean Beach when we met, so we like taking the girls there.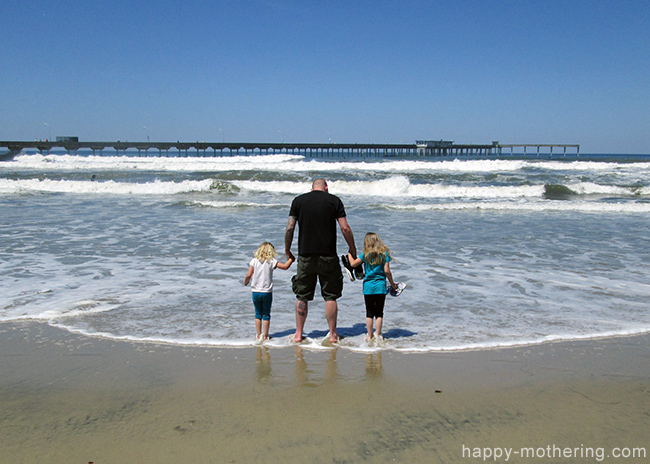 The best part of going to the beach? It's free! You can find more information about San Diego beaches on the Visitor's Bureau website.
Ruben H Fleet Science Center
As a child, the Ruben H Fleet Science Center was one of my favorite museums in Balboa Park. It's a very interactive museum, so it keeps the kids engaged. They get to learn about science through fun activities. I think Kaylee played with this exhibit for a good 30 minutes.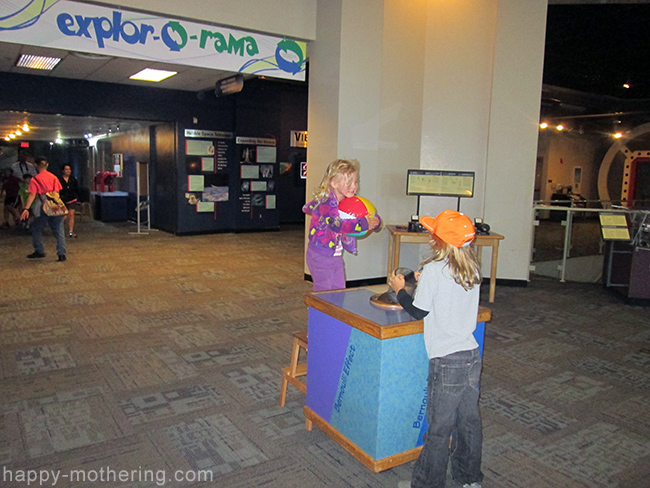 Zoë is at the age now where she can really get into the exhibits and understand what they're all about. We all had a great time learning together.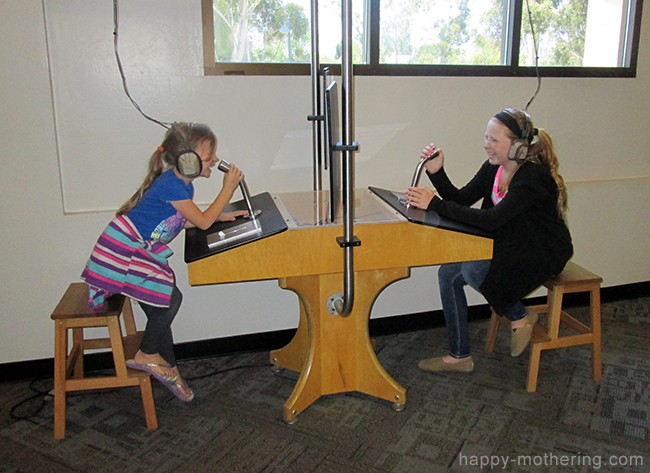 We also got to watch Journey to the South Pacific in the IMAX dome theater. Zoë sat through the movie fine, but Kaylee got a bit restless. Next time we'll have to choose a more active movie for her.
Tickets for the Ruben H Fleet Science Center are $13 for adults and $11 for children (ages 2 and under are free). Dome theater shows are additional. The museum is open from 10-5 Monday to Thursday and 10-6 on Friday, Saturday and Sunday.
Legoland
The only time I had ever been to Legoland was when Zoë was an infant, so I was as excited as the girls about this stop! I was worried that Zoë would think she was too grown up for Legoland, but it was really just perfect for both her and Kaylee.
Both of their favorite things at Legoland were the roller coasters! I was really impressed with how brave our girls are. I remember my parents having to trick me into going on my first roller coaster. Of course I loved it, but no tricking was involved with Zoë and Kaylee. After their first roller coaster ride, they wanted to explore them all.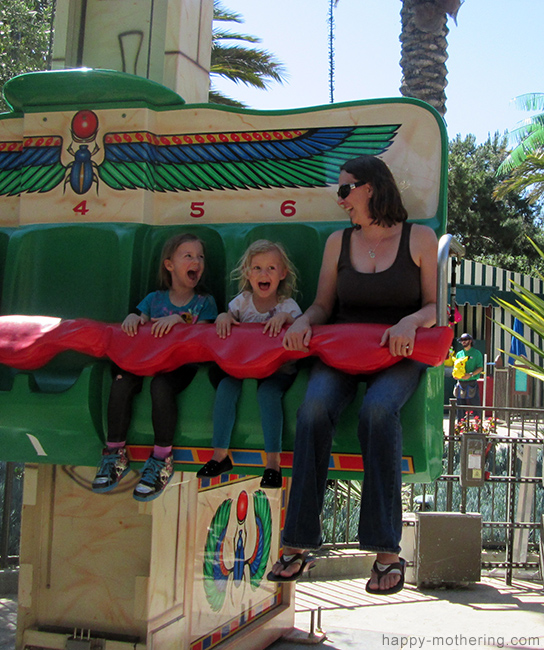 In addition the the Legoland theme park, they also have an aquarium and a water park. Next time we visit Legoland, we are planning to make time to visit the water park. It's all on the same grounds, which makes it easy to visit all 3 options if you have a Park Hopper Pass.
Tickets start at $85 for adults and $75 for children. Park Hopper Passes are additional. Hours vary depending upon the time of year.
We had planned a couple more activities in San Diego, but ended up spending time with family instead, so we'll save those for next time!