Are you looking for a wonderful, family friendly hotel in Carmel by the Sea? Then look no further than the Hofsas House. Read about our vacation in Carmel.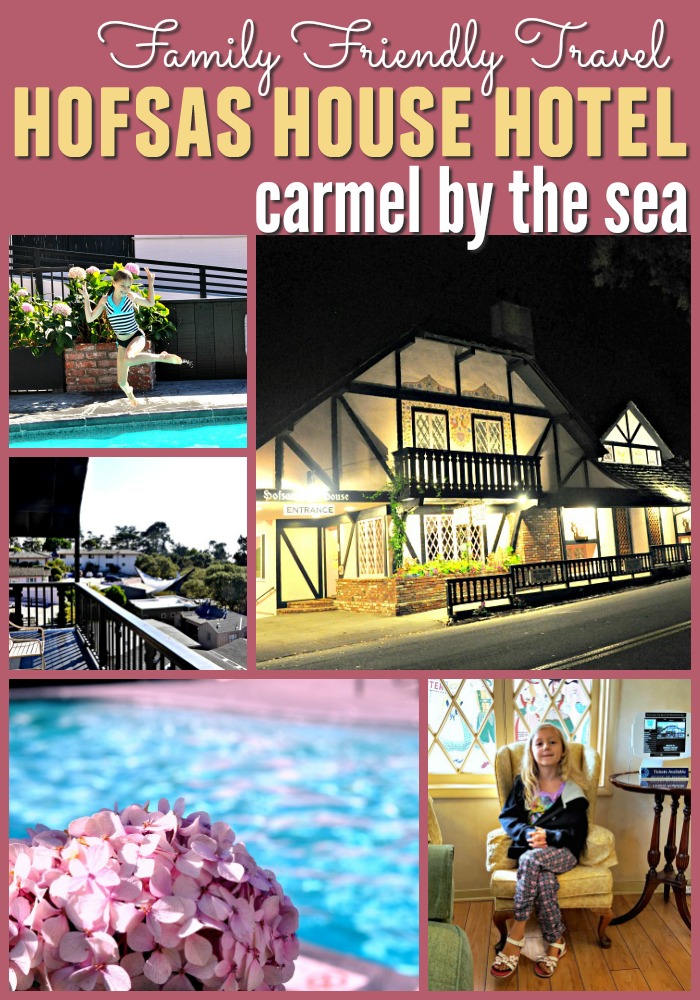 What do you look for when you travel as a family? We look for a variety of experiences, but our number one requirement is that the places we travel are family friendly. We want our kids to feel welcomed and we all want to feel relaxed.
I told you quite a bit about the history of the Hofsas House hotel in Carmel by the Sea, but today I want to share with you what it's like to stay at Hofsas House hotel in Carmel.
Our stay at Hofsas House Hotel in Carmel by the Sea was wonderful. It was like taking a step back in time to another time and another place, where relaxing with family was the priority. It was the perfect fit for us.
It's so nice to have people who actually grew up with and take pride of ownership of the place you're staying at take care of you. We were made to feel like family there.
When we drove up to the Hofsas House, we were driving like super slow tourists – because we are. There are only street names and no house or business numbers in this tiny one-square mile village. But the good news is The Hofsas House is super easy to find. It's situated on San Carlos Street between 3rd and 4th Avenue.
There's marked parking right in front of the lobby along San Carlos street, and you'll see that it's super easy to find. And you'll see the amazing Bavarian Mural that was painted by Maxine Albro that says "Enter."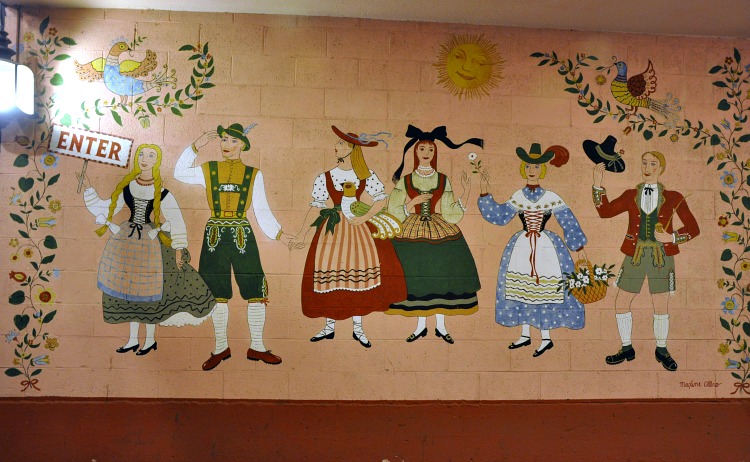 When driving up to the Hofsas House Hotel in Carmel, it looks like someone plucked a Bavarian Inn out of Germany and planted it in Carmel.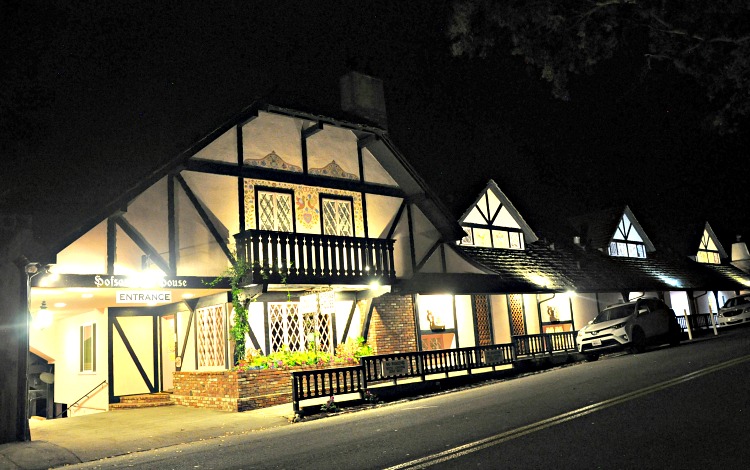 The feel of the entire property is pretty special.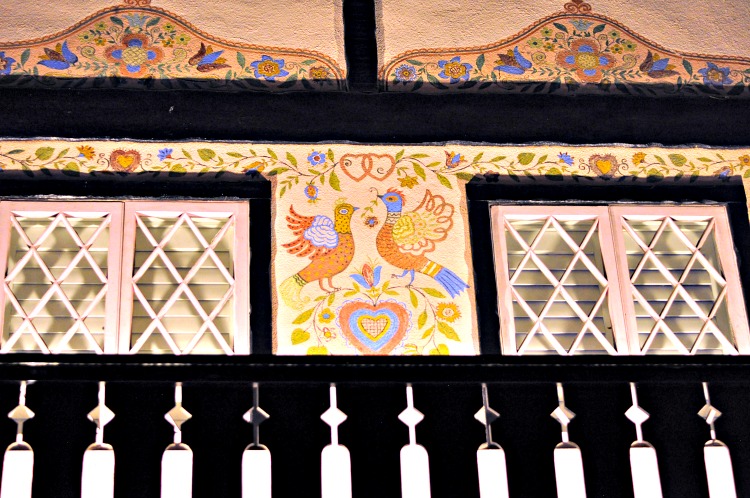 We all walked into the lobby to check in. The first thing I noticed was the giant copper European fire place in the corner. The lobby is cozy, so it really accentuates it as a focal point for the entire room.
The first thing Kaylee noticed was the kid sized chair. She really wanted to take one of those home with her.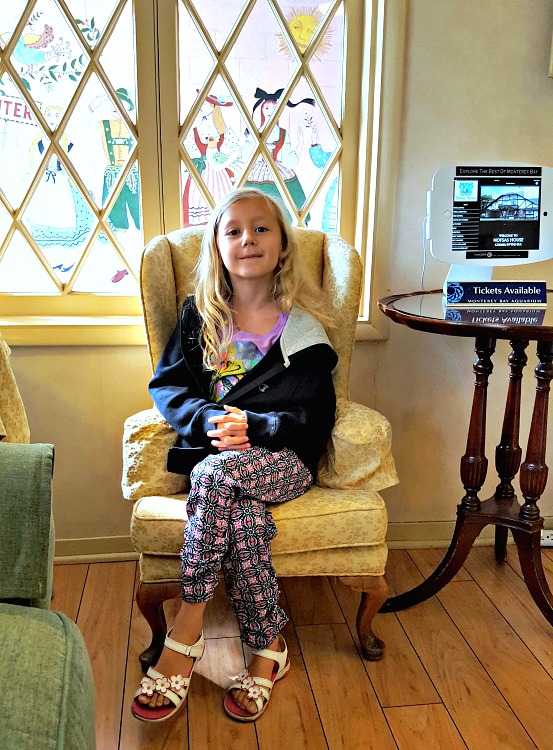 At check-in, we were greeted with warm smiles and were given keys (real keys, not plastic cards) and a map to our room.
Immediately past the check in parking is a driveway that goes down behind the hotel to parking. We had carport parking for our decked out Kia Sedona minivan we were driving.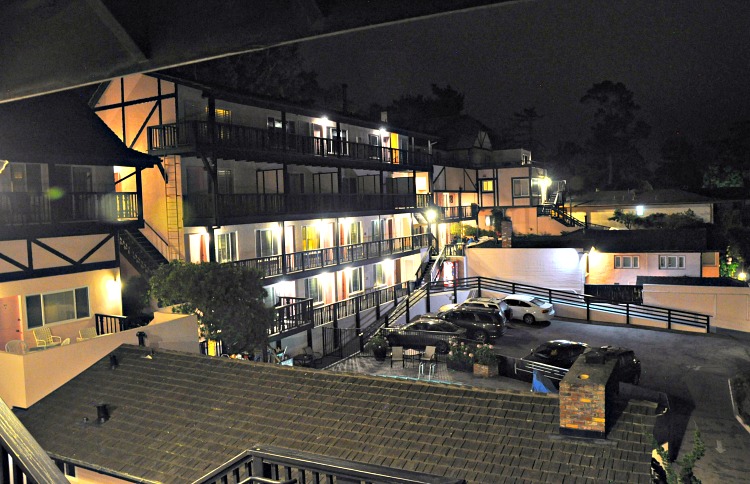 Our room was on the 4th floor. There are no elevators at Hofsas House, so we had to go up some stairs. Chrystal had her foot in a walking boot and was on a cane, but it was well worth it.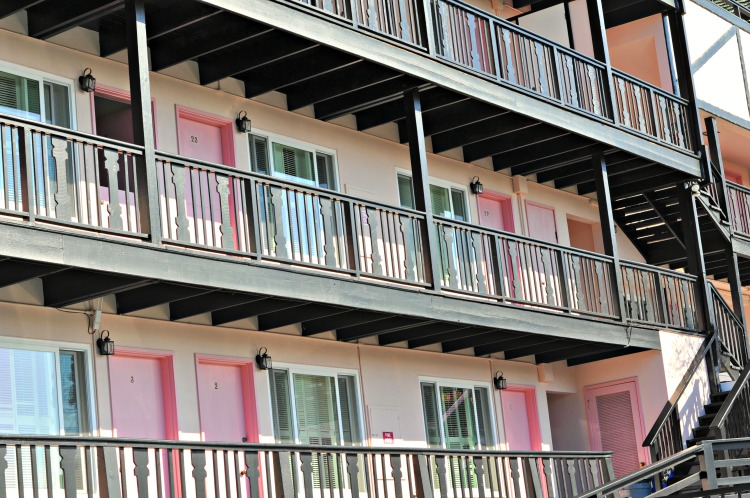 We had a giant 2 room 2 bathroom with 2 powder room family suite with a kitchentte and balcony.
When you step into a room at The Hofsas House, it's like a stepping back in time into a traditional Bavarian Inn in Germany. From the wall paper to the Dutch doors, you really get the feel for the Bavarian culture.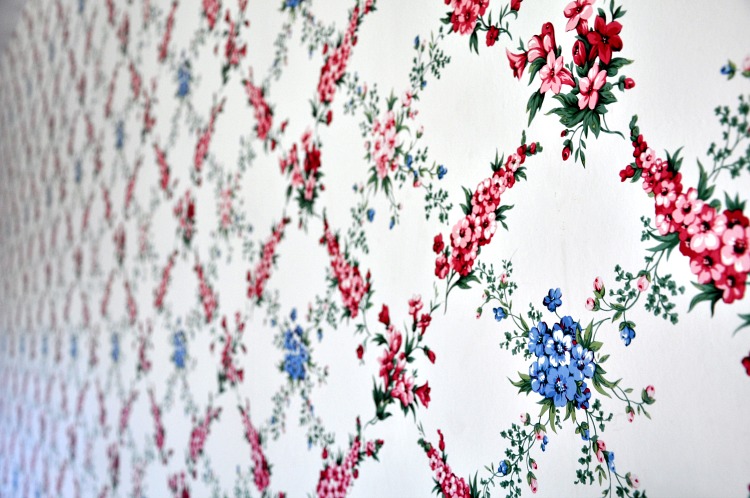 Upon entering our room, we discovered a bottle of chilled white wine and fresh cheese and crackers from a local deli. The cheese was really good and just what we needed after the drive from Santa Barbara.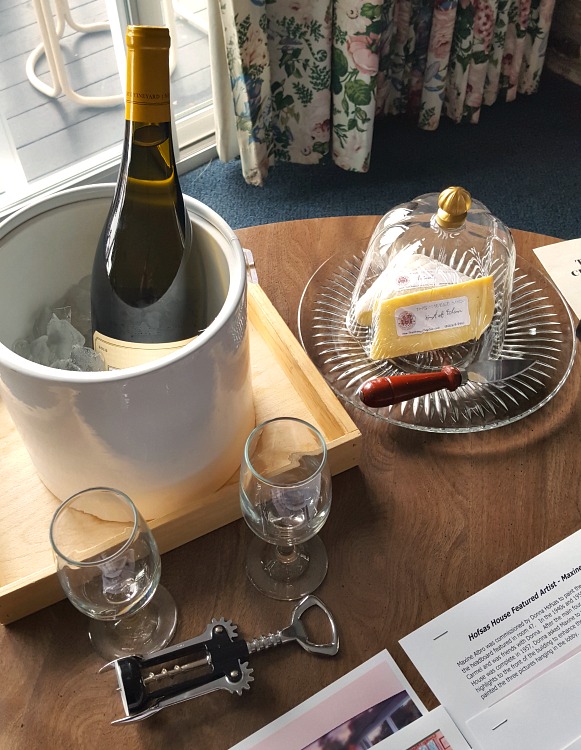 The great room features a giant brick fireplace, which we ended up using our first night in Carmel. So soothing!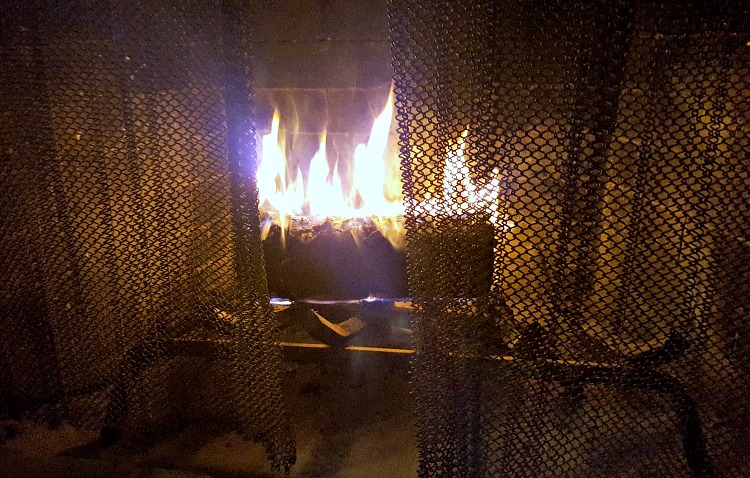 It also has 2 day beds that double as couches, a small TV, a 4-person breakfast table and a small kitchenette. The kitchenette has a small refrigerator, microwave, sink, dishes, silverware and everything you need.
The balcony was awesome. It has chairs so you can sit and enjoy the treetop view with a hint of ocean in the background.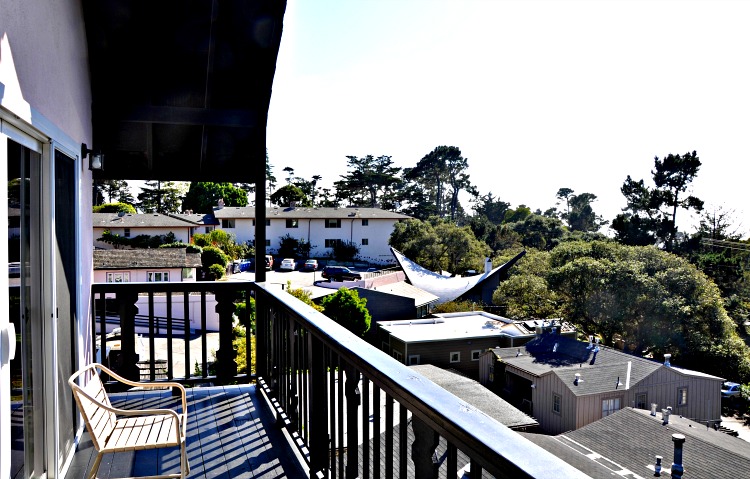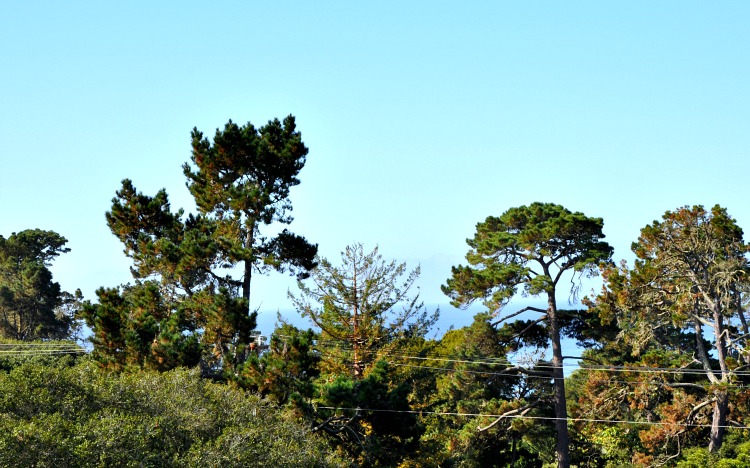 The master suite was giant and so was the ensuite bathroom. The suite was perfect for our family. And the place was spotless – it was gloriously clean!
Hofsas House offers a complimentary continental breakfast each morning that includes freshly-brewed French Roast coffee, tea, juice, fresh pastries delivered from a local bakery, yogurt and fruit. Breakfast is served in the lobby and it's a nice way to start your day. Staff is available to help you plan your day if you need ideas on things to do.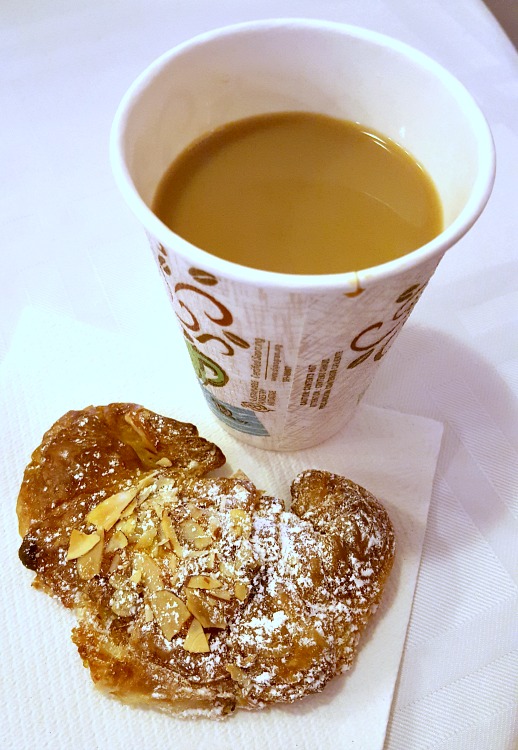 One of the best parts of the Hofsas House Hotel in Carmel is that it's within walking distance to everywhere in Carmel. Even the beach is only about a half a mile down the scenic stroll of downtown Carmel. The Hofsas House is literally walking distance to everywhere in Carmel. But ladies, remember… no high heels!!!
The property is beautiful. It's decorated with colorful flowers interspersed among the European design.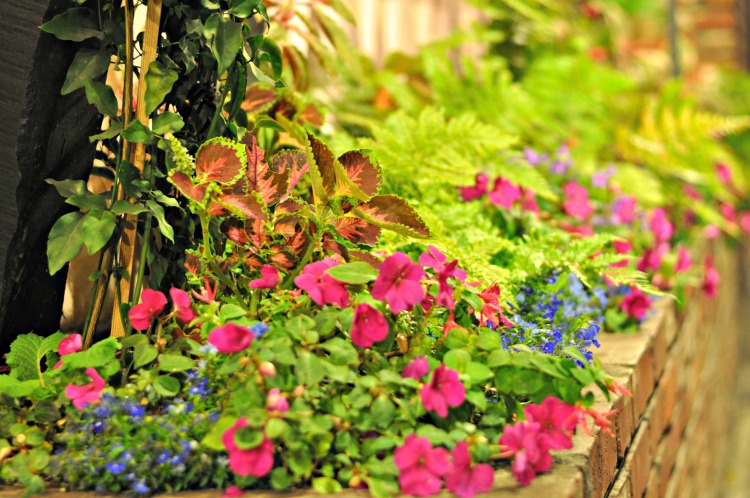 And according to our girls, the heated pool was the best part.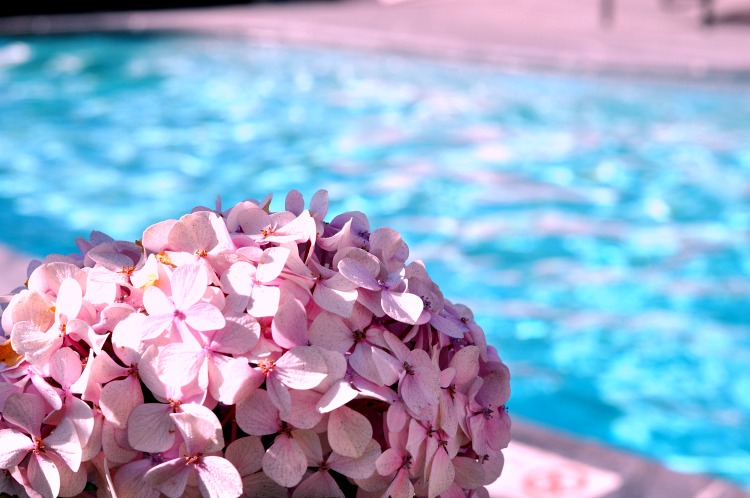 One thing about Carmel and the whole Monterey Peninsula is that the weather can dramatically change rather quickly. The day before we arrived in Carmel, it was unusually hot and sunny at 90 degrees outside. The day we arrived, it had cooled to the 60s and was overcast.
I think it may have touched 70 for our stay in Carmel, but the pool was warm and the kids loved it. Most lots in Carmel are on the smaller side, so having the space for a heated pool is a rare luxury. The girls were practicing doing snowboard grabs and spins into the water. The deep end is 9 foot deep!!!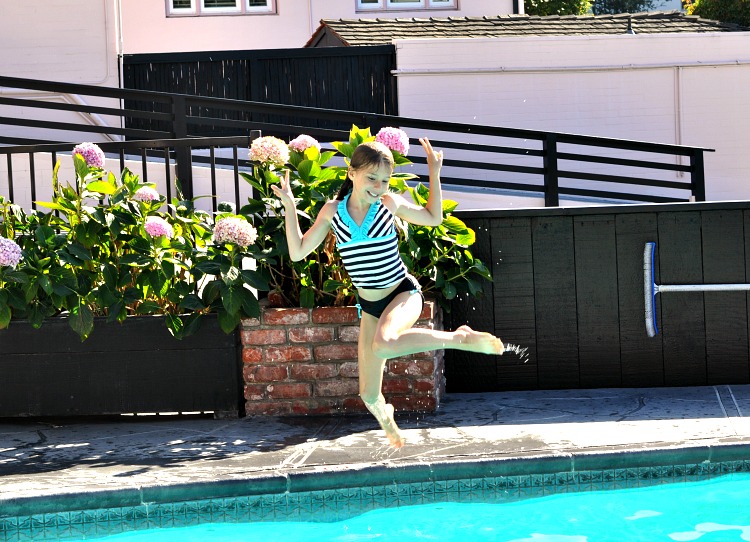 We ventured to Carmel Beach, but it was a bit chilly. There were tourists bundled up with beanies and scarves, and tourists playing in bathing suits in the water. We were in between as the family in hoodies and flip flops.
The sand is great – it's super soft and smooth. There are "clean for the beach" public restrooms too, which is nice. Parking can sometimes be tricky, as in if it's a busy Saturday or Sunday you may have to park a mile away – but it's well worth it.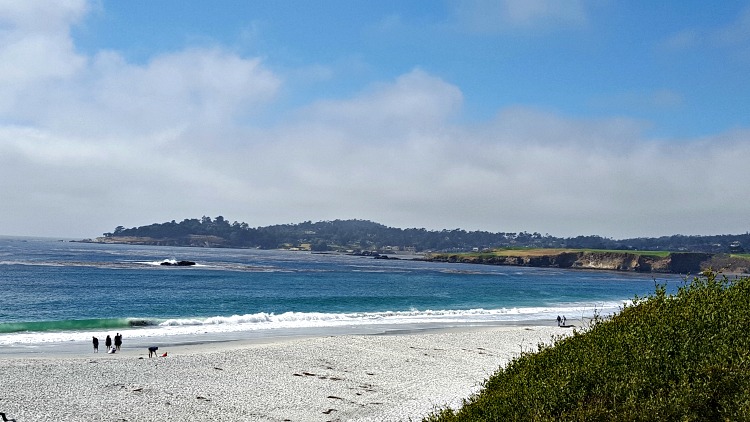 Fortunately, if you're staying at Hofsas House, you won't have to deal with parking since the beach is within walking distance.
Hofsas House Hotel in Carmel by the Sea Offers Special Packages
Like I mentioned above, we had wine and cheese in our room upon our arrival. The Hofsas House Hotel in Carmel has a variety of packages available.
They offer everything from the wine and cheese package that was in our room to their Tail Wagging Package (of course dogs are welcome, Carmel is one of the most dog friendly places in the world and the Hofsas House is the most dog friendly of the dog friendly hotels), to amazing Golf Packages, Hiking Packages or even getting private tours of artists' galleries. I highly recommend checking out their packages when you're booking your stay.
And yes, booking online is the way we typically do all of our traveling, but I recommend giving the Hofsas House Hotel in Carmel by the Sea a call at 831-624-2745 to book your stay. That way they can help you choose the room and package that will best suit your family's travel needs.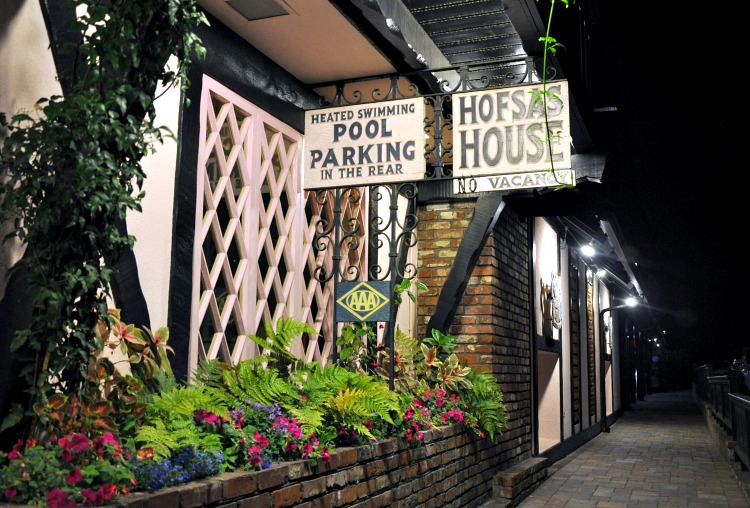 In addition to what we've already shared, Carrie Theis at the Hosfas House arranged a few really more awesome things for us to do as a family.
Picnic Lunch. We had an amazing picnic lunch from 5th Avenue Deli that we took to Point Lobos State Reserve. It was incredifun – the girls had an amazing time!
Wine tasting in Carmel. Oh yes, it was great. The tasting rooms were family friendly and the wine was wonderful.
Fine Dining. We enjoyed the finest cuts of steaks on the Monterey Peninsula and an amazingly fantastic dinner at The Whaling Station after wine tasting in Carmel.
Trust me. You want to know the details on all of these great family-friendly activities in Carmel. We'll be diving into even more details in the posts to follow.
Thank you Carrie Theis and the entire Theis family for welcoming us to the Hofsas House and treating us like family. It was a real treat!