We started Kaylee on solids about almost a month ago because she had been trying to steal food off of our plates for a while and the poor thing would just get so upset every time we would eat in front of her. Mommy's milk just wasn't enough anymore.
So of course I've been making purees and mashes for her and she has been loving it. But, that doesn't stop her from coveting our "real" food.
One of the vendors at our local Farmer's Market has delicious, organic white peaches right now, so Brian, Zoë and I have been enjoying them the last few weeks. Kaylee has really been eyeing them.
Over the weekend, I was outside on the deck enjoying the sunshine. Kaylee was in the living room playing, so I came in to check on her and this is what I found (notice the mashed piece of peach in her hands):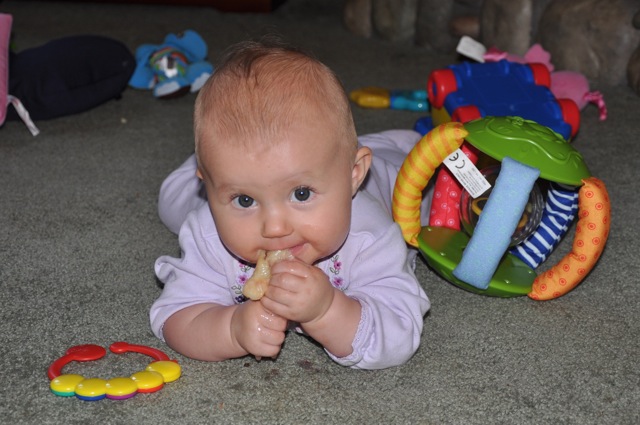 Apparently big sis had left her bowl of peaches within Kaylee's reach (she's starting to become mobile) and she just couldn't resist!