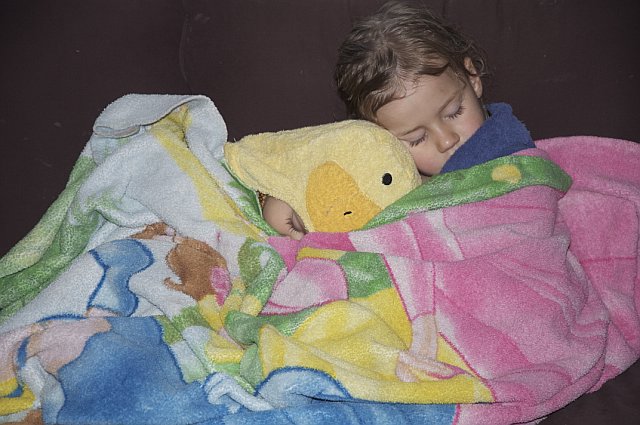 I love being a Mom. I love my girls like I've never loved anything before, but today has really been one of those days. You know, the days where you just want to crawl under a rock and hide.
From frustration. From exhaustion. And from utter embarrassment.
I just got back from one of the most horrific trips out of the house with the girls in recent memory.
Kaylee. Well, I expect Kaylee to misbehave when we're out. She always does. She runs from me. She screams at the top of her lungs. She growls in people's faces pretending she's a bear. She pulls stuff off the shelf. She takes her shoes off and hides them hoping I won't be able to find them.
There's no denying it – she's a wild toddler who thinks it's hilarious to be naughty.
Today she added a new one to her repertoire. She now runs up to every person she sees, hits them and yells "Tag!" And when I say hits, I mean she hits. Not taps in a playful way. She uses all of her mighty toddler force to get her point across. She hit more than one elderly person at the post office.
Zoë is usually pretty well behaved. That flew completely out the window today. She was encouraging Kaylee to play tag with her at the UPS Store. That included running in and out of the front and back doors while I was trying to get a package taped up. I guess that's where the tag hitting started with Kaylee! Ugh.
Then, when we went to the Post Office after that, I told them if they stayed with me and behaved perfectly, I would take them to the park. Kaylee ran from me (of course) and I told her if she didn't get back over with me right then, we wouldn't be going to the park.
Well that set Zoë off and she threw herself on the ground and started flailing her arms and legs around screaming at the top of her lungs that she wanted to go to the park. Meanwhile, Kaylee runs off and goes and hits one of the elderly gentlemen who was picking up his mail and screams "Tag!" at him and then starts laughing.
He very politely tries to say some soothing things to Zoë to calm her down and she screams even louder at him. OMG. Seriously? I can only imagine what everyone is thinking about my parenting right now.
I hung my head in shame, walked them to the car, buckled them in (well, fought with them to get them buckled in) and headed straight home. No park. No grocery store.
Now I sit here typing away my frustration hoping they'll just fall asleep and give me a little bit of peace (I think Kaylee is dozing off now).
I hope I don't have another one of these days again anytime soon. Because tomorrow I have to make it to the grocery store.
And now, I'm off to have a glass of wine on the porch. I hope everyone's day was more peaceful than mine!