Both of my girls are incredibly snuggly. Zoë loves snuggling with Mommy and Daddy (hence why she still sleeps with us), but she also loves being all bundled up. Now that Fall is setting in South of the Equator, Zoë is wanting to be bundled up even more.
She has started pulling out her warm clothes to wear and she has finally grown into a warm pair of booties she has wanted to wear forever. I snapped this adorable picture of her all dressed up earlier in the week: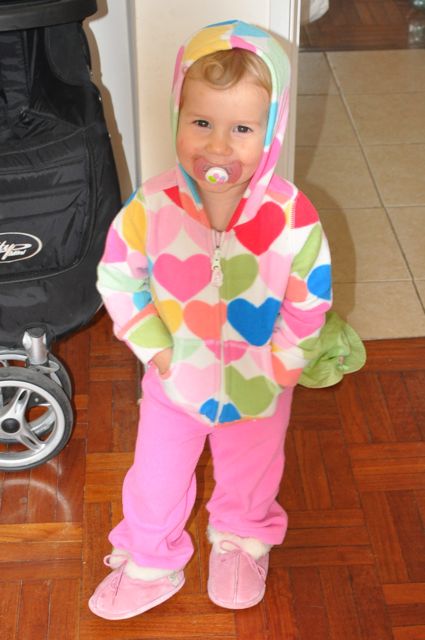 As a baby, she never cared about blankies at all. However, in the last month she has become almost as obsessed with blankies as she is with binkies, and has to carry at least one around with her all the time.
The other night she wanted Brian to wrap her up in three of her favorite blankets before bed (one that was Brian's as a baby, her Tinker Bell blankie that she got for Christmas and the quilt that my aunt made her). Too sweet: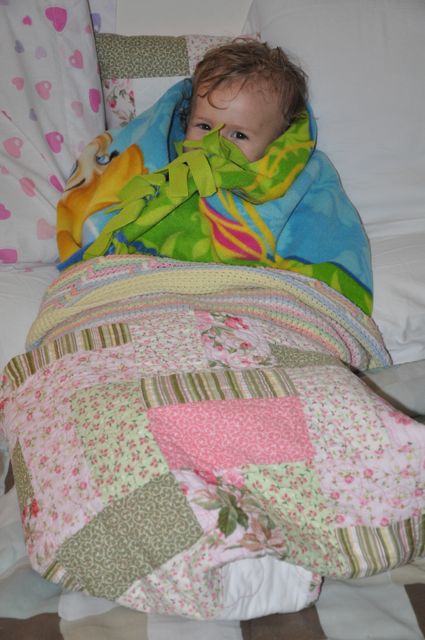 Kaylee is also an incredibly snuggly baby. She gives a hug like I didn't know a baby could give. She also loves being wrapped up in a blanket and held close.
When she was born, she didn't like being swaddled. But in the last two weeks she has decided that she likes being swaddled to sleep.
It has surprised me that she actually prefers to be swaddled and snuggled to sleep, and then placed in her bassinet to sleep at night (and for her big nap during the day).
She just sleeps better and longer that way. It was nearly impossible to get Zoë to sleep in her bassinet as an infant.
Occasionally Kaylee wants to sleep with me, but those nights are becoming less frequent. Which, I guess is a good thing since trying to fit all four of us into a full-size bed is an interesting endeavor.
Kaylee is becoming more alert and more interactive every day. It's so much fun watching my two little girls' personalities develop. I'm so grateful to be able to spend so much time with them, and I cherish each smile, hug and snuggle I get.