Everyone needs some personal space (I know I do) and that's no different for toddlers. Zoë and Kaylee share a room, so neither of them has much personal space to speak of. So, I guess I shouldn't be surprised that Zoë carved out a little space of her own—in the closet. Yep, you read that right, in the closet.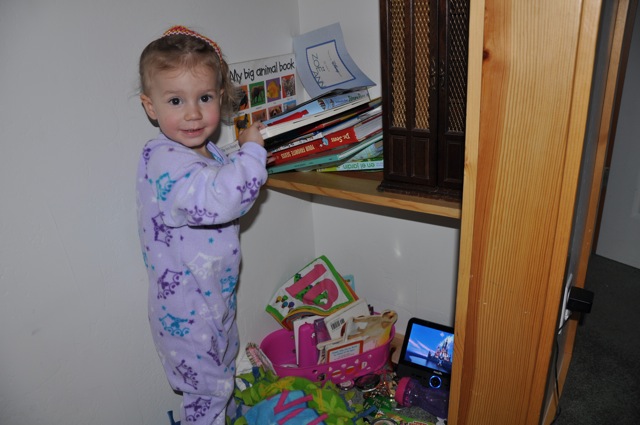 Zoë spends a lot of time in her closet every day. She has her blankies, pillows, a few toys, lots of books and even her own little portable DVD player set up in there (thanks to Daddy). Sometimes she even invites Brian or me in to read books with her.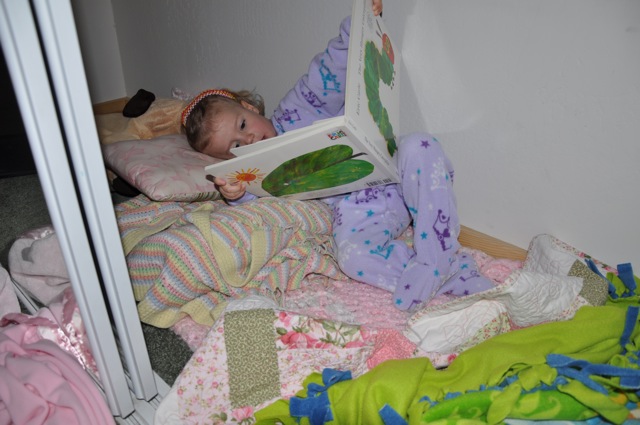 In the last few days, she also decided that she'd rather sleep in her little closet space than on the couch, like she'd previously been doing. When she's tired, she goes back to her room, turns on "Lewis" (Meet the Robinsons), lies down and eventually falls asleep on her own—a new development for her.
I'm sure it's just another phase, but I remember how much fun it was to set up forts with sheets and blankets when I was a kid, so I liken this phase to that. It sounds funny to say, "Zoë is playing (or sleeping) in her closet," but in reality, she's having an absolute blast. And that's all that matters in our house.