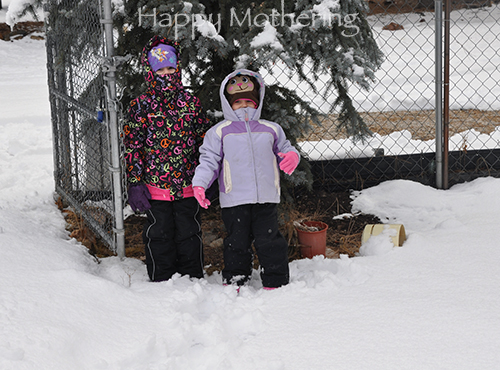 Yesterday we had our first real snow of 2012. There was only a light dusting on the ground when I woke up, but it started snowing heavily very shortly thereafter and we had about 5 inches on the ground by 11 am! And we are supposed to have a couple more storms rolling through after this one!
While I was perfectly content to stay inside by the warm fire, the girls wanted to go outside and play in the snow – and who can blame them 🙂 So we bundled them up in their snow clothes and new snow boots and they were ready to go.
I slipped on my boots and my snowboarding jacket and chilled in my gravity free chair while they played in the snow and threw snowballs at each other (throwing them at mommy was expressly forbidden).
Before heading inside we got a couple cupfuls of snow and brought them in side and made snow cones with apple juice and Kombucha.
For the most part, I really enjoy the snow. I just wish it was easier to bundle up to go out, and then un-bundle to come back in!