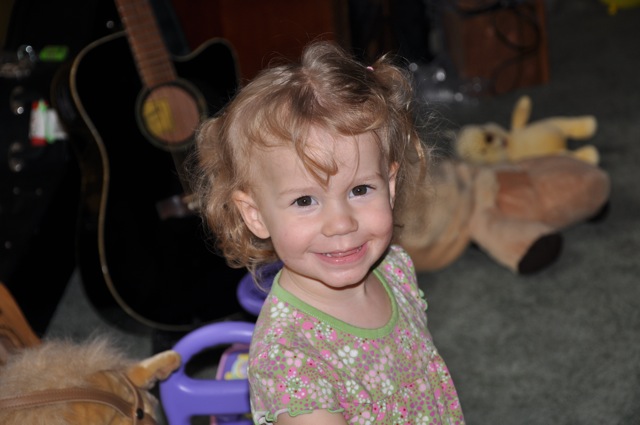 We're finally a binkie-free home! Yep, we finally broke Zoë of the habit just over a month ago. I really thought it was going to be a lot harder than it was.
Right before we left Uruguay, she bit a bunch of holes in one of her last binkies. So, I went and bought one more for the trip back (no reason to subject the innocent passengers on the plane to her screams for a binkie). I told her it was the last one we were buying… although I'm sure she probably didn't really understand that.
One of the binkies got lost somewhere during the trip, so when we arrived in the US, we were down to only one. Well, after about a week back, she bit a bunch of holes in that one as well, so we told her it was trash, and I made her physically walk over to the trash and throw it away.
I had a sinking feeling in my stomach doing it—it was her comfort object and I was really nervous about how she would do with it, especially since she just had a lot of change in her life with the move back.
All was fine and well until she got sleepy and wanted it. I just calmly told her that she bit holes in it and had to throw it away, remember? Then I changed the subject and gave her a blankie. This went on for a couple weeks.
We did have a lot of crying and asking for us to go "buy binkies" for a couple weeks, but she has finally stopped asking about it. I think it helps that Kaylee never took to a binkie. While there are some nights that I wish Kaylee would take one (so she wouldn't use me as one), I think long-term it will make things easier in our house.
I think what made the transition easiest was that Zoë was the one to throw it away, so it wasn't us taking it from her. She had some control over it, although that didn't make it easy for her. But now we get to see her beautiful smile very day without her binkie obstructing the view.