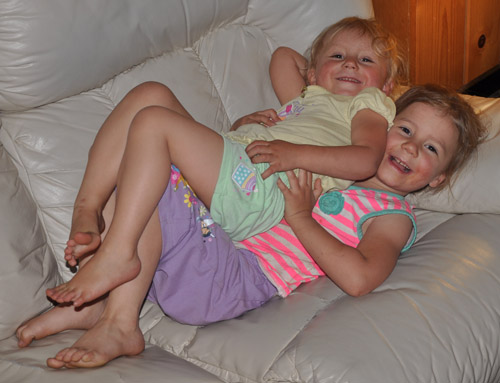 I have never been one for scheduling nap time. I have worked very hard to teach the girls to listen to their bodies and develop a natural rhythm. It has worked well for us until recently.
Zoë stopped taking regular naps about 6 months ago, and it in last month Kaylee has been napping very irregularly as well. But, she still needs the sleep or she can be a bit grumpy. Or worse, she skips her nap, falls asleep at 8 p.m. and wakes back up around 11 p.m. ready to party.
So, over the last couple weeks, I have started implementing a quiet time routine. I have gotten nap out of my vocabulary, because it makes both of them run the other way.
So around 3 p.m. each day, they both go into their toddler beds with their blankie, LeapPad and water bottle and have quiet time. They don't have to sleep, but Kaylee almost always falls asleep, and Zoë has been about half of the time.
When quiet time is over, they are both much more peaceful, and so am I. While I would love to use their quiet time to nap some days myself, most of the time I am getting some work done and unpacking boxes since we just moved.
I have been surprised by how well they have adapted to this new routine. Most days, they happily settle down for quiet time, and that has made me quite happy.
We typically walk down to the park when quiet time is over, so knowing they get to go to the park after quiet time days most has helped that trainsition.
I am also much more relaxed after quiet time myself. After all of the boxes are unpacked, my goal is to spend 45 minutes of their quiet time practicing yoga or engaging in some other type of exercise.
So while I have never been a stickler for enforcing nap time, I am a true believer that this quiet time routine is working for us now! Next is getting a good bed time routine down!