If you feel like your kids grow too fast, you have no idea until you get baby chicks! They start off as these cute little fuzz balls and quickly turn into chickens. You can read about the first few weeks with our chickens here and here.
Things have changed a lot since my last post! They are growing quickly, and I'm trying to supplement their diet where I can. We are really to pull the kale hydroponic table out of that room since we can't move it, so I let the chickens loose on it. Boy did they have a feast (for a few days)!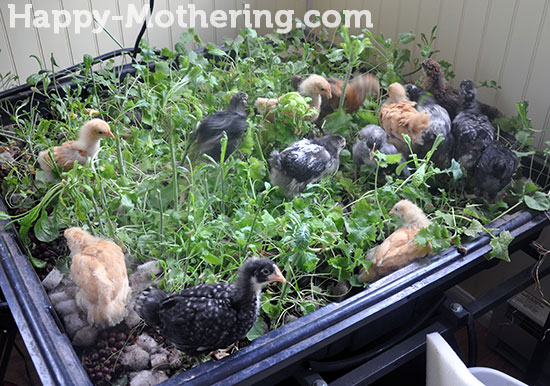 We're still feeding them the corn and soy free non-GMO feed from Scratch and Peck. I also had to upgrade them to a regular Chicken Feeder since the Chick Feeder wasn't cutting it. I'll be making a DIY clean chicken waterer soon.
We also started letting them free range the yard at 4 weeks. We started slowly with an hour a day and now I let them out for as many hours as possible.
This pic is from the first day we let them out. I sat in that chair and they huddled around me like the mama hen.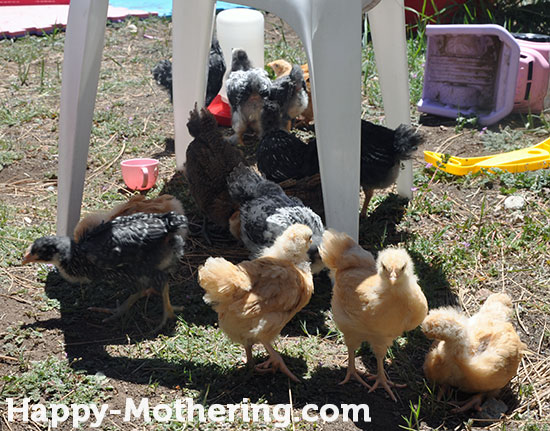 After 2 week they now roam the front and back yards and no longer have fear of anything. They are really smart though and stay near the tree, bush and chairs so they can quickly hide if they sense fear.
We also discovered that we had not one, but three roosters. One Buff Orpington (the one we ordered), a Buff Cochin and a Barred Rock (pictured below).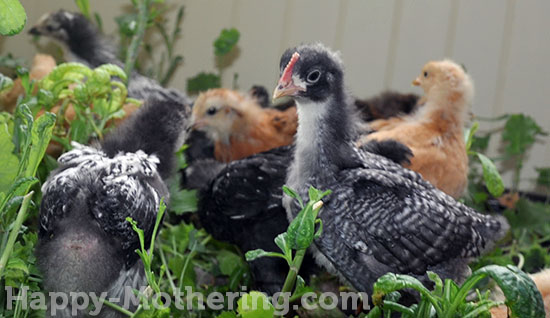 At exactly 4 weeks, the Barred Rock Roo started attacking the other Roos. I separated him because Brian and I agreed that we'd take care of it when that happened. As soon as I separated him, the Buff Orpington Roo started picking on the Buff Cochin Roo, so I pulled him from the flock too. Hello pecking order!
We decided to keep the Buff Cochin Rooster (aka Popsy) and butcher the other two. They were small, but still edible. It's the first time I have seen chickens butchered (Brian grew up hunting so it was no big deal for him) and I was pretty shaken up by it. Since we want to get meat birds next, I decided it needed to see it, but that didn't make it any easier.
But, it's worth it because Popsy is Kaylee's favorite chicken. She carries him everywhere and treats him like a little baby. I'm blown away by how gentle and tolerant he is of her abuse! I hope it continues as he grows.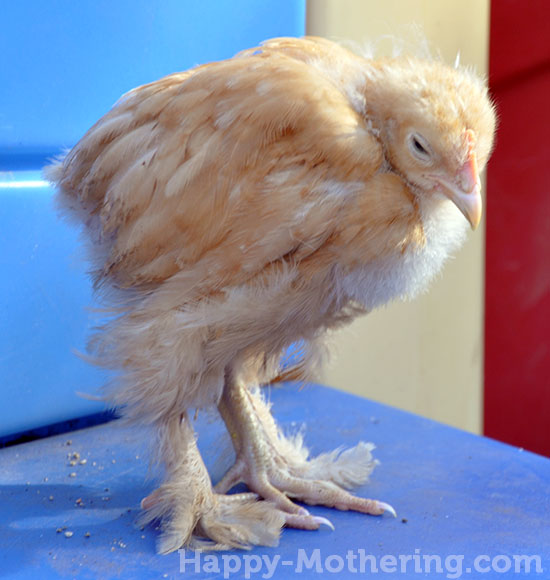 Since the Barred Rock Roo was one of Zoë's favorites, she quickly chose another bird to love on. She named the two Americanas Sassy and Missy (I think these birds have the biggest attitudes of any of them!).
The Americanas are pretty birds and are growing quickly. Here's Missy at 4 weeks: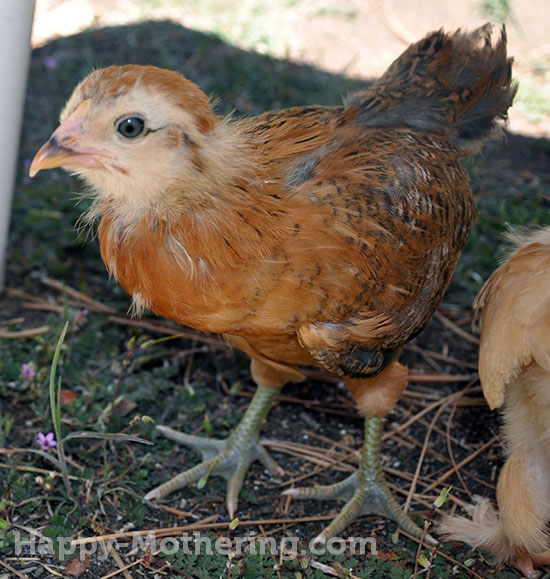 And Missy at 5 ½ weeks: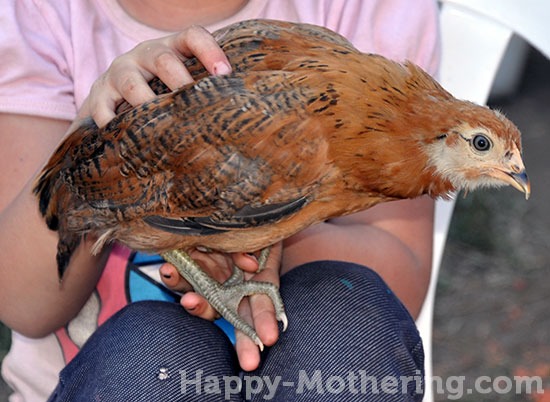 The chickens are definitely developing their personalities and I'm seeing which birds have which personality traits.
Americanas
The Americanas have a lot of attitude and are very independent. They're going to do what they want to do and there's not much you can do about it.
Barred Rocks
These are also strong willed birds. They're not mean, but they're not super friendly either.
Silver Laced Wyandottes
These birds are quick. When we're gathering them up each evening, most nights the last bird we catch is one of the Wyandottes. Good for predator evasion?
Light Brahmas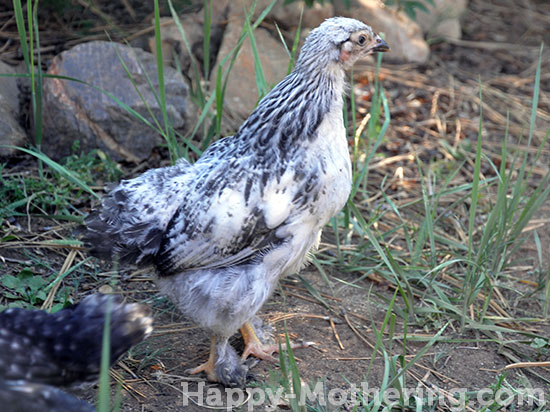 These chickens so far are pretty mellow and docile. They don't freak out when you pick them up and they aren't too hard to catch. So far, I'm a fan of the Brahmas.
Buff Orpingtons
These are pretty chill birds. They hang out, they aren't super scared of us and they are pretty easy to catch.
Buff Cochin
We only have one Buff Cochin, but Popsy is by far the most docile chicken we have and he's a rooster! He is the slowest growing bird we have, but he seems to be great with the kids and that is super important to me.
I'm super excited for our chickens to start laying eggs (I can just imagine how excited the girls will be) and I'm looking forward to adding meat birds to our flock before too long!
Stay tuned, I'll update you again in a couple weeks!