The house is quiet. I'm the only one home, and all I can do is lay here and wonder if this is my new normal. Will my life always look like it looks right now? If so, that's pretty bleak.
I haven't written a post about my feelings about everything that's going on with my health in a while, so I have quite a bit bottled up right now that needs letting out. I'm scared, no terrified, that I'll never get out of this bed for more than short periods of time.
I spend the majority of my day in bed and have for several months now. If I'm up for more than 20-30 minutes at a time, I start to shake more and the mental confusion kicks in. My head starts to ache and the pain in my neck intensifies, leading to pain in my shoulders. My muscles tense up, trying their best to hold me upright. And I get dizzy and nauseous.
I have become someone I barely recognize. Someone I never imagined could exist in my reality.
When people ask me how I'm feeling, I hesitate to answer. If you're someone whose message I haven't responded to yet, I'm sorry. I'm responding when I feel emotionally strong enough to. Sometimes that takes longer than I'd like.
I find myself wondering how much information is too much to share and will cause a fear reaction in a loved one? How much information is too little and makes light of how I actually feel? It's a fine line, and it's one that's really hard to figure out for me.
I'll say this though, I'm so grateful that I have built this life with my family where I work from home with Brian and we homeschool our girls. If we still lived the life we lived in San Diego, with stressful corporate jobs, I'm not sure how well we'd be handling this shift in our reality.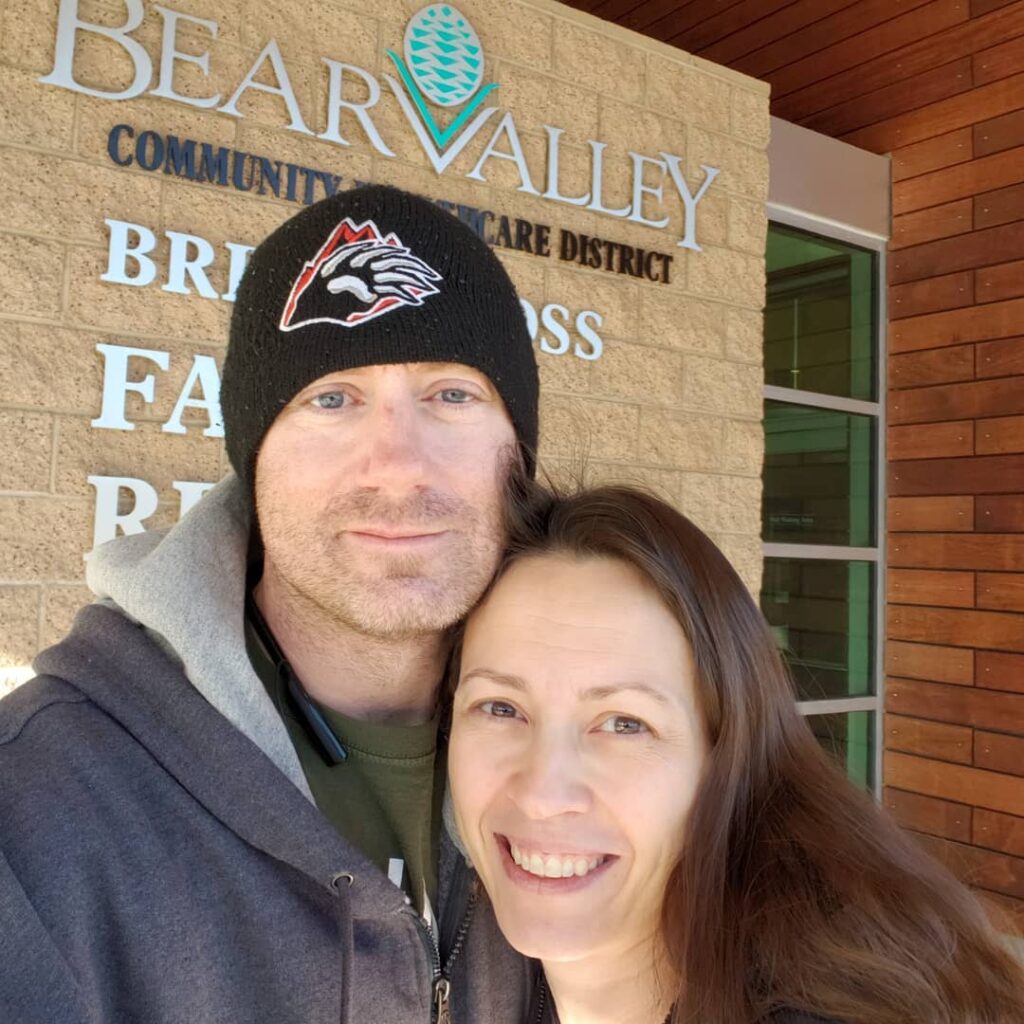 A Negative Shift in My Productivity
I went from working 40+ hours a week on the blog, being very active in the management of our household and going for hikes or walks nearly every day to maybe putting in 10-15 hours a week on the blog, doing a load of laundry once a week and walking to the kitchen and back. And those are my good weeks. On my worst weeks, nothing gets done by me except staying alive and not completely breaking down.
I find that even if I'm sitting in front of my computer for most of the day, I'm not nearly as productive as I was prior to becoming ill. I could easily write 10,000+ words in a day a year ago and not bat an eye. Now I struggle to write more than 1,000 words clearly. This post took me a few sittings to write, and these are things I have been thinking about a lot.
It normally should have taken us a few hours to shoot the video in this post. It's less than 2 minutes long. Instead, it took us time spread out over four days to get it shot because of my health. I can't stand up for long enough to shoot an entire 2-minute video in one sitting.
I can't stand up in the kitchen for long enough to cook anything other than simple meals like oatmeal or fried eggs. Sometimes I can't even stand up long enough to empty the dishwasher. I'll get halfway through and have to go lay down. It's crazy.
On a daily basis, I'm up out of bed to get water, make myself tea, get snacks, use the bathroom and go to doctors appointments or physical therapy. I'm able to watch a 1-hour TV show with my family in the living room probably 5 days a week now. Other than that, I'm in bed.
Some days I have the mental stamina to work for 2-3 hours while lying in bed. Other days I can't focus at all and end up just watching TV because there's nothing else I can fathom doing other than staring at the wall. Some days I sit in front of my computer and just stare at it because I can't muster anything else.
I haven't driven a car since September. The last time I drove a car, I ended up in the hospital a few days later. I'm just too weak and my thinking is too unclear for me to feel safe getting behind the wheel after that experience.
I just don't have the energy to do simple things that I took for granted before. I have to make decisions each day about how I'll spend the little bit of energy I do have, and I find myself faced with impossible decisions.
Do I take a shower or eat dinner and watch something on TV with my family that night? Do I do a couple loads of laundry (with the girls helping me carry things) or work on the computer, laying down, for two hours? Do I make a fun craft for a blog post or spend some time with my husband? If I have a doctor's appointment off the mountain, that's pretty much all I can handle that day so I have to plan for that.
It's always choosing between things that are important, and that's so hard because someone or something always loses. I simply do not have the stamina to do much of anything right now. As someone who is very driven and motivated in life, this shift is challenging on my psyche.
How I'm Feeling Physically
I have widespread pain throughout my body. All of my muscles are achy and tense. The pain gets very intense in my ribs at times. I have all sorts of muscle spasms and twitches. I have a tingling, burning sensation in my feet that is creeping up my legs and my toes are numb. The tingling and burning is there in my hands and forearms too and I've started feeling it in my face over the last few days.
I'm so grateful that the cervicogenic headaches I was experiencing are gone. However, I'm still getting headaches and my neck hurts anytime I'm not laying down. Sometimes I'll be walking down the hallway and my head will bob, almost like my neck just isn't strong enough to hold it up anymore. Then my shoulders are strained because they're trying to compensate. It's a mess.
It's one of the reasons I'm in bed so much. I'm going to physical therapy and I'm doing the isometic exercises and stretches that have been prescribed, and my neck just isn't getting stronger like it should be. It's actually feeling heavier and more unstable over time. I'm starting to wonder if I have some sort of craniocervical instability going on. I certainly have the symptoms, which is not a reassuring feeling.
I have waves of nausea that come over me out of nowhere. I could be in the middle of a sentence and all of a sudden the nausea takes over. I've run to the bathroom more than once, but never vomited. I keep a bowl by my bed just in case.
The diarrhea seems to have slowed down a lot compared to how it was a few months ago. I'm not losing weight anymore, but I can't gain weight either. It doesn't matter whether I eat 2,000 or 5,000 calories, my weight doesn't budge.
So now I just eat when I'm hungry, which is almost all the time, and I eat as much as my body asks for. Writing down my calories and weight every day was getting to be too upsetting because nothing we tried seemed to change anything. I have to make my mental health a priority during all of this so I can keep my mind on the right things.
My short term memory is almost non-existent at times. I literally forget what I'm talking about mid-conversation. Sometimes I'll even forget what I'm thinking about mid-thought. I forget why I walked into a room. I have trouble finding words when I'm speaking and have trouble with math (which has never been an issue).
And I get overwhelmed so easily because of it. Both of the girls came in the bedroom to ask for help with their school work at the same time a few days ago and I got so overwhelmed I couldn't help either of them. I felt confused and overwhelmed and almost completely broke down in front of them because of it. This isn't me.
I've been sick for so long that my poor kids don't ever remember a time when I wasn't sick at this point. Between the years of gallbladder issues, the neurocardiogenic syncope and now whatever THIS is, my babies have been through the ringer with a sick mom who would give anything to be healthy.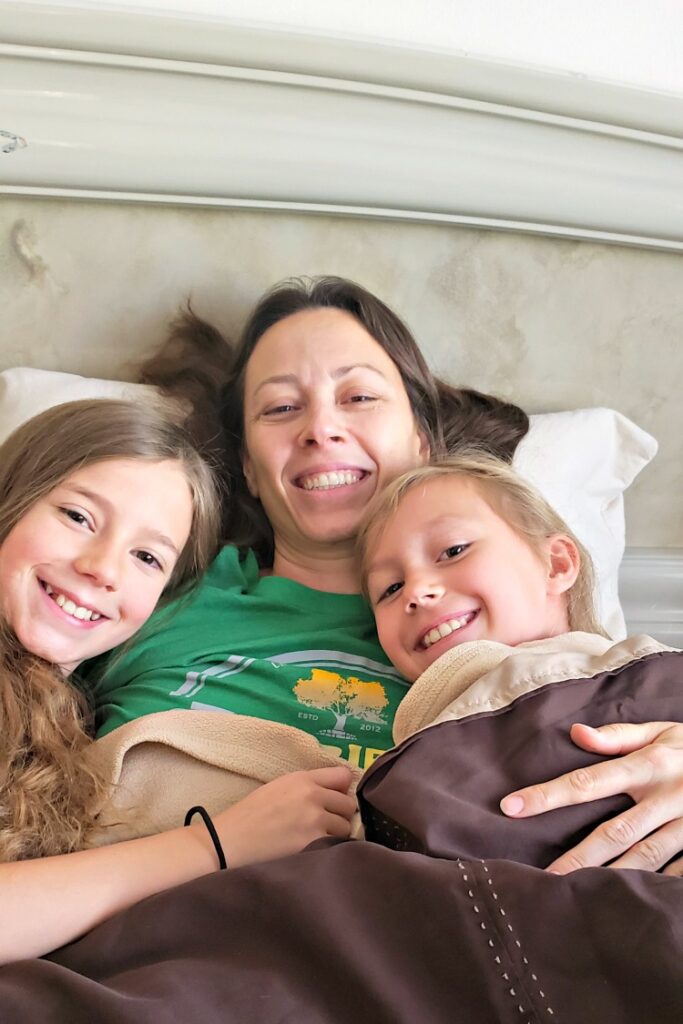 My skin is sagging from the weight loss. I constantly feel dehydrated even though I drink a gallon of electrolyte water plus green and herbal tea every day. It's like my cells just aren't getting the energy they need to function properly and no one can figure out why.
It's hard to believe that seven months ago I was hauling rocks and helping to do trail restoration work.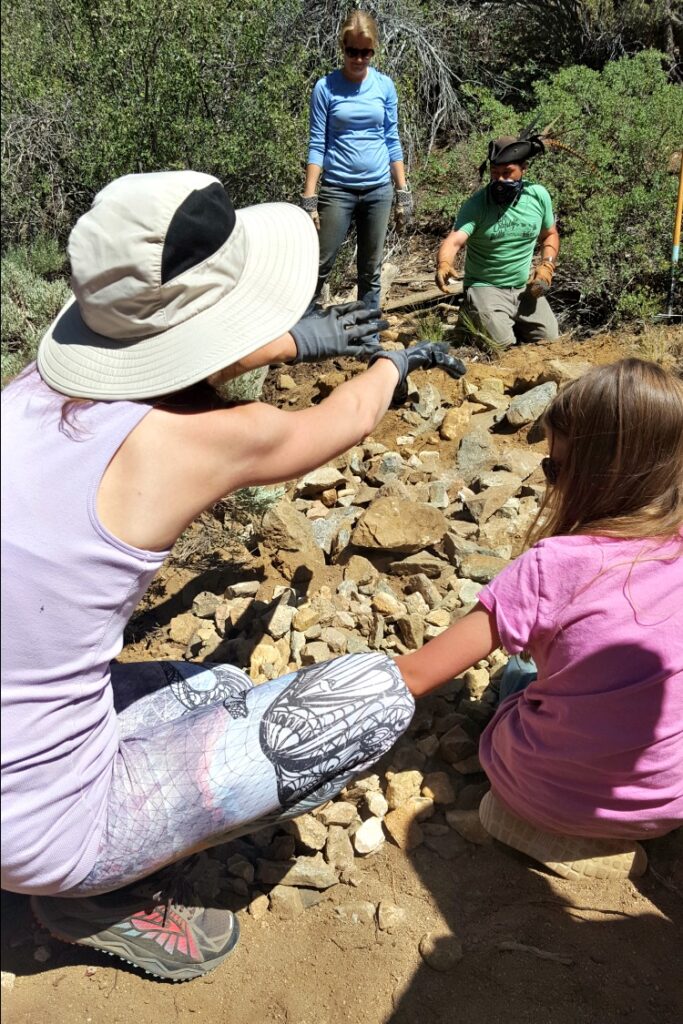 I was hiking regularly and had more energy than I ever remembered having. I had big plans to hike every peak in Big Bear and volunteer with the forest service all summer. Then I crashed.
The Crash
It seemed to come out of nowhere, but looking back it was a process that had been happening for a while. I just didn't notice it at first because I had plenty of reserves (aka extra weight) to fuel my until it was depleted.
I've spent the past several days reflecting on what my health has looked like over the past two years. What made me go much deeper into that reflection than I had yet? A discussion with the general practitioner we're seeing, and his assessment that I may have Chronic Fatigue Syndrome (also known as Myalgic Encephalomyelitis, ME/CFS or Systemic Exertion Intolerance Disease (SEID)).
When he said those words, I started to cry. Not because I thought I was being labeled with a fake diagnosis, which is what I may have thought a year ago, but because I had done some research on it a few months earlier and repressed it because of how scared it made me. I very much believe that it is a real disease that simply isn't understood yet, and it terrifies me for that reason.
If you're reading this and thinking that Chronic Fatigue Syndrome is a made up disease, please do me a favor and watch the documentary Unrest. It's streaming on Netflix right now. Watching this documentary is what really woke me up to the fact that ME/CFS is a very real condition. I related to the people in the movie in ways I didn't know was possible.
My Research on Chronic Fatigue Syndrome
The doctor suggested that I look around some Chronic Fatigue Syndrome support groups to see if I could get any ideas on things to help. I found that suggestion to be great for also finding more differential diagnoses (conditions with similar symptoms) that haven't been considered and co-morbidities (conditions that can exist with another condition) to consider.
There are a few narratives of what people think causes Chronic Fatigue Syndrome, and I do fall pretty closely in line with more than one of them. One of the primary theories is that it is triggered by a viral infection. I had Influenza B (confirmed in the ER) in December 2017 to January 2018. It was the worst case I'd ever had. I was in bed for weeks and had such horrible nausea that I was on Zofran to help manage it.
I mostly recovered. However, the weight started melting off immediately after having the flu. I hadn't changed my habits at that point. I felt shaky for a few months after having the flu, but that was counterbalanced by having more energy than I'd ever had before. Looking back, it's almost like my body was burning up all of my energy reserves before crashing.
When I started to crash in June, it came as a shock. I had no idea what was happening to my body. I knew I had been getting skinnier than I should be, but I was still strong and very active. As I kept losing weight while exercising and eating healthy, I should have been getting stronger. Instead I was getting weaker and I was having more trouble catching my breath on hikes. I knew something wasn't right in June, and that's when I went to the doctor.
Seven months later and we're still seeing doctors and asking questions. This potential diagnosis of Chronic Fatigue Syndrome has provided with me with a fresh canvas for new questions and research considerations.
After doing more research, I definitely meet the stereotype of someone who comes down with Chronic Fatigue Syndrome. I'm generally healthy and active. I'm an overachiever who is always juggling more projects than any sane person would ever consider attempting. And I seemingly did it all with grace until I just couldn't anymore. It was almost like an overnight shift.
I meet every diagnostic criteria there is for Chronic Fatigue Syndrome and Myalgic Encephalomyelitis right down to the alcohol intolerance. Although, the alcohol intolerance started before I had the flu, so that doesn't line up with the viral onset narrative. In addition, not all of the differential diagnoses have been ruled out and I think it's important to do that before accepting Chronic Fatigue Syndrome as a primary diagnosis.
The general practitioner is running some labs to check for Rheumatoid Arthritis and Myasthenia Gravis. He is also referring me to a neurologist so they can look for the cause of some of the symptoms like the tingling and numbness in my feet that other doctors have assumed was a side effect of malnutrition, which it's looking more and more like it's not the issue as the GI tests are all coming back normal.
What's Up with the GI Specialist?
If you've made it this far, you've probably realized that Vipoma, which was the last leading diagnosis, was ruled out. My VIP levels are not elevated.
The potassium and sodium stool sample also showed that I don't have secretory diarrhea since they were rejected for being too viscous. My procalcitonin test also came back normal and that is normally elevated with Medullary Thyroid Cancer (which can also cause secretory diarrhea), so we can be pretty confident in ruling that out.
The only test we have left with GI is the abdominal and pelvic MRIs. Then possibly swallowing a video camera capsule to look for any small bowel abnormalities that may have been missed on an MRI.
So it's looking more and more like the GI symptoms are from a GI motility issue. Since GI motility is controlled by the Enteric Nervous System, which is controlled by the Autonomic Nervous System, it's possible that the GI symptoms are related to nervous system dysfunction rather than GI dysfunction.
So hopefully the neurologist will have some answers and help for me. We'll see how many months it will be before I can get in to see that specialist. Hopefully it will be quicker than the others!
This is a Crazy Life
I never imagined I'd be living this crazy life that I'm living right now. One filled with so much uncertainty.
I'm trying my best to keep my head up and focus on living in the moment and within my current abilities. I try to laugh instead of cry and be grateful for the beautiful view from my bedroom window instead of agonizing over how I can't go for a hike.
I find myself reflecting on and questioning everything in my life. If I make it through this, I know that I will feel much more free to be me because I know just how precious this life is.
Seriously. Stop sitting around and waiting to follow your dreams until you have the time or money. That time may never come. The money you think you need to get started may never come. You have to make your dreams happen. You have to fight for them.
If whatever this illness is takes me from the world, I know that I have put my all into this life. I have focused on experiences over things (except a short detour in my 20s where things mattered more than they should have). I did the things I wanted to do and I didn't let anyone stand in my way.
I guess the only thing I would possibly change is to work less and play more. But my work is usually super fun and it's what allows us to live such a cool life, so I guess I really wouldn't change that either. I'm so happy with where my life is, and I don't want to lose it.
It's a good feeling to look back and realize that you are grateful for all of the choices you made, even the ones that seemed like they may have been the wrong decisions at the time. Every decision I've made is what has led me to this pretty cool life we live. It's a scary thought too though because it makes the seriousness of what's going on with my health that much more real. I don't want to give up this life we've built.
If there's something you would change if you only had a short time left, change it now. Do things differently. Make choices that will move your life in a direction that will make you happier.
Life is too short and fragile to spend time doing anything that doesn't contribute to joy in your life. That doesn't mean quitting your job without a plan or being irresponsible. It just means that you keep taking conscious steps toward a life of joy instead of wallowing in unhappiness. It's so much more simple than people want to make it.
Take that small piece of advice from someone who has felt more than once over the last several months that I might be on my deathbed. That very real feeling changes how you look at life.
Life is precious. Don't waste it.