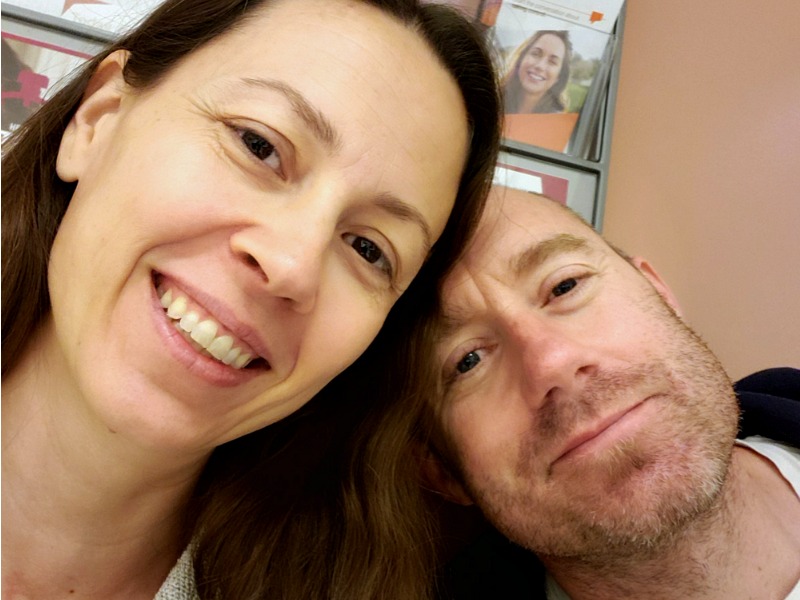 This week's update is an update for you. Yes, you read correctly, I have a new secondary diagnosis of Fibromyalgia and, on top of that, Zoë is on crutches.
If you read the last post I wrote, The Rheumatology, Infectious Disease & Neuromuscular Specialists in My Life, then you probably knew I was seeing my Rheumatologist last week. Some of the news we got was expected, and some of it was unexpected.
Let's Start with the Expected News
All of the labs that my Rheumatologist ran were completely normal. I don't have Lupus, Rheumatoid Arthritis, Connective Tissue Disease, Inflammatory Muscle Disease, Autoimmune Kidney Disease, Autoimmune Liver Disease or any number of other Rheumatic Conditions.
She completely 100% agreed that the Neuromuscular Specialist is the doctor I need to see next based on my EMG results. She also believes it's some sort of neurological condition, and mentioned there are some autoimmune neurological diseases that the Neuromuscular Specialist will look for.
Then she shared some unexpected news with us…
My Rheumatologist Diagnosed Me with Fibromyalgia.
Knowing my labs were normal, I wasn't expecting to get another diagnosis at this appointment. However, after discussing my labs and how there was nothing left for her to test for, she examined me again.
She discovered that I have soreness in all of the usual trigger points for Fibromyalgia, so she explained why she thinks I have it. Some of my symptoms that can't be explained by the neurological conditions we're possibly facing can be explained by Fibromyalgia.
It was kind of reassuring to know that fibromyalgia can explain some of my physical symptoms. I was disappointed to learn that Fibromyalgia can't, however, cause an abnormal EMG on its own.
After she thoroughly explained how she thinks Fibromyalgia is not my primary health issue, she explained that it's a central nervous system issue that comes along with many neurological diseases. So the diagnosis of Fibromyalgia actually supports the path we're on to the Neuromuscular Specialist.
Next Up? Neuromuscular Specialist Appointment.
Next Monday the 30th I see a Neuromuscular Specialist, and we really hope she has some answers. This is by far the scariest appointment I've had so far. This is because Neuromuscular Specialists don't typically see people who have benign issues.
We'll give an update next week to let you know what my new Neuromuscular Specialist has to say. We pretty much expect a physical exam followed up by a bunch of tests being ordered. Then we do the tests and go back for follow-up results, that's pretty much the way it's been going to all of the other doctors.
What's More? I Need to See a Cardiologist.
I guess this shouldn't have been as unexpected as it was, but my Rheumatologist wants me to see a Cardiologist as well. The last time I saw one was in 2014 when I was diagnosed with Neurocardiogenic Syncope / Vasovagal Syncope.
At my appointment this week, my systolic blood pressure was in the 80s. It's been in the 70s several times and more than one nurse has been unable to get it to even register, so it didn't startle me.
She was so concerned that, after our appointment, she had her nurse call us so she could talk to me about going to the ER. After talking with me for a few minutes, she understood that my low blood pressure is a chronic issue rather than an acute issue and agreed that I didn't need to go to the ER unless I was feeling different (I wasn't).
Even though I had a clear echocardiogram last year, she still wants me to see a Cardiologist again to make sure the Neurocardiogenic Syncope diagnosis still holds up and be 100% sure I don't have a heart issue. So that will be happening on October 3. I think that's the fastest referral to go through yet!
I'm looking forward to getting to the end of this phase of my health journey and getting a definitive diagnosis so we can either get me on a plan for recovery or deal with a diagnosis that may not have a treatment. Either way, I know I'll feel better when I have a name for what's wrong with me.
Finally, Zoë is on Crutches!
First off, she's going to be okay. Zoë has a badly sprained foot and ankle.
Kaylee was playing around and accidentally stomped on Zoë's foot. While this shouldn't usually cause a ton of damage, Zoë's foot was in an awkward position, so the top of her ankle and the bottom of her foot got sprained.
How kids end up doing things like this, I have no idea… I guess kids getting injured is just part of them growing up.
So now Brian and Kaylee are taking care of both me and Zoë.
We're Grateful for Our Life.
There are so many moving parts to our life and everything that's going on. We're definitely facing some challenges and that's okay.
We're grateful for our little family… we take care of each other.
We're grateful we live close to good medical care… not everyone does.
We're grateful for our extended family who has really been here for us over the past year and a half.
We're grateful for our friends who have been here for us and who have supported us.
We have so much to be grateful for. The secondary diagnosis of Fibromyalgia sucks. Zoë being on crutches sucks. And the world will continue to turn tomorrow, so we have a choice to be grateful that we have an opportunity to make another trip around the world or we can dwell on the negative and choose not to make the best of today.