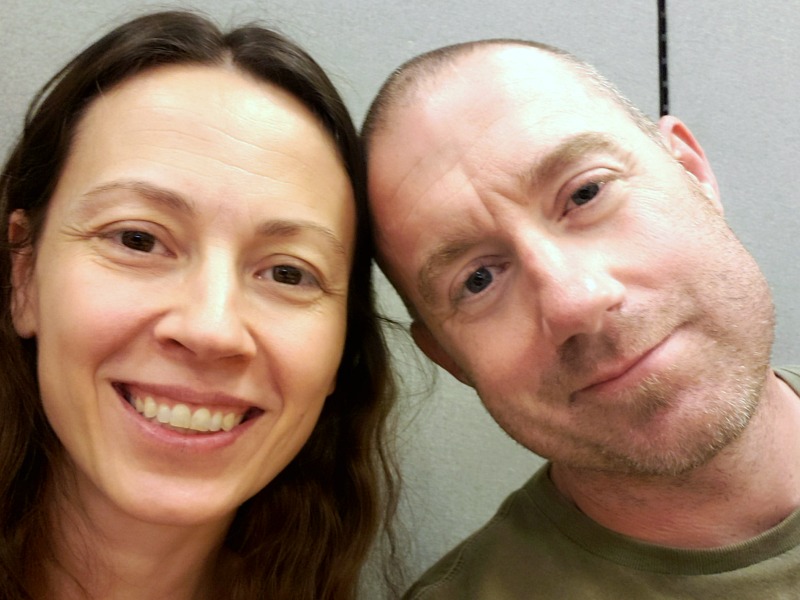 We had Chrystal's appointments with the Neuromuscular Specialist and Cardiologist this week. It's been a difficult week emotionally for all of us. I can't express the range of emotions we've all had.
Chrystal has been pretty much bedridden for over a year and a half now. We've been searching for answers for about 2 years… and now we're here.
A little review of what's been going on.
Starting about 2 – 2 1/2 years ago Chrystal had unintentionally dropped over 60 pounds in a matter of several months and started having extreme pain throughout her body coupled with crazy diarrhea and stomach pains. There are many more symptoms than those… extreme fatigue, brain fog, balance issues and the list goes on.
Everyone thinks it's cancer!!!
At first… cancer. Every doctor and specialist we saw thought Chrystal had some type of cancer. When the multi-nodular goiter was found in her thyroid, they were positive it was thyroid cancer. Then when she had her 1st round of biopsies, one side came back normal and one came back "inconclusive."
All of Chrystal's lab tests came back normal, so the doctors weren't convinced it was thyroid cancer even with the "inconclusive" biopsy. That's when they started looking at some other options, with several being terminal illnesses.
Going to doctor appointments to find out if your wife has a terminal disease is fucking scary. Nothing can prepare anyone for that… and no matter how many appointments you go to, it doesn't get easier… it gets harder.
Chrystal went through so many tests… from massive amounts of blood tests, to a colonoscopy and endoscopy to swallow tests and so many more. The vast majority of her tests came back normal. And nothing abnormal (low iron, which she now takes supplements for) would cause anything like she was having happen to her.
The doctors were convinced it was something extremely serious… like a "rare cancer." Which, when you hear a doctor say, "it could possibly be a rare cancer," dude, it's stomach dropping.
No matter what tests the doctors ran, they couldn't figure out what was happening to Chrystal.
Then they went back and started to look at Chrystal's thyroid again, thinking they may have missed something. Unfortunately, the 2nd thyroid biopsy was scheduled for the same week as when the girls were supposed to go to compete in snowboarding at the USASA Nationals at Copper Mountain in Colorado, so they had to miss it.
It's probably not cancer!!!
We waited the week for the labs to come back from the 2nd round of biopsies and… all negative. Don't get me wrong, we're stoked Chrystal doesn't have cancer… and we were told if it wasn't the rare thyroid cancer they were looking for… it was more than likely something really bad. So we were really scared after that.
We were then referred to neurology where Chrystal was able to see a neurologist.
The 1st thing our Neurologist thought was Fluoroquinolone Toxicity Syndrome  induced by Levaquin. She said it fit.
Then Chrystal had an EMG both on her upper and lower body. The EMGs both came back abnormal (which is super rare).
That was when diseases like ALS and MS came into the conversation. Due to the presentation of Chrystal's symptoms and lack of lesions on her brain MRI, MS was ruled out. And our Neurologist said we need to see a Neuromuscular Specialist. Which has left ALS on the table for months now.
More Specialists
We've had difficulty with our insurance company trying to get a Neuromuscular Specialist appointment. Since our 1st Neurologist referred us to one, we've had to see several other specialists while we've been waiting.
We've had several specialists tell us they suspected that Chrystal had a neuromuscular disease or disorder and ALS is something they all were suspecting. And when I say "several" I mean our Infectious Disease Specialist, Rheumatologist, Gastrointestinal Specialist, Endocrinologist and so on.
It is such a heavy weight to have on one's shoulders. When you hear, "I'm not a Neuromuscular Specialist, but this looks a lot like ALS. When I'm looking at your abnormal EMG coupled with everything else… ALS or one of its associated diseases is a very strong possibility," over and over again from different specialists, it's hard. When you hear, "Typically 2-3 years, maybe 4 or 5 if you're lucky," it changes you as a person.
You start asking yourself… "How long does my wife have? Is she going to lose her memory? Will she remember me and our girls? Are there any experimental treatments for ALS? Is there any way at all we can beat this? How bad will it fuck our girls up to watch their mom slowly die? What's it going to be like raising our girls by myself? How will I be able to keep my head up and keep moving forward?"
These are just a few of the never-ending questions that I've had constantly racing through my mind for MONTHS…
The Neuromuscular Specialist Appointment
When we went into the Neuromuscular Specialist Appointment, we were fully expecting a diagnosis of ALS or one of the diseases associated with it (there's a list of diseases similar to ALS which all have the same prognosis). It was a very quiet drive to the appointment, it's an hour and a half drive there. We didn't really talk, no music on, pretty much just silence.
We had a very long appointment with the Neuromuscular Specialist, 3+ hours. She did several tests on Chrystal and came up with a conclusion.
The Neuromuscular Specialist does not believe Chrystal has ALS, for now.
That's the good news… but don't celebrate yet.
The Neuromuscular Specialist gave Chrystal an initial primary diagnosis of a functional nerve disorder called Functional Limb Weakness. It was explained to us that if Chrystal was a computer, it would be like her software was broken rather than her hardware (like in a condition such as ALS or MS). The physical structure of her nervous system is there… it just doesn't work right.
She believes Chrystal's nervous system was damaged by the antibiotics Levaquin and Flagyl. She was given IVs of both of those antibiotics concurrently when she had her gallbladder removed 2 ½ years ago.
So what's that mean?
Another EMG
To completely rule out ALS and to see if she can get better, Chrystal will have to go through another EMG both on her upper body and lower body in about 6-8 weeks.
The EMGs will show 1 of 3  things… Improvement, No Change or Decline.
If there's any sort of Improvement on her EMG from her last one, that means Chrystal can potentially improve. Though it's not probable or likely Chrystal will ever be 100% of what she was before she was poisoned by those antibiotics… if we could even get her to 25% of what she was before that, we'd be super grateful and happy.
If there's No Change in the EMG from her last one… the way Chrystal is right now, bedridden/ pain/ all of the bad shit she has going on right now… this is the way she'll probably be for the rest of her life. This would be a devastating conclusion. We've adapted to Chrystal being bedridden… but, it's hard. And this option is much better than seeing a decline.
If there's any Decline in the EMG… ALS and all that realm of awfulness are back on the table. I can't fathom this happening. It would be the worst possible thing to happen. It brings tears to my eyes just thinking this is still a possibility.
We really hope there's some sort of improvement on that EMG.
What we have to do to see if  Chrystal can improve!
So… over the next 6 to 8 weeks we're going to be using several nootropics to see if we can improve any of the nerves in her body. To see if we can make a positive impact on her EMG.
In short, Nootropics are smart drugs designed to try to make people smarter by creating new nerve paths in the brain. The theory is, if new nerve paths are formed in the brain… it should hopefully form new nerve paths on the rest of the body too. Nootropics (so far) have been ineffective against stopping the progression of ALS. This will be a good test all around to see everything one way or another.
Our Neuromuscular Specialist warned us, that even if Chrystal shows an improvement on her EMG… it could take several years for her to get to a point to get to where she's functional again.
Our journey is still far from over.
The Cardiologist Appointment
We went to the Cardiologist yesterday and Chrystal has heart & cardio nerve problems.
Chrystal has very low blood pressure called hypotension. Her average blood pressure is 70-80 over 50-60. Her Rheumatologist actually wanted to have Chrystal admitted to the hospital for her hypotension like 2 weeks ago, but Chrystal declined. That said, our Rheumatologist got us into the Cardiologist ASAP.
Our Cardiologist is super nice. He did an EKG on Chrystal and did a full workup.
Unexpected Heart Problem Diagnosis
The good news is, Chrystal's heart is structurally sound, so we're very grateful for that.
Then Cardiologist diagnosed Chrystal with Dysautonomia. I never heard that word before this appointment. Basically, the long and short of it is, Chrystal's brain and heart are not communicating with each other properly.
The way it was explained to us was like this. When a person stands up, blood vessels through the body restrict to increase blood pressure. Chrystal's blood vessels instead basically stay dilated, which causes a rapid drop in blood pressure when she stands up. And it prevents her blood pressure to raise above like 115/80 max.
Along with her diagnosis of Dysautonomia, the Cardiologist is going to do a "tilt-table test" to help confirm what type of dysautonomia she has since one wasn't done when she was initially diagnosed with Neurocardiogenic Syncope. A tilt table test is basically designed to see if Chrystal will pass out when moved from horizontal to vertical at a rapid rate. We and the Cardiologist fully expect Chrystal to pass out.
The Cardiologist also thinks it's very important for Chrystal to get her blood pressure up. So, he's trying to start her on a blood pressure medication to raise it (which our insurance just denied and now want our Cardiologist to provide more information to justify the need for the medicine). He's advised that she loads everything she eats up with copious amounts of salt and that she continues to drink 1 ½ gallons of water per day with electrolytes.
We won't know if or how the Dysautonomia diagnosis will impact the Functional Limb Weakness diagnosis until after both the EMG and Tilt Table Test are done. Then our specialists will hopefully be able to talk and give us more solid information on her final diagnoses.
So the Preliminary Final Diagnoses Are:
(Preliminary) Fluoroquinolone Toxicity Syndrome / Fluoroquinolone Associated Disability (Levaquin Poisoning)
(Preliminary) Metronidazole-Induced Cerebellar Toxicity (Flagyl Poisoning)
Dysautonomia
Functional Limb Weakness
Fibromyalgia
Polyarthaligia
Small Fiber Peripheral Neuropathy
Level 3 Dysphagia (no physical obstruction)
Cerivogenic Headaches
Anxiety
Insomnia
Restless Leg Syndrome
IBS/ Recurrent GI Infections
Non-Toxic Multinodular Goiter
We're taking it day by day!!!
Like I said above, our emotions are all over the place.
We hope that with the nootropics there will be an improvement on the EMG over the last one.
We hope that this medication helps increase Chrystal's blood pressure and that our insurance covers it.
We hope that we can see some sort of improvement in Chrystal, because as of right now there hasn't been.
At the end of the day, we're all very grateful that we live so close to good health care. And we're grateful we have each other.