Hi everyone, it's been a minute since our last update. It's been a long road to get to the point where we are now and we have a very long journey ahead of us.
In our last update about Chrystal's Preliminary Primary Diagnosis, we laid out everything that was going on. We all expected Chrystal to start taking nootropics, then she'd be able to wait and do the EMG and NCV (nerve conduction velocity) study in December as scheduled.
If you read our last update, you also know we saw Chrystal's Cardiologist after the Neuromuscular Specialist and she was diagnosed with Dysautonomia. Well, that apparently triggered our Neuromuscular Specialist to move Chrystal's EMG and NCV up to last week. It's not a positive feeling when your specialists change the game plan with no explanation.
Chrystal hadn't started taking nootropics when we got the call that the EMG was moved up. When we got the phone call, she was literally slated to start the nootropics the next morning. We decided to wait to start her on the regimen, although she had been taking medicinal mushrooms (Cordyceps, Reishi and Lion's Mane) since her last EMG in April.
The most interesting of those related neurology is the Lion's Mane mushroom (this is the one we use). It's proven to stimulate the growth and development of nervous system cells. And it's been proven to help repair the myelin sheathing around the nerves.
The NCV/EMG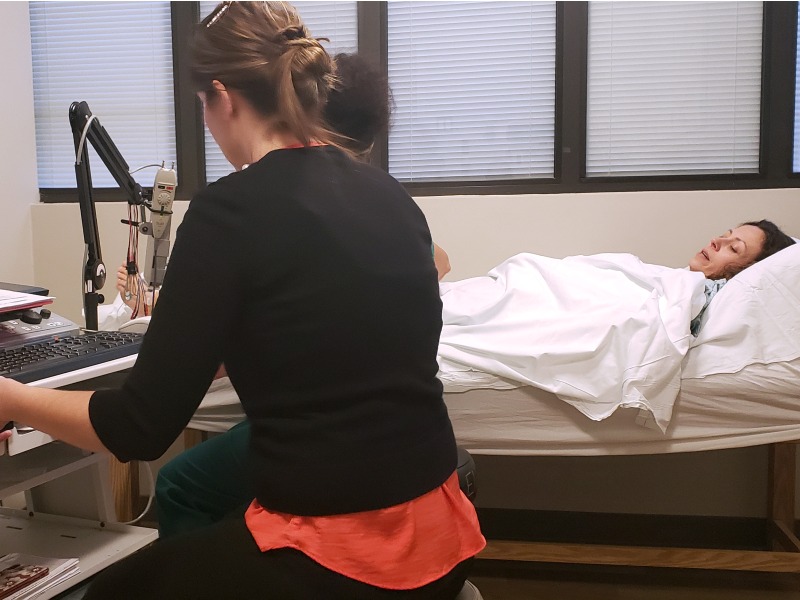 Chrystal had her EMG and NCV study last Thursday; her previous one was 6 months ago in April. The results in April were abnormal in all four limbs. The goal of this one was to contrast and compare results.
There were 3 things that could happen with the results of her EMG:
If Chrystal showed any degradation on the EMG, it would have re-opened the possibility of ALS, MS or another neurodegenerative disease.
If her EMG showed no improvement at all, it would mean she would likely be the way she is right now for the rest of her life.
If the EMG showed some improvement, it would mean she could potentially improve more.
We got the news we were looking for – Chrystal's EMG showed very minor improvement. This was the best news we could have gotten. It's minor, but it's an improvement nonetheless. By no means can we say the medicinal mushrooms did anything for her or her EMG… and, she showed improvement.
We both had tears in our eyes when the doctor gave us the news. I almost lost it. Chrystal said having that weight lifted off her shoulders was emotionally overwhelming. She still gets tears in her eyes every time she thinks about it.
I was in the room for the tests this time, and it was such an emotional time when she was going through it. I went into that appointment fully prepared to be told that Chrystal, in fact, did have ALS and only had 2-3 years left. Well, I was as prepared as one can be.
So what does that mean?
Now, make no mistake… Chrystal's EMG is still abnormal. She still has nerve issues in her arms and legs and torso and all throughout her body… and she showed a slight bit of improvement in those areas on the tests.
What that means in real life is that Chrystal is still in bed 20+ hours a day. She is still in pain. She's still very weak. And she has all of the involuntary muscle twitches, cramps and other symptoms she's been dealing with for going on a couple of years now.
Her long-term memory loss (I'm not sure we've spoken much about this) is still prevalent. It sucks so bad that she can't remember some really great memories from when our girls were younger. Her short-term memory isn't always the best either. While she's not declining, she's not physically showing much improvement.
The biggest improvement she's shown over the past year is gaining weight. At this time last year, she was right at 99-100 pounds. Now she's around 117-118ish. It's about a 20-pound weight gain, which most women would hate… but we're super stoked on it. Hopefully, we can get that weight gain translated to muscle mass sooner rather than later.
The Neuromuscular Specialist said Chrystal is going to have good days and bad days, and we have to expect that. She said that rather than looking at how she's doing day-over-day, we should compare how she's doing month-over-month or even year-over-year.
The 1st time I've had real hope in over a year!
When delivering the news about the EMG, the Neuromuscular Specialist told Chrystal that her body had been absolutely steamrolled over the past couple of years, but some people do get better from this. It's a lot of hard work and there are no guarantees, but there is the possibility of getting better. We don't totally know what that picture looks like yet, but we have hope for a future now.
Even though she does have the potential to continue improving, Chrystal's neuromuscular specialist does not believe it's likely that Chrystal will ever be 100% of what she was before she was poisoned. It may take several years for her to be at a point where she can drive or totally function on her own. And we have to be prepared that may not happen and the minor improvements on the EMG will be the only improvement she has.
But, if we can just get her to the point where she can walk around the block a couple of times, or even walk where I didn't have to help her or be concerned she's going to fall, I'd be totally stoked and she would too.
You see… it doesn't matter that she's sick. What matters is that she isn't going to die and there's a CHANCE that she can improve. And this is pretty much exactly how I feel about it!!!
How do you treat Fluoroquinolone & Flagyl Toxicity?
Well, as much as we'd like to think there's a special something that Chrystal could be given to make her better… it's not that simple.
Physical Therapy
First Chrystal is going back to physical therapy. The physical therapists didn't want Chrystal to continue after the last round because she was declining rather than improving. They wanted to make sure they weren't hurting her.
The Neuromuscular Specialist wants her to go back to PT to try to help her gain some strength. She is going to be starting one day a week with minor stretching and strength training. PT is going to be a long road, and she's ready for it.
Experimental Drugs
Yeah… adverse drug reactions are what led us to where we are today. And hopefully, they'll help us get out of the situation we're in too. Chrystal is starting to take nootropics with the goal that they can help new nerves grow and she can get new neural paths developed.
I wish there was something different… and there's not. We've spoken to all her doctors about it.
What are nootropics?
Several of you have hit me up asking what nootropics are. I'm going to give a short version here and I'll go into much more depth and detail in a future blog post.
The short of it is that back during the Cold War, the Russians developed smart drugs. The goal was to make astronauts smarter by temporarily increasing their IQ while they're taking them.
The way nootropics do this is by stimulating new nerve growth and new neural pathway development. Do they increase a person's IQ or not? I don't know… and that's not why Chrystal is taking them.
The theory is… if these drugs stimulate nerve production in the brain, they should stimulate nerve production in every cell of the body. There's evidence they do just that, and that's why Chrystal is taking them.
The original smart drug was called Piracetam. It works. Basically, a person needs to take approximately 7 grams of Piracetam for it to work. It has a very short half-life and 7 grams is a lot of powder to keep taking.
Fast forward, a Russian scientist derived more potent and different versions of Piracetam:
Aniracetam

Aniracetam is 10x stronger than Piracetam and utilizes acetylcholine in the brain to form new neuropathways.

 Noopept

Noopept is over 1,000 times stronger than Piracetam, so she only needs 10 mg and it has a long half-life. Not only that, it builds up in one's system over a time period. It also stimulates new nerve production, growth and connectivity. One side effect we hope she gets from Noopept is increased blood pressure. Since Chrystal has extremely low blood pressure and her Cardiologist wants her to take a prescription called Midodrine to increase her blood pressure… Noopept increasing her blood pressure would be a very positive side effect for her and a potential alternative to that. And yes her Cardiologist is totally on board.

Alpha-glycerophosphocholine

Since Aniracetam uses acetylcholine from the brain, you also have to supplement with a choline precursor such as Alpha-GPC. While it's sold as a supplement in the US, Alpha-GPC is also prescribed outside the US to help people with neurodegenerative diseases like Alzheimer's. And yes, choline is found in eggs. To get the amount of choline Chrystal requires, she'd need to eat 6 eggs every day.
So what caused all this?
As suspected, our neuromuscular specialist believes it's likely that Chrystal's nervous system was injured by the Levaquin and Flagyl she was given when she had her Gallbladder removed in the emergency surgery in 2017.
Chrystal was diagnosed with Neurocardiogenic Syncope in 2014. She told the doctors about it when she was admitted to the hospital and it was documented on her chart that she has Vasovagal Syncope (an interchangeable term for Neurocardiogenic Syncope that seems to be more understood by nurses).
Because of that, she should have never ever ever have been given any type of drug or antibiotic or anything that could potentially damage her nervous system unless it was a life or death situation (it wasn't). Even though it was documented that she had this condition, they still gave these antibiotics to her without providing her with any sort of warning that something like this could happen to her.
They never told her that nerve damage was a possible side effect or that there was any risk. She didn't know she was being given something with the propensity to further damage her heart and the rest of her nervous system. It's disheartening when we put so much trust and faith in our health care providers and they ended up poisoning her.
So what does all of this mean?
First and foremost this means we are so eternally grateful that she is not dying. We have lived for the past 10 months believing Chrystal had ALS and 2-3 years left. No one should ever have to go through what we have… it's so horrible. So we are super grateful that she's going to live.
We are so grateful she's going to see our girls grow up and that we'll get to grow old together. Our girls are so happy. They both have asked me numerous times over the past year and a half or so, "Is Mommy going to die?"
I can't even begin to describe the type of emotional roller coaster this entire ordeal has been for all of us. I was recently chatting with a friend and she affirmed something Chrystal and I have been saying.
Although Chrystal being sick has been a major blow to their childhood, this adversity is going to make them extraordinarily strong women. Hell, they're already extraordinarily strong girls. Very few things phase them now. And in the future, they're going to be strong AF.
We still don't have 100% of the answers and we won't until she has a Tilt Table Test and the Cardiologist can help us understand what form or forms of Dysautonomia she's dealing with (she may have developed more than Neurocardiogenic Syncope at this point). However, we have the most important answer we were looking for.
Finally, we know that Chrystal isn't going to die from this condition.
Finally, we know what direction she needs to go to try to improve.
Finally, we know that our family has a future.
By no means will our life be easy and that's OK. We are so grateful she's going to live and not wither away and die in the next few years. That terrifying part of our life is over, and we're so grateful.
I know a lot of people want to know how Chrystal is dealing with the news. She's been on an emotional roller coaster just like me going from believing she was wrapping up things in life to having it open back up to her. That's a lot to deal with. And while it's a positive feeling, it can be overwhelming too. There have been a lot of tears shed by all of us.
That said, Chrystal's confidence in her potential ability to get better has improved so much just in the days since her EMG. We've kept saying that just knowing one way or another what we're dealing with would help us all out and it has. Even though it still hurts like she's damaging her body when she moves it, now she knows she's not. That mindset shift alone is huge for her healing journey.
She's a strong woman and she'll get through this. We'll all get through this together. We'll keep our heads up and keep moving forward. It's what we do.