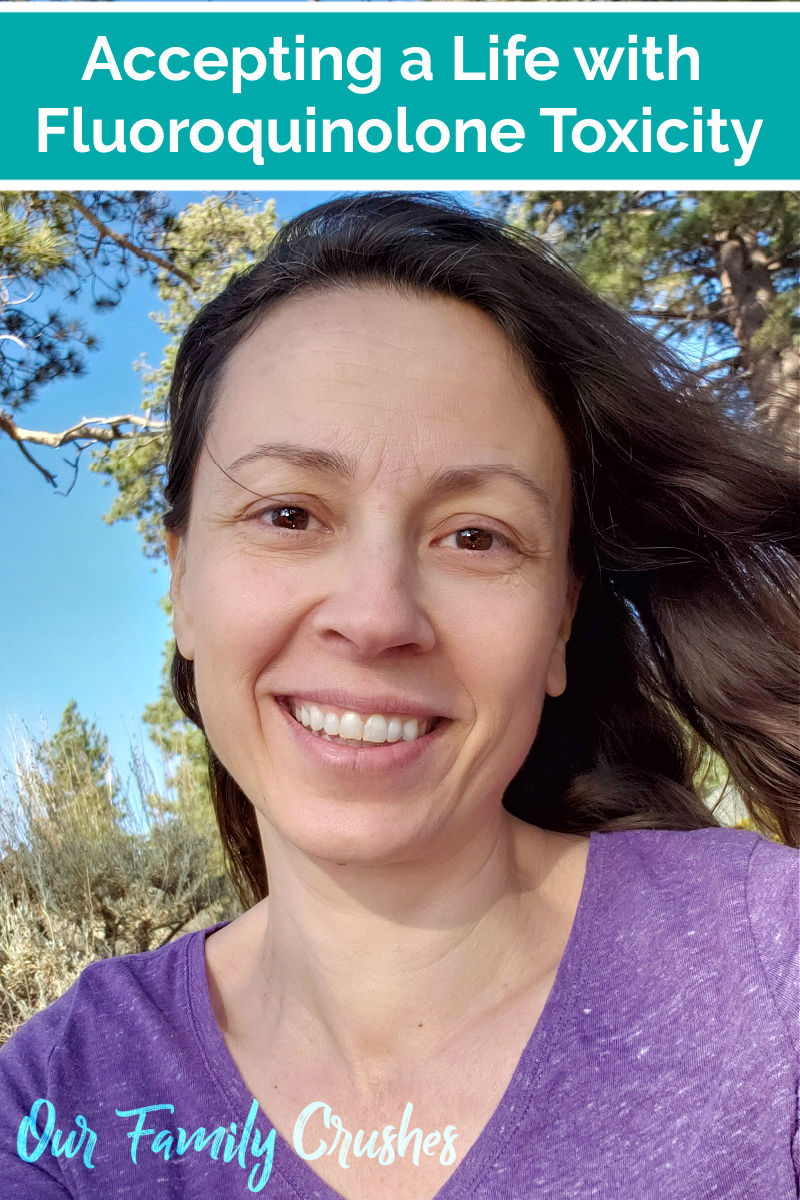 Hi, Chrystal here. First off, I want to apologize for going radio silent the last several months. We were completely relieved to find out I don't have ALS, but the emotional impact of realizing that I really was "floxed" and that I might never be the same person again was something I needed to sit with out of the spotlight for a bit.
When we first started sharing my health journey almost 2 years ago, we thought it would be something that had a quicker resolution… 6 months or less. I never expected to have this become a lifelong storyline.
So I needed time to sit in silence. Some time to be alone with my family so we could all process what we've been going through for the last couple of years. It was much needed time.
Thank you to everyone who has been checking on me through social media or through Brian. It means a lot to know so many people care about me and my family and how this is impacting us.
Where My Health Is
Over the last several months, I've really focused on accepting myself where I'm at so that I can continue to move forward. Most days I do a pretty good job of not getting frustrated with my limitations, but I have days where I struggle emotionally with all of it and break down.
My overall health, energy levels, strength, pain and everything else continues to be a bumpy roller coaster. Some days I wake up feeling great (for me) and I think I'm on an upward swing. Then 3 days later, it's like I get sent back to the starting line. Every day is different.
One of my neurologists told me to expect a lot of ups and downs. Good days and bad. And that warning has really helped me to accept that I may have this up and down feeling for the rest of my life.
That's okay because I'm alive and I honestly didn't expect to make it through fluoroquinolone toxicity. There were months where every night I went to sleep unsure if I'd make it through the night. Then every morning that I woke up, I was in utter shock to still be alive.
I remember one night during the worst times, Zoë fell asleep before I could tell her goodnight. I cried myself to sleep that night because I didn't know if I'd make it through the night and was afraid that I didn't get to give her one last hug. It brings tears to my eyes and rips my heart apart thinking about it even now.
It's a surreal feeling to look back at that time and realize that even though I am still very limited in what I can do, I really have come a long way from my lowest point. It gives me hope for the future.
Physical Therapy
The main treatment my neurologist wanted me to focus on was physical therapy. I'd been going for a couple months when the whole world shut down along with the physical therapy office, so I've been continuing to do what I can at home.
I've built up a little bit more strength. I can work in my recliner in the living room most days (rather than in bed). I can walk about halfway around the block right now (which actually gets me down to the lake on occasion).
Hopefully by the end of summer, I'll be able to walk around the whole block. Maybe someday I'll be able to hike again. There was a point in this journey where I thought I'd never see another hiking trail. Now it's a possibility I can work towards.
As part of physical therapy, I'm also figuring out how to manage my energy levels better so I can do more around the house. I've been able to start helping do laundry, light cleaning and even cook a bit more.
It just takes me planning plenty of rest time in between doing things so I don't push myself too far and crash. And if I feel like what I'm doing is too much, I just go lay down and save it for another time.
I'm finally getting enough of a grip on my energy levels that we got to go on our first family vacation since this whole thing started back in February. It was our first trip to the Grand Canyon, and it was amazing. We'll have to share some pictures in another post.
I Started Midodrine!
I've had heart issues and have extremely low blood pressure. 
When we were in Arizona, our insurance finally approved my prescription for Midodrine after a back and forth battle and way too long waiting. This medication is to help raise my blood pressure so I can be upright for longer periods of time.
I was nervous to start taking it because it's another medication that got me in this situation to begin with. Nothing else had helped though, so I was willing to try it.
It has helped so much. Besides physical therapy, it's probably second most responsible for the improvements in what I can do physically at this point.
It feels weird to be taking a daily medication. But this is what it's there for – when people actually need it and I'm grateful it's been helping.
With everything we've been doing, my weight is holding steady at 113 pounds regardless of how much I eat. And I still feel that I'm getting just a little better each month.
Life Going Forward
I probably won't be sharing a ton of health updates moving forward. If there's anything major, of course we'll share.
However, at this point, living with Fluoroquinolone Toxicity is my new normal. I will probably always have weird neurological and other health issues that I'll have to live with.
There isn't some magic pill or treatment that's going to make it go away and talking about it all the time makes it harder to cope with and keep moving forward. So I hope everyone understands that I need some space to continue healing.
Thank you all for your support and your prayers. We all appreciate you so much.